Marketing Automation
Boosting customer loyalty with marketing automation

Tempur Sealy, a high-end mattress and pillow manufacturer, wanted to boost their customer loyalty with the help of marketing automation software.
Their goal was to strengthen customer relationships and utilize customer data for cross- and upselling campaigns.
Keep on reading to find out how Tempur Sealy managed to more than double their average purchase value with the help of Liana's marketing automation solution.
Sleep like an astronaut: the story of Tempur
During the Space Race in the 1970's, NASA developed a material to help astronauts with the high pressure during a space rocket launch.
The material was given the name TEMPUR, as it was designed to provide optimal support to the body and react to changes in temperature. This material was later utilized in manufacturing highly ergonomic pillows and mattresses.
This was the beginning of Tempur, a multinational company committed to giving people a great night's sleep.
"We had planned our marketing automation campaigns for quite a while already, but Liana Technologies' expertise made it possible to finally launch them."

Eva-Maria Vogasianos
Marketing Coordinator, Tempur Sealy
Raising the average purchase value
Great customer satisfaction is key at Tempur, and thus also the goal of their marketing automation campaigns. Tempur wanted to build stronger customer relationships and utilize their customer data for upcoming campaigns.
The marketing automation campaigns were a great success. This was also reflected in Tempur's KPI's:
The open rate of automated emails was an astounding 69 % and CTR as high as 11 %
A conversion rate of 27 % was achieved by the most succesful cross-selling campaign
The best-performing cross-selling campaign raised the average purchase value by 230 %
Marketing automation: How it was done
Tempur's marketing automation campaigns were built around their customer loyalty program. A customized landing page invites customers to leave their contact information in exchange for an extended warranty.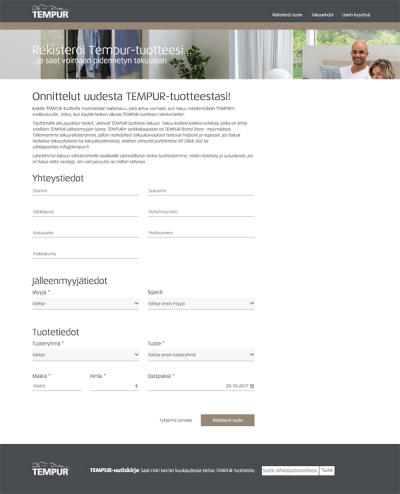 Based on this data the customers receive drip campaigns about how to care for their Tempur products, as well as carefully targeted cross-selling campaigns that fit their purchase history.
With automated messages, customers felt important and appreciated, and saw that Tempur was a company they could trust. This, in turn, resulted in greater customer loyalty and revenue.
Onwards and upwards
Tempur was taken by the great usability of Liana's marketing automation platform. "We already knew what we wanted to do with marketing automation, and it was really easy to implement with Liana", says Eva-Maria Vogasianos, Marketing Coordinator at Tempur Sealy.
The first steps have now been taken, but Tempur doesn't plan to stop there. Future plans for marketing automation contain customized landing pages, developing their web store automations further as well as sparring for new ideas with Liana Technologies.
"The campaign ideas we've gotten from Liana Technologies have been exceptional, and they have really helped us in our process."

Eva-Maria Vogasianos
Marketing Coordinator, Tempur Sealy