Marketing Automation, Monitoring, Email Marketing, Press Releases, Services
Fast results with Liana Services


Finnish Golf Union is the national head union for all Finnish golf clubs. The organization wanted to strengthen its communications with marketing automation and wanted an all-inclusive solution. Thanks to Liana Services and marketing automation as a service, it was easy and fast for the organization to start to take advantage of the new technology. With this service, Finnish Golf Union was able to outsource multichannel marketing automation and social media advertising straight to Liana.
The successful introduction of marketing automation with Liana Services
In 2020, Finnish Golf Union wanted to try out marketing automation for the first time. Liana started to create digital communications which included visual design, and production and management of campaigns. During the COVID-19 crisis, the organization wanted to inform the players about the current situation and how it affects playing golf.
Liana Services created campaigns, designed visual elements and images based on Finnish Golf Union's brand guidelines, wrote content for newsletters and managed the campaigns. Support your golf community campaign got a good reception and the newsletter had 49,7% open rate.
"Liana's team is familiar with our wishes and previous materials. Based on this, they are able to offer us proposals for impactful and target-supporting communications."

Marika Voss
Communications, Finnish Golf Union
Another marketing campaign was kicked off summer 2020. The goal of the campaign was to attract new people to play golf. A landing page was created for the campaign, where people could participate in a raffle of a beginners golf course by giving their contact information. For this campaign, Liana Services planned and implemented social media advertising and automation workflows. The first letter of the automation had 76% open rate.
"The customer's trust has made this successful cooperation possible."

Sofia Husso
Marketing Specialist, Liana Technologies
Finnish Golf Union has been very pleased with the results. The organization got a successful start to marketing automation and its role will increase also in the future.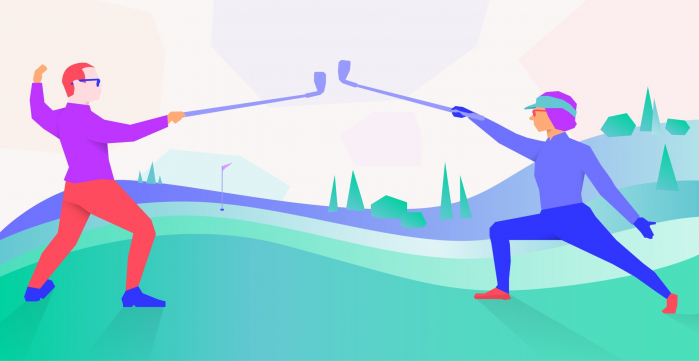 Liana Services took Finnish Golf Union's brand guidelines into account when designing new illustrations to be used for example in newsletters. Illustrations: Elisa Raittila
Utilizing data and analytics makes work and decision making easier
In addition to marketing automation as a service, Finnish Golf Union has a versatile set of Liana tools in use – LianaPress, LianaMailer and LianaMonitor. Using Liana's digital marketing and communications tools has made the organization's work easier. Sending out press releases and images has become easier because they don't have to keep updating the contact database themselves. Decisions on media monitoring and newsletter can be made more in-depth with data. After the successful implementation, the organization is looking forward that marketing automation will save time also in the future.
"Knowledge is power in many senses – media monitoring and analyses have given more concrete image of golf's media visibility and the impact of our actions can be measured more precisely."

Marika Voss
Communications, Finnish Golf Union