Marketing automation
Transform Data into Revenue With Marketing Automation
With the marketing automation platform LianaAutomation, you can implement rightly timed marketing actions based on the customer data you possess. Find out what your customers really need, and rush in when they show interest by approaching them with well-targeted marketing messages in multiple channels.
Create prosperous campaigns for lead generation, customer engagement, and various other purposes – by yourself or with the help of our experts.
Introduction to Marketing Automation Platform LianaAutomation.
Personalize Your WordPress Site with Marketing Automation
Soon you can automate the content of your WordPress website based on site visitors' attributes! With the upcoming integration of LianaAutomation and WordPress, you can create personalized site views based on the segments you have carefully determined. Get more relevant and attractive page content as a result, as well as improved website conversion and customer experience.
Join the waiting list and you'll be among the first ones to hear about the updates in the tool.
Get an easy start with us
Jumping into the world of marketing automation is easy with us: we teach you to use the software, and you can utilize ready-made templates of the tool when building your first automations. You can also get our service team to design and implement everything for you.
Collect and utilize customer data
Thanks to the versatile integrations of our tool, you can utilize existing customer data in your messages and create highly targeted campaigns. At the same time, you can also collect new customer data from multiple sources, like your online store, newsletter, or social media.
Easy lead generation
Boost lead generation with our tool and respond immediately to the prospect's interest at any time of the day. Maintain the prospect's interest with content that triggers after a specific action, such as opening a link. Give points to the leads based on their activity and automatically hand over the hot leads to sales.
The Numbers Speak for Themselves
Our marketing automation platform has hundreds of happy users from companies to government organizations. Users especially appreciate the comprehensive features, friendly customer service, and ease of using the software.
Customers
600+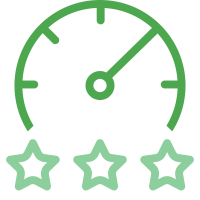 NPS for marketing automation as a service
86
Effectiveness over a traditional email campaign
+ 500%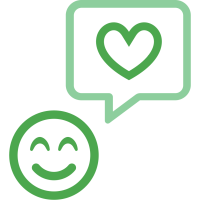 Customer's grade for support services
4.5/5

Capterra
4.3/5
Do It Yourself or Outsource to Our Experts
Create efficient automation chains for various purposes easily with our tool. You can also have Liana Technologies' experts plan and implement campaigns for you.
Create powerful campaigns yourself with an easy-to-use tool
We teach you to use the marketing automation platform, so you can enjoy the benefits it brings as quickly as possible.
The platform also includes ready-made automation templates, which you can edit freely with the handy Drag & Drop editor:
Welcome template for new customers and newsletter subscribers
Nurturing template to guide the person forward on the customer path
RSS template for sending news feeds to your subscribers
Achieve measurable results with our service team
Let Liana's experts help you get the most out of marketing automation. We help you turn your wishes and goals into concrete marketing actions and achieve measurable results.
We can help you with the following campaigns, for example:
Recognizing website visitors
Lead generation and lead nurturing
Customer engagement
Upselling and cross-selling
What I particularly appreciate is the time we are able to save with LianaAutomation. Now our students receive all the important information as soon as they register, and their integration into the school is as smooth as possible.

Lauriane Creppy
Digital Content Manager, Efrei Paris
Why LianaAutomation?
Since 2013, our marketing automation platform has been trusted by marketers all around the world.
More results with less work
Market cost-effectively and reduce the manual work required for various marketing actions. Once your automation chains and messages are built, you can let the tool take care of the work and focus on other tasks. You can also outsource planning and executing completely to our experts.
Grow your skills with reports
Our platform provides a wealth of data to support your actions. See the success of each campaign and message, and view the history and behavior of each individual contact in your database. The real-time dashboard view shows all automation events at a glance.
Increase customer loyalty
Create ongoing campaigns that help you deepen customer relationships and encourage customers to buy from you again. Run cross-selling campaigns based on customers' purchase history and reach the customer at all stages of the buyer's journey with automated Google Ads.
Six marketing channels
Create automation chains that consist of newsletters, SMS messages, Google Ads, mobile app push notifications, WhatsApp messages, and automated print campaigns. This way, you'll reach your customer in multiple channels, always at the right time.
WordPress automations
Create powerful campaigns based on customer data collected from your WordPress site, thanks to the integration of LianaAutomation and the WordPress ecosystem. You can segment identified website visitors and target them with personalized content.
Praised technical support
As our customer, you are supported by your own contact person and skilled technical support. Our support can be reached by phone and email, and also by chat directly on the tool. You can find all topical information about the tool from our support site.
See How to Utilize Marketing Automation to Engage with Your Customers
Watch this concrete step-by-step video to see, how to utilize marketing automation to engage with your customers.
Use Cases
Our platform offers efficient solutions for lead generation, improving digital customer experience, building successful automations for your online store – and many other use cases. If the use case you are looking for is missing from the list below, contact us to discuss your needs.
Expand from digital marketing to printed materials by adding a trigger for an automated print campaign into your automation chain.
You can automate orders and deliveries for printed materials and order individual or recurring deliveries.
LianaAutomation offers versatile automation options for online merchants. Send effective upselling and cross-selling content to your customers, such as product notifications, shopping cart reminders, and messages to activate passive customers.
We offer ready-made integrations to several eCommerce platforms and also build customized integrations based on your needs.
You can automate almost all event marketing from invitations to thank you letters and feedback surveys.
You can also easily collect sign-ups, target newsletters to event visitors, collect marketing consents during event communications, and automatically export consents to the tool.
Identify prospects, gather information about their activities and needs, and convert website visitors into customers.
Generated leads can automatically be added to lead nurturing campaigns, aiming to guide them toward customership.
Add push notifications and in-app messaging into your campaigns. This way, you can nurture leads and follow your customers along their journey on all screens.
Our tool can be natively integrated into mobile apps, becoming the backbone of your mobile strategy.
Ensure a great customer experience with onboarding campaigns.
Make sure that all customers have the same information about your offering, and get to know which of your other products a customer might be interested in next.
LianaAutomation enables sending automated WhatsApp messages as part of your automation chains. All conversation data is stored in the automation tool instead of being saved only in the messaging app. With automated WhatsApp messages, you can, for example, increase the visibility of your campaigns and remind the recipient of upcoming events.
Integrate With Tools You Use on a Daily Basis
You can integrate our software with the tools you want to import data from into your campaigns. LianaAutomation has a native integration to other Liana®Cloud tools. We also offer several ready-made integration add-ons to CRM systems, eCommerce platforms, and other solutions.
If you are looking for more complex custom integrations, let us know. Our specialists do all the legwork for you – every integration is made in-house.
Overall, we estimate that communications through marketing automation has had a positive impact on the growth of our products.

Eija Leinonen
Sales Assistant, Etuovi.com
Hear What Our Customers Say About Us
Over 3,500 companies trust Liana Technologies to deliver their Marketing & PR Technology stack worldwide. Liana has customers in 29 different countries and the technology is offered in several different languages.
Dive In Our Blog for Inspiration
You can find inspiring content and useful marketing tips on Liana's blog. We regularly post new articles, infographics, videos and guides.
All blog content