Email Marketing, Marketing Automation, Websites
Changing from traditional media to digital channels with Liana®Cloud


Adria Mobil is one of Europe's leading manufacturers of caravans and motorhomes, with over 1100 employees. The first caravan in Sweden was sold as early as 1965, and ever since the beginning quality, innovation and experience have been the core of all the products.
Adria's marketing had begun the change from traditional media to digital channels. The work on the campaign "Adria Week" began in the autumn of 2018 in order for it to be completed the spring of 2019.
They were not happy with their previous supplier and therefore contacted us. We at Liana Technologies helped Adria with campaign page, email marketing and marketing automation through Liana®Cloud.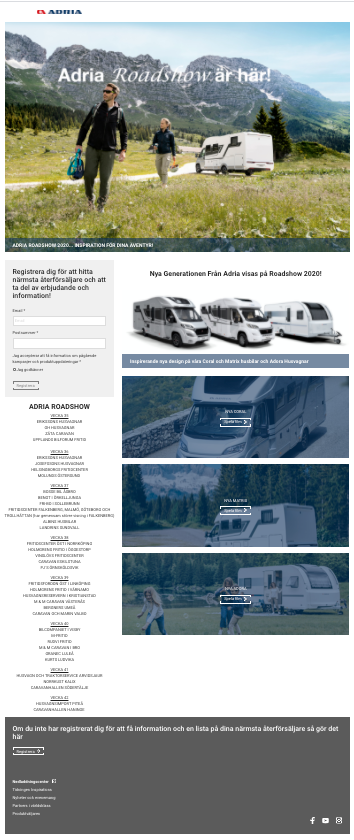 Adria's campaign page created by Liana Technologies
The need
As a manufacturer, Adria wanted to reach customers with both the brand and product launches. There are major differences between how retailers market Adria's products and to what extent. So how could Adria guide interested customers all the way from the first click to visiting retailers? How could the investment be tracked so that Adria and its dealers could see the results?
Solution
The solution was Adria Week. With the help of a local media agency, a digital media mix was planned to drive consumers to the campaign page www.adriaweek.se where they could find their nearest retailer, book a demo and participate in a competition.
On the website, visitors were asked to enter their contact information such as name, e-mail and postcode. Based on the postal code, all dealers within its region were presented, both on the landing page and in the mailings.
The form also triggered a marketing automation chain that Adria set up with Liana to send out relevant emails to the recipients.
The result
In 2019, the first Adria Week was launched and a couple of late changes were made, which raised concerns that something in the automation chain would break. That did not happen, overall the campaign went well and it became an appreciated activity among the dealers.
In 2020, parts of the conversion were refined, which resulted in Adria collecting over 540 applications via the website and sales figures increased significantly.
"We had a clear idea of the entire customer journey, all the way from building the website to marketing and communication, until the customer visits or purchases from a retailers"

Vidar Donnér
Marketing manager Adria AB