We are looking for new talents
Join Lianacrew
Liana Technologies is a European software company specialized in cloud-based digital marketing and PR software. We are expanding globally and looking for new eager talents to join the digital revolution. The working atmosphere within Lianacrew is relaxed yet productive.
See open positions
What do we love about Liana?
This is a text describing the video content for hearing-impaired visitors & search engine bots. Various Liana employees give an answer to a question "What do we love about Liana?".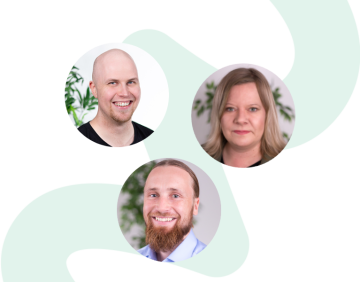 Meet the crew
The key to success is not the technology, it's the people.
Our story began in 2005 when five visionaries came together with a common goal: to help marketers and PR professionals tackle the challenges of digitalization. Our mission has brought us far. We now have 240 skilled and passionate professionals who help our clients worldwide.
With dedication and hard teamwork, we have achieved the trust of over 3.500 companies and expanded our business to Europe, Asia and the Middle East.
We are constantly growing, developing and conquering new areas. Our story is still being written – be a part of it.
Join the digital revolution
At Liana Technologies, you hold the digital future in your hands. We are among the first companies in the world to develop AI-based software for digital marketing and communications, so you'll be working with the most advanced technology in the markets. Since we do everything in-house, you will be contributing actively to our continuous development of tools and processes.
The field of marketing and communications is changing faster than ever. At the same time, our business is constantly growing, developing and expanding internationally. At Liana, you will stretch your skills, broaden your knowledge and learn something new every day. Our development also produces unique possibilities for you to create the career of your dreams. Become a software developer in Oulu, a customer success manager in Dubai, or jump to sales work in Germany – the sky is the limit!
Work with the best colleagues in an inspiring atmosphere
The greatest assets at Liana Technologies are the community and the brilliant atmosphere. At Liana, we are one big, international family. We have a total of 27 different nationalities represented in our workforce, with professionals from a wide range of different fields. You'll have a truly international and inspiring work community around you.
We are extremely proud of our open and cozy atmosphere. All of our employees from interns to managers work closely together and meet every day in our lounge to enjoy lunch or a cup of coffee together. We actively embrace our great atmosphere by organizing team events, competitions and other events outside of work. At Liana, you will be part of more than just a traditional work community.
Know that your skills are valued
At Liana Technologies your work matters. We trust your expertise and give you enough responsibility to truly showcase your skills, better yourself and advance your career at Liana. Your team will always have your back, and we will provide you with extensive opportunities for training and trying out new paths.
Open positions
Become a software developer in Oulu, a customer success manager in Dubai or jump to sales work in Germany - Liana Technologies offers you a broad range of opportunities around the world.
See open positions
Internship and project opportunities
Student, do your internship, study project or Thesis work at Liana Technologies! We offer you a relaxed but target-oriented working environment for acquiring valuable work experience and expanding knowledge.
Apply for an intership positions
---
Did you know that over 70 % of our interns continue working with us after finishing their internship?