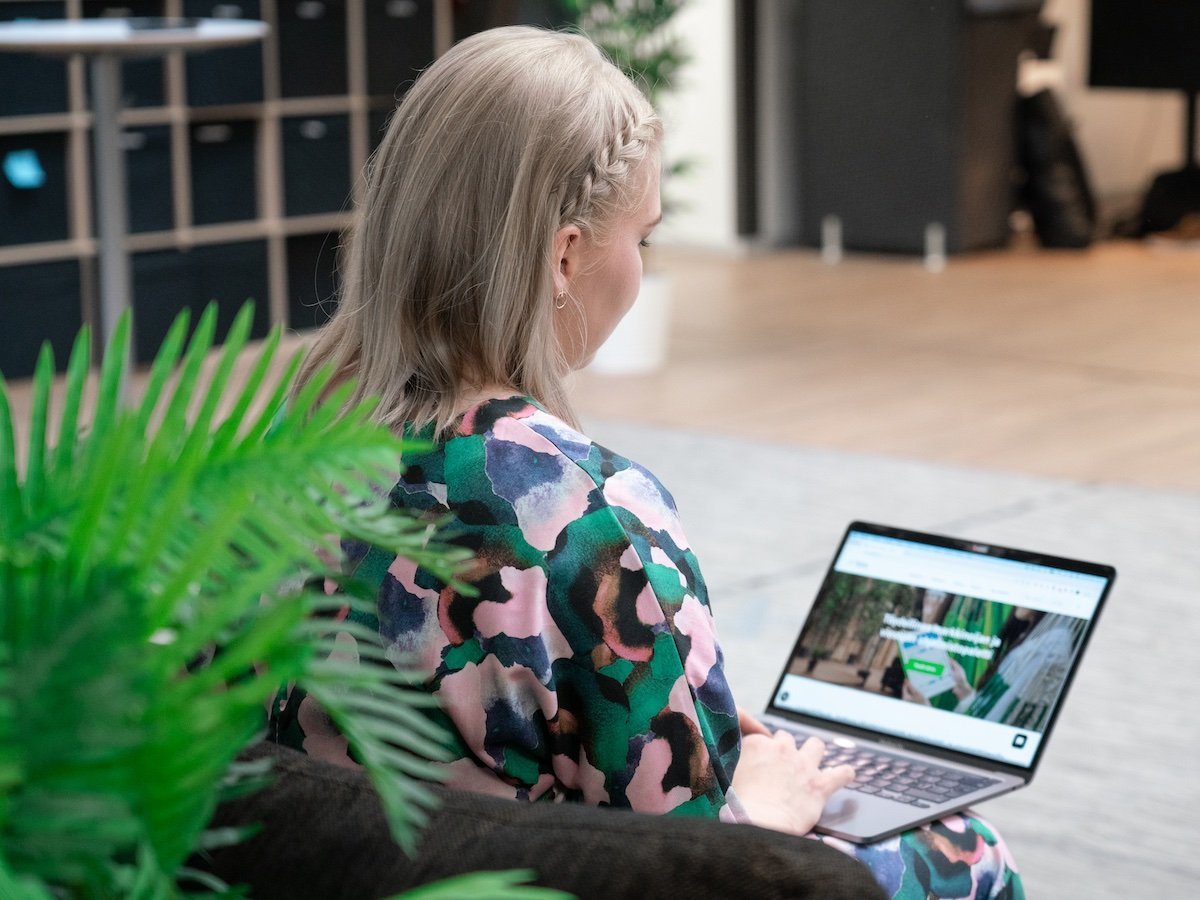 Event marketing
Automate Event Marketing from Invitations to Thank You Messages
Speed up routine tasks and reduce the amount of manual work by automating event marketing stages from invitations to post-event engagement messages. Marketing automation tool LianaAutomation enables you to reach your target audience in multiple channels and you learn more about the participants of your event.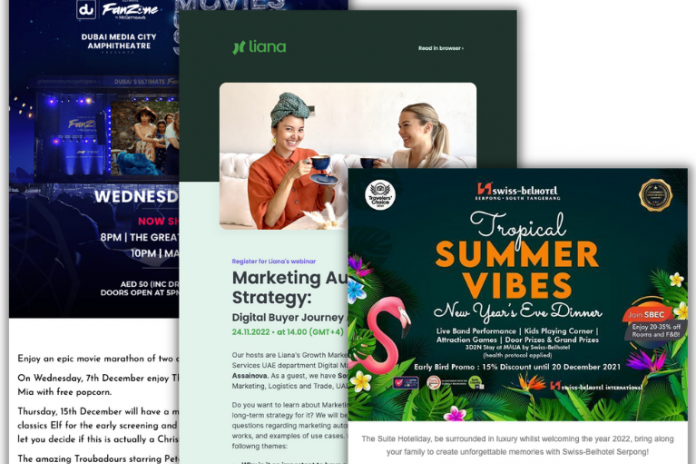 Utilize Automation Before the Event
Invitations to events and reminder messages can be sent within the same automation chain in LianaAutomation.
Schedule automated confirmation and reminder messages: send confirmations immediately after registration and remind about an upcoming event 24 hours or one hour before the event, for example.
Send related content to event participants, such as links, QR codes, directions for arrival, or surveys where you can ask about participants' vibes before the event.
Send targeted and personalized automated messages based on whether a particular participant is attending live or via stream.
With automation, you make sure that the right kind of messages reach those that have already signed up for your event and those that haven't responded to your invitation yet.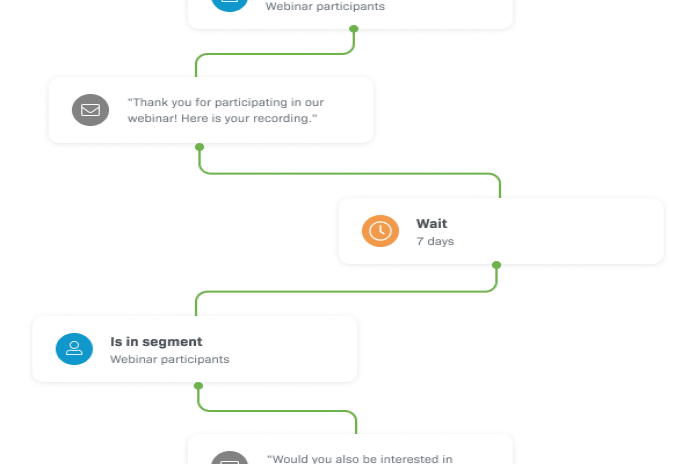 Automation Boosts Your Post-Event Engagement
Marketing automation is a huge advantage in the marketing actions related to post-event engagement:
Target your messages according to participation data: thank those that were present and send a recording for those that couldn't make it.
Send an automated feedback survey to event participants. You can ask for an opinion about the event by utilizing the newsletter template's poll element.
Advertise your other events to those that participated.
Utilize the same automation chain as a template for your next events and reduce the time you use for manual work.
Currently, our newsletters reach 4,000–6,000 people every month, which can be seen in active participation in our webinars.

Vilma Autio
Marketing designer, Eventilla
Reach recipients in multiple different channels
With our automation tool, you can combine multiple channels to the same event marketing automation chain: newsletters, SMS and WhatsApp messages, Google Ads advertising, mobile app push notifications, as well as automated print campaigns.
Collect marketing consents at events
You can collect marketing consents at your events and automatically export them to LianaAutomation and other Liana tools. This way, you can easily increase the number of your newsletter subscribers, for instance.
Learn more about the participants of your events
With LianaAutomation, all information about event participation and other details learned about the participant are saved to the customer profile. You can utilize this data when creating segments for new marketing campaigns.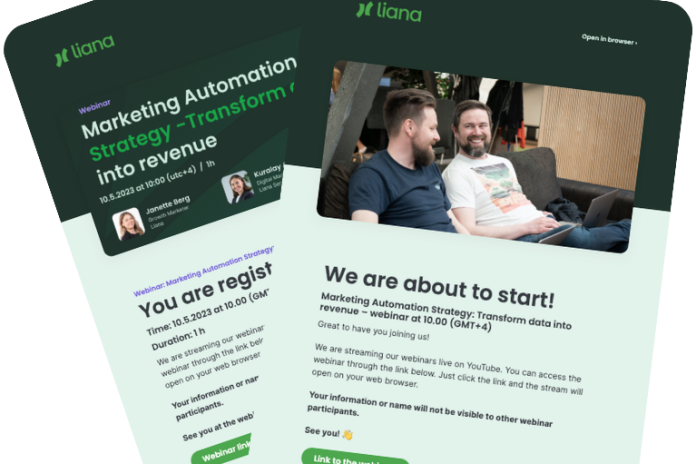 Make Event Management Easier with Integrations
The integration between marketing automation tool LianaAutomation and event management systems enables effortless event management and marketing communications.
Due to integrations, registration information is automatically updated to LianaAutomation, for example, which allows you to send targeted communications to the event participants, such as confirmation messages and reminders.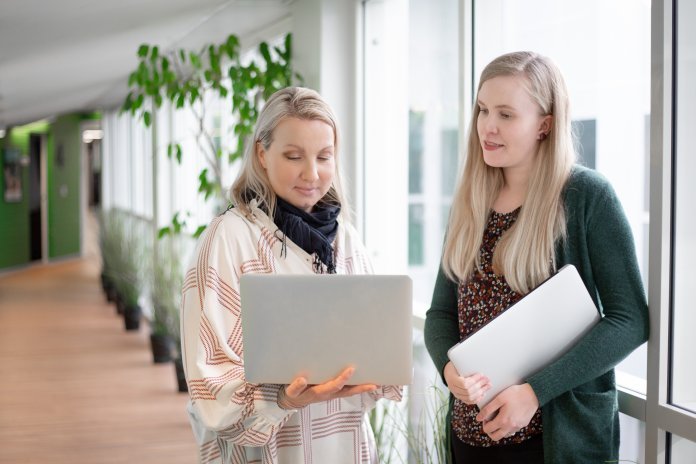 Ensure Results with Our Experts
Implement effective event marketing automations together with our experts!
We help you with planning your campaigns, as well as creating them, and ensure that you reach your goals with marketing automation. The service also covers the continuous development of your campaigns and regular reporting of the results.
Liana's team is familiar with our wishes and previous materials. Based on this, they are able to offer us proposals for impactful and target-supporting communications.

Marika Voss
Communications, Finnish Golf Union
How to Utilize Marketing Automation in Event Organizing
Arranging an event takes a lot of work and includes a list of things to remember – invitations, tickets, confirmation messages, reminders, and other informative messages, not to mention event marketing. That's why every event organizer's toolkit should include marketing automation.
In this article, you'll find tips on how to start planning marketing automation and instructions on how to utilize marketing automation with online and hybrid events.
Dive in Our Blog for Inspiration
You can find inspiring and useful content about event marketing and other marketing automation topics on Liana's blog. We regularly post new articles, infographics, videos and guides on our blog.
All blog content
Leave us a message