eCommerce
Online clothing store against the mainstream


Disturb is a Finnish online store that was founded in 2011. Its core ideology is to offer alternative style for men and women. The focus for the business has been leaning towards online since the beginning and the company that now has a million-euro revenue was established in a student studio.
The beginnings of the company also include an open source eCommerce platform. However, the founders of the company quickly realised that an open source store is not customizable enough for the growing needs of Disturb.
We required that the store fills out certain qualifications and looks a certain way. Our requirements were met by Liana and new features can always be quickly applied.
Tiina Skinnari
Owner, Disturb.fi
Customizability and personality
It was clear which features would be crucial when Disturb started the search for a new eCommerce platform. The new platform would have to accommodate the different kinds of needs Disturb had already encountered and were to encounter in the future.
Disturb's owners wanted a variety of functionalities on the admin side of the store that would allow them to modify customers' properties, such as customer group discounts. An online store with a distinctive look and feel was also very important for a clothing store like Disturb that stands out with personality.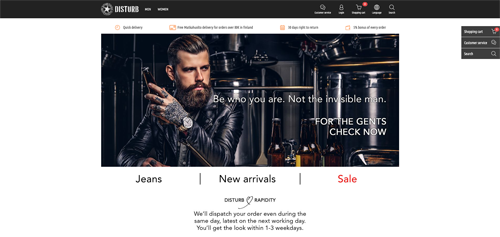 Cooperation starts with effortless communication
Disturb decided on Liana's eCommerce solution since it allowed Disturb's store to be customized exactly the way they wanted. According to Disturb's owners, communication with Liana's liaison was flowing and felt natural.
"It is important that the service provider understands the needs and listens to the wishes of the store owner. Great communication helps to make the store functional and get the right look and feel", comments Account Director Miikka Luomi from Liana Technologies.
Effortless communication added trust in the future as well. Disturb's owners were convinced that their needs would be met and new integrations could always be added to the store that now has around 75 000 - 90 000 visitors on a monthly basis.
ECommerce cornerstones
APIs, such as payment and logistics integrations are cornerstones of a functional online store. Many integrations have been customized for Disturb in Liana's eCommerce solution and the store has been a pioneer in certain features in the platform.
The cooperation is deeply rooted when both the customer company and the service provider work together for a better online store experience. This fruitful and customer-focused collaboration wasn't left unnoticed since Disturb was chosen as the best eCommerce in Finland in 2018.
Liana's eCommerce solution integrates seamlessly to payment and logistics gateways and new integrations are continuously added according to customers' needs.

Niko Pääkkönen
Business Director, eCommerce, Liana Technologies