Services
Digital Marketing Services for Marmiz


Marmiz, a luxury fashion brand headquartered in Dubai, draws its inspiration from modern design, architecture, and geometry to craft high-end ready-to-wear clothing. Located in the cosmopolitan city, Marmiz holds a prominent position in the Gulf market while also catering to the attention of global customers. The brand's mission is to provide enduring and meticulously crafted slow fashion for confident women who aren't afraid to speak their minds.
Strategic digital marketing partner
Before partnering with Liana, Marmiz had difficulties establishing an online presence and reaching its target audience. To change the situation and achieve better results with their digital marketing efforts, Marmiz decided to outsource digital marketing to Liana. By outsourcing paid acquisition to Liana, they were looking to gain a strategic vision for digital marketing and to increase their website traffic and sales.
When starting the cooperation, Liana's team wanted to gain an understanding of Marmiz's brand identity and vision, as well as an understanding of the industry they are operating in. Hence, the work started with conducting a comprehensive market analysis. The findings gave the direction to start with elevating brand awareness and increasing website traffic and sales in the GCC (The Gulf Cooperation Council) region.
With the analysis, it was possible to identify the most effective cities in the GCC for marketing efforts. With audience segmentation, the goal was to enhance the efficiency of marketing initiatives, and strategically segment the audience, directing efforts towards the audience with the highest levels of engagement and responsiveness. Segmentation was based on factors such as location, interests, and shopping engagement levels.
Liana's team took the time to understand our brand identity, values, and goals, ensuring that every campaign aligned seamlessly with our vision.
Mariam Said
Creative Director, Founder of MARMIZ Brand
Effective segmenting and a clear target audience laid a foundation to achieve the desired goals, elevating Marmiz's brand awareness in the wanted region and target groups and effectively increasing online store sales.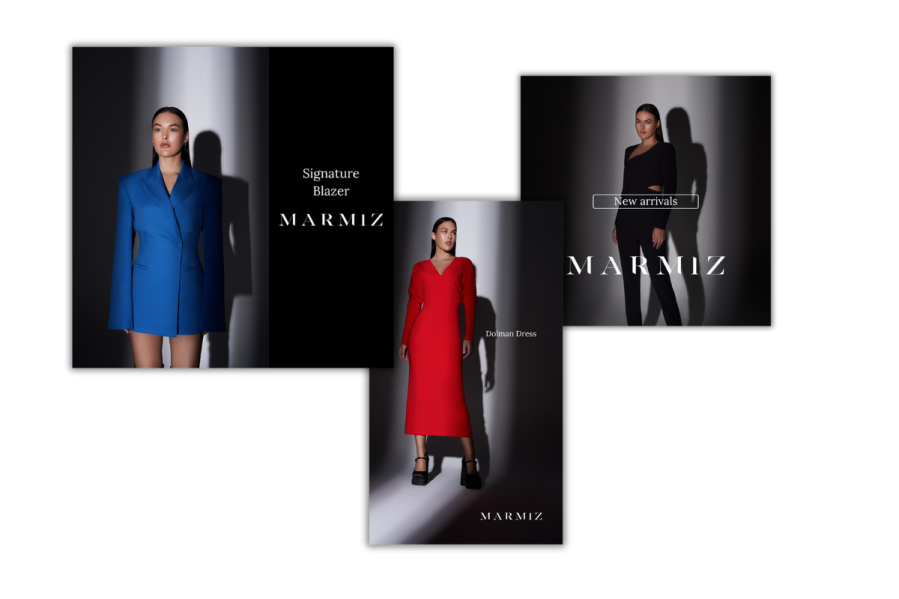 Increased brand awareness and sales
Initially, the primary focus has been leveraging Meta as a paid acquisition channel to enhance brand awareness and boost sales. The first Meta campaign for engaged shoppers was launched in August, and simultaneously a brand awareness campaign on Instagram was launched to increase website traffic. Background work and chosen tactics proved to be working and we started seeing great results from the get-go.
We saw:
a 100% increase in profile activity,
a 27% surge in total website users,
274% growth in new users,
a 400% boost in purchases,
a 300% increase in items added to carts,
and the ad-to-sales ratio was 3.5%.
We chose to craft campaigns to align with the specific local trends in each targeted area, such as launching a campaign during the celebratory spirit of Saudi National Day. With that campaign, the aim was to boost sales for the KSA National Day Collection with special discounts and exclusive promotions. The results of the campaign speak for themselves:
26% increase in ROAS (Return on Ad Spend)
59% increase in website traffic
61% increase in website total sessions
Instagram account engagement increased by 43%
40% increase in total purchases.
We managed to achieve these results cost efficiently and all the results were achieved with a lower budget compared to the previous month.
Liana's team consistently surprised us with their creative ideas and innovative campaigns. They helped us stand out in a competitive market, always pushing the boundaries to make our brand more appealing to our target audience.

Mariam Said

Creative Director, Founder of MARMIZ Brand
Toward the goals with a data-driven approach
While the aim has been to create innovative and creative ideas and campaigns for Marmiz, the core of the work has always been to bring tangible results and maintain a data-driven approach. Liana's team continually analyzed the performance of campaigns and adjusted strategies accordingly. Tracking user behavior, optimizing ad campaigns, and reporting the results has been an ongoing work. The performance is monitored using analytics tools, sharing reports with key performance indicators (KPIs) such as website traffic, CTR, conversion rates, and ROAS.
Liana's data-driven approach consistently led to improved online visibility, increased website traffic, and ultimately, higher conversion rates.

Mariam Said

Creative Director, Founder of MARMIZ Brand
Communication as the key to success
Marmiz has been satisfied with the ongoing communication and transparency at every stage of the partnership and the regular reports and campaign insights that Liana has provided. The level of transparency has, according to Marmiz, fostered trust and confidence in the collaboration.
Our partnership with Liana Digital Marketing has been nothing short of remarkable, and it has truly transformed the way we approach digital marketing for our brand. We wholeheartedly recommend Liana Digital Marketing Services to any company seeking to elevate its digital marketing efforts
Mariam Said
Creative Director, Founder of MARMIZ Brand

Marmiz has been very satisfied with the partnership and since the start they have experienced significant growth in online presence, customer engagement, and revenue. Now, the brand is recognized for its exceptional clothing but also for its digital footprint.