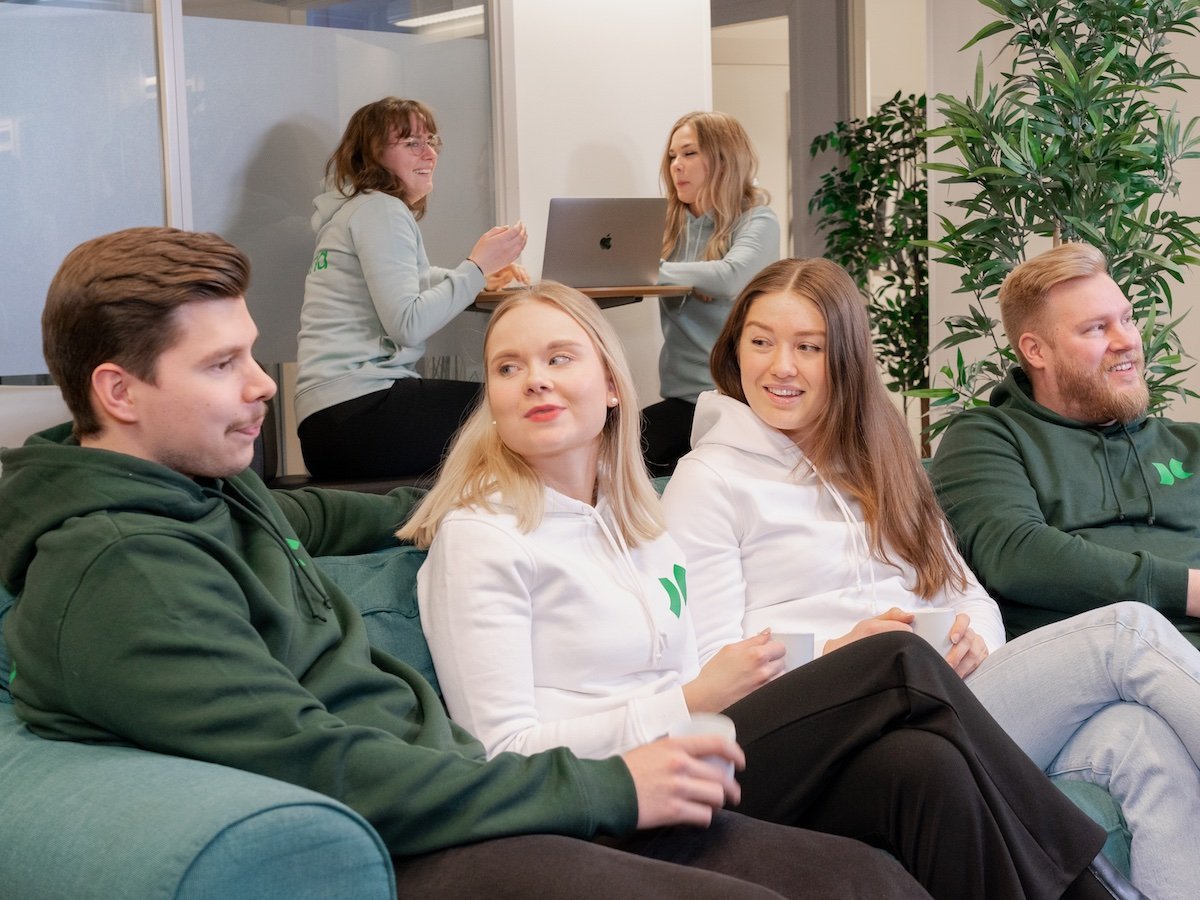 Internal newsletters
Inform, Engage and Inspire with Internal Newsletters
An internal company newsletter is a quick and handy way to keep your staff up to date and in the loop of what's happening inside your organization. In addition, a message that communicates the visual outlook and tone of voice of your organization delights its recipients and improves your personnel's commitment. With our newsletter software LianaMailer, you can send internal newsletters that your staff is excited to read.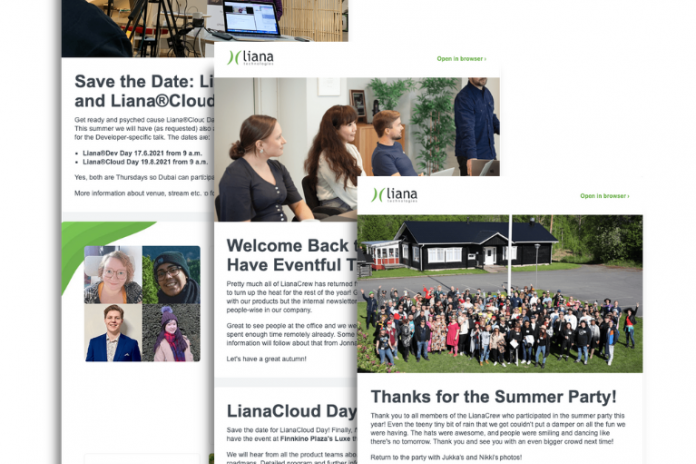 Reach Effectively and Measure Your Communications
Internal company newsletter is a cost-effective and measurable way to handle your communications. LianaMailer's features cater to the needs of internal communications wonderfully:
Compile great-looking newsletters and bring forth your brand visuals and the faces behind the organization.
Reach recipients fast regardless of time and location – you can schedule the message sending to an optimal time for your organization.
Create different versions of your internal newsletter effortlessly for different target groups, such as staff, members, and investors.
Examine how your message was received from comprehensive and easy-to-read newsletter reports.
LianaMailer has simplified our email marketing efforts. Our internal and external newsletters now have an over 60% Open Rate, and we have received very positive feedback regarding the newsletters.
Veronika Halajova
Head of Communications, Colas Europe
Import member data to the newsletter software
LianaMailer integrates into several customer and member relationship management systems. With integration, you can utilize existing membership registers and get the systems communicating. Active communication makes updating and maintaining the member register easier.
Fetch intranet content automatically to your letter
You can fetch news from your intranet to include in your newsletter automatically as an RSS feed and reduce the amount of manual work. You can easily pick the articles manually that you want to include from the feed or choose how many latest articles from the feed are automatically fetched to the newsletter.
Sub account for internal communications
You can create a sub account for the purpose of sending internal company newsletters that can be used with the same credentials as your other LianaMailer accounts. When utilizing a separate sub account, you can create recipient lists where employees can't unsubscribe from the mailing list themselves.
Priceless tool for Colas Europe's content strategy
Colas Europe uses the email marketing solution LianaMailer to keep both their employees and customers informed. The external and internal company newsletters are built with a brand new layout, and the good-looking letters are also bringing great results: the letters have an over 60% Open Rate and they are gaining very positive feedback from the receivers.
Our marketing professionals can craft and send newsletters in a quick schedule with LianaMailer because the template is easily modifiable. The software is easy-to-use, reliable, and modifiable to our needs.

Carolina Harjulin
Marketing Manager, Hertz Finland
Ideas for Renewing Your Internal Newsletter
Are you wondering how to begin creating your organization's internal newsletter or have you decided to renew the content of your existing newsletter? We gathered a list of tips regarding internal newsletter topics and visual outlook to our blog that help you get started.
Dive in Our Blog for Inspiration
You can find inspiring and valuable tips for internal company newsletters and other email marketing topics on Liana's blog. We regularly post new articles, infographics, videos and guides on our blog.
All blog content
Leave us a message