Here you will find the most up-to-date digital marketing checklist.
The cherry on the cake: in the end, you can download a free PDF template of the checklist. Bookmark the checklist or print it out (though we strongly support environmentally friendly content consumption 🌿).
Here's a breakdown of what the checklist contains. You can jump into a part that interests you the most.
1. Content marketing
2. Websites & landing pages
3. SEO
4. Social media
5. Social media ads
6. Google Ads
7. Analytics
8. Lead generation
9. Productivity
10. Webinars
11. PR
12. Video marketing
13. Graphics
14. Marketing reading
Relevant reading:
Download the guide: 6 Steps Towards Better Email Marketing
1. Content marketing checklist
There's no doubt that content marketing should constitute an important part of every marketing team.
According to a SEMRush survey, most marketing teams evaluate their content marketing strategy from average to good.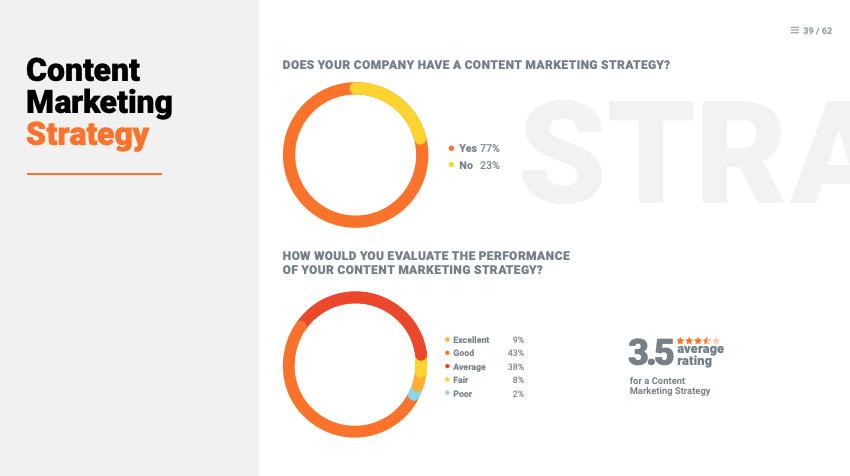 Here are the tools that can help your team turn your content marketing from average to excellent.
Content editorial calendar
It's important to plan your content ahead to avoid stress over upcoming deadlines. That's why having an ultimate content calendar is crucial for every marketer.
There's a variety of options to choose from when it comes to an editorial calendar.
For example, Monday.com is a marketers' go-to tool for planning the entire marketing workflow including content strategy
Keyword research
Finding the right keywords is a winning formula for content marketing success. Keyword research might give you hints on what to write about and also help you optimize your posts to favor search engines.
To go-to keyword research tools :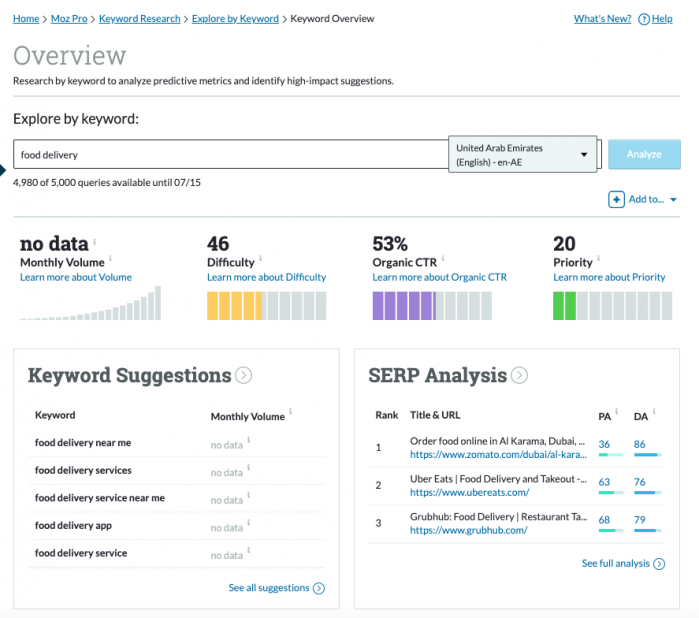 With Moz Keyword Explorer, you can see, for example, keyword suggestions or find out how competitive your keywords are.
Blog posts headings
Your content might look like a million dollars, but without a catchy headline, it won't generate any clicks (and traffic to your site).
Our content creators usually look for inspiration in this source: 100+ Blog Post Title Templates That Grab Attention
Spell check
Whether you create long articles or make occasional social media publications, having a spell check tool in your arsenal is a must.
We use Grammarly for proofreading our content.
Pro tip:
Download Grammarly Chrome extension and your social media posts and other online publications will be mistake-free.
Media monitoring
There are many ways media monitoring can facilitate your content marketing:
Finding the right type of content when seeking inspiration for a new piece of content.
Tracking the performance of published content in the media and social channels.
Engaging with the audience
For example, as email marketing geeks, we actively listen to the industry-related conversations using Liana®Cloud PR & Media.

2. Website checklist
Here's what we recommend for marketers to help them maintain websites without any IT headache.
CMS
There's no longer a need to call for help from your IT department when you want to handle a redesign project.
Utilizing a Content Management System (CMS) tool is the best solution, as it contains all features required for managing a high-quality website:
Mobile optimization
Maximizing SEO
Content management
Building tailored landing pages
Tracking visitors' behavior
Landing pages
You can hardly find a business that does not use landing pages as a lead generation machine today.
We tend to experiment with different landing page formats for different campaigns.

For our solutions, we mostly use a long format of the landing pages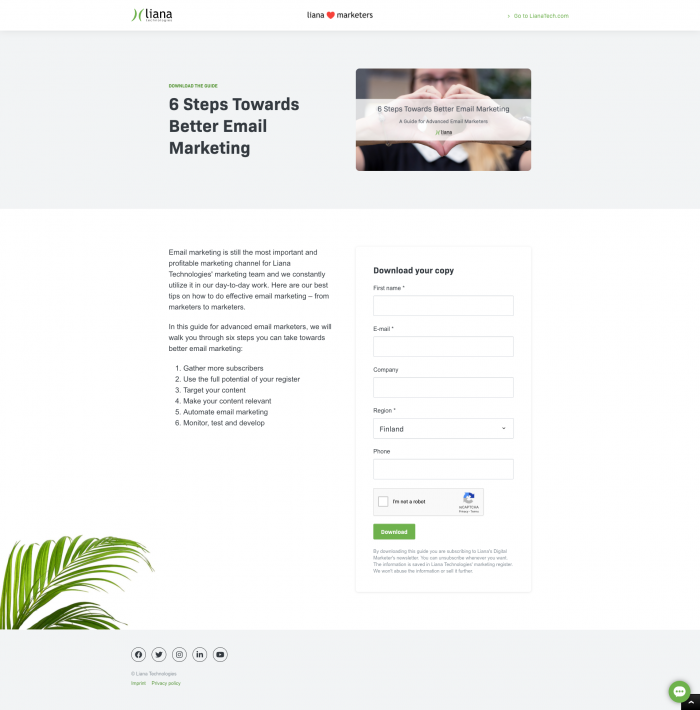 For whitepapers, we tend to use a short format
Heatmaps
Common questions that most webmasters face:
What pages do most visitors hover?
What areas of my landing pages get most of the clicks?
Heatmaps give you solid data on how users interact with your site and thus provide answers to the above questions.
Our marketing team finds Hotjar to be effective.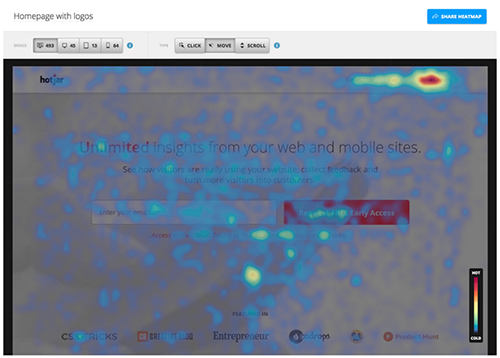 A/B testing
With an abundance of web design features you can stumble upon a question:
Which landing page format or headline copy drives the most conversions for my campaigns?
An A/B testing tool (sometimes called split testing) is, therefore, another important weapon for marketers.
Our team has used VWO to test how different landing page formats can impact conversion rates.
3. SEO checklist
There is no doubt that investing in SEO is essential. Organic search is one of the most effective marketing channels (outperformed only by email marketing).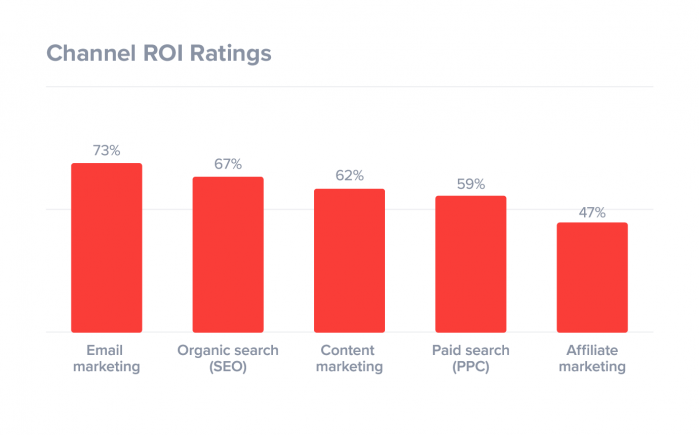 Taken the number of technical features related to SEO, a lot of companies outsource this part.
However, there is still a bunch of non-technical SEO work marketers can employ to rank their websites higher on search engines.
A common practice is to divide your SEO project into on-page and off-page SEO tactics.
On-page SEO
These sources can help you conduct an on-page SEO strategy:
Off-page SEO
This part boils down to effective content promotion and link building.
Consider using these resources:
4. Social media checklist
Whether you run a small business or a big enterprise with a dedicated social media team, having this list of sources is crucial.
Social media images sizes cheat sheet
This 2020 Social Media Image Sizes Guide depicts detailed image guidelines for every social channel.
Social media calendar
Do you produce a lot of content? Does your team participate in many events across the globe?
Then you should make sure you share everything on social media and don't miss a beat.
Keeping a social media calendar will allow planning all your publications in advance.
These tools and resources will be a huge time saver for you:
CoSchedule's detailed guide on how to create a social media content calendar
Social media card validator
Not sure how your update will look like on social media?
We feel you.
That's why our marketing team uses Twitter Card Validator and Facebook Sharing Debugger.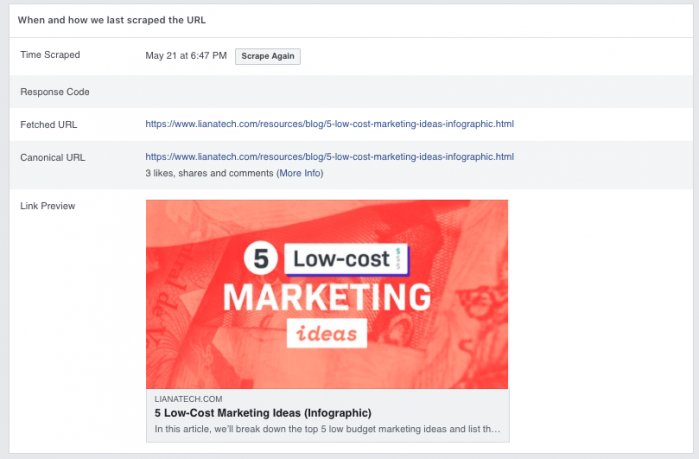 Emoji
🙅️ Don't even try to deny it:
Emoji is a big part of social media marketing.
To have emojis at hand every time you need them, the handiest way is to install an emoji Chrome extension.
Pro tip:
Mac users can use the keyboard shortcut Command - Control - Spacebar to access emoji.
5. Social media ads checklist
A Facebook post's organic reach is only around 6.4% of the page's total likes (SocialMediaToday). Promoted social media publications are a must if you want to expand your reach.
Here's a toolkit you need for successful social media ad campaigns in 2020.
Social media ads guidelines
All social networks have different requirements in terms of image size, the number of words in the copy, and other important specs.
Bookmark the following guides to be prepared for your next campaign:
URL builder
Measuring the ROI still remains one of the biggest social media marketing challenges.
Research by SproutSocial confirmed it.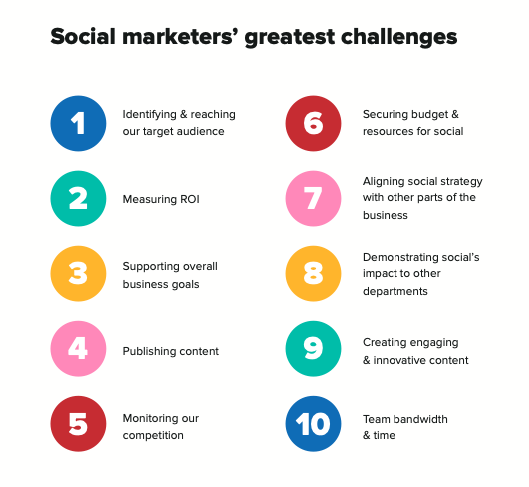 Here's the trick.
By Using UTM parameters and marketing automation we measured the ROI of different social channels.
The tools for UTM parameter generation:
6. Google Ads checklist
While marketers realize the importance of search engine advertising, quite often setting and running the ads sends chills down a marketers' spine.
Ad copy
Having a hard time finding the right Google ad copy? Go through the infographic on our blog: 18 Tips on How to Write Effective Text Ads [+Infographic].
Google ads set up
With so many steps involved in ad creation, make sure you do not miss out on important aspects, such as setting the right bids. This checklist from Google contains all the essential steps for creating and running your Google Ads campaigns.
Google ads training
Google ads require ramping up your skills all the time. Some useful learning resources:
7. Analytics checklist
The interest in data science is rising up — why?

Source: Google Trends
Because analyzing your marketing performance is crucial as the amount of big data is growing tremendously.
Here are marketing analytics tools by Google that our team recommends.
Additional resources:
8. Lead generation
Acquiring a new customer is from five to 25 times more expensive than retaining an existing one.
Therefore, to keep the right customers closer, marketers need to be armed with the most effective tools.
Email marketing tool
According to the research we mentioned earlier, email marketing has the highest ROI among all marketing channels.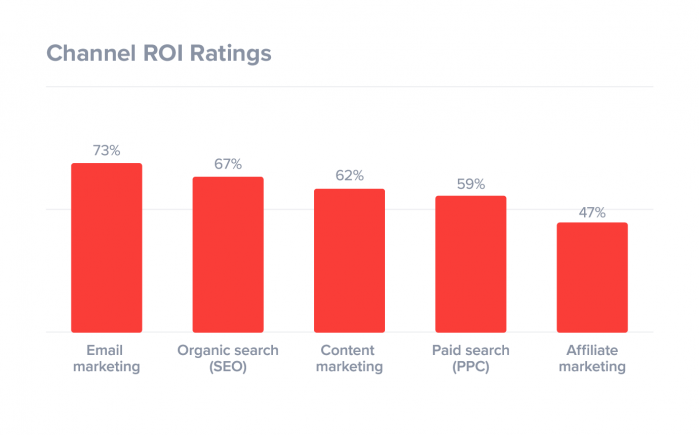 Once you have chosen a newsletter software, it's time to move forward with email marketing planning. We covered the essential email marketing tips on our blog:
Pro tip:
Use this Email Marketing ROI Calculator to track the ROI of your email marketing with precision and accuracy.
Marketing automation
According to our marketing automation survey, the biggest benefit of automation is improved targeting of emails.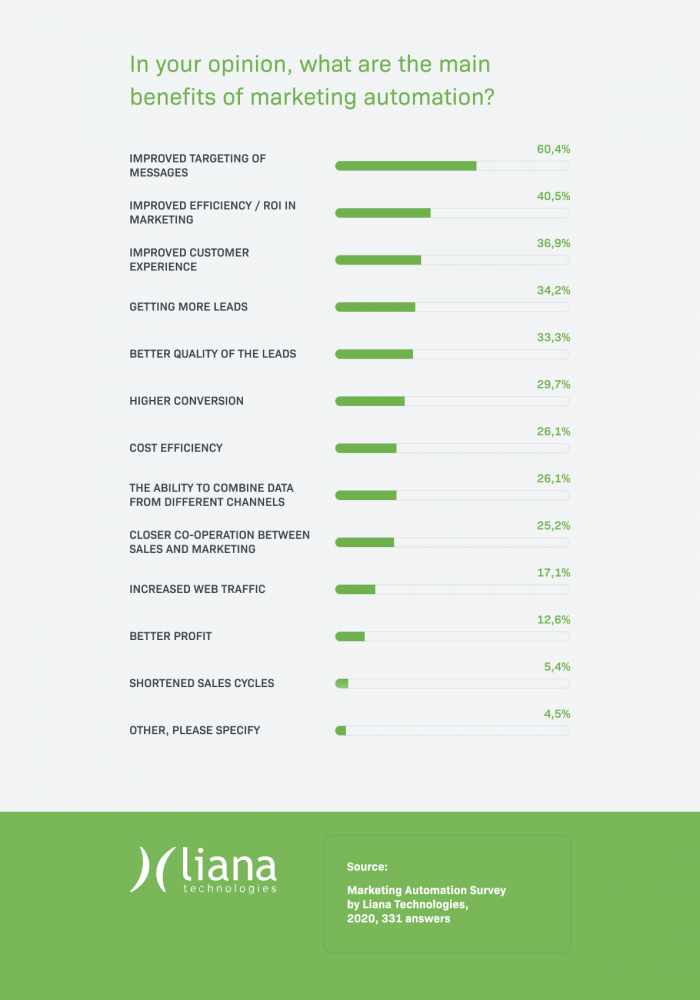 With targeted emails, you can nurture the leads to take steps towards customership as well as retain current clients. Examples of targeted messages include:
A welcome message with a special promotion
Birthday greetings
Automated emails offering customer support
Therefore, complementing your email campaigns with a marketing automation tool is a must in 2020.
CRM tool
A customer relationship management (CRM) tool allows you to manage your contacts in a systematic way. With a CRM system, customers are more easily and accurately segmented.
Thus, you can send your customers emails they are interested in at the right time, leading to more up- and cross-sales and higher customer retention and satisfaction.
We recommend one of the most widely-used CRM systems, Pipedrive.
9. Productivity hacks
Tons of emails to read, constant messenger notifications, and an endless stream of distractions.
Does this sound familiar?
Here are some Chrome extensions to boost your productivity when you have a lot on your plate.
Notion
Want to combine your reading list, travel plans, and marketing ideas – all in one place? You can do that with a few clicks by using Notion.
What's more, Notion is now completely free for personal use.
Save to pocket
Found an interesting article on the Web in the middle of the workday? Just save the Web page with the one-click and continue reading the article at home. The saved pages will appear in your Pocket account, which gets synced across all your devices.
StayFocusd
Set a certain duration of time you want to spend on sites like Facebook and Twitter. If you exceed the time limit, StayFocusd will block your access to all of these sites for the rest of the day.
10. Webinars
73% of B2B marketers and sales leaders say a webinar is the best way to generate high-quality leads (source). We listed the key tools to help you run a successful webinar.
Presentations
Dealing with presentations or helping your team to deliver a great one is an inevitable part of webinar preparation.
In case you're wondering what presentation tool to use, check out these:
Marketing professionals love the cloud-based Prezi as it's great for collaboration and does not require designer skills
A lot of marketers refer to Haiku Deck as being an easy-to-use tool
Our Marketing and Sales teams use Apple's Keynote and Google Slides
Event & webinar management tool
Hosting your own webinars?
Using event management software is a sure-fire way to help you organize the entire process.
We at Liana Technologies use Eventilla for every webinar we host. The tool is integrated with GoToWebinar and allows us to create webinar sign-up pages and broadcast our sessions within one platform.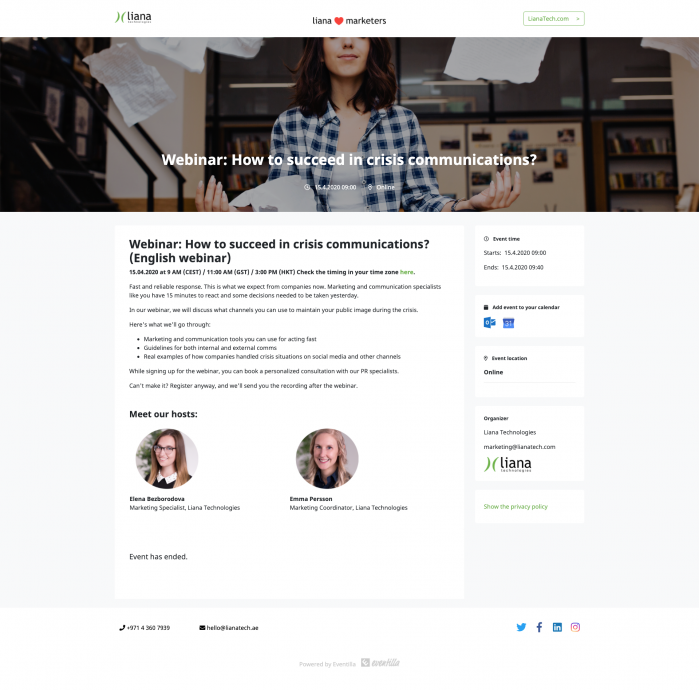 Equipment
You can totally get by with an in-built camera and microphone on your laptop. However, getting external devices for hosting webinars will bring the quality of your broadcasts to a whole new level.
We use these devices for some of our sessions:
Camera: Sony A6400
Microphone: Rode PodMic

Read more: How to Do a Webinar – 9 Tips for a Successful Start [+Checklist]
11. PR checklist
Press releases haven't become obsolete.
According to our latest PR survey, journalists actively utilize press releases in their daily job.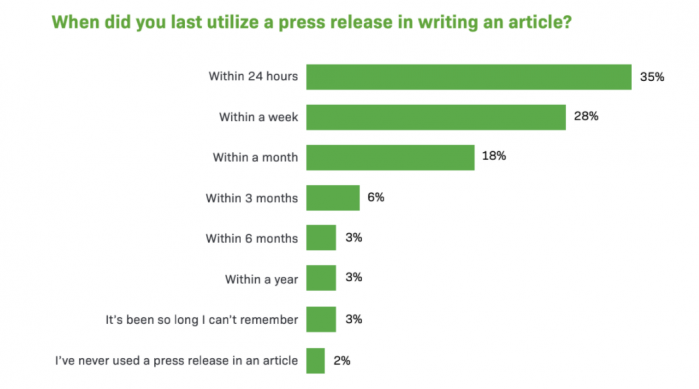 Thus, with the right tools at your fingertips, press releases can give your brand a big exposure online.
PR and media monitoring
Our marketing team uses Liana®Cloud PR & Media to send press releases about the company's achievements and other important announcements.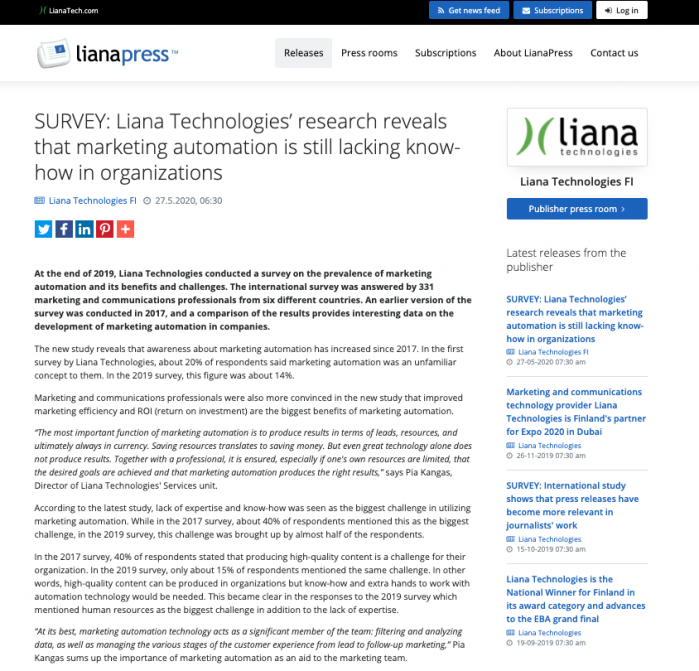 But we are always one step ahead when it comes to PR distribution:
By complementing our PR efforts with a media monitoring tool, we can immediately see when a press release has been published by a certain media.
Surveys
Marketers use online surveys in any number of ways:
Conducting market research
Getting customer feedback
Finding out customers' preferences
Ultimately, the survey results can be effectively used to boost your PR.
Aside from Google Forms, there are other online survey tools in the market:
12. Video marketing checklist
The number of businesses using video as a marketing tool has increased from 61% to 85% since 2016.
Look:
Make sure to have the following tools to get the most out of video marketing.
Camera
Having a good camera in your toolkit is important for shooting customer cases, YouTube videos, or other footage.
There are a ton of good ones out there:
For a start, you can go with an iPhone camera, for example, iPhone 11 PRO
Sony a7R is a good option for more advanced level
Our team uses Canon 5D Mark III
Video editing tools
The most common misconception floating around video editing:
It's difficult to edit a video without sufficient skills.
However, with these tools you can effortlessly create short video clips:
Give them a try and see for yourself.
Stock videos
A collection of stock videos can add a little spice to your videos:
13. Graphics checklist
Dealing with graphics is something that every marketer eventually faces in their everyday job.
Make sure you have the relevant graphical tools at your disposal.
Image editing tools
The following tools can help you with basic design tasks, such as whipping up a social media post or a header image for your newsletter.
Stock images
14. Marketing reading checklist
What do all successful marketers have in common?
They constantly expand their scope by reading industry-relevant blogs.
Our team recommends the following blogs:
Tip:
Use Feedly to keep all of your favorite blogs organized in one place.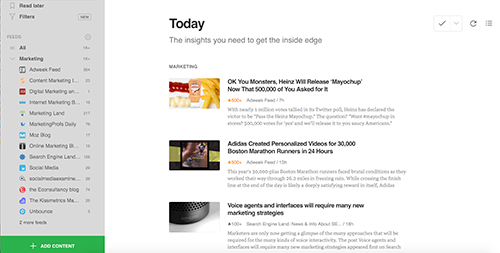 Let us know in the comments below what you would add to this checklist. Remember to share the checklist with your team during your next marketing meeting.