This is a complete step-by-step guide to creating an effective email marketing strategy.
These guidelines help our own marketing team to send emails to our database of +200K contacts in 6 countries.
You'll learn how to:
1. Set email marketing goals
Setting clear goals should be your starting point. Once you identify specific goals, you can move forward to planning your newsletter templates, visuals, copy and other important aspects of email marketing.
Note: goals should help you achieve your business goals. In other words, email marketing is just a weapon for helping you achieve bigger goals, not a goal itself.
Let's compare these email marketing goals and the steps for attaining them:
2. Identify trends
You probably don't want to read a newsletter with outdated design and slang words no one uses anymore. That's why trendwatching should be added to your email marketing strategy.
Keep an eye on the latest trends and start using them before they become mainstream.
What can you follow:
Latest newsletter design trends
What is talked about in your industry
New features
Learn more: Top Newsletter Design Trends for 2020
For example, interactive newsletters (like the one below) is one of the latest trends in email marketing.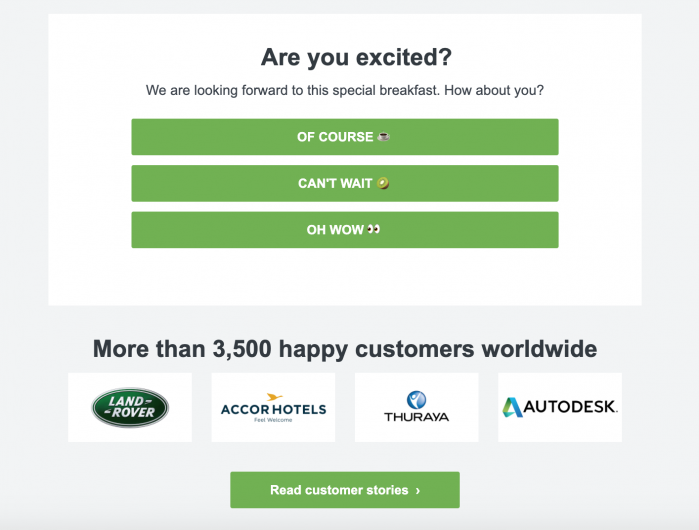 3. Monitor your competition
Spy on your competition to see what newsletters others create and how they approach email marketing in general.
Really Good Emails is a go-to tool for browsing through most inspiring emails across all industries and topics.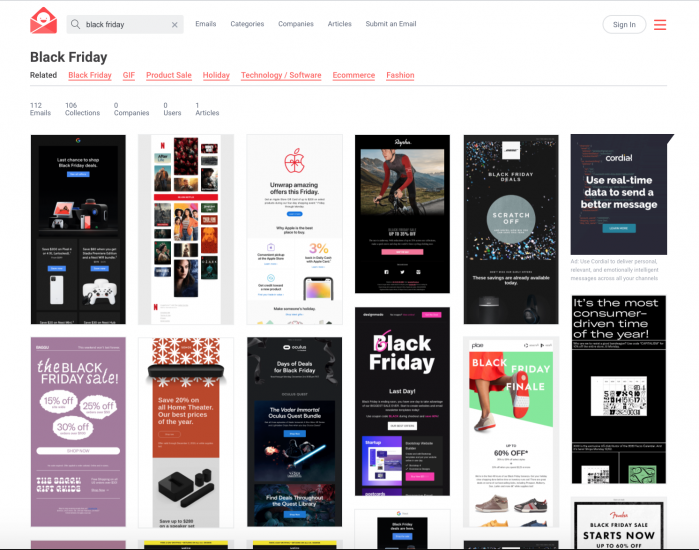 4. Audit your audience
The good ol' buyer persona concept is a good way to start analyzing your target audience. It can give you some hints for your content marketing in general.
When it comes to email marketing, you can take a more granular look at your audience. Analyze, for example, these factors:
What email clients they use
When they are most active (refer to the reports section in your email tool to see when your newsletters are mostly opened)
What devices are popular among them
Here's what your audience portrait might look like: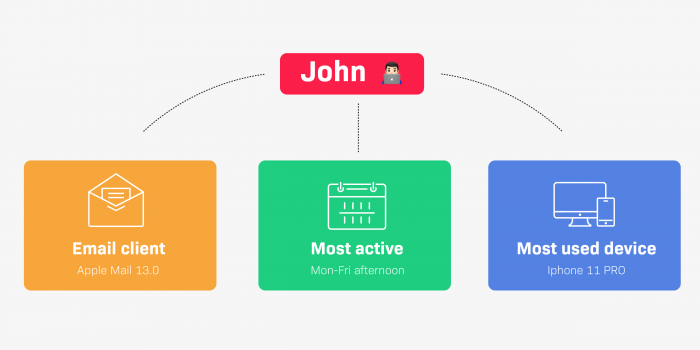 5. Grow email lists
In case you don't have a contact database yet, now it's the time to start building one. Here are some of the ways to grow an email list from scratch:
Place discount pop-ups and offer discounts in exchange for an email address
Place exit pop-ups
Have an opt-in form on your site
Create downloadable content (a.k.a. lead magnets)
Add event or webinar attendees to your mailing list
Provide early access invitations for new products
Create online quizzes and send results to those who leave their contacts
Offer free wifi in exchange for an email
We discuss these steps in detail in this video:
Note! To see the video below, give cookie consent to the Marketing section. Open cookie manager.
6. Segment your database
Today's email marketing is all about reaching your audience on a personal level. In fact, email personalization produces 6x higher revenue and transaction rates (Backlinko).
Segmenting your email lists is crucial for sending personalized emails. You can segment your lists based on your industry and your needs.
For example:
Geography
Age
Gender
Company
Industry
Job Title
Past Purchases
Event participants
Cart abandonment (for eCommerce)
How to segment your email lists?

Ask the right questions in your subscription forms: if you are going to send newsletters based on their geography, the location field should be a mandatory field on your forms
Use dynamic lists: many email marketing tools can compile a new list from your existing users based on the criteria you set up
7. Plan newsletter types
Now it's the time to think of the topic clusters or newsletter types. Here are the most common types of newsletters:
Promotional: upselling, new product announcements, webinar invitations
Behavioral: welcome newsletters, "we miss you" emails, cart abandonment
Informational: CEO updates, Terms of Service
8. Check legal requirements
Make sure your actions are in accordance with GDPR. Each and every member of your team should be familiar with the key rules:
It is mandatory to get the users' consent for email marketing so use double-opt-in messages
Companies are forbidden to send an unsolicited commercial email by purchasing email lists
All email communications must include the opt-out functionality (an unsubscribe button) and a physical locator (corporate address)
Organizations in breach of GDPR can be fined up to 4% of annual global turnover or €20 Million (whichever is greater).
Learn more: GDPR Basics [+Checklist]: Get in Terms with the EU Data Protection Regulation
9. Create newsletter templates
Whether you are using ready-made email templates or creating customized ones with your email marketing software provider, go through the essentials of a newsletter template.
Vital components of a newsletter
Let's take a look at these must-have newsletter components: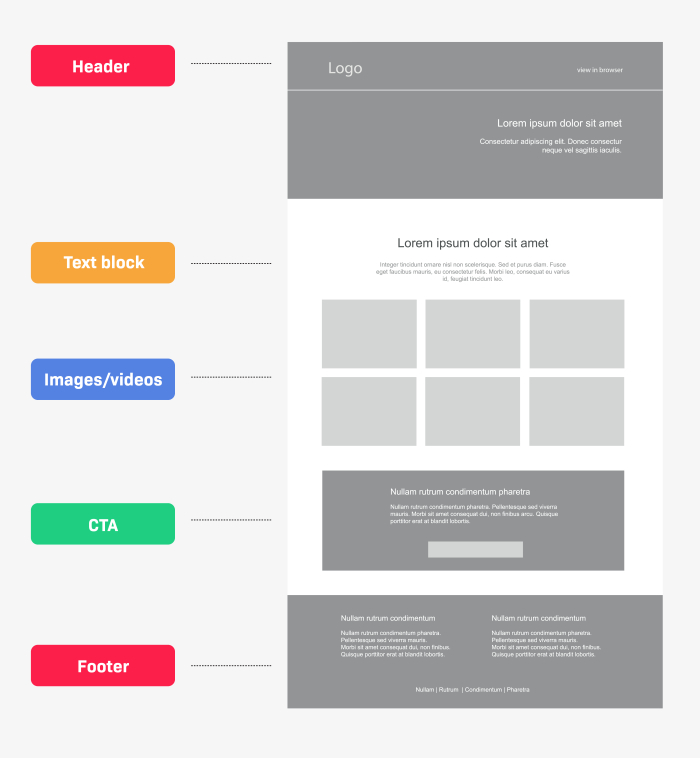 Header: add your logo and a link to view your newsletter in browser
Text block: make sure your heading style stands out
Call-to-Action (CTA): direct your readers to your site or landing pages and make your CTA copy enticing enough
Footer: add your contact information and an unsubscribe link
Build accessible newsletters
Today's digital content should be accessible to all groups, including people with different kinds of disabilities. Here's the checklist to help you build accessible newsletters:
Logically placed and scannable sections
Alt tags for images
Contrasting and consistent color scheme
Descriptive and clear text
Descriptive subject line
Read more on newsletter accessibility on this post by our UX designer Elisa Raittila: Is Your Newsletter Accessible? Should It Be?
10. Determine sending frequency
There are tons of studies on "best times to send emails".
All of them have one limitation: they ignore the fact that your audience might be located in different time zones and might have different online preferences.
That's why you should decide on the frequency and the sending time for your newsletters that work for your company. Some tips to remember:
Use scheduling feature: this is a huge time-saver if you plan newsletters well in advance or need to reach your readers on weekends
Respect your readers: Do not send emails every week if you promised monthly sendings and vice versa
Always reserve space for ad-hoc newsletters: no one expected to communicate COVID-19 updates but companies had to adjust and reconsider their newsletter scheduling
11. Create newsletter content
The next step is to decide what the body of your newsletter will contain. Below you'll find some tips to help you plan your newsletter content.
Editorial calendar
In case you don't have a content calendar yet, try any online resource, for example, Monday.com templates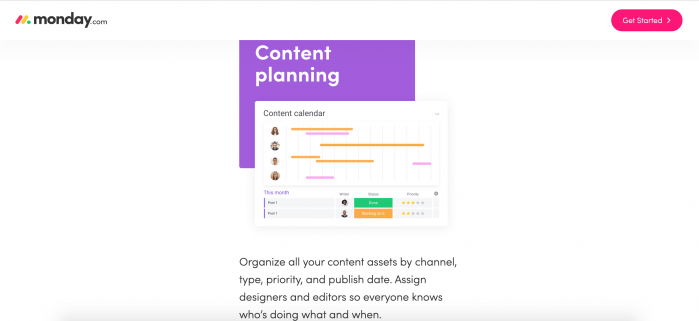 Plan in advance
Start early enough, especially if you need to involve others for your newsletter content. Asking your CEO to give a quote for your newsletter one day before the actual sending might be too late.
Utilize newsletter content to its maximum potential
Your newsletter content can be a base for your press release or vice versa, especially when it comes to important announcements or your biggest achievements.
Pay attention to all newsletter content
Check your subject line, preheader and plain text version to make sure you have unique content in all components of your newsletter.
Extra tip: Seeking inspiration for your newsletter copy? You can find plenty of ideas on Just Good Copy
12. Select visuals
We all create the first impression of a company when checking their Instagram visuals. The same goes for your newsletter images. Pay enough attention to selecting good visuals for your emails.
Images
Use only high-quality images: blurry or pixelated photos do not look professional
Shoot your own photos: using stock images is always an option but personal photos create friendlier vibes
Add links to images: increase newsletter CTR by adding links to all images you use
Keep the right image-to-text ratio: your newsletter may end up in spam if the amount of text is not in balance with your images. Professional email tools tell you this before you hit the send button.
Avoid large image uploads: newsletters containing heavy files are slower to upload and have higher spam points
Online tools for creating images
Short on resources? Use one of these free online tools for creating infographics or simple images:
Videos
Adding the word "video" in your subject line can increase the open rates by 6% (SuperOffice). People love and want more videos.
We recognized this need and added a video block to our templates.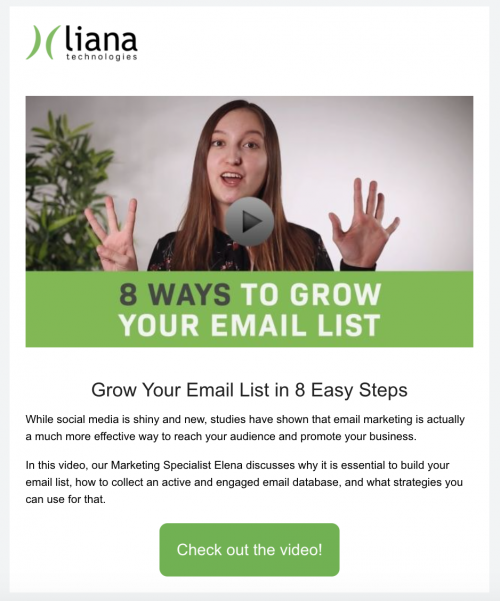 Online tools for creating videos
If in-house video production is out of your budget, check these tools:
13. Run deliverability check
Did you know that the bounce rate of 10% and higher might be alarming? Here are some deliverability tips from our specialists:
Monitor hard and soft bounces as well as inactive recipients. Persistent emails to these addresses will get your connections deferred.
Consider sending a reconfirmation email to inactive subscribers periodically. Or just remove them entirely.
Sending emails to users who are not reading them, or who mark them as "spam," will hurt your delivery metrics and reputation.
Test your emails' visual look as a plain text version. Some users won't see images in your email by default.
Link to domains, not IP addresses.
Don't include: HTML forms, JavaScript, or embedded objects (like flash or ActiveX.)
14. Measure your results
Wouldn't it be great to plan your marketing based on real data instead of doing guess work?
If you just nodded, be ready to monitor the success of your newsletters on a regular basis. Here are some of the key metrics to focus on.
Top metrics of email success:
Open Rate (OR)
Click-Through Rate (CTR)
Unsubscribe Rate
Bounces
Conversions
Return on investment (ROI)
Learn more: How to Increase Email OR and CTR? 13 Most Effective Tactics
Tools for monitoring your email marketing results:
Built-in reporting tools: Email marketing providers offer basic reporting features which track almost all the essential metrics, such as OR, CTR, bounce rate, and unsubscriptions
Google Analytics: Check your website traffic or conversion from newsletters
Google Data Studio: Take an overview of how your email marketing performs against other marketing channels
Interested to hear more?
Get familiar with our newsletter tool LianaMailer, and feel welcome to contact our experts to further discuss improving your newsletters.
Contact us!