Why is it important to write an effective text ad?
It's a well-known fact:
First impressions matter a lot.
In business, your ad copy helps to create the first impression of your brand in the eyes of consumers. Not to mention that a compelling text ad helps you drive more clicks and ultimately results in more conversions.
Therefore, we collected the most effective tips on how to write Google text ads and compiled an infographic based on that. Continue reading to learn 18 Google Ads ad copy guidelines, in particular:
Best ad copy examples
Valuable PPC ads statistics
Companies who write killer text ads
In the end, you will find an infographic summarizing all text ads tips.
1. Get into the mind of your buyers
Before you start writing, make sure you know what your target audience is looking for. Ask yourself:
What problems are they experiencing?
How does your product or service solve their problems?
What questions might they have about your product?
This will help you to create the right and effective ad copy that resonates with your audience.

Harvest knows that time tracking is a pain point for many teams and highlights it in the ad copy.
2. Include a call to action
In order to drive more clicks, it's important to tell customers what they can do on your site once they click your ad.
Can they book an appointment? Or make a purchase?

Anaplan explicitly states that a user can book a demo after landing on the website.
Tip:

Include an actionable verb and time constraints to speed up the process of making an action, for example:
"Buy now! Sale ends Wednesday."
A study by WordStream revealed that the most popular CTA in the top performing ads are "get", "buy" and "shop".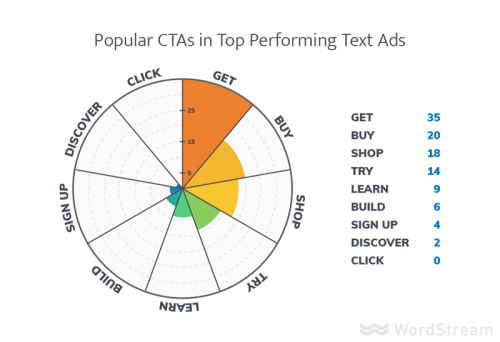 3. Appeal to customers on mobile
The reality of 2018:
52.2% of all worldwide online traffic was generated through mobile phones (according to Blue Corona)
Therefore, ensure the landing page associated with your ad is mobile-friendly.
Pro tip:
Use Google's phone numbers extension to allow customers to instantly call you after spotting your ad.
Take a look at how London based lawyers apply it.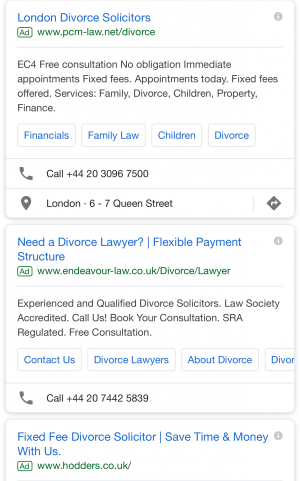 4. Include special offers
If you have a limited-time discount or a special offer, don't forget to mention it in your ad copy to make it more enticing.

By mentioning the 60% sale, Cockney Rebel Fashions' drives more attention to the ad.
5. Match your ad to your landing page content
Look:
A study by Unbounce found that 98% of 300 different landing pages did not correctly align the ad message match.
People might abandon your website if they don't find what they expect.
Too true.
That's why you need to make sure that the promotions or products mentioned in your ad are included on your landing page.
6. Don't overcomplicate
Use simple language to avoid alienating your clients before they even click on your ad.
This essentially means avoiding the following aspects:
Intimidating buzzwords
Acronyms
Difficult grammatical structures
7. Highlight what makes you stand out
Do you provide free shipping? Or perhaps an outstanding customer support?
Make sure to mention it in your ad copy to describe how you're better than your competitors.

A 7-day customer support for our Middle East customers is a great competitive advantage and we clearly state it in our ads.
8. Place relevant keywords
Include your keywords in the headline, URL or in the description to make your ad more relevant to the searcher's intent.
This will also increase the quality score of your ad in the long run.

Zoho includes the relevant keyword in the headline, URL, and description of the ad.
9. Mention pricing (if relevant)
Mentioning numbers in your ad copy can give you a great edge.
A study by Conductor confirms this.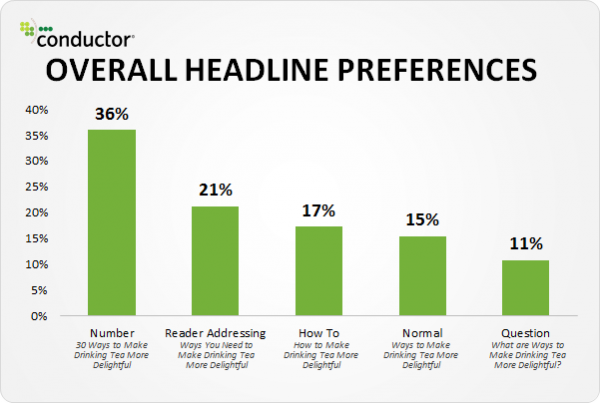 Thus, pointing out your pricing can definitely drive more clicks.
But:
Be careful in terms of your competition. Rivals can drop their prices after spotting your ad.
10. Pursue urgency
Creating a sense of urgency can increase sales by up to 332%.
Let's face it:
Urgency compels us to take action.
You can pursue urgency by setting a countdown in an ad text, especially if you have a special sale or offer. Consider the following example by Red Wing Store.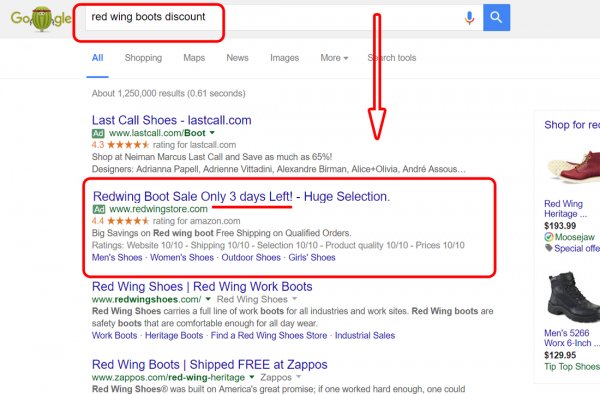 Read instructions on the Google Ads Support site on how to set up a countdown in a text ad.
11. Use ad extensions
Increase your CTR by including extra information about your business – by adding an ad extension.
These can be your company's location, phone number, business ratings and much more.
Here's the list of 10 Google Ads extensions you should be using.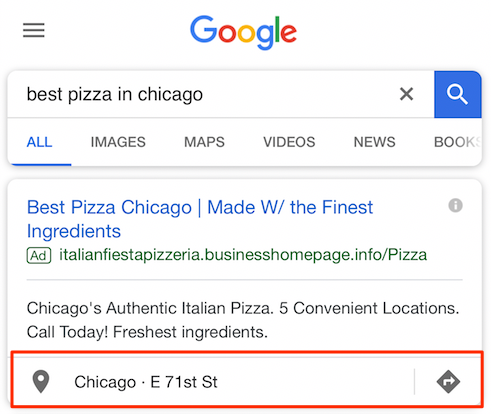 To cater to the users who are always on the go, this pizza place from Chicago uses the location extension.
12. Experiment
Fact:
Google ads are rotated automatically to show the best-performing ads more often.
That's why it is a good practice to run several ad campaigns to find what words convert best.
In general, it is recommended to have from 3 to 5 ads per ad group to achieve reliable results.
Some ideas for PPC ads split tests you can try:
Placing your CTA in different locations
Comparing different CTA's
Experimenting with pricing and special offers in your copy
Trying different URL paths
Highlighting different benefits of your business
13. Address your audience directly
Have you wondered how to strengthen your bond with customers?
Use the power words "you" and "your" in your ad copy.
Addressing your audience directly will make them feel important and, as a result, make them click your ad.
You can add the power words in the headline (like Networktherapy did):

Or place them in the description (the same way as SeoProfiler)

14. Check spelling
When it comes to punctuation, Wordstream has found out that exclamation points and commas are the most common for both branded and non-branded ads.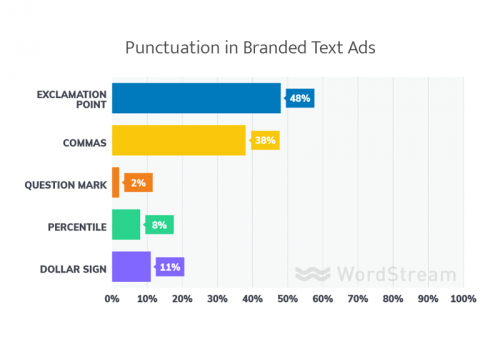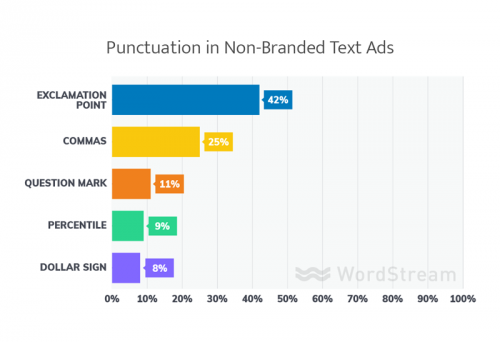 You can try different punctuation styles or use symbols, however, make sure they meet editorial standards.
Complying with Google's editorial policy is a must in order for your ad to be approved.
Here's the list of Google's professional and editorial standards.
15. Use emotional triggers
Research proves:
The most effective advertising campaigns are based on emotional drivers.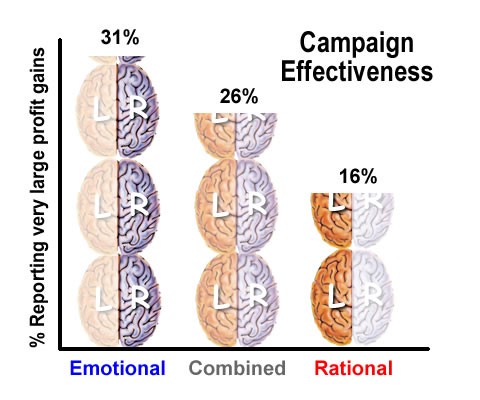 (Source)
By leveraging emotional triggers in your ad copy, you can start building a trustworthy relationship with your potential clients even before they engage with your brand.
16. Be brave
Have you received a prestigious award? Do you have a special recognition from an authoritative company in your field?
Let the world know about it.
Look at how NetSuite puts it:

In fact, mobile searches for "best" have grown over 80 percent in the past 2 years (According to Google, 2017).
17. Use all your space
Remember:
From now on, Google Ads gives you three 30-character headlines plus two 90-character description fields.

Make the most out of it by packing all the information and relevant keywords you can into this space.
18. Take into account the customer journey
Think about it when writing your next ad:
Is it the first interaction with your business or has a client known you for some time already?

This will help you to shape the right tone for your ad copy.

In the following example, the ad is targeted to users who abandoned a shopping cart on a website. Thus, the ad description is customized for this retargeting list.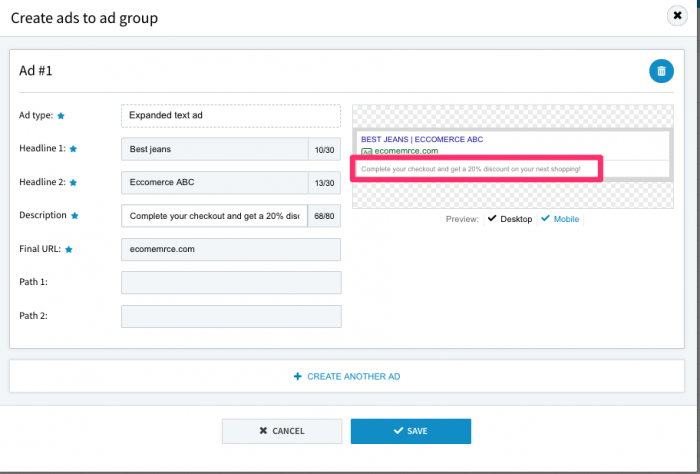 The ad is created with our marketing automation platform LianaAutomation. Thanks to our new Google Ads integration, you can create Google Ads campaigns right in LianaAutomation interface.

Want to learn how to create your own Google Ads with less effort? Book a consultation with our experts now!