Webinars are a very popular tool in today's marketing. They enable bringing up topical subjects, focusing on them in a specific moment in time, being interactive with viewers and also recording the event for later viewing. They are cost-effective and fairly easy to set up.
However, there are many things that you should consider before starting out with webinars. You could end up falling in a deep pothole if you don't prepare your webinars accordingly and really think things through.
We're glad you're here though because in this article, we go through the key points to hosting successful webinars and we have also compiled a neat checklist about organizing successful webinars.

1. Purpose
It all should start with the question "Why are we hosting this webinar?" Is your purpose to generate more leads, bring additional value to your customers or educate your listeners on a certain topic? Whichever you choose as your purpose will determine how you approach your topic, compile your content, contact your target audience and interact with them. It also determines what you measure once the webinar has been held and you can check out the statistics.
Be realistic with the topic you choose. Especially when starting out with webinars, choose a topic you know will attract a big audience. Once you have established that you host great webinars, you can start narrowing down to more niche subjects.
2. Target audience
Your target audience is tightly knit to your "why". If you are hosting a webinar to your existing customers, your angle and content will differ a lot from a webinar you would host to potential customers who are still on the fence about whether to get on board with you or not.
In a webinar that is aimed at your customers or people that are already otherwise very engaged with your organization, you are obviously going to share quite a lot of information that is valuable only when the listeners are familiar with your product or service.
Detailed product specifications and features of your services are some of the things you will be sharing in customer webinars. Just remember not to make the content too tech-oriented for people to follow, even when they are familiar with your services. If you rely on technical specifications too heavily, the webinar might become too tedious to follow.
In webinars aimed at prospects or potential customers, you might want to show some of the coolest aspects of what you are offering. Just keep in mind not to show too much, so that you don't give out the goods for free.
You also don't want to alienate people by focusing too much on something that these prospects are not yet acquainted with. These people are at the top of the funnel and your aim is to provide inspiration, create needs and strengthen their trust towards you.
3. Experts
Once you know your target audience, you need to determine who will be talking to them about any given subject. Even if you would be your company's designated webinar host, don't try to tackle this task just by yourself. First of all, people get bored of watching the same face in every webinar from your organization. So try to mix it up a bit and recruit talented people from – or outside – your organization to spread their expertise in your webinars.
Always have a plan B ready as well. People can, and unfortunately will, get sick. Who will step in when someone can't make it to the webinar?
Think of topics that could be covered and who might be the most knowledgeable about these subjects. Also, think of the people as performers.
What is their rhetoric like?
Can they speak about a topic in a gripping way?
If you take questions from the audience, can they answer under small pressure?
4. Content
Bounce ideas around and start gathering material. Take note what others in your industry are doing. Get inspired by what they're doing and add your own touch. Use your colleagues as sources for case examples or just to get a second opinion on something.
One person should be in charge of compiling all the material together and then you need to make sure the presentation is, well, presentable. Blurry images, miscellaneous fonts, and slides so full that it's hard to make any sense of them don't belong in a webinar keynote.
Actually, in webinars it is best to have slides with a minimal amount of text or even only have images that illustrate what you are talking about at any given time. This way, the participants can truly focus on what you are saying and they won't be distracted with reading what is on the slide. Have an agenda slide in your presentation so that people know what to expect and when. Many viewers will be taking care of their daily tasks at the same time and will focus on the parts that are relevant to them.
There isn't a suave keynote guru in this world who wouldn't benefit from thoroughly practicing their presentation. It is definitely advisable to go through the webinar at least a couple of times with all the participating presenters.
First of all, you get a sense of the time you spend. This is very important so that you don't promise an hour-long webinar but somehow end up using 20 minutes – or go 20 minutes overtime.
Feedback from our own webinars is clear about it: people are thankful and happy when you stick to the time you've provided. Usually, a good length for a webinar is 30-45 minutes. In the end, you could have 15-20 minutes for participants' questions.
If you have a couple of people in the webinar who are in dialogue about the subject, practicing helps in deciding who says what and when. Practicing also helps you avoid talking over each other or stealing each other's pointers in the actual event. Overall, practicing the webinar beforehand makes you sound more professional and most likely appear more relaxed and sure of yourself.
5. Platform
Choosing a platform for your webinars is a key factor since it really determines what functionalities will be available to you and your audience. Some to choose from include, but are in no way limited to:
These and many others vary in all possible features that you could think of a webinar tool to have. Attendee number, screen sharing options, interaction possibilities, package variety and, naturally, price. Therefore, you need to go back to your purpose for the webinar and your target audience. What are the most important functionalities for your specific purposes?
Do you need the maximum number of attendees to be in double or triple-digits or even more than that?
Do you need people from other locations to be able to be presenters as well?
Do you want the attendees to be able to chat with each other?
6. Equipment
Webinars are dependent on technology and that is why you should invest some resources – both time and money – into getting good equipment for hosting webinars.
Video
You will host your webinar from your laptop or desktop computer and depending on this, and also your personal preferences, you will either use your laptop's camera or an external webcam. Using an external one has its perks since it can be moved to show a larger view of your surroundings. A laptop's camera will always show the same limited view and also at an upwards angle, which is not the most flattering angle to have.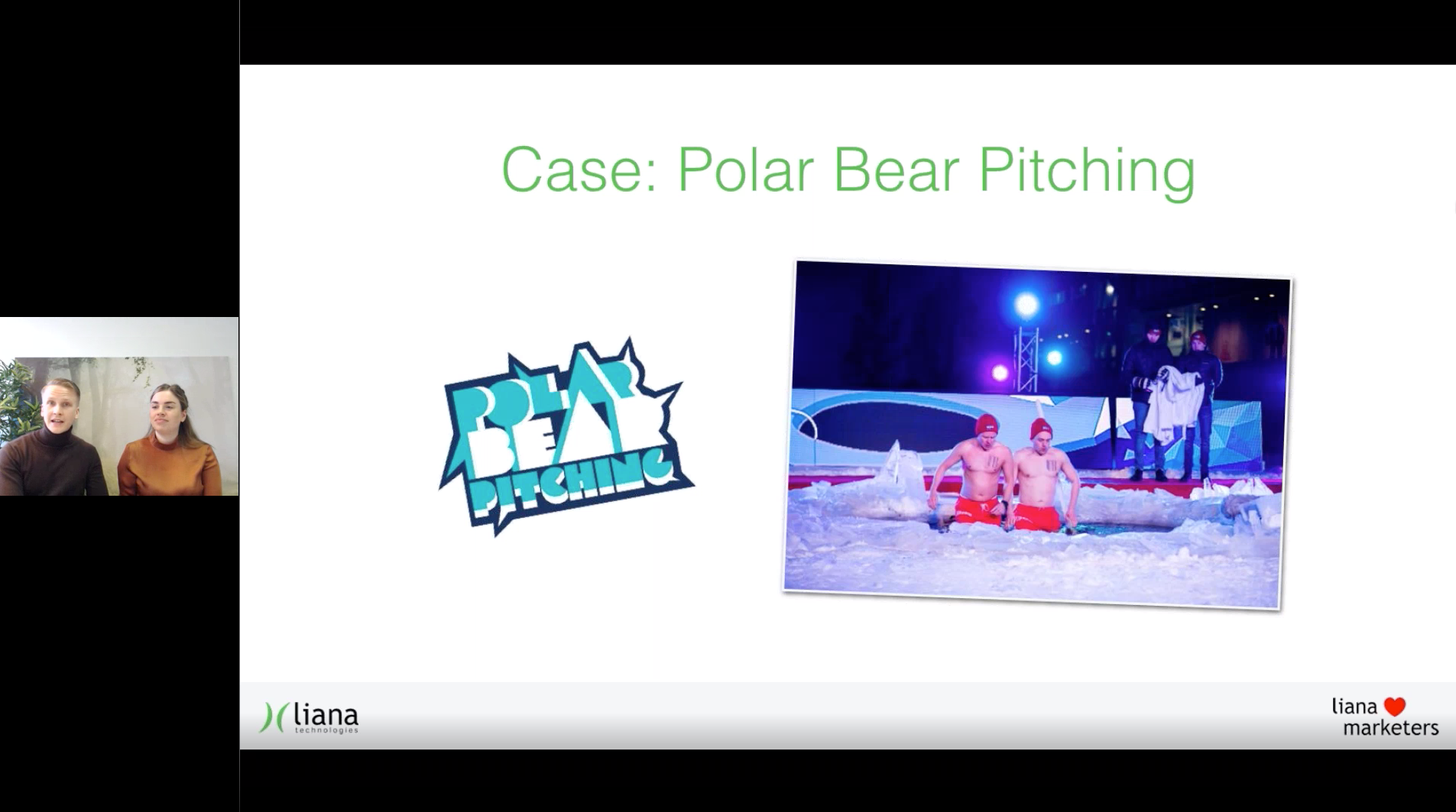 Liana Technologies webinar in action. A picture-in-picture format allows the presenters to be displayed, in addition to the slides, to give a more personal touch to the webinar.
In some cases, you might just be showing a keynote on the screen. However, it could be argued that showing the webinar hosts' faces does give a nice and more personal touch to the webinar. Most of the platforms also allow both the webcam stream and the screencast to be shown simultaneously, a sort of picture-in-picture format.
Audio
Glitches with sound or video are never fun. Not for you but especially not for your viewer who has invested their time to hear you out. You should deliver a pleasant experience without crackling, hissing, thumping or any other kind of meandering effect to the sound. Therefore, getting an external microphone for hosting webinars is definitely recommended.
While you're at it, get one that has different settings for gathering the sound so you can always choose the best one according to the space you're in.
Wi-Fi
This might not even cross your mind if your Wi-Fi is dependable and fast. However, you are in trouble with your webinar if the connection is bad. So switch to wires if you've encountered problems with your Wi-Fi connection previously. And if you're very into being absolutely sure, you might want to switch to wired broadband in any case. A wireless connection can always be lost for some unknown reason.
Once you have your platform ready and your equipment set up, test all the functions you're going to use in the webinar. Switch between screens, change presenters, click links, test out keynotes and all other imaginable things. In other words, do everything you would do in the actual webinar.
7. Marketing
The next step is to figure out how to reach the people you want to attend your webinar. If you are hosting a webinar for your customers and you have their contact details as a mailing list, this task is easy. Having an email marketing/marketing automation tool that has an event management and webinar tool integrations will make everything even easier.
When all your tools communicate with each other, you can make webinar participations as part of your automation chains, or make targeted invitation lists directed to those who make the best target audience for a specific webinar.
With a good automation platform it is easy to recognize, what kind of interests a customer or a prospect has, or what phase they are in: are they looking to buy or upgrade something? Are they maybe feeling unhappy and might need reassurance? Are they new and keen on learning?
Marketing automation can also help you in reeling in the ROI on your webinar with retargeting those who signed up – or maybe those that didn't show up.
When hosting a webinar to prospects, you first need to reach them somehow. You have many options in terms of social media or display advertising. Depending on your target audience, you can try:
Facebook Ads
LinkedIn Ads
Google Display Ads
Instagram Ads
You can also hand-pick your webinar participants and not have a public webinar.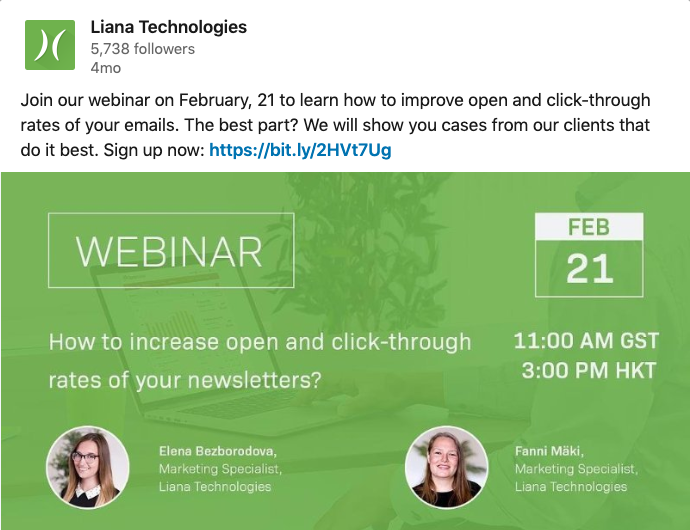 Liana Technologies has utilized social media advertising for webinars.
Whoever you target your marketing towards, you should send clear instructions concerning the webinar. This way you can avoid a stream of questions before the event and also create a sense of security for your audience. Tell them explicitly how and when to join the webinar, and does it require some extra installations.
8. Event
OK, the day has arrived and your webinar is ready to be presented to the world. This is where it's time to get really technical and go through the stages step by step.
In case something goes sour with the webinar links, have someone responding to people's requests for a working link or something, anything, else that might come up. When the webinar gets going, you won't have time to solve technical issues.
To avoid any uncomfortable clashes with timing – and especially in larger organizations where many people use the webinar tool – have a calendar where you mark your organization's webinars. Don't have multiple on the same day. Focus on the one at hand and direct all your efforts to that one that day. Check your competitors' webinar schedule as well. You want to stand out from the crowd, not be buried under a pile of similar webinars.
Decide how you will handle the questions that might come up from the participants. Possibly you have set aside some time for questions at the end of the webinar. Or you might answer them as they come during the webinar. Decide how to process the questions that you don't have time to answer.
Check and double-check all technical stuff well in advance – meaning half an hour or so before your webinar starts. This way you'll have time to fix any upcoming issues before it's time to be online.
Check your camera, check your mic, check that you are sharing the slides from your screen. If your webinar platform has a recording option, check that you'll start recording once you go live.
Now, relax. Put a smile on your face. Click start and welcome your viewers with a nice and sincere greeting. The rest you know because you've practiced.
----------
So, it's time to wrap up your webinar. Thank your viewers for their time and explain to them what the aftermath will be like. In fact, you can talk about the aftermath at the beginning of the webinar as well, so that those who leave early, get the information too. End the webinar (and the recording) and be sure that it's all shut down before commenting anything – negative or positive.
9. Aftermath
To make a full circle, let's go back to the purpose of your webinar once more. Whether your purpose is to get more leads, give more value to your customers or simply give informative content, always contact the people who watched your webinar. How you contact them can vary. Keep in mind that "Thank you for participating" letters usually have an outstanding Open Rate so utilize this possibility.
You can send a feedback questionnaire if you just want to get an idea of how you did and how you could improve for the next one. It's a good idea to include a numerical question, such as "How did we do on a scale of 1-5" so that you can calculate a mathematical average to show to management or someone you report to.
Think very carefully how, where and to whom you share your webinar recording. Sharing it openly to YouTube erases the aspect of your webinar being an event at a specific moment and turns it into a video. In some cases, you might want to do this but especially in B2B the interactivity of the event should be utilized. Also, advertising the webinar as "only for customers" or "only for a limited amount of people at a specific date" works at the marketing stage.
For customers and prospects, you could send a comprehensive newsletter that does have the recording of the webinar, maybe some related articles and naturally also the feedback survey. You might also get personal with your customers and call to all of those that had some more thorough questions in the webinar.
Go through all the feedback that you get and take it into account. One of the best questions we have in our survey is "What topics do you wish we would cover in our webinars?" By listening to people's requests, we can be sure that we are always going towards better and better quality in our webinars. At this point, it's time to start planning for the next one!
But before that, go through our checklist from below.