Choosing a CMS platform comes up in every website project. Whether you're setting up a new site or revamping an old one, you often end up figuring out which platform best suits your needs.
Originally developed for bloggers, WordPress is growing in popularity, with almost 40% of all websites now built on it. WordPress is growing faster than any other platform, with market share increasing by around 1-4% every year.
But what is the reason for this popularity and why do so many people – from individuals to large organizations – choose to build their websites on WordPress? And what challenges should we be prepared for?
In this article, we'll look at the features, strengths, and weaknesses of the world's most popular CMS platform, and to which needs it fits best.
WordPress' strengths
A huge ecosystem
WordPress is an open-source system, which means that anyone can download, install it, and edit it for free. It's also agile to deploy – it's practically ready to use as soon as you install it.
The WordPress community includes tens of thousands of contributors who develop and update plug-ins compatible with the platform, such as marketing automation and eCommerce elements. This massive developer market is constantly driving WordPress forward.
A large and active developer community
There is plenty of WordPress help available. If you encounter a problem on your site, don't worry: someone has probably already solved it, and you'll get support quickly. There are a lot of potential developer partners to choose from, so there's also a lot of choice.
With a large developer community, it's easy to outsource the maintenance, design, and development of WordPress websites. On the other hand, if you want to test your own skills, the web is full of guidelines and documentation to support WordPress development.
Customizability, add-ons, and scalability
One of the main advantages of WordPress is its versatility and customizability – it offers virtually unlimited possibilities for customization. There is a huge range of add-ons and themes available for the publishing system, both free or not, so you can easily choose from a range of options to customize your site.
Low development costs
With carefully selected add-ons, you can easily boost your website project and save time and money. For example, the WooCommerce add-on makes it quick and easy to set up an online shop. Once you have the basis of your website in place, for example, built on top of a ready-made theme, it's easy to develop your site further.
WordPress' weaknesses
Poor maintenance exposes your WordPress site to security problems
Open source also has its downsides: WordPress is an attractive target for hackers, and outdated versions and plug-ins in particular are a risk for WordPress sites. The use of well-known and trusted plug-ins reduces the likelihood of being attacked. This is why working with a reliable and competent WordPress development partner is absolutely essential.
A jungle of add-ons
Tens of thousands of plugins have been developed for the WordPress platform. Using and integrating the right, reliable plug-ins requires technical understanding and knowledge beyond the surface. Not all add-ons work with each other, which can become an issue, for example, when an add-on is updated. Get only the add-ons you need to keep the palette together: as a rule of thumb, get one add-on for one use.
The range of hosting services
Due to the popularity of WordPress, there are many different providers. Be careful when choosing a provider or web host: for example, the cheapest web hosts do not necessarily offer platform or plug-in upgrades. Failure to update your website will expose it to security problems.
Variability of authors and agencies
The skill level and implementation methods of the authors can widely vary, which requires the site owner to be aware of the issues. Again, pay attention to the type of agency you are working with to develop the site and check their backgrounds before signing any contracts.
When is WordPress the right choice?
WordPress is at its best in situations where the content requirements of the website are relatively light and the focus is on the visuals. For small businesses, for example, WordPress is a cost-effective option because it allows websites to be built using lightweight, off-the-shelf themes. In large-scale implementations, however, usability and maintenance experience can suffer if the site is grown heavy-handedly.
As the level of sophistication of a site increases, more comprehensive web platforms should be considered. A good example is LianaCMS, which is well suited for large-scale sites thanks to its clear content management tools. LianaCMS is best suited as a platform for customized websites, especially when there are many products, content, and user groups.
In LianaCMS, managing user groups is more convenient than in WordPress, because it gives you more control. LianaCMS product development has been targeted specifically at more sophisticated implementations.
Whatever the CMS, a customized website will cost more than a lightweight theme site.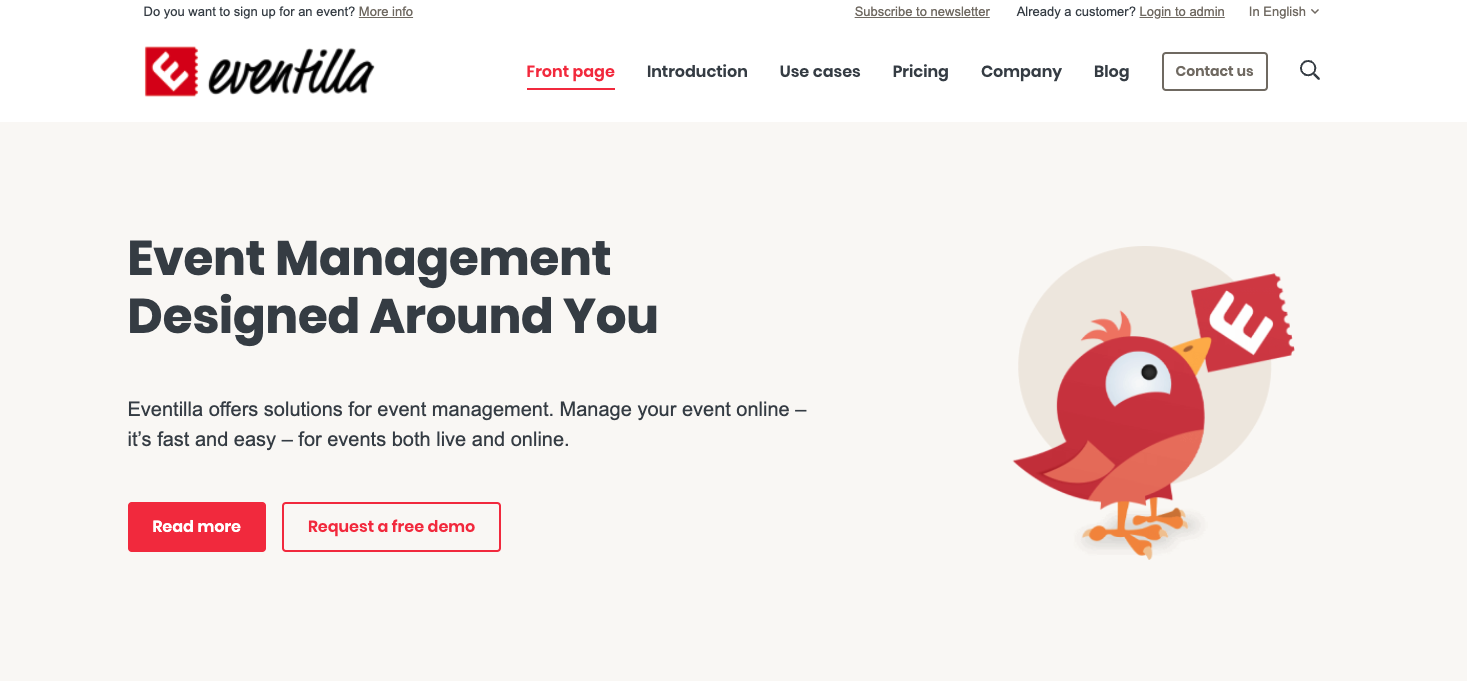 Liana's website for Eventilla is a custom WordPress implementation. Customization means that the website has been built using special functionality and customization, such as visual design, rather than being created on top of a pre-built theme.
How do you choose the right website partner?
Your website is your company's main marketing channel, so take the time to find a suitable partner and make a careful comparison between several providers.
Let's say you've decided to choose WordPress as your CMS platform. Great! You are again faced with a choice: how do you choose a partner that will work with you and achieve your goals?
Choosing a partner can be complicated by the fact that there are so many different providers in the WordPress space. In addition, the platform allows you to implement the same thing in different ways: it is, therefore, worth finding out what kind of WordPress policies the provider has in place, in terms of content management, for example. Also, ask them in general about their experience with different implementations and ask for references. Remember that price is rarely the determining factor in website projects.
The challenges of WordPress are surmountable when you choose a reliable partner. You can ask directly how they overcome the most common WordPress problems. Be sure to go through the basics as well:
What kind of support services do they offer?
How big of a player is it?
Will you be able to grow and evolve with your partner?
A good website partner will be able to suggest the right solutions based on the goals you set.
If you have been happy with your website partner, there is no point in changing. On the other hand, if your partner is no longer able to provide you with what you need, for example, because your goals have changed, it may be time to consider looking for a new partner.
Website implementations from Liana
WordPress website transfers (hosting)
We offer a website hosting service, which means that we take control of your existing WordPress site. We maintain and update the site and provide support and further development. The transfer includes a survey of the site's content and add-ons, as well as a review and testing of functionality.
Thematic implementations
We implement WordPress websites using lightweight theme implementations. We have a wide range of themes available, so you can choose the one that suits you best. Theme implementations are a great choice, especially when you want a visually striking site. Themes also provide the opportunity to create small eCommerce implementations.
Tailored implementations
We create customized implementations on both WordPress and LianaCMS platforms, depending on the use case, and the needs and objectives of the client. A customized theme is available for WordPress, with basic functionalities ready, on which it is easy to build a customized implementation. Custom implementations are often more complex to implement and therefore more expensive than theme implementations.
Are you planning a website redesign? Contact us!
Read more to get inspired: