The question most marketers face: How to get more leads?
The answer: utilize landing pages.
What is a landing page? Here's what Wikipedia says:

Landing sites typically have one distinctive headline, one unique selling proposition (USP) and one CTA. If you direct users to a landing page with a focused messaging, you eliminate extra distractions and thus make it easier for a user to reach the ultimate goal — complete a conversion.
Let's compare the website and the landing page from SEMRush.
The landing site has a clear CTA placed on the top and the overall content is quite compact. While the website still serves its primary purpose quite well, the landing site is more effective for lead generation.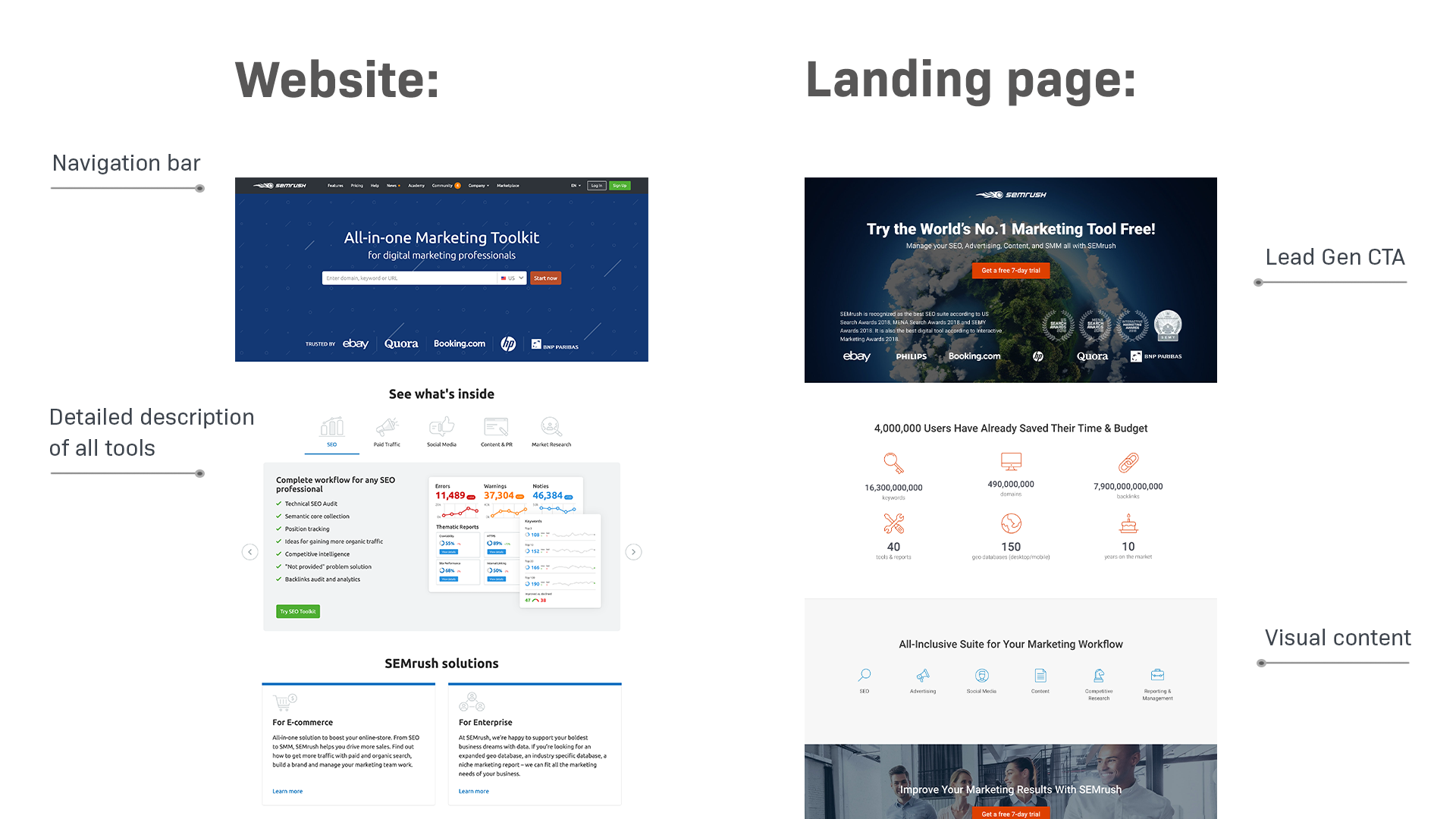 In this article, you'll find 10 landing page templates and examples of how companies across different industries utilize them to crank up conversion rates.
Landing page examples:
1. Sneak-peek at new products
Want to build excitement for a new product or service that is about to be released soon? Create a pre-launch landing page.
What is more, you can offer an exclusive benefit in exchange for an email. This way, you'll start collecting warm leads even before the product launch.
See how Serene does it for their upcoming app: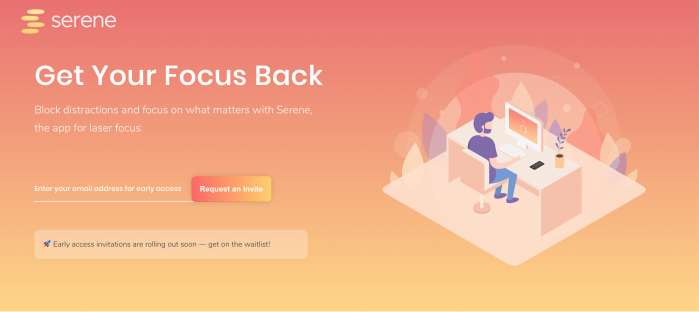 Pro tip: add a countdown to the pre-launch landing page to boost the sense of urgency.
2. Wi-Fi landing page
A good way to collect more customer data is to offer free Wi-Fi access in exchange for contact information. As soon as a person wants to access Wi-Fi at your venue, they can be directed to a landing page with a form.
As soon as the form has been filled, voila! Wi-Fi can be accessed.
Tanuki did exactly the same and collected a database of more than 1000 subscribers in just several months.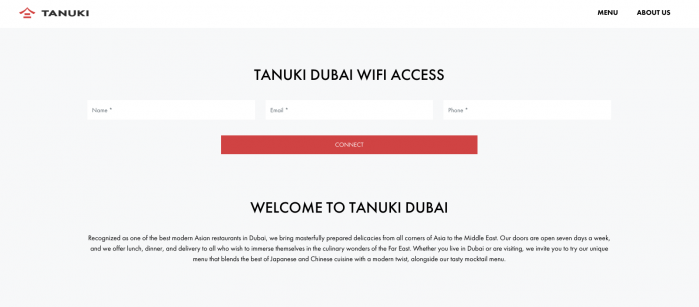 3. Event landing page
Get more event attendees with an attention-grabbing event registration landing page. List down the most important info there, such as event dates, location, testimonials from previous guests, or even place a video from your previous event.
By the way, incorporating video on a landing page can increase conversion rates by more than 80% (according to EyeWideDigital).
Take a look at how Nottingham Digital Summit does it: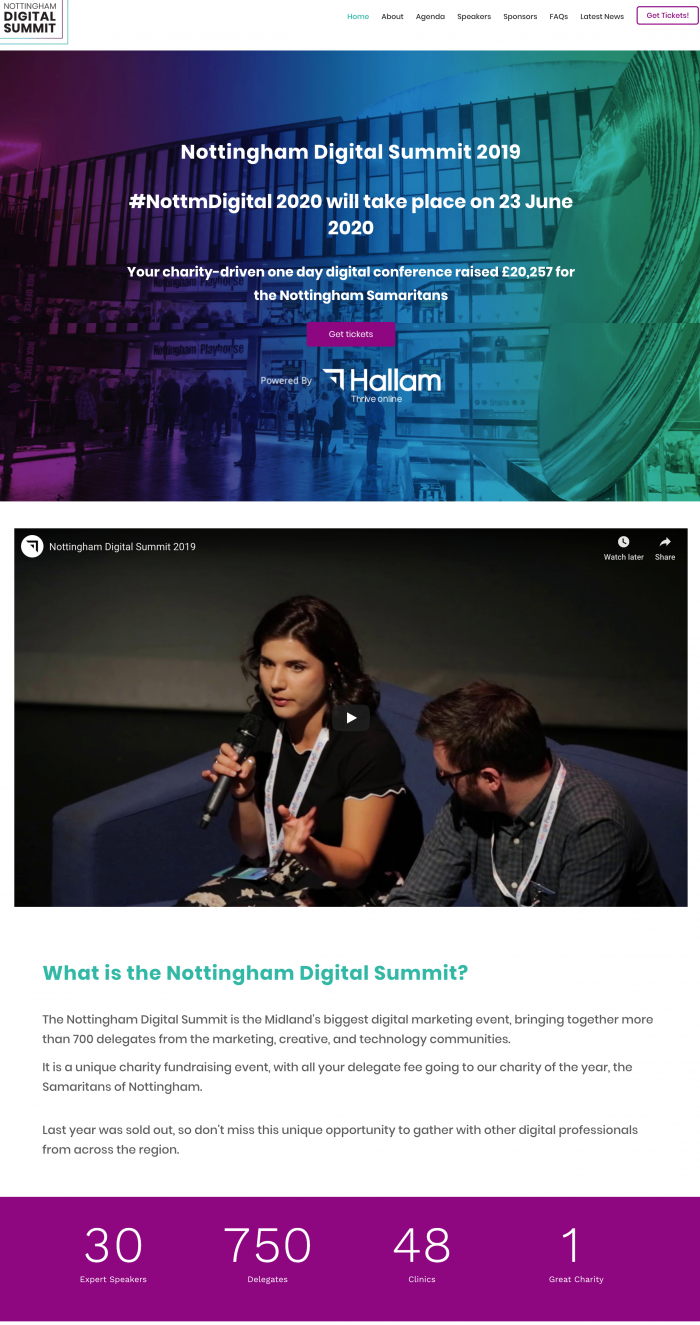 Pro tip: Run an A/B testing campaign to see what works best for you: having a video, moving up customer testimonials, or experimenting with any other hypothesis. The tools that you can use for A/B testing:
4. SaaS 'book a demo' landing page
A SaaS landing page conveys the key idea of a product without overwhelming readers with too much copy. The ultimate goal is to persuade a user to book a demo or sign up for a free trial.
SaaS landing pages can be promoted across different channels, such as Google Ads, and newsletters or they can be a part of the main site.
This is one of the demo landing pages we at Liana Technologies used:

As you may notice, landing pages can differ in their length and structure. For example, a demo landing page needs more content than a whitepaper download page. Usually, the amount of content you need should be in accordance with the expected lead quality. (Compare a buying intention of a person booking a demo vs. a lead downloading a guide).
If you feel unsure about how much text to add to your landing page, you can create a heatmap or even a recording for your pages and see how users interact with your content. This will help you decide on what prevents you from getting more leads and how you can reconstruct your page for better results.
Hotjar is a go-to tool for tracking user online behavior.
5. Holiday landing page
Are you running a special promotion for Black Friday or Christmas? Why not create a short landing page to drive extra sales?
Ecobee compiled this simple yet informative landing page for promoting their Black Friday sales.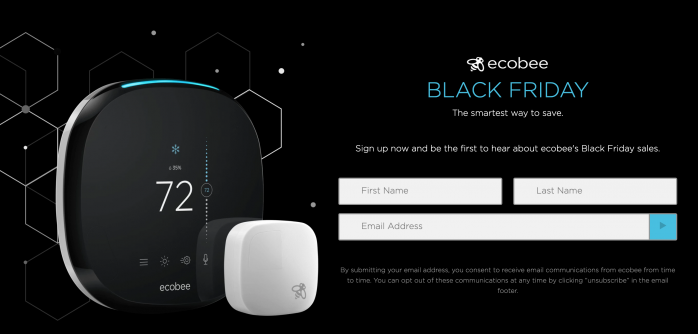 6. Webinar landing page
Either for collecting webinar sign-ups or for sharing your session recordings — a landing page is a must tool to use.
This page from Nosto has all the prerequisites of a webinar landing site: concise lead form, compact yet detailed description and speakers' info.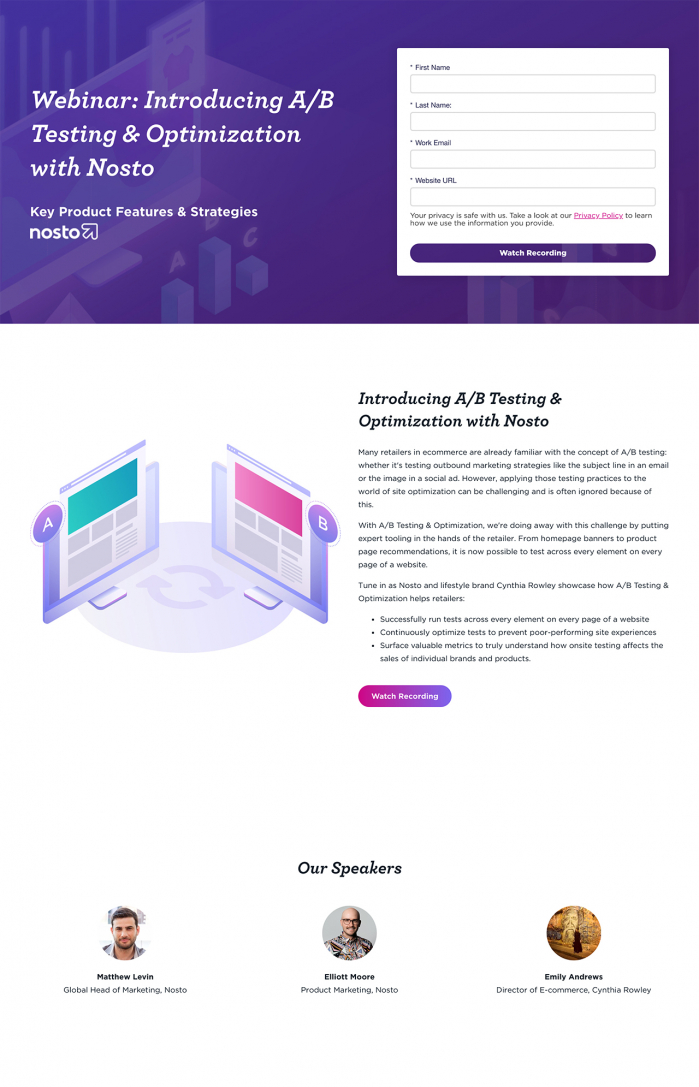 7. Ebook landing page
Do you create any downloadable material, such as guides, brochures or whitepapers? Then you definitely need a landing page describing the content of your material and containing a lead capture form.
We have tested both short and long versions of landing pages for our whitepapers and found out that the first ones convert better. That's why we stick to a minimalistic landing page style for our downloadable guides: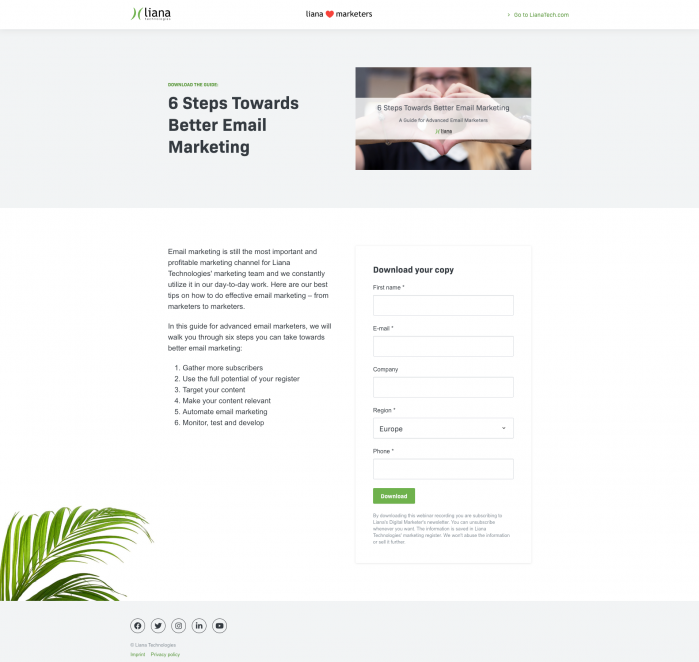 8. PPC landing page
Once a search user clicks this Hootsuite's Google ad...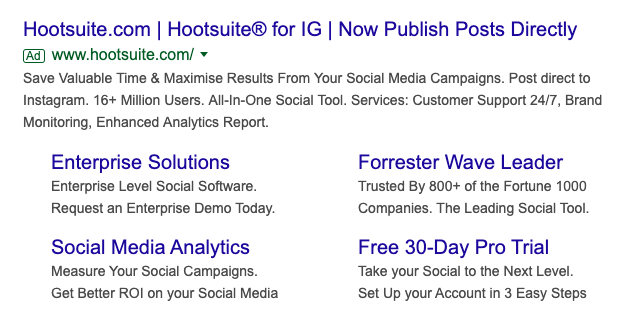 ...they arrive at this pretty landing page: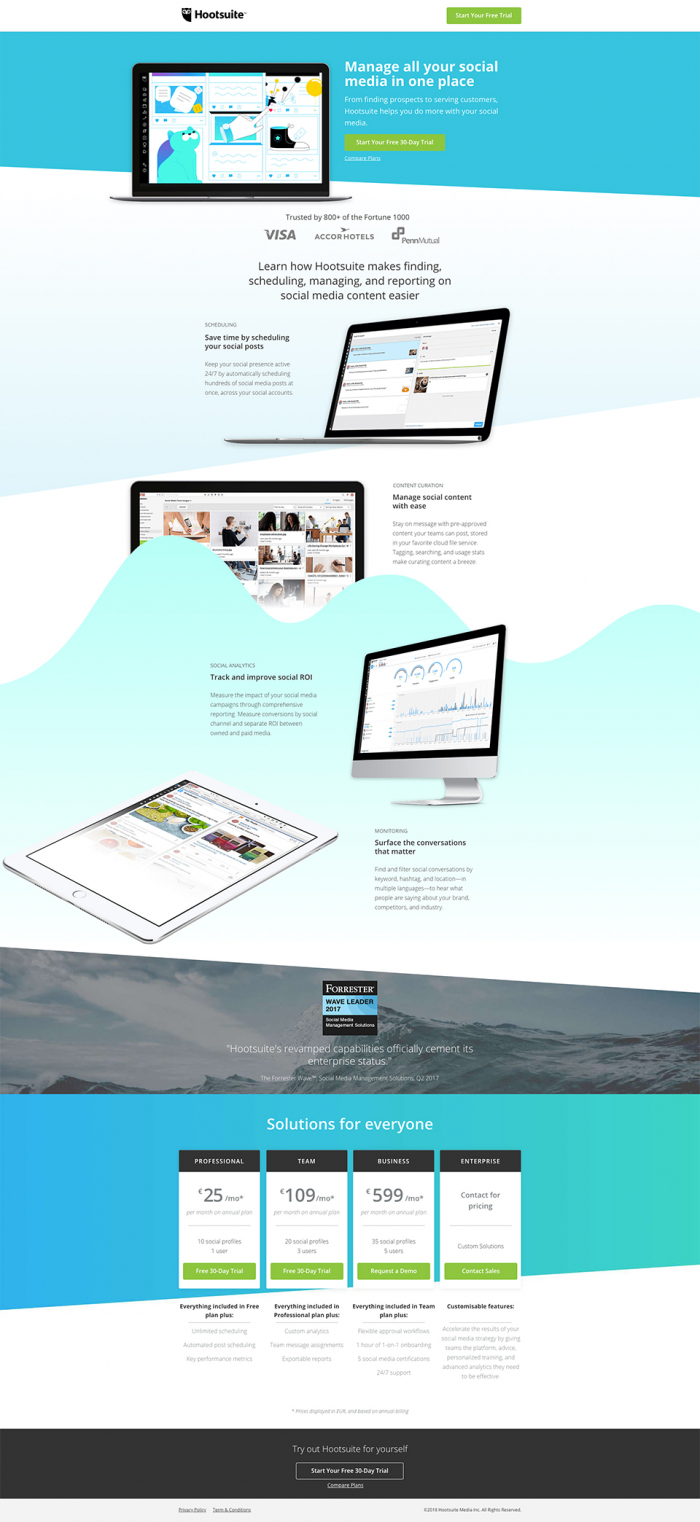 Why use landing pages for PPC ads?
A landing page is one of the factors influencing your ad quality score. When a landing page content matches an ad copy, your paid campaign will get a higher score. Thus, you'll increase the chance to get higher rankings with lower costs.
9. Flash sale landing page
We've all been there: sometimes you might come up with last-minute special offers that need to be communicated to your clients fast.
Whenever you get the same flash of inspiration, craft a simple landing page and advertise it on your preferred marketing channels.
A huge advantage of using landing pages is higher freedom to experiment and flexibility. Landing pages are not dependent on the main site and thus do not require extra involvement of website owners in your company.
For example, that's what Rixos came up with for a Spa discount campaign:

10. Product launch landing page
That feeling when you finally released a long-awaited product or service is precious.
We know.
Feel like your new product deserves special recognition? Design a landing page.
When we wanted to announce our Google Ads integration, we dedicated this page to the campaign: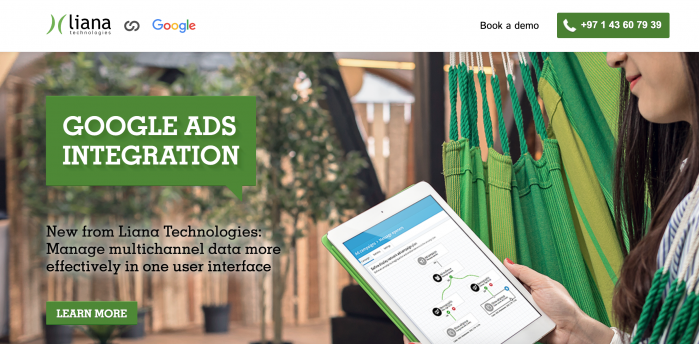 These were just some of the landing page templates you can get inspired by.
Let us know in the comments if there are any other out-of-the-box landing page examples that you use in your campaigns.
Do you want to build a landing page or feel like your current pages need to be improved? Create landing pages in minutes with customizable Liana's templates. Contact us for more information.