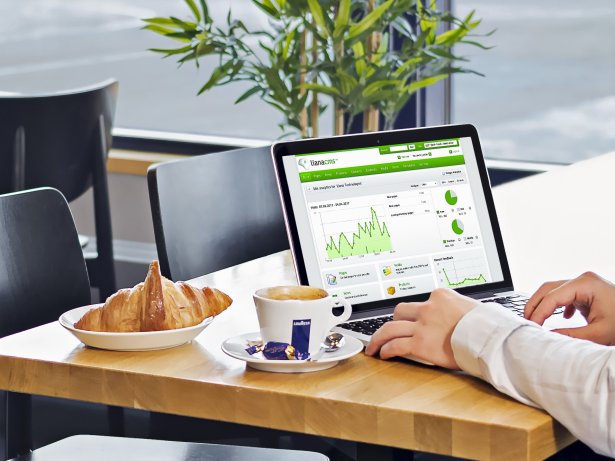 Create omnichannel user experiences for websites
With Liana®Cloud Website solution, you can create professional websites with the look and feel of your brand. All of the content management can be done through the easy-to-use interface of LianaCMS without any coding skills needed. With our customizable modules, we are able to create the best individual solution for you.
React fast in the modern world of digital content
Publish your digital content quickly and efficiently in multiple channels. You are the expert in content, we enable the distribution of it and even in an easy way. Whether you want to publish your content in web or in your social media site it is still done in next to no time.
Keep your site safe and secure
Trusted by thousands of marketers around the world. We´ll keep your site in top-class infrastructure and make sure the platform is always up-to-date. Less time with tech means more time with content.
Empower your marketers with ease of use
Free your marketers to invest their time on content. We bring easy solutions to publish that content and distribute that to multiple sites, apps or other channels. No hassle with complex and heavy systems equals happier marketers.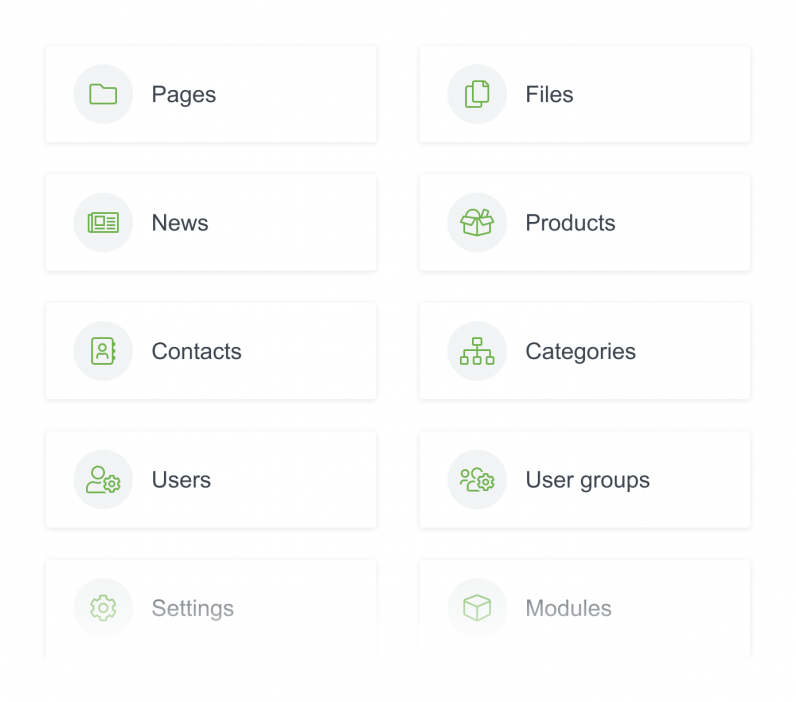 Get creative with easy content management
Whether you are a startup, SME or global corporation: LianaCMS offers everything you need from a content management system. Our tool allows even users without any coding skills to maintain appealing websites. The user-friendly admin view has all the features you need to provide a great customer experience to your website visitors. The tool will be customized to your individual needs and combines desktop and mobile optimization with only one step.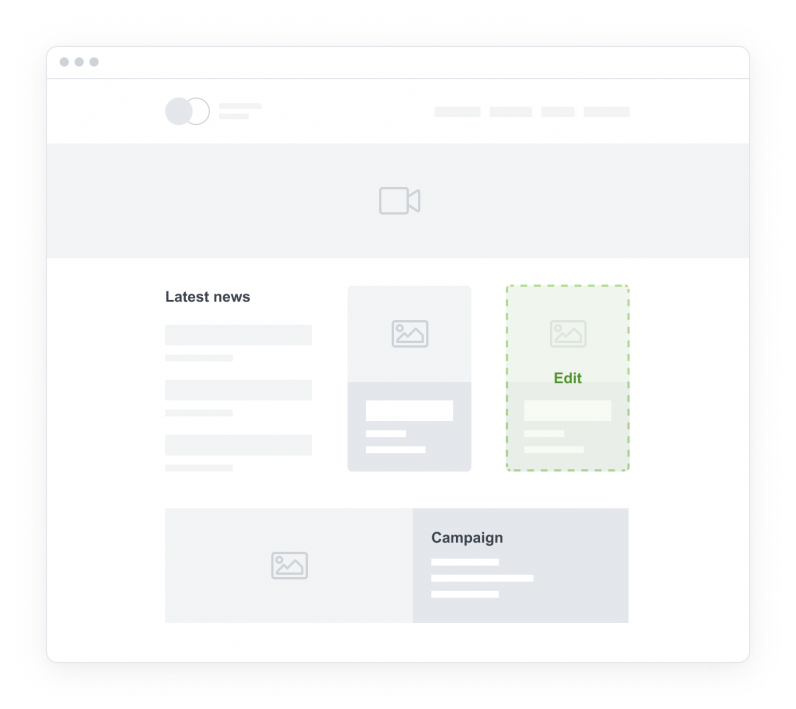 Publish any content you can imagine
Our content management software LianaCMS provides the possibility to publish any possible content you want: images, blogs, videos, infographics, annual reports, magazines, landing pages, guides or whitepapers – you name it. Your content is optimized across different devices automatically. You can edit your website in a view that gives a realistic picture of the content's layout so that you know instantly how your content will look like after being published.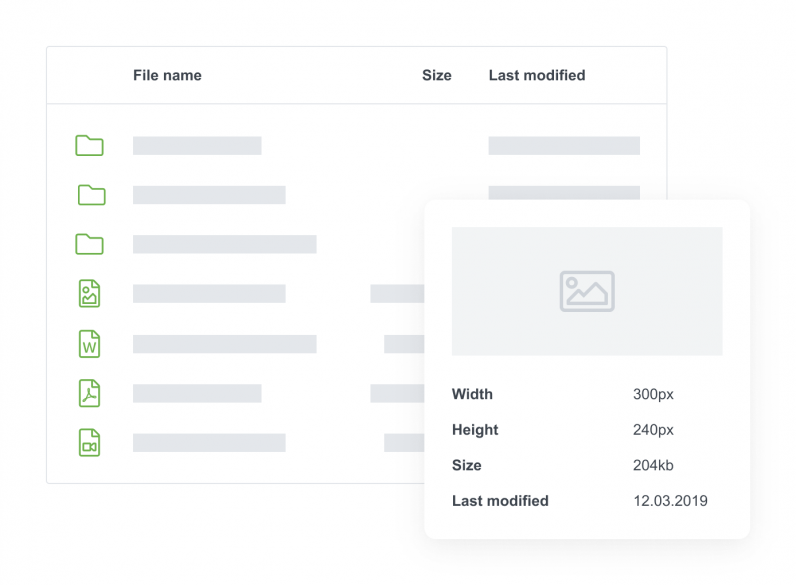 Archive media and documents with easy file management
Uploading files and documents to your website is everyday life in content management. With our platform, you can manage files fast and conveniently with our in-built file management tool. LianaCMS also offers the possibility to upload protected files that are not meant to be accessible to the public. The media archives can be shared with specific user groups easily from the admin view.
Create fast and high-performing sites
Website visitors expect high-performing sites for all devices and search engines rate your site based on its loading time. Our servers' capacity is therefore optimized for professional demands and even visitor peaks can be handled without any delays.
Analyze and improve your website performance
Visitor statistics and analyses are an important part of developing online communication. We support the best analyzing services on the market, such as Google Analytics. LianaCMS displays your website's most important analytics, such as visits, visitors, time spent on your website, and the best and lowest performing pages straight in the admin view.
Go international with multilingual websites
LianaCMS admin view is available in eight different languages. You are able to manage different website and content translations for over 170 different languages. This allows you to tailor your content to all your target markets.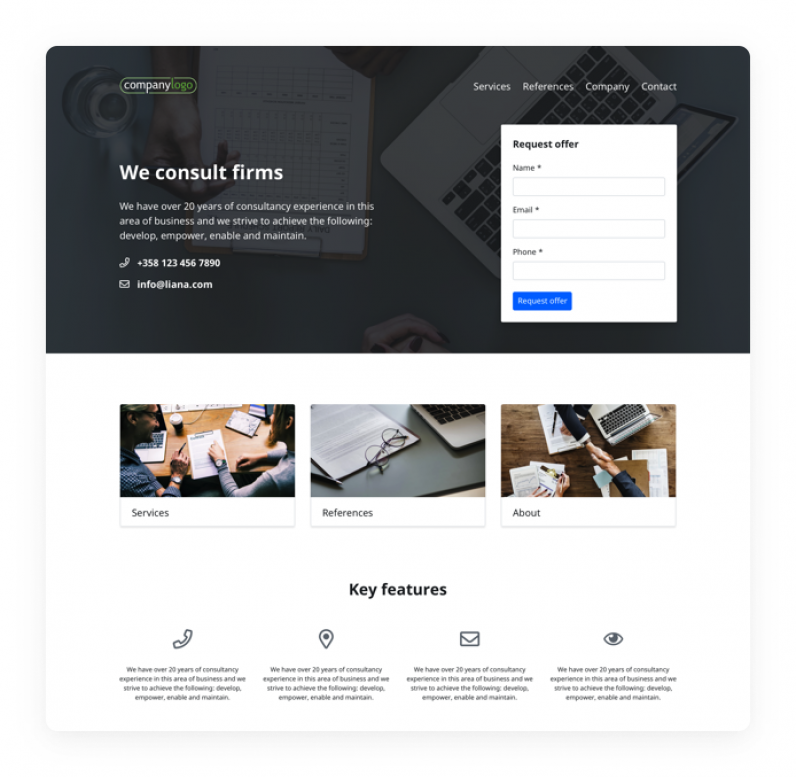 Create competitive landing pages for campaigns
With landing pages created with Liana®Cloud Websites solution, you create specific marketing and sales campaigns that appeal to your target groups. You can use landing pages for new product launches, share downloadable materials or generate high-quality leads. Embedded and easily modifiable forms encourage customers as well as prospects to leave their information for feedback, contact or sales demos. Automatic form-cleaning facilitates GDPR compliant data management and all user data can easily be exported to email or Excel.
Improve investor relations with a company newsroom and online annual reports
We provide the tools you need for beneficial investor and stakeholder relationship management. A professional newsroom enables you to share relevant company news and stock releases to the right media and shareholders. Online annual reports enable you to bring your company's story alive with videos, pictures, key numbers and texts.
Share information on intranet or extranet
Besides corporate website management, we are also able to create intra or extranet sites customized to your company's needs. A company intranet is the most comfortable solution for internal communications and keeping your employees informed. It allows you to communicate and share important information and materials easily with employees and colleagues. Our extranet solution allows you to share documents and other material that is only accessible to certain stakeholders. No matter if you have ten, 1,000 or 10,000 users – our solutions can be scaled easily.
Take barrier-free web accessibility into account
Barrier-free accessibility helps all website visitors to find the information they need smoothly. We pay attention to the availability of the WCAG (Web Content Accessibility Guidelines) standard guidelines from the beginning of any implementation. The Accessibility Directive, in particular, sets certain requirements for technical implementation and content production that can be easily provided by our tools.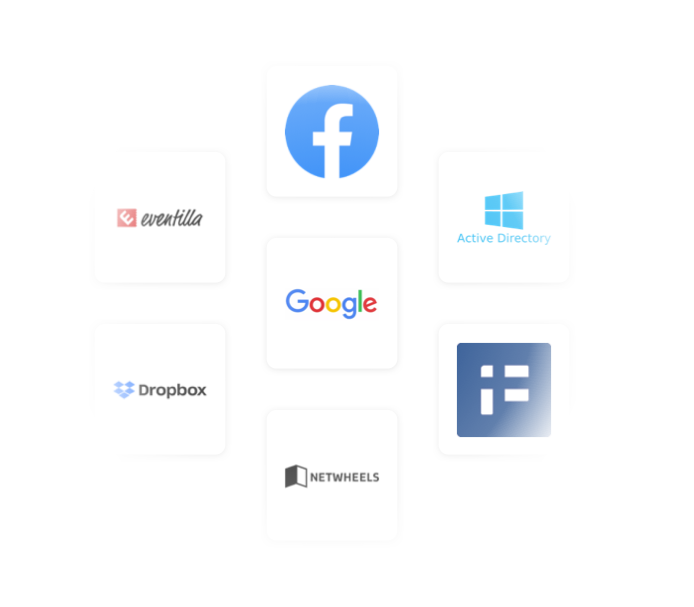 Integrate with tools you use on a daily basis
LianaCMS can be synced to major CRM solutions. We also offer native connection to Liana®Cloud tools and are always ready to roll up our sleeves for more complex custom integrations. Our specialists do all the legwork for you – every integration is made in-house.
Seamlessly integrate your website into your marketing stack?
Get to know our Liana®Cloud Websites solution better.
Get your free demo
Liana®Cloud is the Technology Stack for Marketing Teams
With Liana®Cloud, we offer you the right solutions for everything you need in your digital marketing and communications. All Liana® tools are integrated with each other and made to custom fit your individual marketing needs. Liana®Cloud powers your marketing and communications team with a single-sign-on platform that takes the data-driven marketing to the next level with no integration or IT headache.