In this article, you will learn the basics of SEO, and why now is the high time to start optimizing your website content. We will start with the basics, and continue by going through different stages of search engine optimization, how search engines work and what SEO is in 2022. 🕵
Need help with SEO?
Let us help
to improve the organic visibility and findability of your website.
What does SEO mean?
Quick recap: search engine optimization means getting higher rankings for your website in search results by doing different activities to boost its visibility. By optimizing your website, your potential customers will find your services instead of ending up surfing on your competitor's website. In other words, better search engine visibility means more traffic to your website.
In this article, we will focus on Google, the king of search engines – that is because 92 % of all searches happen in Google. The next most popular search engine is Bing, with under 3 % market share.
Even the most commendable search engine specialist doesn't know all the factors that affect SEO visibility – Google's algorithms change often, and the giant doesn't reveal how its algorithms operate directly. Bigger changes are rare, but the algorithm might have small variations on a daily basis. That means, that search engine optimization is ongoing experimentation and investigation.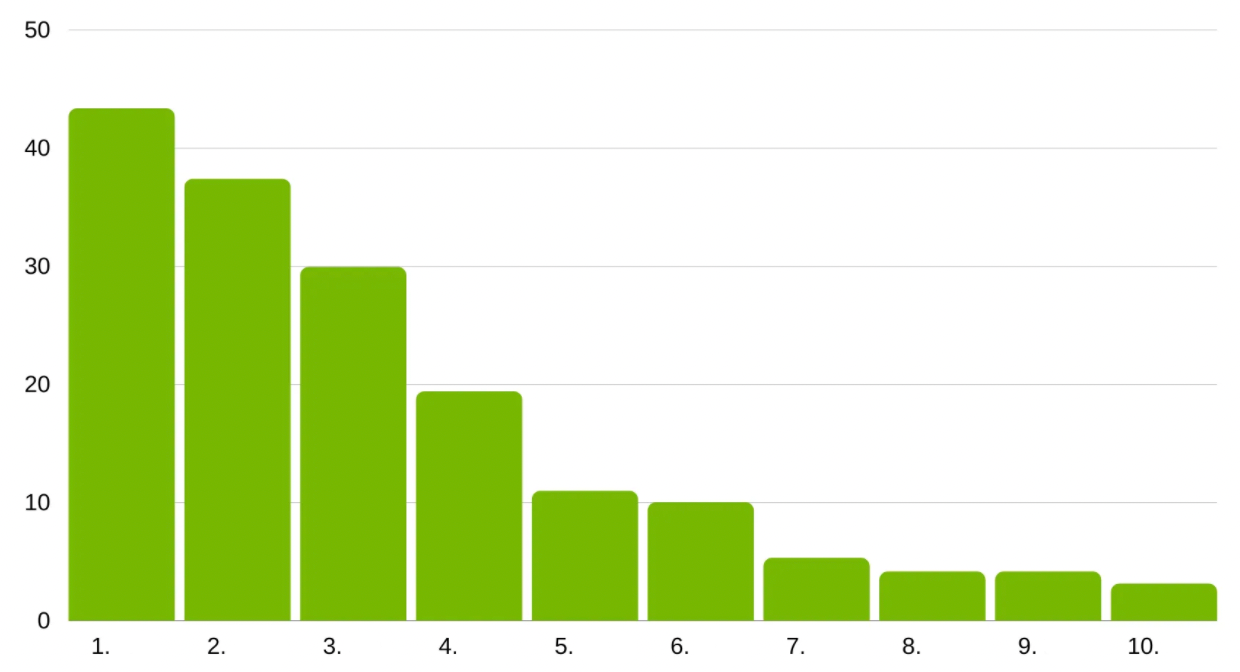 Amount of clicks per ranking in Google. The amount of traffic decreases significantly from 3rd place onwards. Source: Ignite Visibility 2020.
What are the benefits?
Why should you optimize your website and how does SEO differ from search engine marketing (SEM)?
1. With search engine optimization, you will achieve organic results, which means that you don't have to pay for ads. Search engine marketing (SEM) will lift your website to the top of the results, but you will pay for every click. This is why, in the long run, SEO is a great solution financially.
2. SEO helps you to understand, what your visitors are searching for: you will see, what keywords do they use to find your website and what pages have they searched for (and what topics are they looking for on your site).
3. Better search engine visibility will boost your brand and evoke trust towards it. Additionally, conversions are more likely to happen through organic results than paid ads.
4. You'll get more leads and sales: SEO helps you to guide traffic to your site and make visitors do wanted actions while they're there.
Bots, crawling... How search engines work
Search engine optimization is based on knowing how the search engines work. By recognizing the way search engines operate, we can offer them the right kind of information, that they're looking for on our website.
Crawling indicates how search engine bots inspect your website. The robot, well, crawls through the website's contents and adds the findings in a massive index.
Indexing is a process, where search engines add the pages and information in the index. Pages, that you want to hide from the search engines, should be tagged with noindex tags. Pages, that no longer exist or can't be found, can't be added to the index. This might happen when the URL changes or when a redirect is missing.
Sitemap helps search engine robots when they crawl through the site. It tells them about the structure and site hierarchy. If a page is high on the structure and close to the main level, it's usually an important one.
Robot.txt file tells the bots what contents they can crawl through. For example, they will pass the noindex pages. Most CMS' create their own robot.txt files automatically, but you should check, if the file has the right pages visible, and the pages that are not meant to be seen by your visitors, are hidden.
Search results are based on scores
The search engine uses its algorithms to rank the pages it finds from the index based on "scores". The algorithms change continuously, and Google doesn't share all the factors that affect the search algorithms. At this point, Google strives to connect the topics that users search for to certain pages and purposes: for example, how new is the information. The search engine also pays attention to the website's usability, credibility, and location.
The way the search results are displayed will vary more in the near future, and different content formats will be highlighted. The search results might show photos, events, frequently asked questions, videos, reviews, and snippets of articles. Rich results or structured data is one of Google's newest development targets.
How to optimize your website – the SEO steps
SEO is continuous work, that doesn't end when the site is once "optimized". Your ranking is affected by many things, such as how competed is the term you want to be found by. Once you've reached the pursued position, you need to work a bit to maintain it.
Getting results can vary from weeks to months, and they depend on the website's current situation, visibility and what actions have been taken. You could say we're talking about a marathon rather than a sprint.
Search engine optimization proceeds in four steps:
Analyze and identify
Plan
Optimize
Measure the results.
Identify your starting point
At first, you need to analyze, what is the current situation of your website, what keywords have been used, and what kind of visibility have you achieved in the search results. At this point it's important to be aware of your website's purpose and what kind of visitors are you trying to reach. When you also take time to plan your website's targets, mission, key indicators, and pursued conversions, you will have a good base before starting search engine optimization.
SEO contains technical SEO, optimizing the content of your website and links – the so-called SEO building blocks. We will look into these next.
Technical SEO affects the usability of your website
Technical SEO contains page indexing. This means, that the indexed pages can be found via Google, the non-indexed ones can't. You can set page indexing from the page settings of the CMS you're using.
The website's security is important in terms of technical SEO. Make sure that your website has an SSL certificate. You can check this by looking at the address bar, where there should be a small padlock icon.
Ensure that your website doesn't have deleted or moved content, or that the missing contents have been redirected. Make sure, that the content isn't exactly the same on multiple pages, because Google will penalize for duplicates. Keep in mind, that your website should have plain URL addresses. It makes it easier for the user to navigate on your site and it helps the search engine, as it is crawling through your site.
Is your website loading fast enough and is it easy to use? Large image sizes and code problems can slow down your website. You can avoid usability problems by making your site responsive and making sure that it works on any browser.
If your site has multiple language versions, remember to set the language settings in a way that the search engine can read each language version and open the right version to the user based on their location.
Invest in your content's quality and quantity
Create new search engine-friendly content and monitor how it ranks. Quality content with enough words usually ranks high. The recommended amount of words is at least 300 words in order for the page to show up in the search results. At 1000 words the search engine will better understand what the page is about and what the purpose of the website is, which will help the page rank higher.
Optimizing images is part of technical SEO. Optimize your images and make sure, that the smaller file sizes do not exceed 100 kilobytes so that loading times don't grow. Use your chosen keywords in file names and alternative texts.

Alternative text is a short description of what the image is representing. Alt texts are used by search engines and screen readers. LianaCMS has its own field for alternative text.
Keywords define what your website contains. Using correct keywords in the site hierarchy – such as titles, headers, body texts, and alt texts – help visitors find your page when they search for these terms. Remember to fill in the title and meta description. They let the visitor know what your site is all about.
The website content should be written for people, not for search engines: make sure, that your text is fluent and easy to read, and that you have used enough appropriate keywords. However, avoid "keyword stuffing", because Google might interpret it as spam.
Pay attention to your website's link profile
Link profile is the estimate of links to your site and their quality. At the same time, link profile is an estimate of your website's reliability and quality. You can develop your link profile by acquiring off-site links from relevant sites, that have similar content.
There are two types of links: follow links are links that Google sees as a so-called recommendation from one site to another. Nofollow links don't transfer authority, but they can bring traffic to your site. Although Google doesn't notice these at all, which is why you should favor follow links. You can grow your website's authority by collecting links to it from off-site sources. These links should be from different domains because variability is good for your link profile.
Google also prefers internal links, which you can use for example in your blog. Guide your reader forward on your site with content that is relevant to the topic of your blog.
Improve your visibility based on the results
After these steps, measure your results by monitoring the traffic to your website: what kind of visitors you reached, how many of them, did you reach your set targets and how did this improve your search engine visibility?
Getting results may vary from weeks to months. There are some quick fixes, that can boost your visibility, but also more demanding actions, that take more time.
SEO audit and keyword analysis
SEO audit and keyword analysis form the base for search engine optimization. The audit gives us a comprehensive view of the website's current situation – it helps us see, what things are in place and what's missing. Audit includes, among other things, checking the content quantity, titles, headers, image sizes, and meta information. Then a plan is made based on the audit to improve the website's visibility in search engines. SEO audit is part of our web visibility service.
Keyword analysis goes hand in hand with SEO audit. That's where we focus on the site's keywords, current web visibility, the amount of searches for used keywords, and their competitiveness. Then we focus on what keywords should be used in the future. We also do a competitor analysis, where we see how competitors rank using the same terms.
Data and tools to help with your SEO
Google offers different tools to review your website and its data to help you keep up with your website's development.
Google Analytics
Google Analytics is a free tool, that lets you gather and analyze data about your website's visitors. You can see how many visitors you had, how long did they spend time on your website, what were the most popular pages, what's the ratio between new and returning visitors, their demographic information, and what device did they use to visit your website. You can also check, how well did your site generates conversions.
Google Search Console
Google Search Console is another free tool from Google. It's easy to set up and integrate with Google Analytics. The tool starts to gather data from search results, and it lets you see what keywords did your visitors search for, what terms lead to your site, and how your site ranked at that moment.
Google Search Console contains different tools for measuring functions on your site. It gives you suggestions to repair functions, that it interprets as broken, such as inoperative links.
The key difference between these tools is that Search Console shows data from the search engine, and what happens before the visitor ends up on your site. Google Analytics, on the other hand, gathers and shows data about the visitors' actions on the website.
Most CMS' have their own, built-in SEO features.
In WordPress, one good option for SEO is the Yoast SEO plugin, which contains most SEO features. For example, Yoast reviews how efficiently do you use essential keywords on the website.
LianaCMS and LianaCommerce both have an SEO tab on each page, where you can edit search engine settings as you like.

In LianaCMS you can edit SEO settings on each page.
Search engine optimization in 2022
Google has a new update coming up, MUM (Multitask Unified Model), which follows the most recent update BERT from 2019. The previous update helped to improve the search engine's understanding of words' meaning and purpose, and Google was able to offer improved and more relevant answers to questions that people searched for. The MUM update is an even more improved version – more specifically, a 1000 times more efficient than the last update, BERT.
Google strives to answer more diverse questions with the Things to know method, which brings the most relevant result to the top of the search results and shows a snippet of text from an article or an image in order to save a click for the user. These search results are called rich results.
Now, information has to be available quicker and easier than ever. This means more versatile ways of searching for information, which is responded with, for example, voice activation. These kinds of new features are good to keep an eye on, and taking them into account while optimizing your website.
The importance of content is continuously highlighted, whereas ranking seems to be less relevant when people can see the results straight from Google without clicking to the website to read more. This is also used in paid ads, by bringing products on top of the search results in a carousel view as a way to shorten the customer's purchase journey.
Algorithms change all the time – is SEO still worth it?
Even though Google's algorithms and the way results are presented are changing, SEO is not something you want to give up. Google will continue scoring sites, and websites should be found in the search results just as before. Content, images, link profile and other elements presented in this article still affect your site's visibility.
Optimizing your content and using keywords is still important. Think about these questions:
Does the content fit the theme entirety, that is searched for?
Does the content of the page respond to the user's question in variety?
As has been stated, SEO is a continuous and long-term effort, that doesn't offer immediate results. Nonetheless, it is still profitable, and you can get started with a small contribution.
We are happy to help you achieve strong web visibility. We will show you, where to start and make sure, that the right actions are taken to reach the targets – from planning to executing.
Interested in SEO services? Contact us!
​​​​​