Public sector media monitoring is unique because the bases for it, its implementation methods, and its objectives differ greatly compared to media monitoring for private companies. To make a simple divide, it is fruitful for companies to follow their own industry and competitors, while it is very important for the public sector to follow more comprehensive themes and the discussion around what this particular public sector representative is focusing on.
This article provides an overview of how public sector actors should conduct media monitoring and gives examples of what themes and entities should be presented to public sector actors through media monitoring.
Definition of the Public Sector
The public sector refers to that part of society that is not owned by the business sector but by the state and municipalities. The public sector includes:
State-owned companies
Joint municipal authorities
State agencies
Ministries
Social security funds
Public utility companies
Some parts of the following also belong to the public sector:
Education
Health care
Environmental protection
Manufacturing industry
Information and entertainment
Transport services
What Should a Public Sector Organization Monitor?
As mentioned in the beginning, the organization's own visibility is not as important to public sector actors as it is to companies. Media monitoring for companies is usually more straightforward because they operate on the market and compete directly with other companies. Media monitoring can also be done in reference to other similar organizations, in which case there may not be direct competition, but some type of comparative analysis makes sense for the organization. Public sector actors often have broader goals and media monitoring should focus on them.
The visibility of the public sector in the media can often be very challenging to measure, as the issues represented by the organization may be difficult to outline in media monitoring. However, the situation is that a public administration actor, for example, is expected to comment on issues related to that actor that appear in the media and nowadays also on social media. The monitors must therefore be carefully set up so that they pick up important parts of the discussion for the organization in question.
The core of media monitoring for public sector organizations is often looking at the impact the organization's communications have made, how it was perceived and what kinds of reactions it causes. Also, how does media or social media cover a certain topic, does the public sector actor succeed in framing a certain topic in a specific way, and does the message reach all those that it should are monitored.
Examples of Media Monitors
Let's take several concrete examples of different public sector actors to shed some light on the situation.
Media monitoring for a public healthcare provider is a palette that encompasses many large entities. Healthcare is divided into so many different, much-discussed areas that the monitors need to filter media and social media with both a very broad and very specific sampling. Monitoring in the healthcare sector may include, for example:
Mental health
Vaccinations
Pregnancy care
Public health
Gambling
Nutrition
Infectious diseases
Work ability program
Elderly services
Let's pick nutrition from the previous list. Naturally, public actors involved in nutrition also follow the discussion focused on it, just as those focusing on health and wellbeing. In addition, a public sector operator focusing on nutrition should monitor:
Discussion on healthy food
Products withdrawn from stores
Debate on the safety of animals processed for human consumption
Infectious animal diseases such as swine fever and rabbit fever
In the field of education, media monitoring naturally incorporates important themes with a focus on education. Also, the pain points related to education can be filtered from the discussion. The debate about early childhood education and education, in general, is at times heated. This is due to a large number of parents of children and young people having quite a lot of opinions about the issue, which can escalate at times. In the field of early childhood education and education in general, the following topics can be monitored:
Staff shortage
The impact of corona on students
The mental health of students
Change of field
Employment
Public Image in the Public Sector
Although a public sector organization's public image is not the main issue to be examined through media monitoring or media analysis, it is still useful for some actors in the sector to conduct a public image analysis.
Public organizations don't do advertising but are in charge of the official communications on behalf of the organization. Many public administration organizations have a formal obligation to provide information. The negative messages that emerge in these communications are associated with the organization, and may therefore be the subject of discussion, which in turn may require public image analysis.
Some agencies can do long-term branding to make them more approachable and easier to use for citizens. Before you can alter your public image, you must use monitoring or analyses to map out the current situation.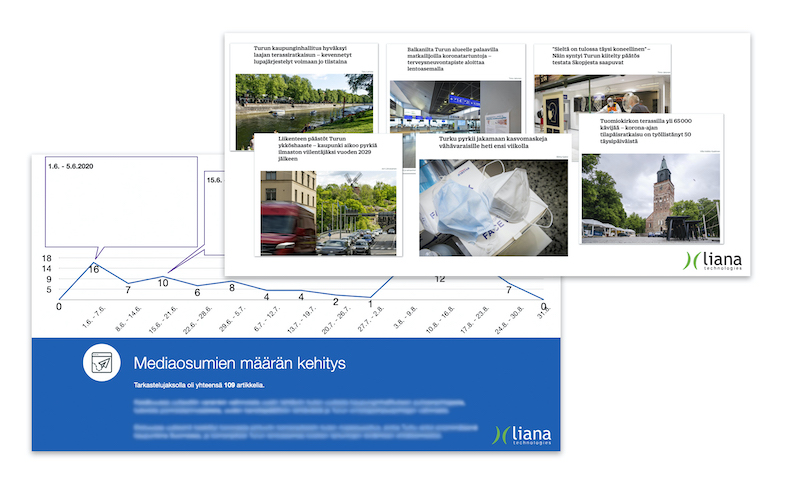 In the media analysis for the City of Turku, article examples and the development of media hits
In media monitoring or media analysis of a public sector actor, the scope of monitoring is very wide as the monitoring must include large entities and themes of social issues that the organization needs to be monitored and controlled.
What kind of cycle do public sector organizations use for public image analyses? For some actors, a quarterly cycle is appropriate if there is a need to react based on the results of the analysis, and take communications measures, or if this particular organization communicates a lot. For those that communicate less, half a year is a good time in between analyses. Media analyses of public sector organizations may include information about:
The message going through to the receivers
Has the message reached the right people
Has the message changed when reaching the receivers
What reactions have people had to the message
Media monitoring can also help to identify gaps in one's own communication that can be addressed by public sector actors through properly set up monitoring. Media monitoring is not only a tool for measuring the public image, but it also helps to understand how the media perceives the activities of the public sector.
Would you like to talk to one of our specialists about media monitoring?