Media monitoring has various benefits for organizations, including controlling their reputation or responding to customers' feedback or issues online. To maintain a reputable image, it's important to know the tone of voice people use when they talk about your business online, and to react to possible crises quickly.
However, not everyone thinks of media monitoring when considering ways to improve an organization's sales. Did you know that it can help you identify potential customers on various different steps on the buyer's journey and find unique selling opportunities?
Check out these 6 tips on how media monitoring can support sales, and add new keywords to your own monitor list:
1. Changes in the industry
It's important to keep up with the continuously evolving business environment you operate in. By following industry and competitor keywords, you're always in the loop of what's happening in the market. Industry-specific discussion on different forums and social media channels can guide you on where you should focus your marketing and sales efforts.
Your competitor's online visibility can also tell you a lot. If the attention they're getting is positive, it can give you hints on how you can improve your own marketing and sales. Negative comments, on the other hand, show you which mistakes to avoid – and if there are dissatisfied customers in need of a new product or service provider. Perhaps your company has a more suitable option to offer? 👀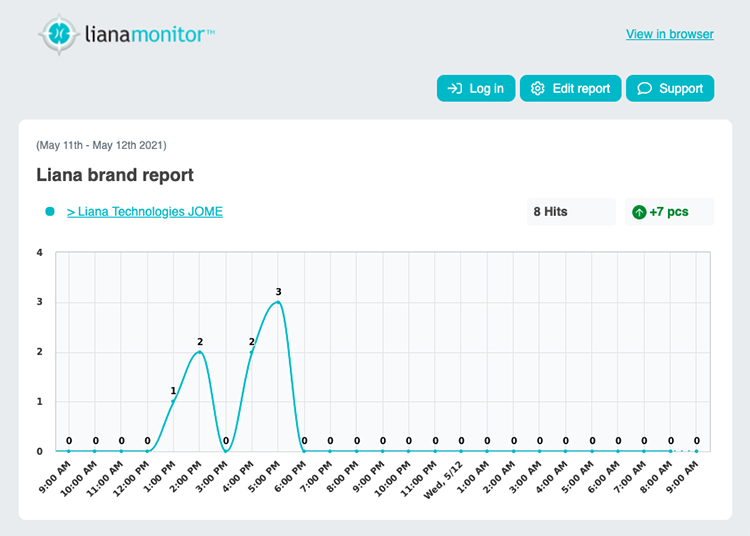 You can create automatic monitor reports about your brand based on different criteria, such as the channel in which your organization is mentioned. By creating similar reports about your competitors, you can compare your brand's visibility in journalistic and social media to theirs.
Changes in the industry don't only involve changes in individual businesses or fields – you should also consider keeping an eye on the constantly evolving sales and especially digital marketing methods used by businesses. It's crucial for sales specialists to be familiar with the latest changes in the fields of sales and marketing, such as the upcoming end of third-party cookies.
Make sure to follow various industry keywords to adapt to the changing environment quickly and effectively.
2. Word-of-mouth
Internet forums and social media are flooded with stories of both positive and negative customer experiences. People online tend to share information about products and reputable service providers, and also ask for recommendations of such. According to BrightLocal's 2020 study, for instance, 79% of consumers trust online reviews as much as personal recommendations from friends and family.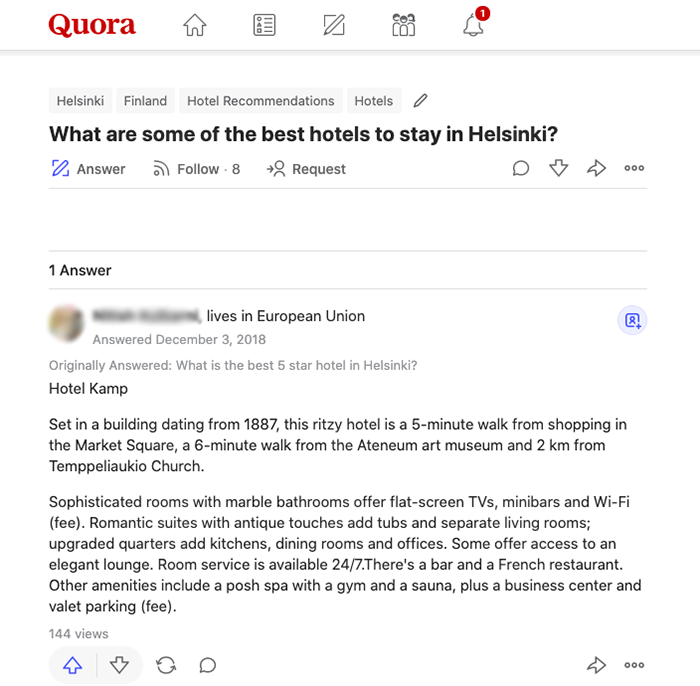 Many people ask for recommendations on social media and websites such as Quora.
Such online threads provide excellent opportunities for salespeople, as the users asking for recommendations or weighing different options are often very close to making purchase decisions on the buyer's journey.
However, these threads can be hard to find by simply browsing through different online platforms – especially since many online users don't tag the companies they're discussing in their posts. Media monitoring, on the other hand, automatically informs you of such opportunities with reports or notifications – all you need to do is follow the right keywords.
Different keyword combinations
In addition to monitoring your own brand and competitors, you might want to follow keywords related to the product or service categories your company offers. Pay attention to what kind of wording consumers in your industry use to find information about the different options available and adjust your monitored keywords accordingly.
In some cases, it might be useful to monitor both more general and detailed keyword combinations. They can include, for instance, your location or the most important competitive advantages of your organization, such as an affordable price-point, best quality, or free delivery. More detailed keyword combinations such as affordable gym Helsinki often provide you with the most relevant posts.
You can also adjust the monitor reports and notifications according to your needs based on the frequency and different channels, for example. You might want to set more frequent reports especially for the more detailed keyword combinations to be able to react to the best sales opportunities quickly.
Join the conversation
When you find threads where people are asking for recommendations, you can directly interact with them and tell them about your product or service. However, remember to be considerate and discreet – a subtle tip may be more efficient than spamming the potential customer with phone calls or private messages.
You can, for example:
briefly describe the most important features and competitive advantages of your product or service
provide them with a link to help them find more information about you, or
tell them how they can contact you if they want to.
You can also share or comment on the posts in which your company is mentioned. This works especially well for the companies that want to interact with their customers closely.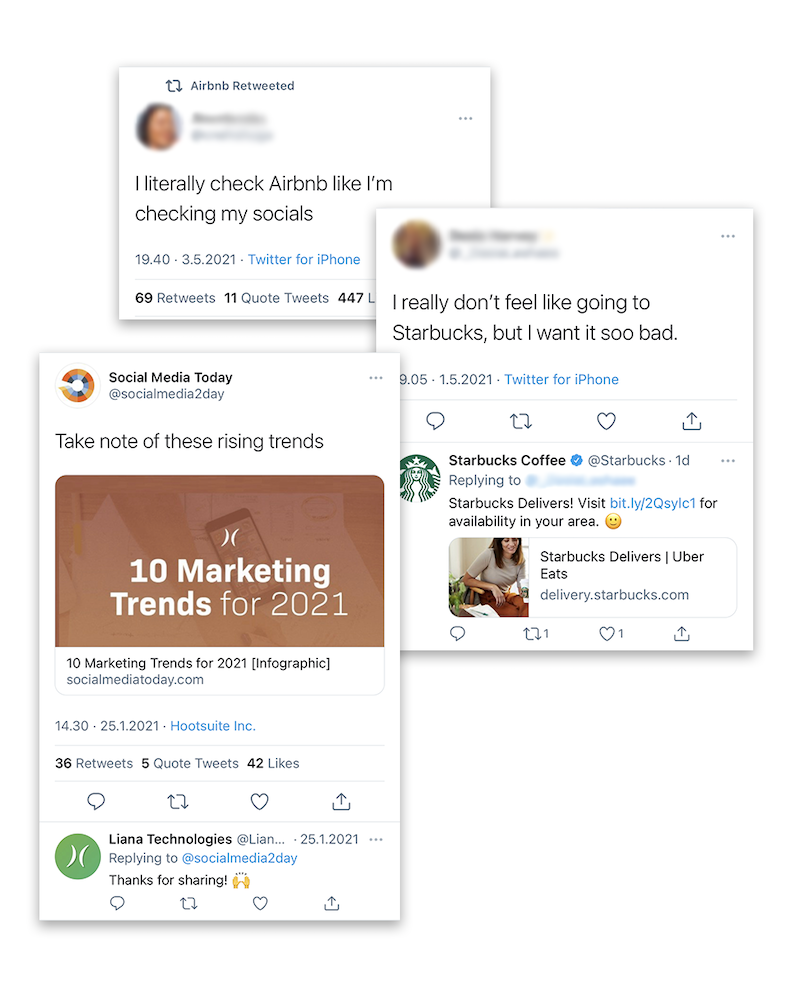 Media monitoring allows you to find posts about your organization, even if you're not tagged in them. Interact with your customers by sharing and commenting to stay in touch with your existing customers and to attract new ones.
3. Laws and regulations
Monitoring the laws and regulations related to your industry is always a good idea, as they can have a significant impact on people's purchasing behavior.
If new standards or requirements are set for specific equipment or devices, you can offer customers a new suitable model early on. New official recommendations related to exercise or nutrition, for example, can also create large changes in the markets, such as significant spikes in the demand for a certain product.
You can follow industry reports and related news to keep up with the upcoming changes. This allows you to prepare for them beforehand, consider them in your sales strategy, and to offer your customers new products according to the latest regulations.
Knowing the latest laws and regulations is also important in the actual sales operations themselves – complying with the latest GDPR regulations, for example, is crucial to companies in 2021.
4. Meeting agendas, RFPs, and new appointments
Cities', states', or other public organizations' meeting agendas can provide you with important information. New projects and investments, for example, can be decided on well before their bidding process starts. Monitoring such agendas gives you a chance to contact the decision-makers early on.
You can also follow Requests for Proposals (RFPs) to hop onto the bidding later on – even if you missed the minutes of the meeting where the official decision took place. They can be found on various country or industry-specific websites, and media monitoring also helps you find the ones that are more hidden.
Following announcements of new appointments in companies provides you with great sales opportunities. Especially in the cases of changes in the board of an organization, changes are likely to occur – which often means new investments or business partners. By contacting the new decision-maker early on, you will surely be remembered when the changes start to take place.
5. Industry trends and Key Opinion Leaders
By following industry blogs, forums, and social media posts, you can get a good overall idea of the topics that spark the most conversation in your field. Media monitoring allows you to keep up with the latest trends in the industry.
When you monitor your own company and competitors, pay attention to the recurring themes and topics of the general discussion. Think about the following: in what context is your organization often mentioned? What does this tell about your target audience and what kind of sales opportunities arise from it?
On top of simply recognizing the latest trends, make sure to also pay attention to the people setting them: utilize Key Opinion Leaders (KOLs) in your sales and marketing. Media monitoring allows you to analyze the trendsetters in the industry – who are the individuals that are followed and trusted online?
According to Influencer Marketing Hub's 2021 study, increasing sales is the main objective for influencer marketing campaigns. You can offer KOLs or social media influencers the opportunity for product reviews or invite them to your events.
By contacting Key Opinion Leaders and offering them products to try, you can reach completely new target groups that otherwise could have been completely out of reach for your marketing.
Many people look for healthy recipes online and tend to trust the KOLs in the industry, such as the registered dietitian Abbey Sharp, who calls out false information about the food industry and shares knowledge with a scientific approach. Through sponsored posts and videos with such KOLs, companies are able to reach potential customers effectively.
6. Influential and local news
You should always stay in the loop of the latest news and current topics – not only because you're expected to, but also since they can create new market opportunities.
For example, significant changes in the political field or news about a company's unethical behavior can easily change consumers' buying behavior and therefore create new sales opportunities.
By utilizing media monitoring, you can easily keep up with smaller local news as well, which allows you to target your marketing and sales locally. Is there a new residential area arising somewhere near you, or is some hobby perhaps focused on a particular area?
Many consumers and businesses prefer local product or service providers, which is why you might want to follow local news especially in your area.
Are you new to media monitoring?
An ambitious and hungry sales team is the best resource for successful sales operations. Selling requires creativity, and by offering your team a media monitoring tool to use, they will surely find new innovative ways to find leads.
LianaMonitor is an effective and handy monitoring tool for both journalistic and social media. It tracks thousands of online media sources, magazines, blogs, forums, and social media channels.
Read our customers stories about media monitoring with LianaMonitor or book a free demo to learn more.