Marketers' love for third-party cookies has continued since the late 1990s. Now the romance has faced trouble in paradise.
Operators like Mozilla and Google are planning to stop or have already stopped using third-party cookies, which will cause a dramatic change to the basis of online advertising.
It still remains unclear what the future of digital marketing looks like, but in this article, we'll try to paint a bit more clear image of the situation.
Let's go through the following questions:
If you are a visual learner, check the preparation tips from the infographic at the end of this article 👀
What are cookies?
Cookies allow a user to be tracked when they visit different websites. They are a common way to recognize website users and create personalized browsing experiences.
Cookies are typically divided into two categories:
First-party cookies are stored by the website you are currently visiting. These cookies are used to make your on-site experience better, for example by remembering selected site preferences and the content of your shopping cart. First-party cookies also allow website owners to collect analytics data.
The use of first-party cookies can be declined by the website visitor, but doing so might make the user experience poor.
Third-party cookies are cookies set by a website other than the one you are currently visiting, via using targeting pixels or similar techniques. Third-party cookies are utilized to track consumer behavior online: for example, to track visitors between websites and to show more relevant ads to them. This makes third-party cookies powerful marketing tools.
Many browsers, like Safari, are now blocking third-party cookies by default. In Firefox, cross-site tracking cookies are blocked by default. The website visitor can also decline the use of third-party cookies by themselves. By doing so, the ads and content shown to the person might not be that relevant anymore.
A simple way to tell the difference between these cookie types: if the cookie is associated with the domain you are visiting, it's a 1st party cookie. Otherwise, it's a 3rd party cookie.
What changes are coming to third-party cookies?
With the passage of GDPR and other similar regulations, the privacy rights of website users are protected carefully.
Websites now need to openly share information about what customer data is collected, stored and shared forward. This has put pressure on many operators in the tech industry and pushed decision-making towards the current situation.
Some browsers, like Safari and Mozilla Firefox, have already stopped supporting third-party cookies. A year ago, in January 2020, Google also announced that it will phase out third-party cookies from Chrome within the next two years. Google's announcement, at the latest, is forcing marketers to think about their action plans since Google takes nearly 70% of the browser market.
The big players of the field are the ones who get the most out of the new situation. For example Google, Amazon and Facebook already have tons of user data in their hands, which puts them in a very different position compared to smaller companies.
Marketers have been expecting the cookie changes, but there are still many question marks in the air. Big changes can be awaited in 2021.
What do the cookie changes mean from a marketer's perspective?
It's important for every marketer to plan what to do after third-party cookies won't be dominant anymore.
Digital advertising has relied heavily on targeting – and targeting in its current form will soon be history. Marketers need to adjust their practices to be able to continue collecting user data and targeting ads to relevant recipients on different platforms.
New methods are also needed for measuring the results of advertising because it's been expressly the third-party cookies that have shown the link between ad exposure and conversion.
The upcoming changes may sound ominous at first, but they also bring good things among them. The transparency of advertising is likely to increase and the privacy of consumers will improve. In the future, user data will be collected on the basis of consent, which will likely make customers feel more secure and satisfied.
The companies to whom the customer voluntarily discloses their information will gain the leads. It is more important than ever to be able to establish a confidential relationship with the customer. The customer will more likely hand over their personal data for your use if they trust you, understand why and how you use their data and also see that this way you are improving their customer experience.
The uncertainty with third-party cookies increases the importance of first-party cookies – meaning the data you have collected, you own and manage. The companies possessing a lot of customer data will become data-rich. In the next paragraph, we give you tips on how to become data-rich on your own.
How can I prepare for the cookie changes with digital marketing tools?
Don't panic – the use of third-party cookies will end, but platforms are creating new, alternative solutions for online advertising.
While waiting for new solutions, it's smart to focus on the actions you can already perform on your own:
Start leveraging first-party data
Build your own audience and customer database
Keep your contact list clean
Plan strategies to make the most of your contact database
Start leveraging first-party data
Acquire tools that help you leverage first-party data more effectively. Capturing leads with email marketing and marketing automation is becoming more critical, as it gets harder to reach customers by targeted advertising.
Also, take a look at the first-party data you already possess and make sure that you share it across the organization. First-party data might be found from sources you hadn't even thought about. Check your CRM, billing systems, call center and other channels that might contain customer data, and build a better understanding of your contacts.
Grow your own database
The data you have collected yourself and have permission to use is extremely valuable because it won't be affected by the changes made by other companies.
Here are smart techniques you can use for growing the size of your own contact database – without using third-party cookies.
Collect contacts through landing pages
A landing page with a form is an effective way to collect a bunch of new contacts – just make sure that you give something valuable in exchange. Maybe you could arrange a raffle, or share a downloadable guide?
Note! To see the video below, give cookie consent to the Marketing section. Open cookie manager.
In this video, Elena and Emma from Liana's marketing team share their best tips for highly converting landing pages.
Make the most of your events
Events – no matter if they are live or online – always attract new faces to attend. That's why it's important to get contact information from as many participants as possible.
Collect contact info already in the registration phase and add the event or webinar attendees to your mailing list. Just remember to follow GDPR requirements and ask for permission to use the contact.
Easy email subscription from websites
Make sure that your newsletter subscription form cannot be missed on your websites. Subscription option should stand out at a glance on every single page. Also add newsletter subscription boxes to landing pages, blog articles and other content. Like this (smart, huh?):
Lure your eCommerce customers to subscribe
A newsletter is an essential promotion channel for eCommerce. Add the possibility of a newsletter subscription to your order form. Offer small benefits, like a discount code or special offers for those who subscribe.
Make your crew sell the newsletter
Best way to get new subscribers is to let people know about your newsletter. Make your sales team offer the newsletter on the counter, during cold calls and in business meetings.
Newsletter is an easy and natural way to stay in people's minds even when there's no need for a meeting.
Find more ideas for collecting subscribers from our video 8 ways to grow your email list.
Note! To see the video below, give cookie consent to the Marketing section. Open cookie manager.
Keep your list clean
The size of your contact database isn't all that matters – you also need to focus on the quality of the contacts.
Do regular cleaning and wish farewell to passive and irrelevant contacts. Make sure that invalid email addresses are deleted from your list automatically. This can, for instance, mean contacts that haven't reacted to any of your messages during the last six months.
Using double opt-in function also secures the quality of your database. By making your subscribers confirm their subscription, you'll exclude all irrelevant contacts and also comply with the data protection legislation.
Plan strategies for utilizing your database
You probably already have utilized your contact lists in some ways – maybe you can also come up with new ideas? Here are some tricks you can try:
A thorough email marketing strategy is essential already before all the cookie changes have come into effect. You can start your planning with our article How to create an effective email marketing strategy? (Step-By-Step Guide).
Infographic: Prepare for the Third-party Cookie Changes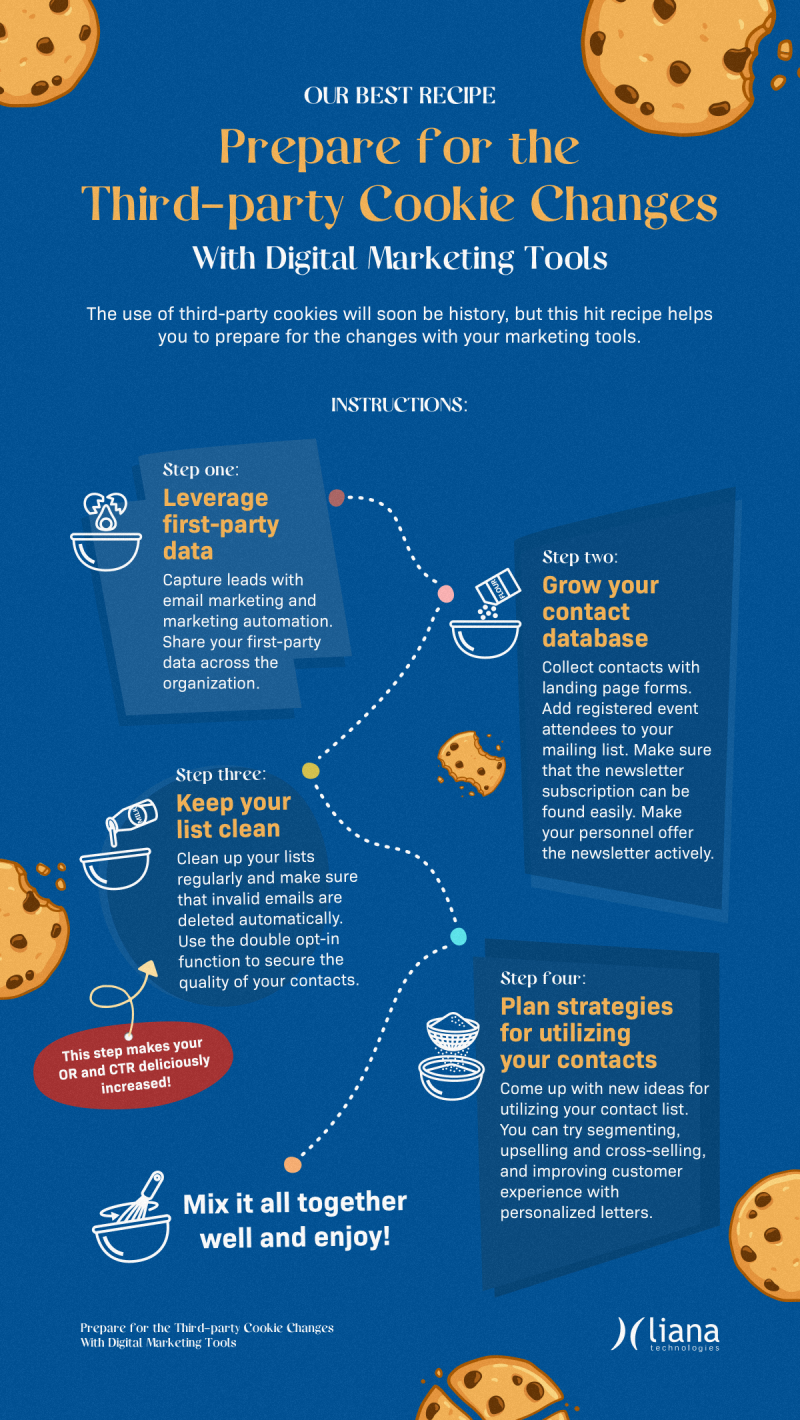 Still hungry to learn more?
Email marketing is a useful skill also after the cookie apocalypse. Make sure that your skills are up-to-date with our free Guide for Advanced Email Marketers.