Previously we shared five marketing automation practices that every marketer should do. Now we are starting a series of articles that take a deeper dive into how those five marketing automation use cases should be executed in practice.
Naturally, we'll begin the series with the first of the five actions: automating basic marketing messages. By reading this article, you will learn how to utilize marketing automation to automate basic messaging across your organization, saving time and resources in the process.
How to automate email marketing messages:
1. Utilize touchpoints
Every touchpoint or moment when a customer is interacting with your company, is valuable because these touchpoints form the customer experience. The best way to find opportunities for leveraging marketing automation is to analyze the customer's journey and determine when they need the most support and communication during that journey.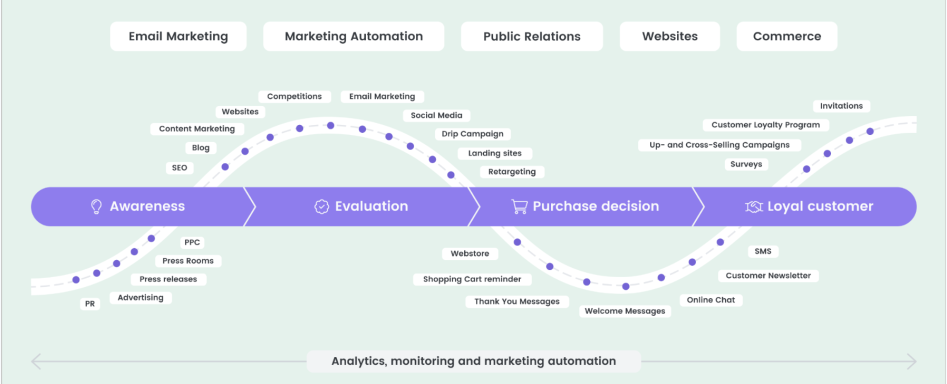 The customer's path to purchase can be fragmented, but marketing automation can simplify the process through automated basic messages.
Acquiring a new customer is known to be significantly more expensive than retaining and nurturing an existing customer. The same applies to communication. Many companies invest a considerable amount of money in advertising to attract new customers and create touchpoints.
Sometimes, while trying to attract new customers, we forget that communication targeted at existing customers is often both more cost-effective and profitable. It is especially worthwhile to utilize marketing automation when communicating with existing customers, as a customer who has already made a purchase is more likely to do so again. You can find more tips on how to automate email marketing messages for existing customers in the third paragraph.
2. Provide in-store level service online
Automated basic messages primarily aim to offer excellent customer service. Therefore, consider online services as an extension of your customer service, similar to a physical store with its employees. Transfer your thinking and observations from sales representatives to online by similarly automating basic email marketing messages.
For example, try the following:
Welcome newsletter subscribers.
Activate passive customers who haven't purchased in a while.
Send reminders about abandoned shopping carts.
Thank for purchases and provide information about delivery times and customer service contacts.
Thank for event registrations and provide practical event details.
Thank for event participation.
Request feedback.
Notify recipients that their feedback has been received and explain how it will be addressed.
Thank for reservations.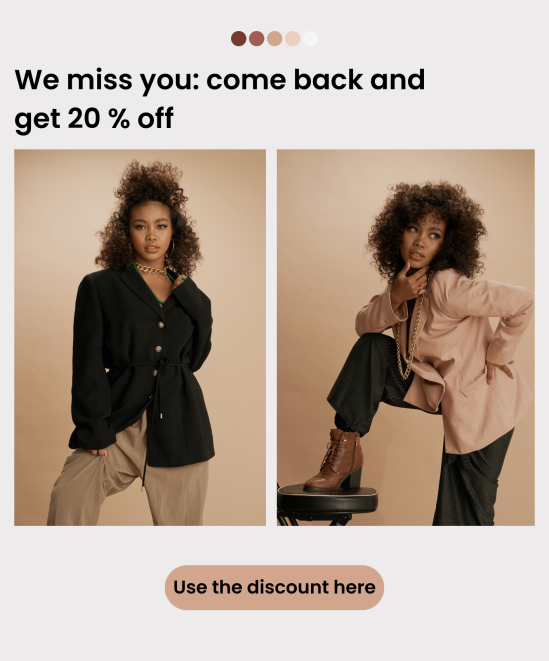 How to automate email marketing: Activate passive customers with automated basic messages.
3. Aim to exceed expectations
Good customer service can take you far, but aiming higher allows you to exceed the customer's expectations and even pleasantly surprise them. You can tailor automated messages based on the user's provided information, behavior, and needs. By considering your customers' needs, you don't only automate basic marketing messages but also deliver personalized email marketing content that resonates better with the recipient's interests.
Consider these approaches to engage your customers:
Remember their birthday.
Thank them on the anniversary of their customer relationship.
Recommend additional products you genuinely believe the customer will like.
Provide usage tips or recommend additional services.
Surprise them with thoughtful gifts.
Remind them of upcoming events.
Notify them about the start of discount sales.
Remind regularly purchasing customers (e.g., monthly contact lens users) that it's time to reorder.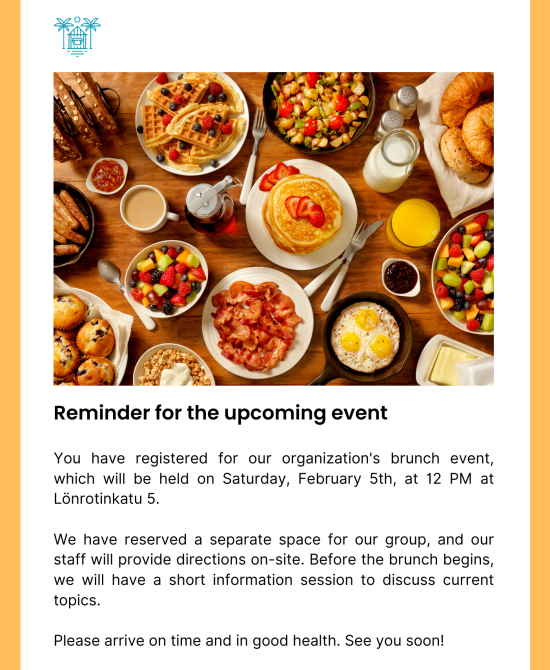 Provide practical and recipient-oriented communication through reminders.
4. Capture attention and keep it
It's easier to get a customer to open a birthday offer than a straightforward sales message. Consider what specifically interests your company's customers. Once you have produced compelling content and captured their attention, make sure your message includes more: offer promotions, provide tips and additional services, remind of discount sales, or introduce new stores.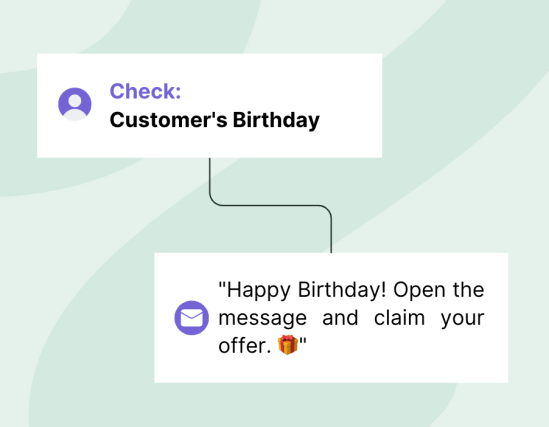 Marketing automation system retrieves customer birthday information and automatically sends them a congratulatory message which contains a discount code.
However, remember to keep the main topic at the forefront. If the content doesn't meet the customer's expectations, they may not open your messages in the future.
What's next?
Now you're up to date on how to automate email marketing messages in your day-to-day with marketing automation. In the next part of the article series, you'll learn how to turn website visitors into warm leads. Stay tuned!
Wondering how to automate email marketing?
With LianaAutomation, you can execute effective marketing at the right time to the right person. Would you like to hear more about how marketing automation is implemented in practice? Our experts can guide you and advise on the most suitable marketing automations for your business.
Ask us about marketing automation!
These may also interest you: