You sure know WhatsApp? The popular mobile messaging app is used by more than 2 billion people in over 180 countries, ranked as the most-used messenger app in the world.
Together with the fact that the average open rate for text messages is 98 percent, these numbers provide a huge marketing potential. This is why WhatsApp offers marketing tools for businesses, including in-built marketing automation features that enable automated message flows and sales processes, among other things.
But even if WhatsApp's own marketing solutions contain automation features, the greatest benefit is achieved when the messaging app is used together with an actual marketing automation solution. Let us tell you how!
The biggest benefits of using marketing automation and WhatsApp together
Marketing automation makes WhatsApp marketing much more effective. You can have automated conversations, use the conversation data outside the app and utilize it in your marketing campaigns, and segment your contacts much more precisely.
Save time by automating WhatsApp messages
WhatsApp's own marketing tool WhatsApp Business offers some automated message templates, but the selection isn't very broad. This is where the messaging app and marketing automation step in.
With a marketing automation platform, you can automate the sending of the first message of the WhatsApp conversation, but also the next messages, based on the receiver's reply. By setting triggers to the automation chain you can define what are the next steps in the conversation. The trigger can be that the receiver responds to the conversation in a certain way or that they respond at all.
For example, you can create a message including a poll, and if the receiver answers "A", the next automatic message has content related to that option. You can also include trigger words in the message: if the reply has the word "iPhone", the next automated messages can relate to that topic.
You can also hop in at any time and continue the conversation manually.
With marketing automation, you can reach customers with the content they need right at that moment. This also applies to automated WhatsApp messages: you can inform the customer about their dentist appointment one day before, and ask for customer feedback after one day has passed since the visit.
Multiple marketing channels on one platform
When you choose a marketing automation platform that connects with WhatsApp, you can be sure that it has connections with other marketing channels, too.
For example, with LianaAutomation you can create automation workflows that consist of WhatsApp messages, newsletters, SMS messages, Google Ads, mobile app push notifications, and automated print campaigns.
This way you can create way more comprehensive and more prosperous marketing campaigns than with WhatsApp alone. You also save time and money since most of the marketing actions can be done on one platform.
Save and utilize the data further
Using WhatsApp with a marketing automation solution means that the conversation data isn't just stored in the app. Thanks to integrations, your data flows back and forth between the solutions, which also enables the versatile utilization of data in your marketing campaigns. This makes your marketing efforts in WhatsApp much more effective and far-reaching.
There are plenty of possibilities for how you can make use of the data flow. Here are a few:
You can automatically save all the WhatsApp conversations to the customer's profile in your CRM.
You can add everyone who replied to your poll with the answer "A" to a specific mailing list.
You can easily fetch the customer's phone number with the automation system instead of adding them to your phone by hand. This also simplifies mass messaging to larger campaign groups.
No cold messages
WhatsApp is not a channel for cold messaging – people use it mostly for personal purposes, which is why you need to pay even more attention to consent than when sending an email. If you start sending unsolicited messages, the receiver might easily block your number.
By adding WhatsApp conversation as a part of your automation chain, you can ensure that there are enough meeting points along the customer path before the first message. This way your first message doesn't come out of the blue.
Broader segmenting and targeting possibilities
In WhatsApp Business, it is possible to label contacts based on the conversations you had. The app has some default labels, like New customer and Order complete, but you can also add your own. This helps to categorize the conversations and makes finding the right conversations faster.
Marketing automation takes the segmentation possibilities much further. Thanks to the software, the segmenting isn't delimited only to WhatsApp. Instead, you can utilize the conversation data in all marketing channels you have connected with your automation tool.
Take WhatsApp's own marketing rules into account
WhatsApp wants to keep marketing on its platforms as relevant as possible. That is why a few rules apply to the communication carried out through it.
When an organization contacts the client, messages must be sent using a message template pre-approved by WhatsApp. After this, the conversation can proceed freely.
Direct sales and marketing messages are prohibited on WhatsApp – instead, the message must be related to customer service. For example, polls, bulletins, and delivery announcements are accepted message types.
You must have the receiver's permission to send them WhatsApp messages. Requesting a permit can be done, for example, with a separate permit inquiry on the company's website.
WhatsApp communication is more restricted in certain industries, such as healthcare and the sale and import of alcohol.
How to use marketing automation and WhatsApp together?
With a high-quality marketing automation tool and a trustworthy software provider, it is easy and fast to start enjoying the benefits of using marketing automation and WhatsApp together.
Set up WhatsApp
To be able to send WhatsApp messages with marketing automation, you must set up the WhatsApp messaging app for your business. Commissioning can be done by placing an order with Liana.
To enable WhatsApp, your company must have an existing Facebook Business account. In the order process, your company gets its own unique WhatsApp number, which is registered based on your Facebook Business ID. You also need to fill out a form where you agree to the Whatsapp Client terms and conditions.
It is good to allow time for the process, as it may take up to 2–5 weeks.
Create your automation workflows
After the WhatsApp account of your organisation is ready, you can start creating your automations. If you already have a marketing automation solution in use and WhatsApp is a new feature in the tool, go through your existing automation workflows and see if they can be streamlined with WhatsApp messages.
Take your business hours into account when creating the automation chains. Don't set the sending of the first message for the evening time if you know you're unavailable then.
Did you know that Liana's marketing automation professionals are ready to help you to build automations that reach the results you wanted? Learn more about
Marketing Automation as a Service
.
Collect contact information from your CRM
Use an integration of your CRM and marketing automation software to easily fetch customers' phone numbers. Integrations also allow the data from WhatsApp conversations to flow back to your CRM.
You need to start thinking of clever ways to collect phone numbers to grow your database. One simple way is to ask for the phone number in your subscription forms. The more data you have about your customers, the easier it is to send highly-targeted content and campaigns to them.
Respond to messages quickly
Fast responding is important – it makes your customers feel important and improves the customer experience. In fact, 76% of consumers on social media expect a response in the first 24 hours, 13% even during the first hour.
By automating the WhatsApp conversations it's easy to manage the timing of the messages. Despite the automation, it's good to have people in your team on hold who are responsible for WhatsApp communication with customers.
Ideas for using WhatsApp in your automation chains
Be creative when using WhatsApp messages in your automations. You can create workflows that focus only on WhatsApp messages or combine multiple marketing channels in one automation.
What is convenient is that WhatsApp conversations support multiple forms of media besides text. You can diversify the message content with images and links, for example.
Welcome and onboard new customers
Make your new customers feel welcome by sending them a WhatsApp message where you can give important information, share useful links and answer their questions.
Marketing automation makes it easy to reply to FAQs rapidly. Create automated answers based on trigger words that are related to topics that customers often have questions about.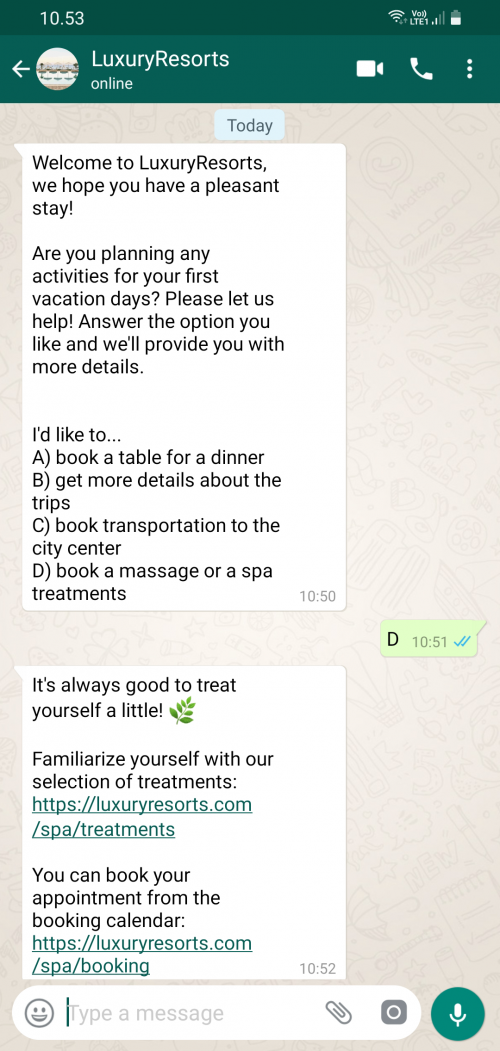 Why not utilize WhatsApp messages also for onboarding purposes? You can share guideline videos of your products and tell your customer what other services you have to offer.
Collect feedback and reviews
WhatsApp is a handy channel to ask your customer's opinions about your services or products. Communication in WhatsApp is usually casual and fast, which means that the feedback you receive might be more accurate and honest. And that is only a good thing, right?
Marketing automation ensures that the feedback process proceeds automatically on an ideal timetable. You can also automatically direct the feedback to your customer experience team, or to anyone to whom it applies.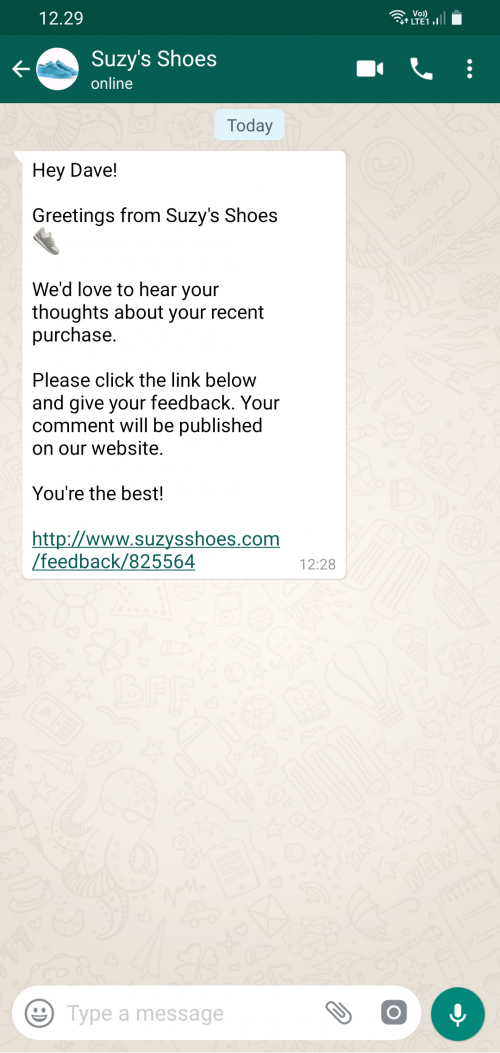 Send reminders
WhatsApp is an effective channel to keep your customers on track about their bookings, appointments, upcoming events, and expiring offers. You can be sure that the information reaches the receiver fast: half of WhatsApp users check the app daily.
Reminder messages tend to have a positive impact on the customer experience. The customer learns that you are communicating about things to remember, and they learn which channels you are using for sending the reminders.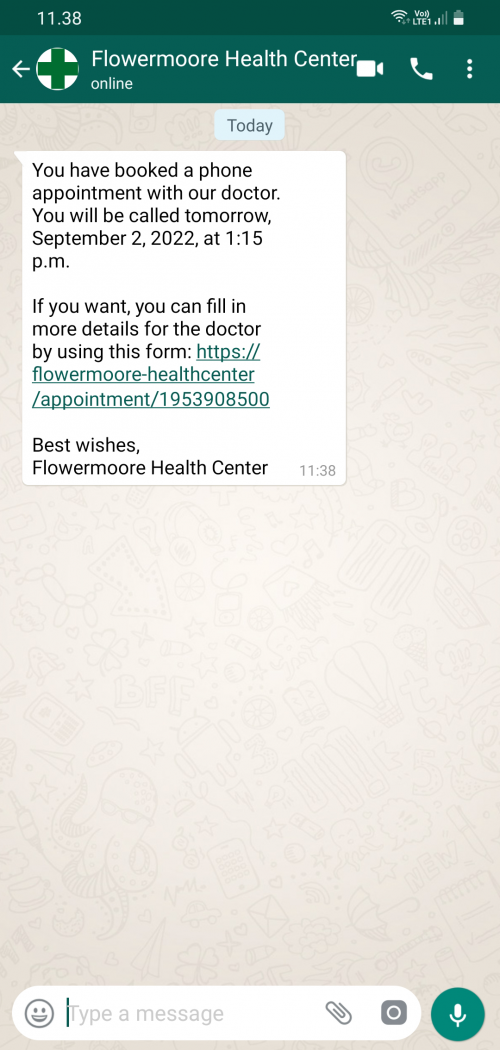 Would you like to reach out to your customers and prospects in a new way? Now you can send WhatsApp messages in our marketing automation software LianaAutomation.
Learn more handy marketing automation tricks: