Even in 2021, email marketing is considered one of the most cost-efficient digital marketing tools. Its high ROI (Return on Investment) shows that even with a relatively small investment it can significantly boost a company's sales.
Modern email marketing isn't always given the credit it deserves – some may still view it as "old school", with newer digital marketing methods such as social media marketing often being in the spotlight of the conversation. However, when used to its fullest potential, email marketing can be an extremely effective method for nurturing your leads and engaging long-time customers.
So, don't just aimlessly spam your potential customers with individual ads or campaigns – utilize these 8 tips in your email marketing strategy:
1. Build your mailing list yourself
I don't remember signing up for this newsletter? How did this company even get my email address? 👀
This is often the reaction of a person who receives a random marketing email from a company they've never heard of. They will likely either ignore the email, immediately unsubscribe from the mailing list, or move the message straight to junk mail. This can also harm your deliverability.
Never buy a mailing list – always build it yourself.
By buying a mailing list, you're essentially spending money on a bunch of non-functioning, or at least non-targeted, email addresses. The worst-case scenario is that the list you purchase isn't even collected legally, and you'll end up damaging your organization's reputation.
Nurturing your leads and engaging your customers is much more efficient when they have subscribed to your newsletter out of their own will. This way they'll receive exactly what they signed up for instead of being spammed with emails they don't care about.
How can I get subscribers?
There are various ways to gain subscribers to your newsletter. One of the most common methods is using an opt-in form. Make it visible on your website, and show it to your online store customers when they make a purchase, or to online visitors who sign up to your event or join a membership program, to name a few.
You can also lure people to your mailing list with lead magnets by offering them valuable content such as downloadable guides or discount codes, or by running a giveaway, for instance.
Using a double opt-in function ensures that your subscribers' email addresses are real, as it requires them to confirm the email through a link sent to them personally. At the end of each newsletter, make sure to let the recipient know why they received the email – or in other words, how your organization got their email address.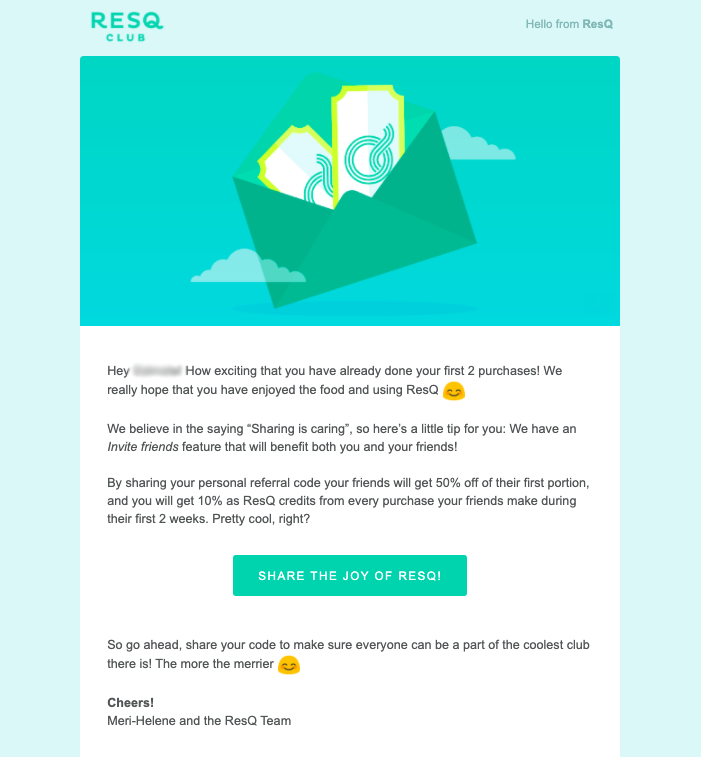 ResQ offers its customers personal referral codes, which they can use to gain discount codes for both their friends and themselves. The new users are added to their mailing list.
2. Fight for attention with a compelling subject line
Many people read their emails on mobile devices. According to eMailmonday, depending on factors such as your target audience, the amount of mobile email users can be as high as 78%. It's therefore very likely that you're fighting for the recipient's attention with a flood of notifications.
Which one would you click on first: new Instagram likes, a Facebook post, a message from a friend, a tweet posted by your favorite public figure, or an email from a company?
It's a jungle out there: the competition of a potential customer's attention is tough.
Focus on creating attention-grabbing subject lines: this is a crucial part of the engagement process. The headline alone must communicate the value brought by the newsletter, and compel the recipient to open and read it.
A/B testing allows you to assess what kind of subject lines work for your target audience. The function allows you to send two different versions of the newsletter to a small percentage of your mailing list, and to finally choose the headline that performed better for the rest of the recipients.
Pay attention to the length of the subject line as well. On many devices, only the first few words fit the screen. Because of this, prefer shorter subject lines of about five to seven words.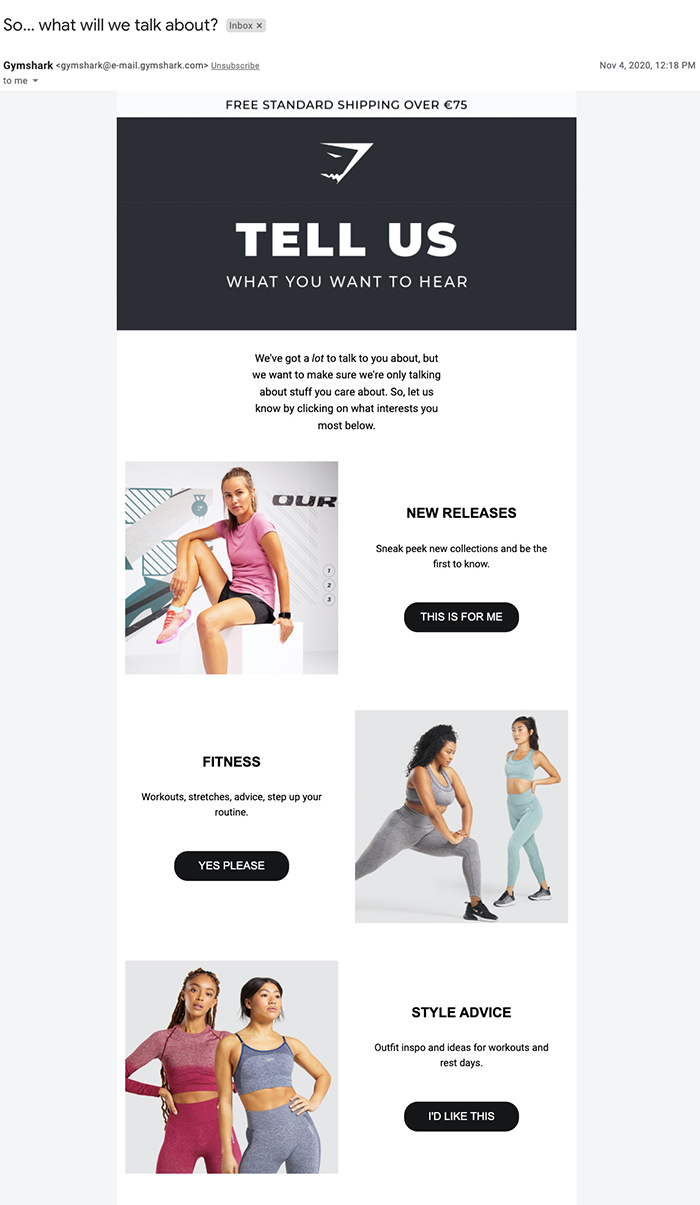 Gymshark's subject line So… what will we talk about? draws the reader's attention. By asking their subscribers what topics they're interested in, the company is able to provide them with more valuable content.
3. Create real value
Make sure that each newsletter brings value to the subscribers. The email can bring concrete benefits to the receiver, such as:
Tips or a guide
A personal offer or a discount code
Personalized content, such as an article picked specifically for the individual based on their previously read content
A reminder
An invite to an event
LinkedIn offers free personalized courses for its users in their newsletters. The reader has to act fast if they want to access the courses, as they're only available for a limited time.
Value can also be created by evoking emotions or by creating a positive image of the organization. This will strengthen the organization's brand image and help with the long-term engagement process of your customers. Examples of this would be thank you and welcome letters, or showing the customer you value their opinion by asking for their feedback.
4. Don't bore the reader
Especially when it comes to social media, there's a clear trend regarding the length of content: both texts and videos are getting shorter.
It is true that longer content of about 1 200 words tends to perform better when it comes to online search results. However, when we're aimlessly browsing our phones, we tend to prefer short Instagram captions or 280 character tweets over longer articles.
The same applies to the video content: Instagram Stories or Reels that only last for a couple of seconds are increasing in popularity, as they're easier to watch than 10 minutes long videos.
Keep this in mind when you're designing your newsletters: don't bore your subscribers or scare them away by including too much text.
Unless we're specifically looking for certain information, we often tend to opt for easy-to-consume content that doesn't challenge our attention span for too long. If the newsletter seems too time-consuming and hard to read during a coffee break, for instance, many receivers are likely going to skip reading it.
Your newsletter should therefore be brief enough to maintain the receiver's interest and attention. Lure the reader in with light, easy-to-approach content, and direct them to your longer main content such as articles, landing pages, or online stores, with links. Don't include too much information in the newsletter itself.
5. Engage by activating
Once you have managed to get the reader to open your email and to quickly scan through the upper part of the letter, it's time to encourage them to take action.
This is perhaps one of the most important steps in the engagement process, as directing the reader to an online store, a landing page or to some action will help nurture your leads into customers.
The easiest way to activate your newsletter readers is by using a Call-to-Action (CTA) button. It can be, for instance:
Browse New Products
Continue Reading
Download the Guide
Rate Us (perhaps a star rating that the reader can easily click on?)
The CTA must be visually clear and easy to understand. It must be designed in a way that makes it stand out from the rest of the content. It must also be placed high enough on the letter so that the readers who only quickly scan through the message will see it before exiting.
6. Optimize, personalize, automate
The great thing about digital marketing is that clicking the links on newsletters and websites leaves a digital trail that can be very beneficial to a company. Essentially everything can be measured one way or another, and marketers can and should utilize the collected data in their email marketing.
Focusing on the marketing efforts that bring results and tweaking the ones that don't perform as well will help you improve the ROI of your marketing.
Collecting data allows you to personalize your emails. Newsletter subscribers can, for instance, be recommended informative articles on a topic they're interested in, or help them find a product with the specific features they're looking for.
Additionally, if the customer has allowed their name to be saved during a purchase or in an opt-in form, including their name in the newsletter may be a nice additional touch.
By segmenting their mailing list, a company can target specific messages to recipients of certain criteria. The segments can be categorized based on their previous actions such as purchases, or demographic factors such as age, for example. This way newsletters can be tailored for a specific target audience.
The collected data can also be used in automation, which tends to go hand in hand with email marketing. Specific actions can be set to trigger an automated email, such as a shopping cart reminder in online stores or a thank you letter after a purchase or an event. By utilizing data, the messages can be sent at the right time either as individual messages or drip campaigns to effectively engage the customer.
7. Fine-tune the visual design to match your brand
Brand continuity is key: how do you want to communicate your brand in your newsletters?
Follow your brand guidelines in the designs of your emails and landing pages. Small details such as linguistic or visual choices may not feel too important, but they can significantly impact your Click-through rates and how your customers view your brand.
Increasing your brand recognition can directly impact customer loyalty and help to engage single-time purchasers into loyal regular customers.
An aesthetically pleasing design will help to maintain the reader's interest. Use visual elements such as images, videos, infographics, and various layout options in your newsletters.
In this video, our Designer Edi and Communications Manager Fanni discuss newsletter design trends for 2021 – in case you need inspiration.
Note! To see the video below, give cookie consent to the Marketing section. Open cookie manager.
By testing different layout and style options you can find out, what kind of elements work the best for your audience. We use LianaMailer's heatmap feature to see which elements on our newsletters are clicked the most.
8. Let the subscriber decide for themself
After completing all of the previous steps, you have to find an optimal frequency for sending your newsletters. A newsletter sent too often may be considered spam – but at the same time, you also want to make sure you're sending enough emails to help you with the engaging process.
Consider tailoring the number of letters for your customers' individual needs by letting them choose for themselves in the opt-in form. Ask them, whether they want to receive an email from you daily, weekly, or monthly, for instance, and what kind of content they would like to see from you.
For instance, a person reading an online newspaper may want to receive a compilation of news related to a specific field, such as business and economics, every morning. Another reader of the same magazine will want a recap of the most important headlines across all fields once a week.
The same can apply to an online store as well: a person interested in a specific field, such as technology or fashion, may want to receive information on the latest products once a week, whereas an occasional shopper may want a similar newsletter only once a month.
When the content specifically meets the customer's needs, activating them becomes much easier. A reader of a magazine will click on the articles they're interested in, and an online shopper will benefit from the offers that are sent to them at a convenient time.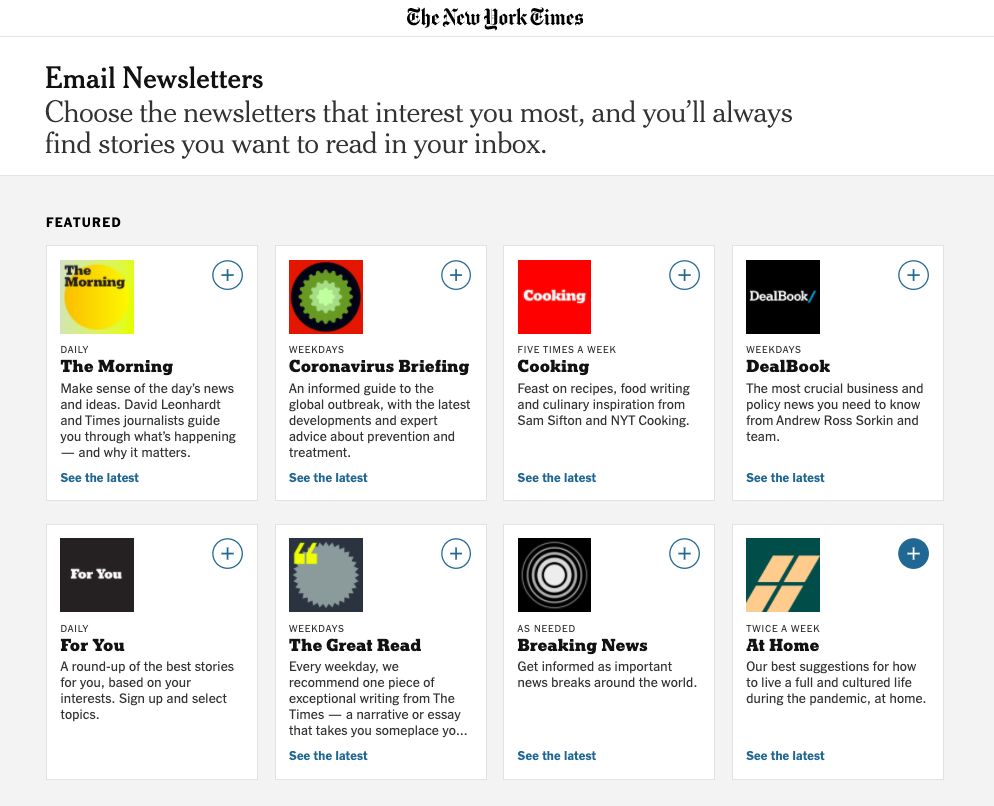 The New York Times has created tens of different newsletters for their readers. The subscriber can choose both the frequency and the topic of the content they want to receive.
If they want to leave, let them go
Unsubscribing from a mailing list should also be easy for the reader with a simple link in the newsletter. Don't try to trick your subscribers into staying with you by making the process complicated. Here's why:
A mailing list full of inactive contacts will be of no use to you.
User-friendliness is a value in itself – if unsubscribing is difficult, it will only make your company and website look bad.
If unsubscribing isn't easy enough, many people may simply move the emails to their junk folder. This can impact the deliverability of your newsletters.
Want to learn more about digital marketing and communications?