Press releases are a great tool to let everyone know about an event involving your company. It can be a regular statement, the launch of a product, or a new organization telling the world that they are now open for business.
In any case, for your press release to bring real visibility, you need to invest in its writing. Build your press release with an engaging title, a summary that says it all, a thorough body, an accurate boilerplate, but also images, quotes, and stats. Without forgetting contact information.
You have all of the necessary information to fill those parts, but you're not sure how to articulate them? You're at the right place: keep reading and learn how to create a great press release!
What should your press release be about?
Almost any type of organization can write a press release: it can be a small company, a big corporation, an NGO, a charity, or even a municipality. Then, depending on who is writing, the subject can be very different:
The launch of a new product or service
Participation in a competition or contest – and ultimately the results
A new partnership
A customer success story
Hosting an event
A company's rebranding process
Announcing an acquisition, or a merger
How the company is managing a crisis
A topic to gain public attention
We at Liana Technologies actively publish press releases via LianaPress and our own websites. The releases have covered multiple topics: for example when we advanced to the final of the EBA (European Business Awards) in 2019, when we entered the Brazilian market last year and when results of our surveys were published for example.
How to start the writing process of the press release?
When you have decided what your press release will be about, it is time to actually write it. To facilitate the writing process, the structure of your press release can be separated into three parts: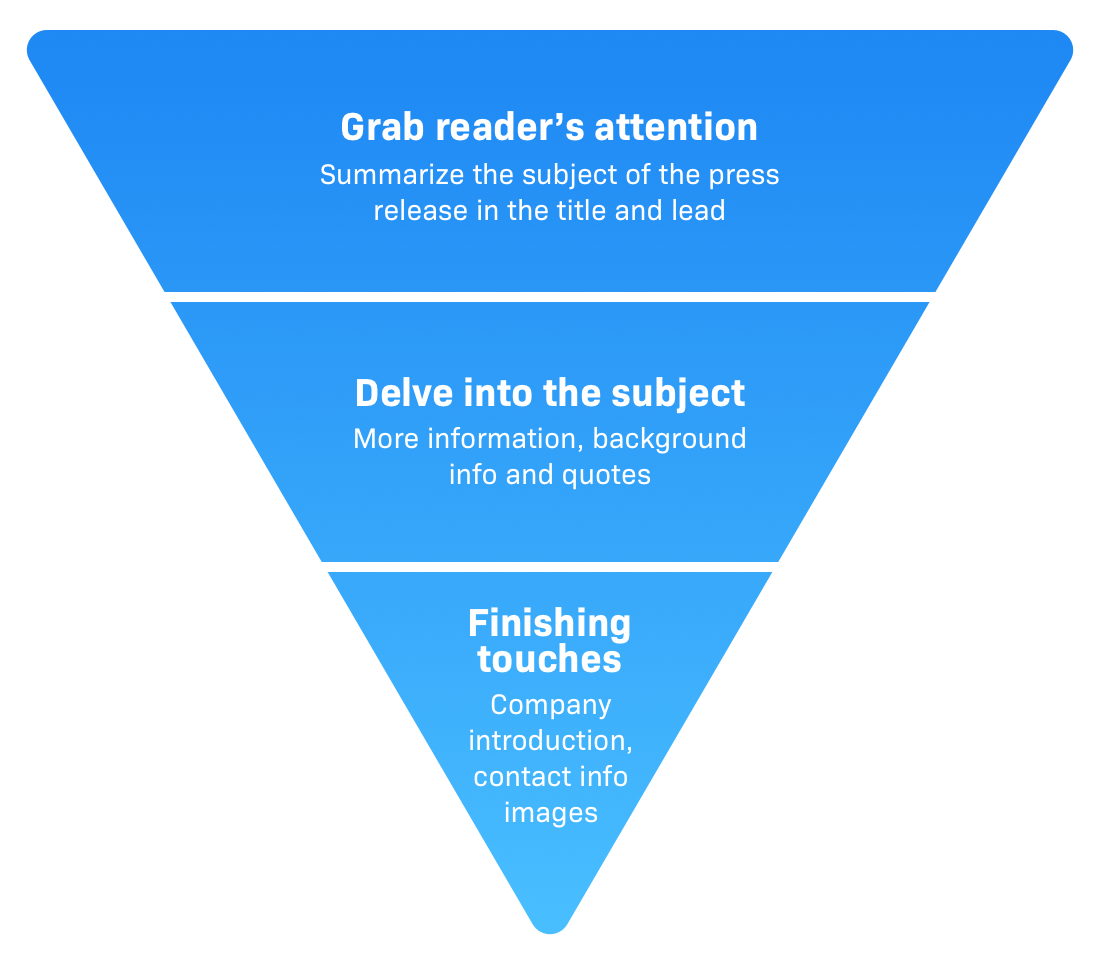 1. Grab the reader's attention
Headline
The headline (or title) of your press release is the most important part of it. If it is not catchy enough, your release won't be read. So, without neglecting the rest of your piece, you have to pay extra attention to it.
A good title is engaging, not too long, but not too short either: you have to carefully choose your words to tickle people's curiosity and make them open your press release. Remember though that balance is the key, so it's best to avoid click-bait headlines or too mysterious titles.
Here are some headlines that caught our attention:
"Shave the Date: McDonald's® Is Giving Away 10,000 Free McRib Sandwiches to Fans Who Shave Their Facial Hair" - McDonald's
"Novotel teams up with Disney and Pixar's all-new feature film "SOUL" for the second phase of their global collaboration with Disney and Pixar movies." - Novotel
Lead
The lead is a short paragraph including the most important elements of the press release. This is when you need the famous "5 Ws": who, what, when, where, and why, to give all the relevant information in a few lines only.
You have to think that a journalist who doesn't have the time to read your press release will only rely on this summary, so you want to make it short but effective.
If we keep reading the aforementioned press releases, the different summaries are the following:
"In honor of the nationwide return of the McRib on December 2, McDonald's is partnering with No-Shave November, giving people a new way to support cancer research" - McDonald's
"For the first time, BlaBlaCar extended its multimodal offer into micro-mobility by joining forces with Swedish e-scooter company Voi Technology. Thanks to this strategic partnership, BlaBla Ride scooters will help French cities and their citizens have access to safe and sustainable mobility at a time when it is more crucial than ever. Both companies remain separate legal entities." - BlaBlaCar
2. Delve into the subject
Body
The body of your press release is the longest part in terms of content. In it, the lead is developed more thoroughly, by providing further details. Remember to communicate the most important information first, and the least important in the end.
When you are writing your press release, use vocabulary that is easy to understand. Using too specific terms and creating complex sentences won't make the reading of your piece agreeable: again, keep it simple.
Here's what BlaBlaCar's press release's body looks like: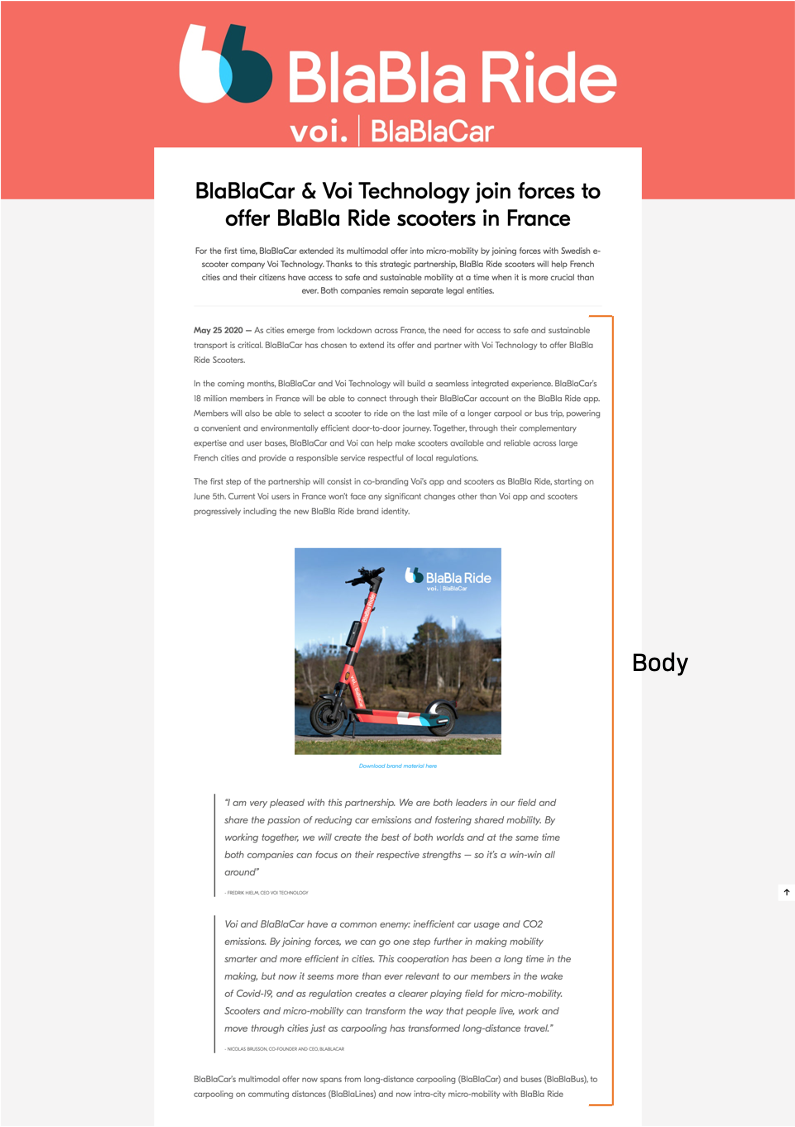 In the body of your press release, you can insert quotes or statistics, in order to make your piece more complete and reliable.
Also, the writing style of the press release doesn't need to be extremely formal. Instead, try to personalize the content a little bit, and a bold approach can help you to stand out from the crowd!
3. Finishing touches
Boilerplate
The boilerplate is one of the latter elements of your press release. This part is a short description of your company, your product, or the person that is the core subject of your release. Here you can also insert a link to your website or to a landing page regarding your product.
Contact information
It is vital to add the contact information of someone who can provide more details about the topic. It can be a phone number or email address, and if a journalist calls to have more information about the topic, you have to answer right away.
"The contact person needs to be available for the whole press release publishing day – in the evening as well. It is beyond frustrating to try to get a hold of a contact person who doesn't answer. Many story details or even a whole press release haven't been published because of this on occasion. Because I also train PR people, I formulate it for them like this: the contact person eats, jogs, goes to the sauna, makes love, and sleeps with their phone in hand for the next 24 hours!"
Here's an example from Novotel, showing that you can insert information concerning your own company in the boilerplate, but also concerning the third parties mentioned in your press release:
Even if you are a worldwide known company, you should add a boilerplate to your press release, just like McDonald's does:

Before sending your press release, make sure that you have all of these elements – the ideal length being one page. Don't forget to add the logo of your company in the beginning, so that the reader knows which company is in question.
You also need to insert the date of the press release above the headline. If the press release is embargoed (meaning if it is to be published on a later date), this is where you would want to give this information.
Last tip: adding images and videos to illustrate what you are saying is a really good idea, as they increase the likelihood that the press release will be published. Add all the visuals and other extra materials to your press release as links: this ensures that the quality is good and that the receiver's inbox won't jam.
What to do after finalizing your press release?
Once your press release is ready and proofread one hundred times, it is time to let the world know about it. You can send it to journalists that will publish it on their media, but you can also publish it on newsrooms, pressrooms, on your own website, and on social media.
If you decide to share it with journalists and think that the right approach is to send it to everyone in your database to make sure that someone will publish it: we have a tip for you.
You need to target the journalists that will be interested in your topic, so make sure that they are experts in your field and that they will know what you're talking about. A journalist specialized in the food-processing industry would definitely be more interested in a piece about this field rather than about arts and crafts.
Even if your press release is not published this time doesn't mean that you should stop writing and sending them. It might be that the journalists are not familiar with you yet, but if you keep informing them, you might get published one day.
Are you looking for a tool to create and publish effective press releases? With our Liana®Cloud PR & Media solution, you are able to build great press releases and have access to a large database of journalists from around the world.