Are you planning to acquire a newsletter tool? Great decision – email marketing has the highest ROI of all marketing channels!
This article will present some of the most popular software and discuss their differences. As a cherry on top, we will also take a deeper look at our own email marketing platform LianaMailer.
But before getting to know the tools and making the purchase decision, it's good to determine your own wishes and needs, and estimate how different options meet those requirements.
Let's start!
What do you need to think through before comparing email marketing tools?
The number of various tools on the market is extensive. To narrow down the selection and make the email marketing tool comparison easier, it's good to think about what your needs are when it comes to email marketing.
Go through at least these questions:
How large is my contact base?
Email marketing solutions are often priced based on the size of your contact database. A tool for 50,000 contacts will cost more than one that covers just a couple of thousand contacts. It's also worth checking out if unsubscribed and inactive contacts are counted in the final amount – this detail can quickly increase the costs.
What is my budget?
Your budget naturally affects the price range where you want to start searching for tools. More expensive solutions often have a wider selection of features and cover a larger contact database.
It is also worth checking whether the price is based on monthly or annual billing. The monthly option might be a bit more expensive, but it also provides flexibility, if you need to make changes to the contract with a quick schedule.
How advanced editing options do I want to have?
Many newsletter tools are built around a drag & drop editor, which often makes the editing process very easy and smooth. There are still differences between the tools – some features, like A/B testing, are not available in all of them. Carefully familiarize yourself with the features and evaluate which of them are necessary for you.
Also, take into consideration the employees who will participate in the editing process: are they all on the same skill level, or would it be easier to have a newsletter template that can be edited within the limits allowed by your brand?
How detailed reports do I want to see?
All marketing actions should be measured – email marketing is no exception. With thorough reports, you can analyze the performance of your newsletter and improve your content to meet the expectations of your receivers.
Once you find software that interests you, check what kind of reporting features it has. Would you like to see heatmaps and analyze which parts of your letter the receivers have clicked? Does the software provide information on what percentage of the sending did not succeed? Are you able to share the reports with the management and other stakeholders?
Do I need to follow GDPR legislation or other requirements?
A modern marketer has to consider legislation, laws, and regulations related to user data in their area, such as GDPR in the European markets. The chosen tool should make following the rules easier, not put obstacles in the way.
Do I want to send automated emails?
Email automation helps with the creating and sending process of newsletters. If you are sending repeated emails like booking confirmations, transactional emails, or invitations, automation features are something to consider.
Get to know the automation possibilities of the tools and see how complex automations they enable. Some email marketing solutions have light, built-in automation features, others integrate with actual marketing automation tools.
Now we know what you want and need – the next step is to find a solution that meets those specs in the best way possible.
Get to know the popular email marketing tools
Now we are ready to take a closer look at different software. We'll tell you about the features of five different tools:
Mailjet
Campaign Monitor
Mailchimp
Active Campaign
LianaMailer
Mailjet
Mailjet is an easy tool with simple features for email building. Newsletters can be created on pre-built templates without any expert skills – although the selection of templates isn't particularly wide.
What makes Mailjet special is the possibility of multiple people attending the editing process at the same time. This feature enables teamwork and can also speed up the process of composing newsletters.
Mailjet also has a free version available with 200 emails per day and 6,000 emails per month. The free-version emails have the logo on them and naturally, the features are more narrow than with the paid plans.
There is room for improvement in managing the contact lists, as removing unsubscribed users from your database cannot be done with just a couple of clicks. Also, segmentation options are pretty limited.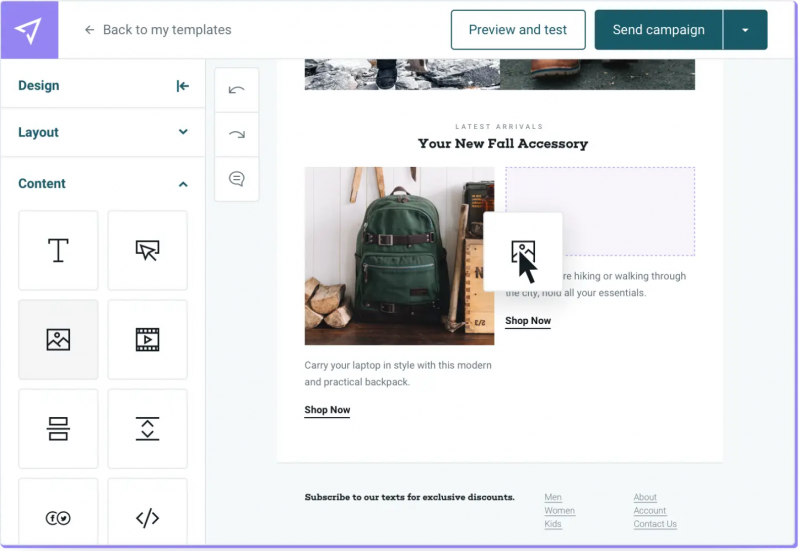 Features:
Drag & drop editor
Narrow selection of pre-built templates
Collaborative real-time editing
A/B testing
Email validation
Real-time statistics
Campaign Monitor
Campaign Monitor might not be the most beautiful tool on the market, but it's one of the easiest ones to use. Even an inexperienced email marketer can quickly learn to use the software. The navigation and menus are very clear and understandable.
Campaign Monitor has a simple drag & drop editor with basic-level editing possibilities. The editor is adequate if you don't plan on sending particularly flashy letters, but the more advanced email marketer may get frustrated with the narrow editing options. However, the software offers a nice selection of good-looking and responsive newsletter templates.
Customer support isn't Campaign Monitor's biggest strength. Chat support isn't offered, and phone support is available only for customers with the most expensive pricing plan. When facing issues, you can send a support ticket after being guided to a help center including support articles. There is no information on how soon your ticket will be replied to or reacted to.
In addition to paid versions, Campaign Monitor provides a free trial that doesn't expire. The trial allows you to try the software and enables you to send email campaigns to five subscribers. Autoresponders and transactional emails aren't included in the trial.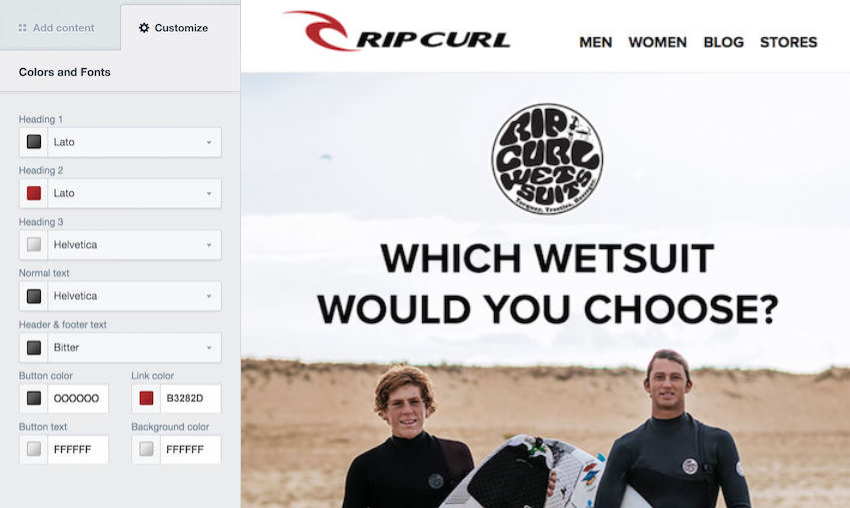 Features:
Simple drag & drop editor with ready-made templates
Functional data segmentation
Enables marketing automation
Option to send SMS campaigns
Free trial available
Support mostly via tickets, no online support
Mailchimp
Mailchimp offers multiple ways to build emails: you can build your letter over a ready-made template or use a coded design, for example. The editing possibilities are broad, but might also confuse, as some editing methods have limitations compared to others.
The UI of the tool is modern and sleek, but not the most uncomplicated: finding the key features might take time in the beginning. The selection of features is broad and there are also many useful integrations to third-party apps, as Mailchimp has the position of an industry-standard tool.
The amount of emails you can send per month is limited, and the amount varies depending on the pricing plan. This is good to take into account, especially if you take advantage of Mailchimp's automation features and send a lot of automated emails.
Mailchimp also has a free version, which can be a great option for small businesses that are starting to send newsletters. However, the free plan covers a maximum of 2,500 emails per month (daily limit of 500) or 500 contacts – unsubscribed and duplicate subscribers are counted.
Some features, like A/B testing, email scheduling, and personalization are not available in the free version of Mailchimp. The free plan covers support for the first 30 days, after that support is offered only for paying customers.
For paying customers, phone support is available for customers with the most expensive pricing plan. Email and chat support are available after you have searched for the answer to your issue from Mailchimp's articles.
When it comes to segmentation, Mailchimp isn't the most advanced tool available. If you use a lot of different conditions in your sendings, working with Mailchimp can cause quite a lot of extra work.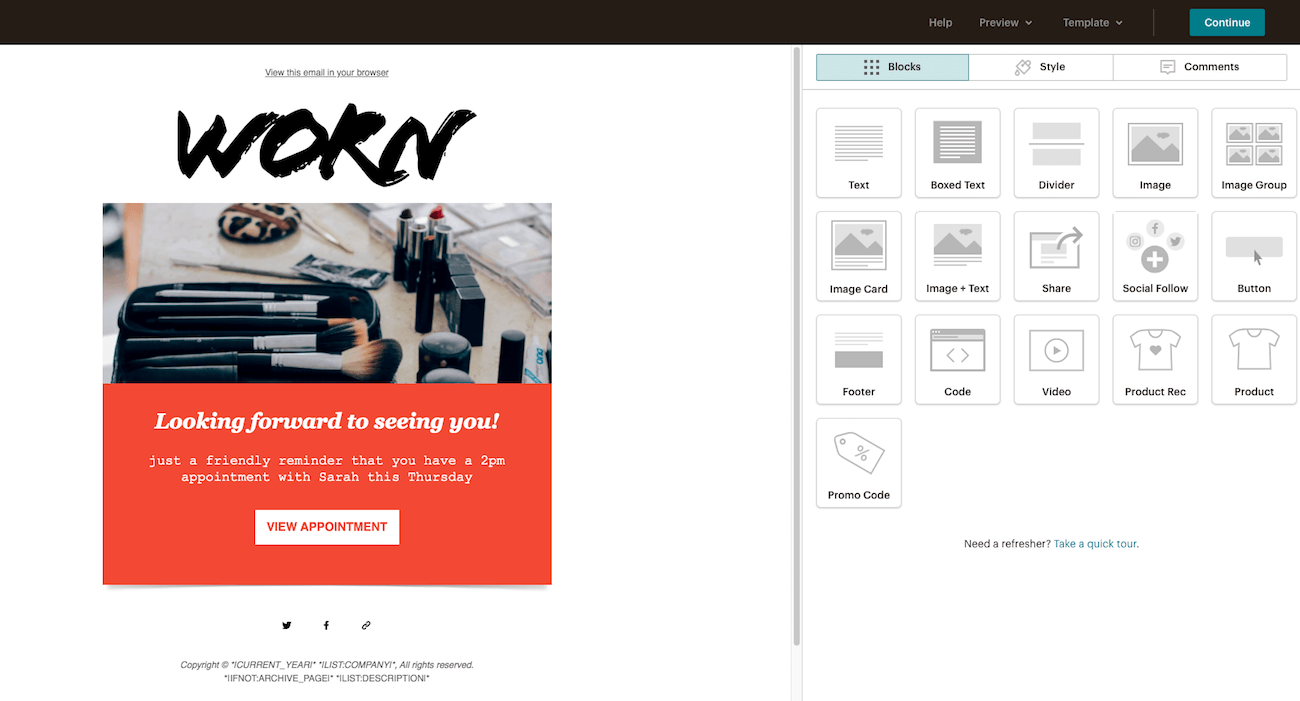 Features:
Drag & drop editor
Marketing automation features
Website building tool included
Wide selection of ready-made integrations – no custom integrations
No support for free accounts after the first 30 days
ActiveCampaign
ActiveCampaign comes with handy built-in email automation features, and it's a tool for companies that are serious about marketing automation. The software also offers many other marketing features, like a CRM solution, campaign landing pages, and live site chat messages.
A vast selection of features might feel confusing in the beginning – especially if you are only looking for an email marketing solution. The features also come with a larger price tag, as the plan costs are associated with some apps and integrations.
ActiveCampaign has a drag & drop editor and offers a large selection of ready-made newsletter templates.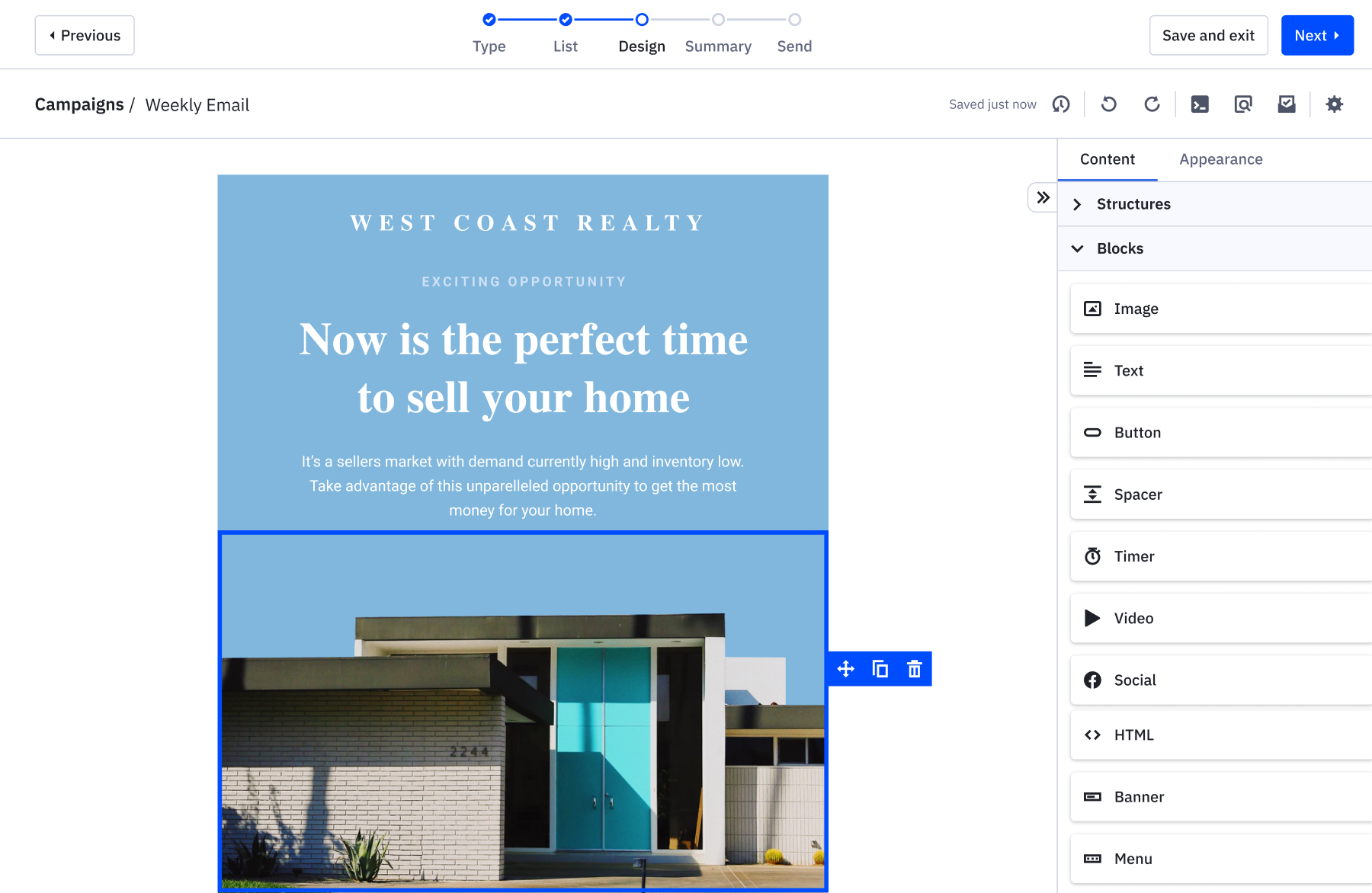 Features:
Drag & drop editor
Wide selection of ready-made templates
Easy-to-use marketing automation
Wide selection of other marketing features and integrations
Support via chat and email – phone support only for Enterprise customers
LianaMailer
Lastly, let's take a closer look at LianaMailer.
This drag & drop tool provides you with very versatile editing options. A broad library offers many good-looking newsletter templates that you can keep editing to meet your taste and brand – or you can utilize a custom-made template that is created specifically for you.
You can astonish your receivers with personalized and interactive newsletter content. Spice up your letter with videos, activate your readers with polls, compose the letters easily by utilizing RSS feeds, and personalize parts of the content based on each receiver's attributes. You can even send SMS messages with the same platform.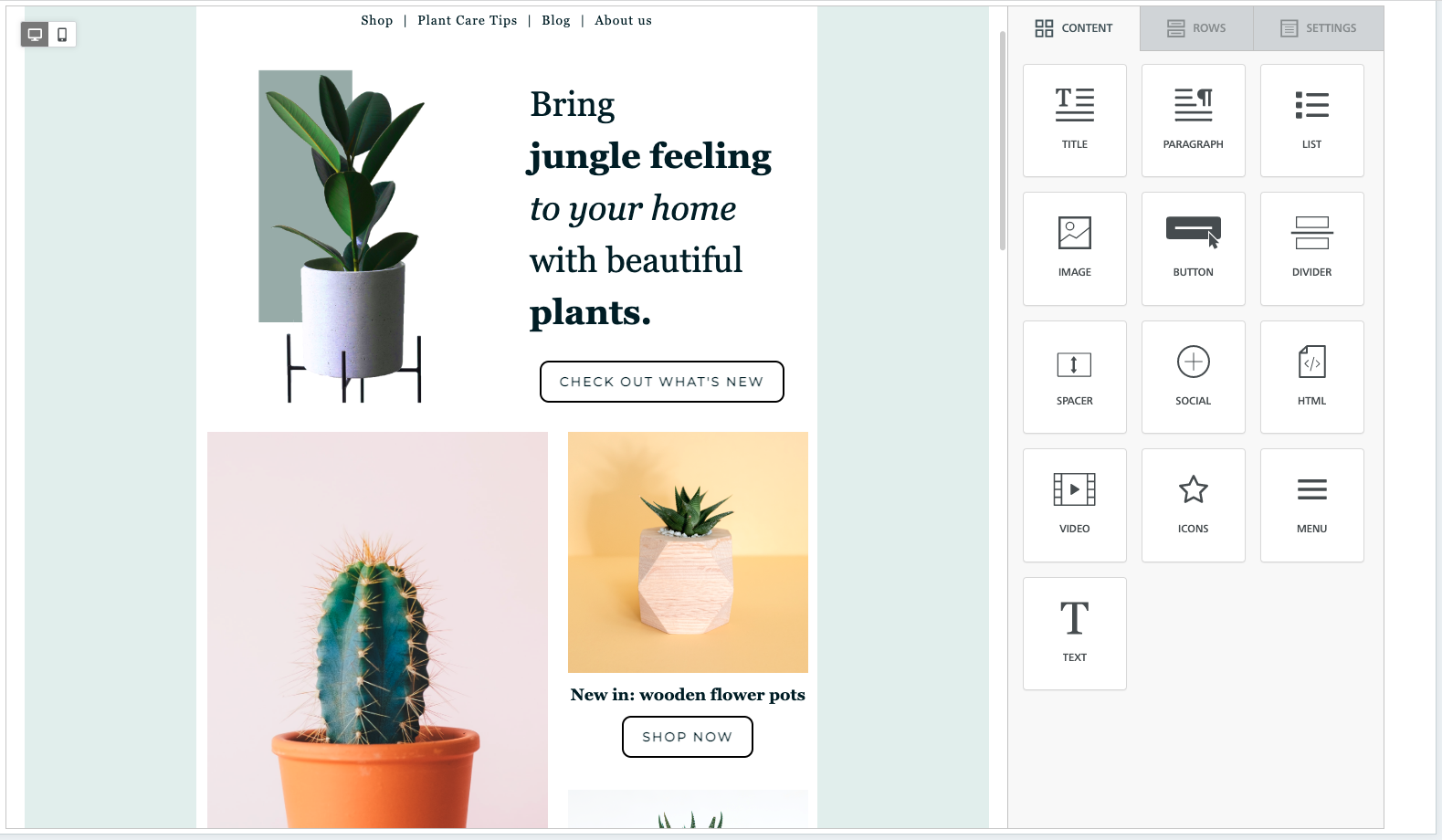 LianaMailer is an excellent choice for a GDPR-aware email marketer: you can collect, store, and handle all personal data accordingly and comply with the legislation. High-quality servers and long-term work on data security enable top-level deliverability for your emails.
Personal support is offered for all LianaMailer users. Support can be contacted via chat, email, and phone, and the tickets are answered quickly and kindly. Customers also get their own contact persons who they can reach when needed.
When it comes to email automations, LianaMailer has a native connection to the marketing automation solution LianaAutomation. Automated letters can be built easily with LianaMailer's editor.
Note! To see the video below, give cookie consent to the Marketing section. Open cookie manager.

Features:
DIY templates and custom-made templates – choose one or both
Functional newsletter elements: video element, polls, RSS feeds, personalized content blocks
Send SMS messages with the same software
Easy segmentation
Deliverability testing, email address testing, link testing
Support by your own contact person and friendly technical support via chat, email, and phone
Article landing pages
Native connection to marketing automation platform LianaAutomation
Easily integrated to 3rd party systems, custom-made integrations are possible
No free trial available
Software updates are included – you always automatically use the latest version of the software
Summary
We hope this article gave you food for thought regarding the email marketing tool comparison process. There are many options to choose from, but determining your budget and needs makes the choice much easier.
Check also these articles for background information:
Would you like to know more about LianaMailer and its features?