For most of those who do professional marketing, an automation tool is either an everyday instrument or at least is on the top of the shopping list for 2018. Here are 14 reasons to take it into action!
Make marketing and sales more effective
Since the introduction of marketing automation, sales and marketing have become closer to each other and everyone benefits from this. Marketing automation has a big role in organizing the work within the marketing team as well as between teams.
1. Make the marketing team's work more efficient
Once marketing automation basics have been introduced in a company and creating and editing automation campaigns comes naturally for your marketing team, you can create an incredible amount of carefully targeted and relevant messages for your target groups.
2. See the big picture
A marketing automation system combines all the important systems in the company and enables reporting, analyzing and monitoring your actions easily. It also makes sure that your messages are coherent everywhere and you can easily see where the tasks are being performed and measure their results.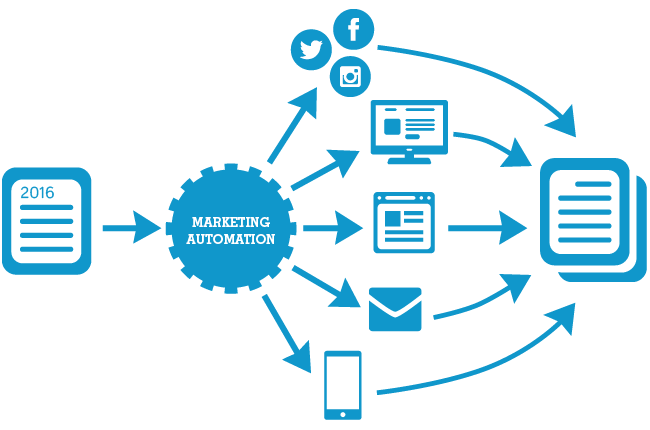 Image: With marketing automation, you can make sure that all marketing actions are being performed according to your communications plan, as well as compile reports of all actions.
3. Combine marketing and sales
Marketing automation requires combining the goals of marketing and sales and defines the roles of both teams. After acquiring, activating and nurturing leads, marketing transfers the leads to sales for more personal communication. There should always be a clear point on when this happens.
The cooperation of sales and marketing must also continue in activating existing customers, and in possibly reactivating or saying goodbye to former customers.
4. Save time for the most important
With marketing automation, you can get rid of many routine tasks, such as uploading Excel lists from one system to another or connecting and manually creating segments. Free up your time for other important tasks. In marketing, this usually means new ideas, better content, and overall more creative work that is better organized. For the sales team automation frees up time for taking care of customer relationships and high-quality prospecting.
5. Keep the CRM active
In addition to utilizing data from different sources, such as the CRM, marketing automation also works the other way round. Automation enriches the data on the CRM by adding the customer's actions to their account. This improves customer management and makes operations more customer-oriented.
6. Make sales and marketing measurable
Marketing automation tells clearly how efficiently marketing and sales are working. Does the marketing team create leads? And does the sales team take them across the finish line? Does the marketing team maintain customer relationships – and does the sales team handle upselling?
Make profit
Launching marketing automation is not free but the investment is worthwhile as it produces measurable results.
7. Grow sales
Growing sales with marketing automation is possible in a way that could never be done manually.
Let's look at an example of two customers in a mobile store: The first one receives newsletters or SMS offers based on their past purchases. These could be offers about maintenance services or the list of accessories. The second client receives generic mass deliveries, such as new offers in the store. There's no doubt that the first customer is more likely to make more purchases than the one who receives generic mass deliveries.
Your profit will also grow simply because grasping the attention of online customers is challenging, with the human attention span being considerably shorter nowadays. With automation this fleeting moment can be filled with exactly the right messages, which makes a purchase more likely. This way the customer looking for a pampering weekend at a spa won't get frustrated flicking through spa offers for families but can make a purchase with two clicks.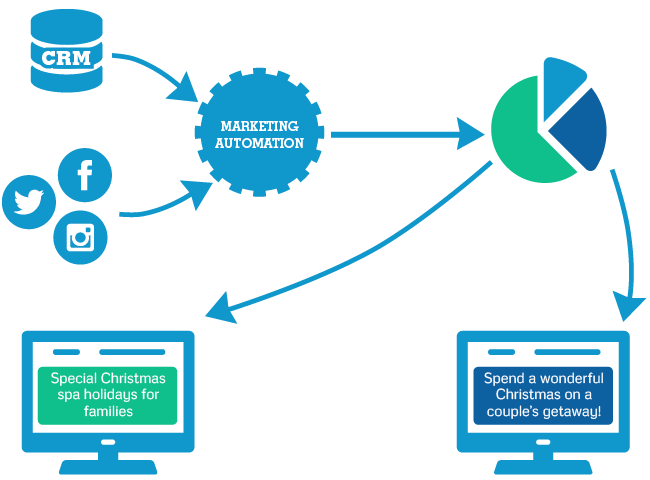 Image: With marketing automation, different content can be shown to different visitors: when a person is interested in couple's spa vacations he won't get frustrated browsing only family offers.
8. Increase the average purchase
One of the clearest benefits of marketing automation is increasing the average purchase. This can be done with upselling and cross-selling. When a customer is finishing up their purchase, recommend compatible products, goods others have bought, or offer perks, such as free delivery.
9. Convert better
Potential customers find your company from many sources: through search engine advertising, newsletters or traditional advertising. Companies with a separate sales team acquire them through active prospecting and CRM.
Only a part of potential customers convert to buying clients, but marketing automation raises this chance to its maximum. An automation platform keeps the customer constantly engaged, reacts to their actions and transfers them to the sales team just at the right time.
Analyze and develop
Data has an ever-growing role in marketing and in business management. A marketing automation tool creates reports about different systems and actions, and combines the data for easy analyzing.
10. Find the bottlenecks in your operations
Marketing automation helps make a company's operations more efficient by revealing the bottlenecks in the process. Does marketing create a lot of leads for the sales team but they are not handled properly? Do a lot of people use a demo account but don't convert into customers? Do shopping carts get abandoned because of a webstore's bad usability?
11. Test what works
Automation systems show you clearly and quickly what works and what doesn't – and it's easy to modify your operations accordingly. A/B testing and conversion optimization turn into everyday tasks with automation.
Serve the customer better
Marketing automation is primarily a way to serve the customer better, which in turn leads to more committed customers that buy more. The starting point to everything is the customer.
12. Create better online customer experiences
Marketing automation is first and foremost the foundation of a good customer experience. With automation, you make sure that suitable content is offered when a customer arrives on the site, relevant products are recommended, help is provided when a shopping cart has been abandoned and an interesting newsletter and SMS are sent.
13. Excel in online customer service
Marketing automation is an excellent tool for customer service. Automate routine messages, make sure that interested customers are being contacted and offer help online:
Remind about contract renewal
List the benefits of your service to a customer using a test version
Get a new customer acquainted with an onboarding campaign
14. Strengthen the brand and keep customers committed and engaged
The era of mass deliveries is over. Relevant, timely, and interesting messages help in brand creation and increase customers' commitment. Sending automated messages is not about manual labor and it changes based constantly based on new goals and customer behaviour. This ensures that marketing messages evolve together with the customer.