5 Digital Tips for the Christmas season
09.12.2016 0

For most operating in the consumer market, Christmas means the best sales of the year, but you can do much more than just sell during the holidays. And the marketing and communications offices going quiet doesn't mean the customers lose their interest, usually the exact opposite. By planning ahead and scheduling you can spend the holidays without a care! Here are some Christmas tips for marketing and communications.
1. Make the digital door pump sing with newsletters
The time before Christmas is naturally excellent sales time for everybody operating in the consumer market, but also the days around Christmas are important. On those days, people have time to browse online, they want to use the present gift cards, and are looking to change the wrong size sweaters and the second pair of the fluffy socks.
Target and cross-sell
Email marketing remains the best way to boost sales. There's a tough competition for opens and clicks before Christmas so targeting a message as specifically as possible will probably win the race. Those utilizing marketing automation already know what the customer bought for Christmas last year and can suggest products based on that. Others will have to settle for using segmentation the best they can.
The days before Christmas are not the only days when people are eager to buy, and many people check their emails on the days between Christmas and New Year. You should schedule B2C newsletters about the selection of your webstore for these days as a drip campaign, or upsell and cross-sell. For example, "Did Santa bring an iPhone 7? Buy accessories at a special Christmas price here" will probably work better than a generic mass message.
Remember loyal customers
A gift is more likely to be opened than an offer. Send a pretty Christmas gift email with a great offer, a gift or a Christmas drink invitation to your customers.
Open with campaigns and practicality
If you only do one substantial campaign a year, Christmas is usually the best time for that. Send a Christmas calendar campaign as a drip campaign, use imagination in Christmas competitions, offer the opportunity to create wish lists to Santa and make a few come true, etc.
Practical help for the busy ones
Remember that even though Christmas is an important time for many of us, it is also the golden age of haste and stress. Think about how you could simplify the Christmas preparation for your customer: offer just the right presents and ideas as easily and effortlessly as possible, provide the presents pre-packed and delivered, target your messages carefully.
Very practical headings work well. Use headings such as "Order in three days, receive in time for Christmas" or "Order today and still receive for Christmas".Many fathers will be happy to receive a message listing the top 20 Christmas gift wishes of teenage girls or the best gift ideas of 2016 for your wife. Another good option is the message sent a day before Christmas Eve: "Haven't bought your gifts yet: you still have time!" Also try SMS reminders.
Don't let the customer slip away easily – they might appreciate help in all the hassle. If the customer has once shown interest in a best seller book, but hasn't bought it, you should remind him about a book in a few days – and offer a couple of other options from your selection.
Using gift cards
Surprisingly many gift cards received as Christmas presents remain unused every year – and simultaneously the upselling possibilities coming with them are left unused. Encourage using the gift card by sending an automated newsletter containing the gift card tips to the person who bought it. Urge them to tell the tips to the receiver of the gift or forward the newsletter after giving the gift. Send a reminder a few months before the gift card expires, and make booking very easy.
2. You take a rest, your social media doesn't
Social media goes silent during the holidays so the active marketer stands out. Plan and schedule social media posts for the holidays if you take the days off. This can be done in different ways on different platforms, for example:
Scheduling can be done from Facebook's own settings
Twitter itself doesn't have a scheduling option but free Tweetdeck does
Instagram needs a separate application but there are many to choose from. Try Schedugram app, for instance. Since the apps are not Instagram's own, you should test them out properly.
If you are not supervising the situation and reacting to it, you should stick to simple, neutral and positive messages, season's greetings, or elegant pictures with a nice atmosphere, nothing too controversial. Check that your messages are clear unless you wish to spend your holidays answering threads and clarifying the fine print on the offer.
3. Christmas spirit with content
In addition to being an excellent time to sell, the time preceding Christmas is also a great opportunity to create intriguing content, build your brand and nurture customer relationships. Gather tips on how to use the leftover Christmas food, compile Christmas traditions from the old days, run a Christmas competition or write a festive story.
Christmas brings up a lot of emotions and excitement and you should make use out of it. This is the time to share the cutest pictures of office dogs with elf hats, create an atmospheric brand video or a Christmas song playlist on Spotify that represents you as a company.
Use creativity in Christmas campaigns: WestJet airline surprised its customers with personalized presents and published the heartwarming video.
Take advantage of the visuality of Christmas. The tranquil pictures of Christmas time and tips for the season are excellent material especially for the more visual social media portals. Create tips, ideas or a beautiful image collection on Pinterest or have a Christmassy picture competition on Instagram.
Christmas is a good time to bring forth the softer side of the company. Do volunteer work, collect Christmas presents for the less fortunate, have an internal vote charity and donate the company's Christmas present money to them. Remember to tell about this to your customers through press releases and social media – also the media craves for Christmassy news.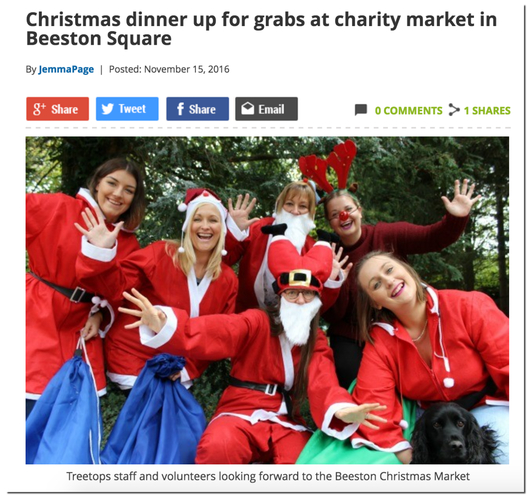 Image: During Christmas also the media is interested in Christmassy news about for instance charity.
Digitalize Christmas traditions
Many Christmas traditions can be transferred into the digital world. Give gifts yourself and enable giving electronic gifts through your company, build a digital Christmas calendar, send a Christmas eCard to your customers, or compile Christmas tips to Pinterest or Instagram.
4. Christmas look for the website
Many webstores have an abundance of visitors on the days between Christmas and New Year but other sites are visited as well. If you expect a great amount of visitors, change the layout into a Christmassy one, with a new background image, for example. If you anticipate a lot of sales during the Christmas days, check the front page, and schedule it to be full of offers.
Needs are very different before and after Christmas, and if you plan to go on vacation for a long time, you should schedule a series of offers in advance so that the front page always stays interesting.
Many websites get visitors during the days between Christmas and New Year who want to find out what a gift card can be used on or how a hit product that was received as a present is assembled. You should have clear displays and incentives for these situations, for example "Did you get a gift card for Christmas? Book your vacation now and get 20 percent off" or "Did you get the newest kitchen equipment hits of 2016 for present? Watch a video of how they are assembled." Take into consideration those exchanging gifts, and highlight it clearly how and when gifts can be exchanged – and make sure that something else goes in the cart as well.
Christmas presents might bring on your site people who would not otherwise have become your customers. Try to recognize them immediately, and create an automatic campaign that turns these Christmas visitors into customers over time.
Take a look at usability
Holiday is a good time to take a look at your website with a critical eye. Can customers wait for your support for a couple of days or will they be instantly frustrated? The more extensive your customer service section is, the less there is need for basic requests from the customers. Perhaps you could create product demos or add video tutorials for the users of your support forum?
Also check that your site works well on tablets and mobile devices for a user lying on a couch and browsing your website.
5. Automate customer service
Make sure that the customer is taken care of even though you yourself are bundled up reading your christmas present books. By automating customer service messages you already go a long way. Instead of leaving the customer wondering what happens after filling in the contact form, you should automate customer service as far as possible, by sending an introduction package of the products or the FAQ of your products, for example. At the same time, you might want to tell them when you're back at work, and what to do if they are simply unable to wait.

Marketing and communications is an entity that can't be separated. With Liana's solutions you can manage every aspect of your digital communications effortlessly and automatically. Contact our team if you have intentions to develop your digital communication tools in 2017.