Websites
Seamless integration with other systems


Inchcape Motors Finland wanted to develop both the usability and visual appearance of the existing Land Rover sites. Thus, a decision was made to renew the sites both in Finland and in the Baltic countries. The new sites were to be easy to use and navigate. The customer also wanted to use rich content on the site, such as videos and images, to bring Land Rover brand closer to the consumers.
Inchcape Motors was looking for a system that allows users to easily update all parts of the site content. With this in mind, Liana Technologies' website solution was chosen over any open source content management system.
"For a long time, we considered choosing an open source system. Ultimately, we prioritized the reliability and high-quality service of a partner. By choosing Liana Technologies, we knew that our needs would be served well in the future as well."

Mira Welling
Brand Manager, Land Rover, Inchcape Motors Finland
Website planning and design
The technical and functional planning played a huge role in the design of the new site. In the design phase, a foundation was built for the development of the existing site.
The main focus was made on improving the look of the website, on its responsiveness and seamless integration with other systems.
The Land Rover website renewal was carried out with Liana's website solution for four different countries in five different languages. The multilingual module and multisite support made it easy to create and manage the website's translations for different markets.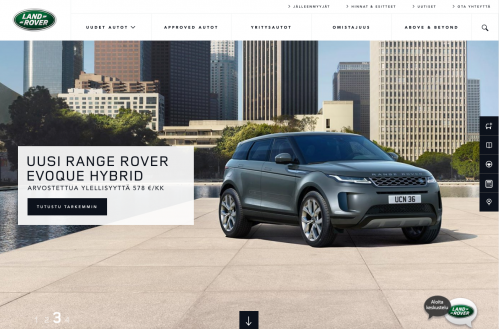 Liana's content management system was also integrated with a car database, which made it easy to bring thousands of product descriptions quickly onto the site.The built-in search engine optimization tool was used to improve the website's visibility in search engines.
End results
As a result of the project, Land Rover's sites have been renewed in Finland and the Baltic countries. Content updates are now easily carried out with the modern LianaCMS tool. The integration to the car database saves a lot of time and keeps the product information on the site up-to-date.
Liana Technologies' support team is always ready to provide assistance to the client online, via email or phone.