MarTech East was wrapped up in Boston a week ago. Team Liana had a chance to take a peek in the marketing crystal ball in one of the most prestigious marketing conferences in the world.
MarTech is a conference series organized twice a year in the United States. The first instalment is held in the West – this year the event was in San Jose, California – and about six months later it is time for the East conference – this year held in Boston, Massachusetts. The organizers define the conference as "a tech conference for marketers and marketing conference for technologists" and it is a great opportunity for hybrid marketing professionals to get down to business in terms of the marketing technology landscape.
Team Liana traveled across the Atlantic Ocean to have a booth at MarTech for the first time. In the previous years we have made excursions to the States as intrigued onlookers but this year we decided that it is time to step into the limelight stateside as well. This was a good call because Liana's tools gathered a lot of interest and we were left with the notion that our operations can compete in any race with the big American players.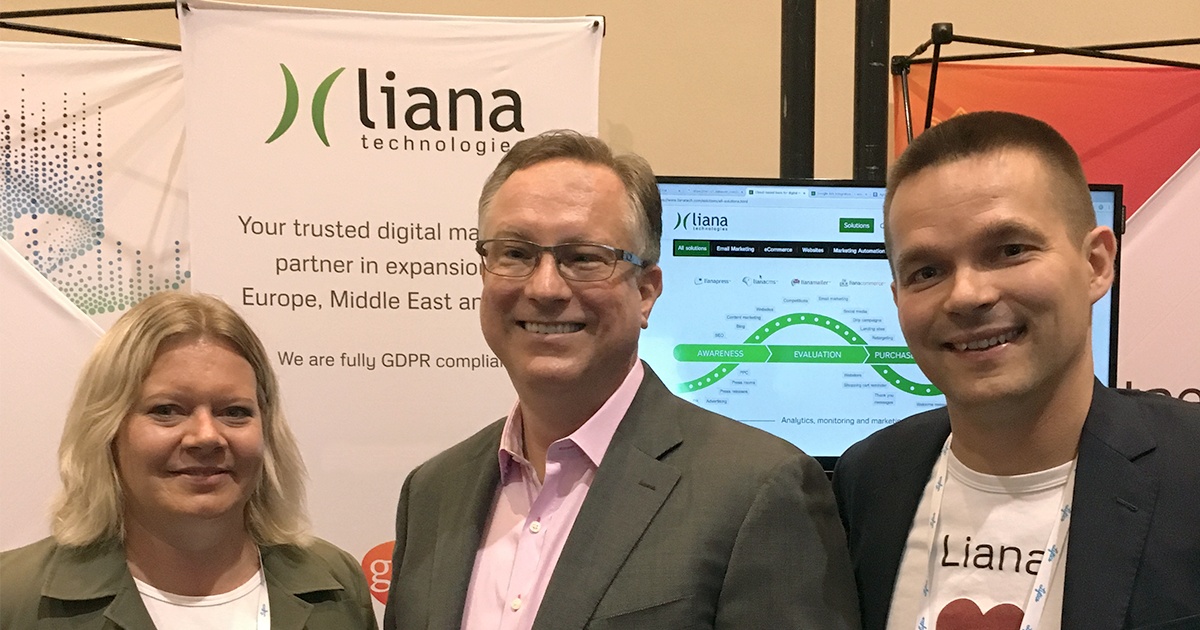 Chief Martec Scott Brinker visited our booth (from left Sales Director Pia Hakola, Scott Brinker and Liana's CEO Samuli Tursas). The Chief has compiled the digital marketing landscape for years now and presents it annually at MarTech West.
America has always been the birthplace of pioneering marketing ideas and this still holds true. There were three main concepts that caught our attention at the event that haven't really landed in the European digital marketing scene yet. These are:
The Marketing Stack
Customer Data Platforms

New Take on CX
1. The Marketing Stack
The Marketing stack concept was one of the most eye-opening notions that we got from MarTech. Basically the stack means the bits and pieces of the marketing technology landscape that any given company has in use, or from another point of view, the variety of solutions that any given marketing technology company provides.
Marketers aspire to have the most efficient stack for them in use. This naturally means that the stacks can vary drastically depending on the kind of organization using the stack. The stack could, for example, include a CRM system, an email marketing tool, integrated marketing automation tool, social media channels that are controlled by a social media management tool and so forth.
Integrations, authentication and overall efficiency are some of the issues that marketers tackle when compiling their stack. Naturally, the less hassle with sign-ons and all the systems working together the better.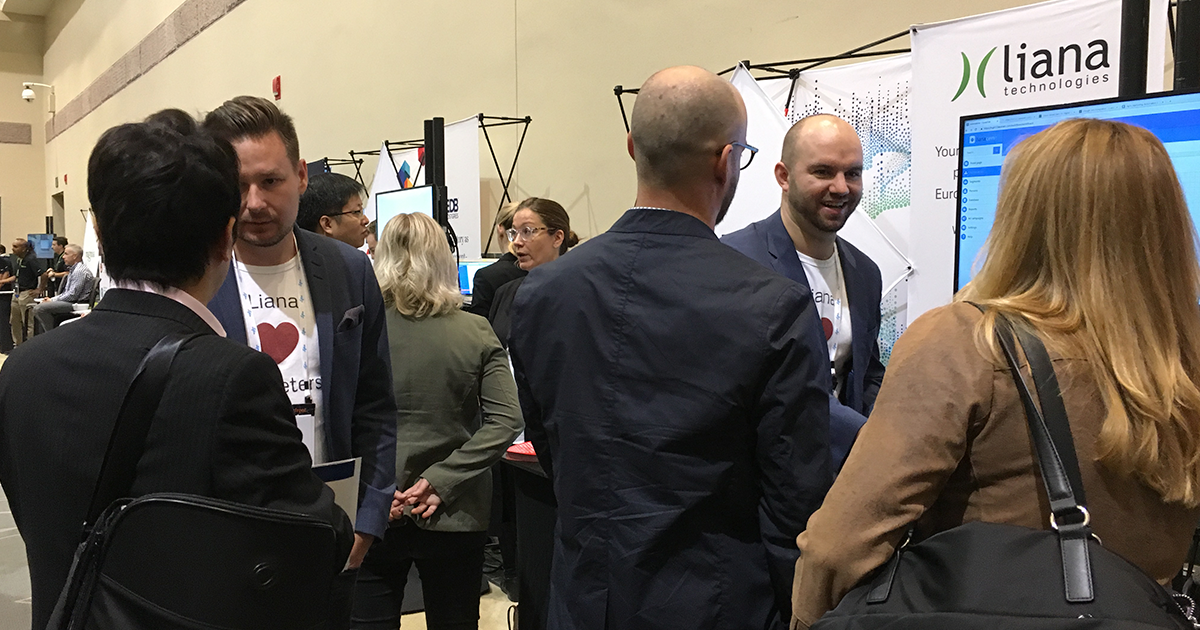 Our team discussing Liana's integrated marketing stack that also allows American companies to do localized and GDPR compliant marketing in Europe.
2. Customer Data Platforms
Without any exaggeration, about a quarter of the companies at MarTech were offering some sort of Customer Data Platform. Basically these companies are solely focused on going through customer data through various processes and dividing it into segments based on how valuable these segments are to their client.
It is also good to keep in mind that CDPs are just one piece of the puzzle that's dividing into smaller and smaller pieces. There is already a gigantic number of companies in the United States that are operating at a very niche area of expertise. And there truly is a demand for their operations. It remains to be seen when these types of services start to be in high demand in Europe.
3. New take on CX
Customer experience is something that can never be underestimated but the fractured skillsets of modern marketers present a challenge to provide the best possible CX for the evermore demanding audience.
This needs a little explaining. The best way to do that is with the T model. The horizontal line of the T – which is quite long nowadays – is the skillset needed to perform well in the modern day marketing environment. This skillset can consist of, but is also not limited to, any of the following: photography, videography, photo and video editing, sales, copywriting, command of a vast set of marketing technology tools, graphic design, social media, analytics and coding. A marketer is most likely to have a base knowledge in pretty much all of these – at least the absolute basics.
In addition, there must also be individuals that are at an advanced level in one or two skills. These expertise fields are the vertical line of the T. When a marketing team possesses individuals that all have different areas of advanced expertise, this kind of team is able to harness the fractured skillsets and produce the kind of customer experience that people today demand.
This new take on customer experience is something that can and should be adopted by European marketing teams if it already hasn't been. The concept of the marketing stack and a swarm of customer data platforms are something that will most likely land in the old continent in a few year's time if old markers hold true.
Liana's single sign-on marketing stack integrates seamlessly with numerous digital marketing tools. Take a closer look at our stack or connect with our experts!