Did you know that on average, companies are losing as much as 23 percent of their annual online revenues from providing poor online experiences? (Tealeaf)
The problem boils down to one thing – the lack of proper digital tools.
At a glance, the digital customer journey might look the same for any industry. This is partially true as most of the digital marketing tools fit any industry. However, these tools are applied differently in each area of business.
Let's take a look at what should be taken into account in building a great online experience in eCommerce, IT, and tourism.
In the first article of this series, we start with tips and tricks on how to improve the customer experience for online shoppers.
Stay tuned! Subscribe to our newsletter to be the first to receive the next articles of this series: 6 ways to improve online customer experience in IT and 6 ways to improve online customer experience in tourism
1. Make it personal
With 59% of marketers experiencing good ROI after personalizing their online stores, it is clear that personalization is essential for an e-retailer to increase customer retention.
Personalization touchpoints can be delivered in different ways:
A personal 'Hello' page
'Wish List'
Recognizing location and providing info on delivery to this region
A list of recently viewed items
A list of recommendations based on the items a customer has viewed
Communication with customers in their native language
Personalized emails: a birthday compliment or an invitation to visit a local brick and mortar store will be great icing on the cake
2. Upsell & cross-sell
Offering your customers relevant products is a good way to provide a superior online experience. Make sure you don't hammer buyers with irrelevant products, but rather offer the goods that complement their shopping cart.
You should also consider the frequency of your messages, as constant upsells may alienate clients.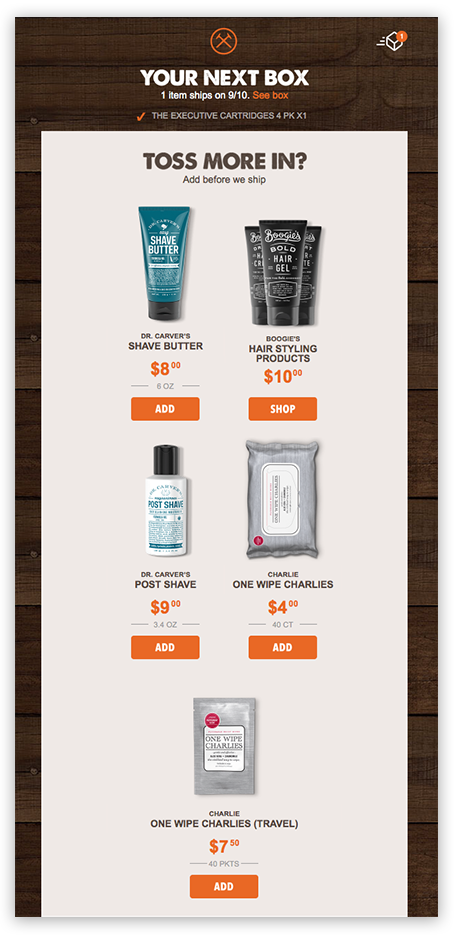 Dollar Shave Club does it right: this confirmation email not only lets you know about an upcoming shipment but also upsells other products
3. Reduce abandoned carts
Did you know in 2016 as many as 69% of eCommerce shopping carts were abandoned?
Implement A/B and user experience testing tools to find out why your clients leave the store. Does your checkout form fail to build trust? Or perhaps your return policy is not satisfactory enough?
After the reasons are identified, send a link directing a buyer back to the shopping cart to boost a purchase.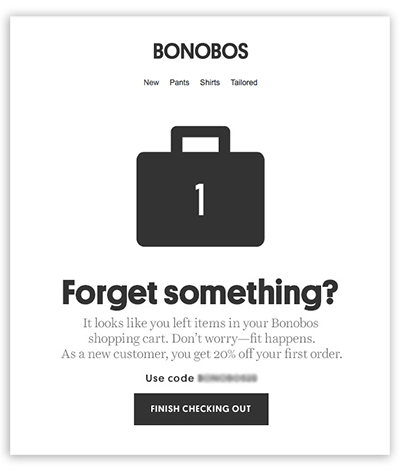 The shopping cart reminder by Bonobos triggers a little curiosity of what is left behind.
4. Implement out-of-the-box social media marketing.
There are several of ways to integrate your online store with social media you might not have thought of:
Offer Social Sign-In:
Make the sign-in process less time-consuming by adding a social sign-in feature.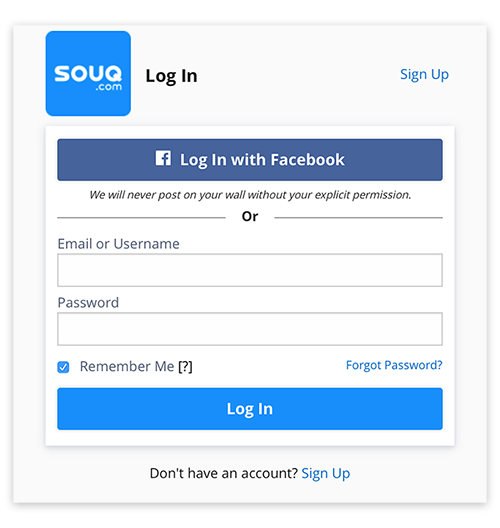 Many buyers are concerned with privacy issues, that is why SOUQ provides two ways to sign in.
A Facebook bot may find you a suit
Facebook allows delivering automated messages through chatbots. Online shops now can automate their order confirmation, customer support, and even ensure upselling.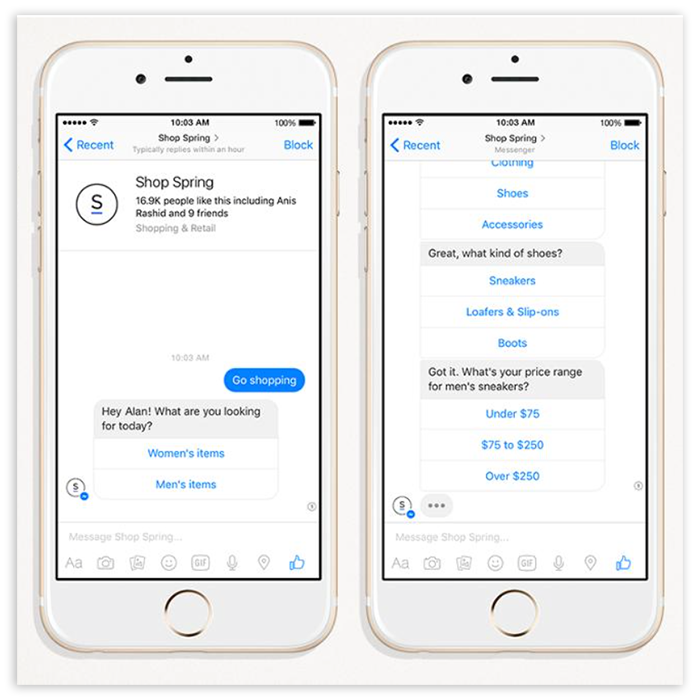 Spring made a big step forward to improve online customer experience with a Facebook Bot. (Image source)
Monitor the trends
Looking for a way to better position and market your products? Apply a social media monitoring tool to follow discussions on social channels. This will give you valuable insights on the needs and buying habits of your customers.
Also, with the help of a monitoring tool, you may effortlessly discover opinion leaders in your branch. Contact them and promote your products on social networks afterward.
5. Explore the mobile world
Provide an opportunity to make a purchase on the go. Design a mobile app for your eCommerce business.
Tip: offer a discount coupon for shopping on a mobile device to promote the application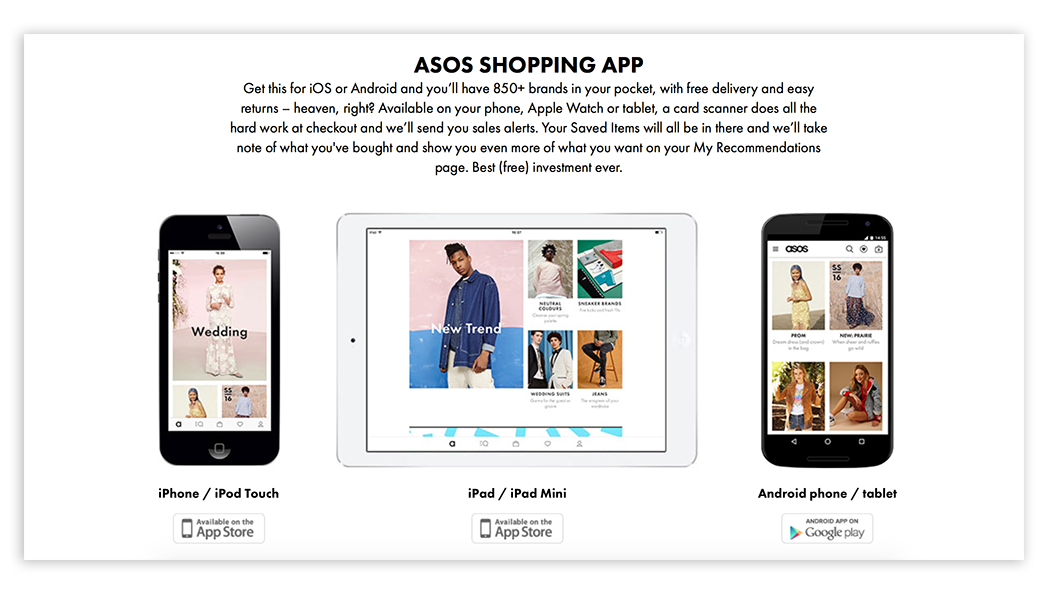 Adjusting to different devices and operating systems is important. Asos knows it.
6. Let consumers try on products virtually
Imagine interpreting what an item would feel like in your hands, or look like in your home. Today it is possible to implement with the help of Augmented reality.
In fact, 77% of shoppers want to use augmented reality to see product differences such as a change in color or style. (Retail Perceptions)
Transform customers' imagination into reality with AR technology. If a customer can accurately see what their new furniture would look like in their home, they will make a purchase with more certainty and satisfaction.
Try IKEA furniture in your environment with Augmented reality
Thanks for reading, now it's over to you:
Step 1: Share this article on social media.
Step 2: Leave a comment telling us which ideas you're going to incorporate to your online store.
Step 3: Go and implement these strategies right now.
Related: