You are driving a lot of traffic to your site, managing several campaigns and shouting about your site on rooftops. But is your site actually working as good as it could? How well is your traffic converting to subscribers, downloads, leads and sales?
Don't let your hard-earned traffic go to waste and get the most out of your website. Conversion rate optimization will help.
What is conversion rate optimization (CRO)?
The process of CRO includes a wide range of activities, for instance:
Surveys: get feedback from your website visitors
A/B tests: test multiple variations of your webpage and find out which one converts the best
Split tests: distribute traffic to multiple URLs and find out which one has the highest conversion rate
Multivariate tests: change multiple elements on a single webpage and determine which combination of variations performs the best
Usability tests: evaluate your website usability by testing it on users
Heatmaps: track users' behavior and clicks on your webpage
The aim of CRO is to make your visitors take the wanted action on your site and turn more of your visitors to customers. Utilizing the existing traffic more efficiently will make all your other marketing efforts more profitable and can accelerate significant growth.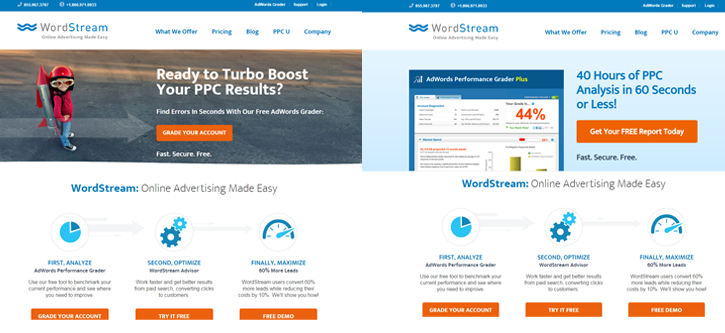 An example of an A/B test on the WordStream homepage: changing a header can make a difference. (Source)

Research, prioritize, form hypotheses
What are the first steps in CRO?
Start by doing some research. Dive into your analytics to find possible issues and pages to improve. Numbers alone won't tell you why something is happening. To get more information on why, you can use surveys or usability tests on your site.
It's good to start the testing somewhere where the impact on your end-goal is big enough. Good examples of pages to test could be:
A shopping cart page
Lead form
High-traffic pages that have high bounce rates
You can pretty much test any element on your site – images, copy, navigation, call-to-action... Even small changes can have a big impact.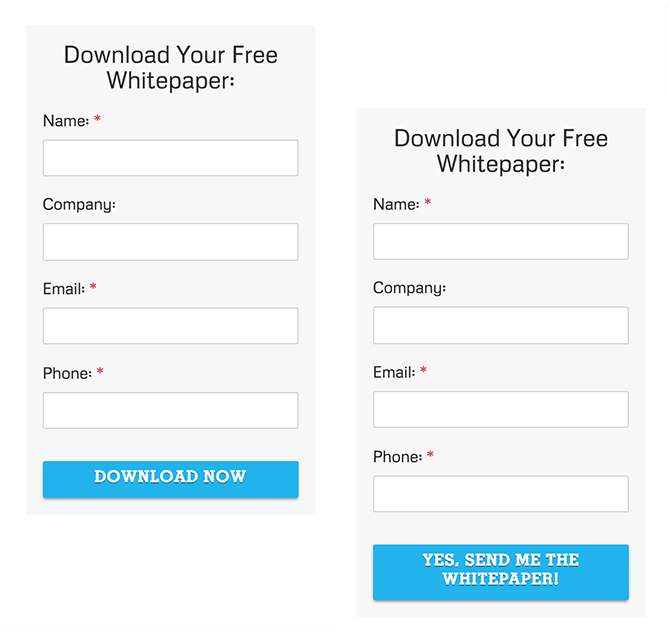 A catchy CTA button copy is an important ingredient of high-converting webpages.
Once you have a set of ideas, start prioritizing them. A commonly used framework for this is PIE - Potential, Importance and Ease. However, avoid testing many different parts of the site at once to clearly identify which change is actually accountable for the impact.
Then, form a hypothesis for your chosen test and set it up. Here are some examples of hypotheses you can create:
Adding the phrase 'free cancellation' will increase booking
Including a social proof to a whitepaper landing page will raise downloads
Emphasizing "free shipping" will decrease cart abandonment
Tools
There are many tools for conversion rate optimization. Some popular tools are, for example:
If you are already using Google Analytics, you can start with Google Content Experiments which is free of charge. External factors, like competitors, new offers and media coverage - can somewhat influence your results.
Tip: run your A/B tests for at least more than a week but not longer than 2 months.
The process
1. What conversion do you want to measure and optimize?
2. Research, analyze, identify possible issues, get critical.
3. Form your hypothesis.
4. Design and create the competing variation.
5. Choose test settings, implement needed technical features and set the test live, off you go.
6. Measure, monitor.
7. Identify what you learned and implement.
Rinse and repeat. Research, test, implement.
Winning, losing, learning
Don't get discouraged by "losing" tests. This happens to the pro's all the time, too. You can't know for sure what works and what not – this is why you test and strive to learn continuously.
If your hypothesis wasn't correct and your test does not result in the desired outcome, this means you were originally doing a better job of something – try and figure out what that is.
Remember, you can learn just as much from a failed test as you can from a successful one. The idea is to learn, get used to the idea of constant testing and improve your site with time. Think of it rather as an on-going process than few individual tweaks here and there.
Incorporate CRO as a part of your work routines as it can really launch long-lasting growth with a relatively small investment. Don't miss out, start testing!
Related: