Let's cut to the chase: many of us (and by "us" I mean marketers, communicators, entrepreneurs, business owners) are currently drawing up some entirely new plans for this spring. I know I am. While online services are blooming, many industries from performing artists to local eateries and travel are wondering what to do next.
I took a moment from my busy day of social distancing to compile some ideas for those in need of inspiration – hope you find these helpful!
1. Take it online
If you can, move it online or make it deliverable. If it was an event, can it become a webinar or an online course? If you mainly sell it at a brick and mortar, can you sell it online or deliver it? If it used to be live, can it now be Facebook, Instagram or LinkedIn live and can you ask for donations to keep you covered?
Changing business models overnight can be scary, especially if you are not particularly tech-savvy, but trust me: there are actually easy-to-use, quick-to-set up and low-investment platforms for webinars, online courses, eCommerce and donations out there. And to make it even better, many solutions come with someone to help you along the way if you prefer.
2. If you can't sell it, teach it
With many of us with a sudden abundance of free time on our hands, we need something to fill it with. If you used to sell the product, can you instead sell an online course on how to make something similar at home? If you sold muffins maybe you can deliver the ingredients and offer a baking class. The bottom line is: has the changing situation brought up a niche that calls for suddenly learning a new skill you can teach? Monetize it.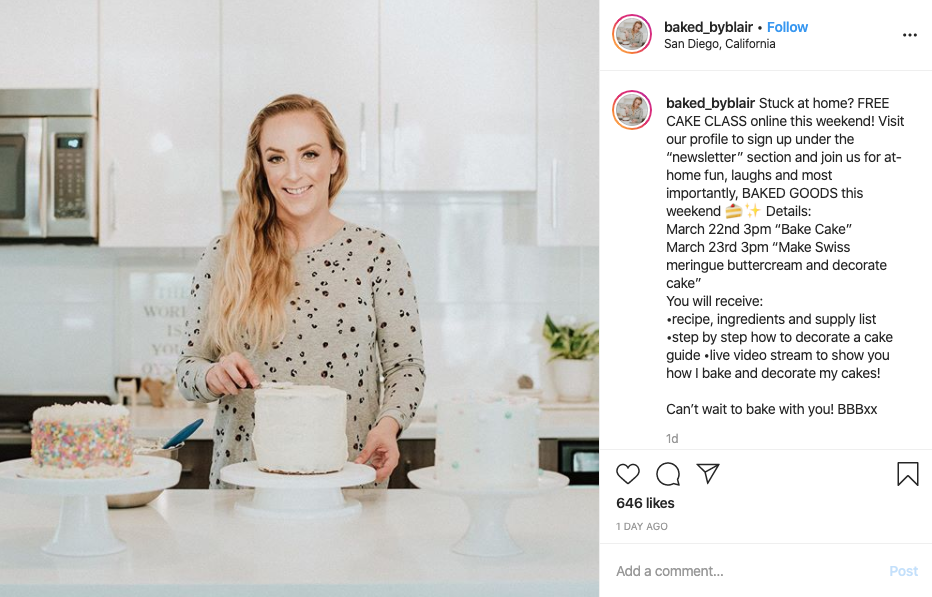 Baked_byblair offers some free cake classes but after a few freebies, she could also monetize her baking classes.
This is also the time to share your best content, guides and webinar recordings and give your best helpful tips to your potential customers. (Psst, we have lots of great guides here.)
3. Gang up
There is strength in numbers. An individual local supplier may not sustain a blow as well as a group of providers. Get together with others and share the cost and the journey. Take advantage of the different knowledge and capabilities you bring to the table, be it e-commerce, new supply chain options or partnerships. If you are not yet a member, find peer groups online: everyone else is likely wondering about the same things as you are, too.
If you know your product or service strikes a chord or already has a following, maybe you could also consider giving crowdfunding a try?
4. Remind your customers of their importance
This is truly the time to #supportyourlocal, or there may be nowhere to lunch when you come back. Remind your customers that you need them to be there for you now so that you can be there for them for years to come. There are many ways to do this:
Send an email
Send an SMS
Send a push notification via an app
Reach out in the social media channel that works for you
Ask for support, then reward for loyalty. Use your networks and the power of social sharing. If everyone from the office building close by used to come for lunch, would they maybe also like to group order home or buy in bulk to feed their suddenly home-schooling kids to keep you going?
5. Look into the future
Find ways to encourage your customers to purchase in advance something they would, in any case, have purchased later on. If you have a customer register, try to identify regulars with recurring purchases on regular intervals and reach out, or dig out the most loyal ones (=the most likely to convert) and reward them with generous offers.
Do a social media campaign around pre-purchases and encourage your customers to show they are supporting you with them. Give payment-free months for quarantine-time adopters. Give out free trials even if there are typically none.
6. Leverage social media
The one place we now are is online, and people are looking for ways to fill their changing needs and suddenly emptier (or at least different) days. Leverage social media campaigns, and take advantage of the personal touch social media adds to commerce.
Bring out the faces of your company, and remind your audience of the people behind the logo. Show your relatable social distancing self from home. If you are local, remind them of the importance of supporting local providers.
7. Don't stay quiet
In times of crisis, those who persist, adapt and keep on investing, will be in a better position when the situation stabilizes. Now is no time to cut marketing budgets. Stay relevant and visible – and on top of people's minds (now and after the dust settles).
8. Be mindful and show you care
It's good to keep in mind that now may not be the time for aggressive selling, and an attempt at trying to benefit from or belittle the situation may not be taken well. Be sensitive to people's worries while safeguarding your own livelihood. Be kind, extend a helping hand, go the extra mile. Keep it light and focus on the positive, but be respectful. This is also the best PR (but in order for it to be, you do need to remember to tell what you did.)
Now is the time to tell your customers that you care, and remind that you are still there. Think about how you can make the life of your customers better, lighter, funnier or alleviate their worries, and turn it into action. Also, remember to tell them the practicalities:
Are there changes in your hours?
Are there changes in delivery methods?
Are there changes in pricing?
Which measures are you taking to ensure the safety of your customers?
9. Get people together
Depending on where we sit, we can be an hour, day or week 6 into social distancing. Suddenly we've realized how important that cup of coffee with colleagues or a random chat on the tube actually is. Help people get together!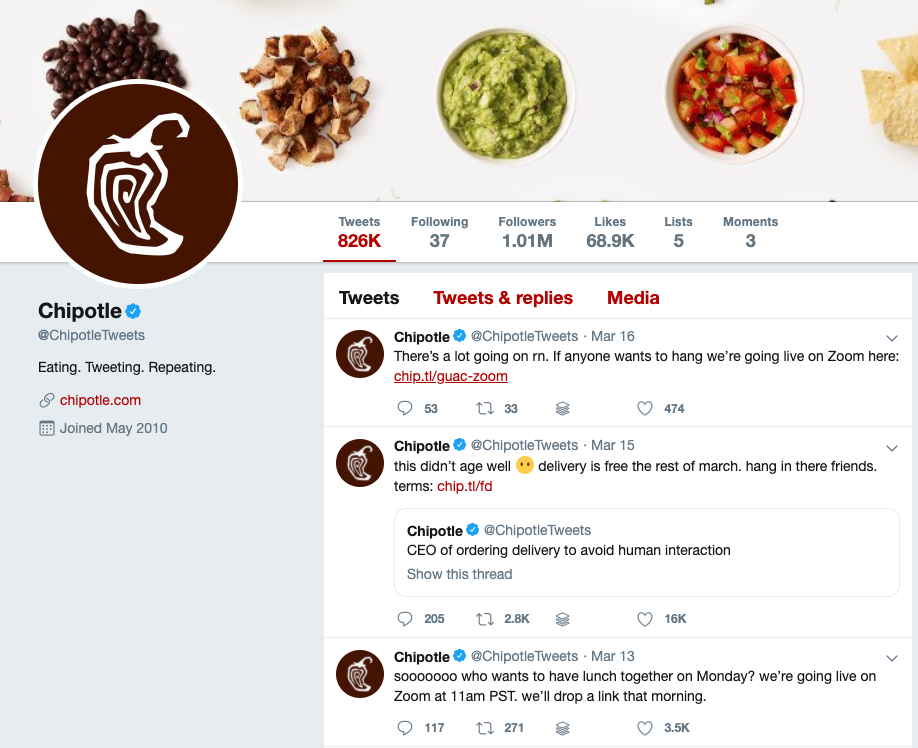 This is how Chipotle is bringing people together.
10. Be creative
Be creative – follow what others are doing, get inspired and inspire. Get into the creative mood by enjoying some amazing online art. Try Art Basel which will next be exhibiting artwork aimed for the Art Basel Hong Kong, Google Arts and Culture or go get your ticket for the concert of your favorite obscure Finnish band. Not surprisingly, the creatives have been the first ones in finding alternative avenues!
We at Liana are here for you as always, and ready to help you if you need to move your business to eCommerce, keep your organization up to date with crisis communication tools or suddenly become an expert on webinars. Stay safe, healthy and happy, everyone – and keep marketing!