According to forecasts, global spending on email marketing is expected to rise to more than 9 billion US-Dollar by 2020. So, this is definitely a relationship worth investing in. But what criteria should a good newsletter software actually fulfil? And how do you choose your perfect match among all of those who want to date you?
Relationships build on trust – Data protection and information security
In order to prevent the misuse of email addresses, subscribing to newsletters should be done with double opt-in. Double opt-in means that no one can "list bomb" you, but each new subscriber will need to verify their email by clicking on a confirmation link. While gathering new subscribers is really important to email marketers, you should also make sure that your subscribers don't receive any emails after unsubscribing. An automatic subscriber management is, therefore, a must-have.The management of bounces is also part of professional email services to keep the spam risk as low as possible. Bounce management makes sure that the kind of email addresses that cannot be reached are no longer registered.
First impressions last – General features and usability
Personalization
The personalization of newsletters is one of the basic features (and benefits) of email marketing. In addition to a personal salutation, the content of the email can also be personalized. By segmenting your recipient lists, you're able to divide them into different target groups. Content filters make sure that different versions of your newsletter are displayed based on their characteristics, so each target group only receives relevant content.
Customization
Marketing managers are generally not IT experts. A newsletter program should, therefore, have an easy-to-use, intuitive newsletter template that can easily be modified for different target groups. Ideally, your template has your brand look and feel, is easy to edit and the images are automatically optimized for sending, eliminating manual work.
Responsiveness
The number of mobile phone users is constantly increasing and is expected to grow to 4.77 billion during 2017. To make sure your newsletter is mobile-friendly the template has to be designed responsive, so that the reader will always get an optimized version on each device.
Reports
Reports and analyses are indispensable to evaluate the effectiveness of your email marketing. Click-through and opening rates give you a great overview of your receivers' behaviour. Other important factors are the number of bounces, unsubscription rates as well as more in-depth analysis, such as opening hours, mobile usage and heatmaps.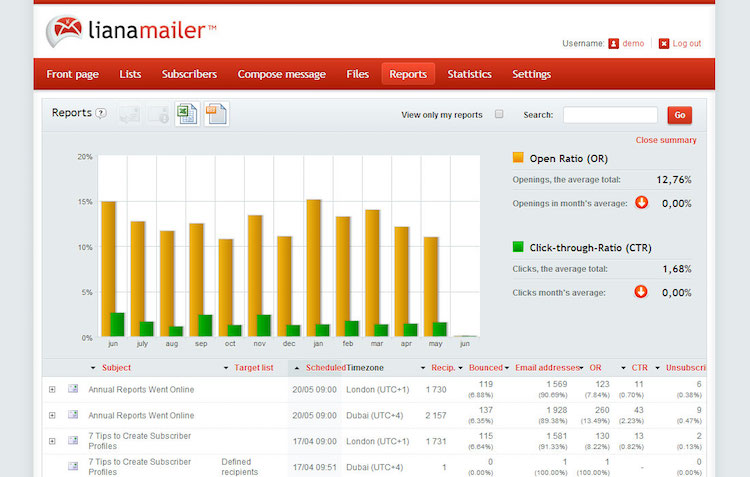 Image: Reports give you an overview about the success of your efforts and help you identify the weaknesses.
Come together – Technical requirements
If you want to use existing data in your email marketing you have to make sure your software allows you to. That is why it is important to make sure your email service provider is familiar with integrations to other systems, such as CRM systems. Integrations simplify the import and updating of information from existing systems and are in many cases, essential to link various data sources.
In good and in bad times – Customer service and support
Any software can occasionally cause problems, and especially with newsletters there is often the time pressure. Extensive training by the provider and a personal contact person are just as important as a reliable technical support, that acts quickly and reliably even in emergencies.
Variety of providers – How to find the one?
The number of email service providers is confusingly big. When you are really ready to settle down and find your perfect match, we recommend you to have a moment to paint the future. You might want to get started with email marketing now, but where do you see yourself in two or three years? Is it time for marketing automation already? Or maybe a website revamp? The right partner is always there for you and satisfies your future needs with more than just one solution.
Related articles: