Each company wants to be found from Google's first page, right? And why wouldn't they, since Google holds an over 90% market share at search engines. Therefore, in this article, when we talk about search engines, we talk about Google.
Search engine optimization, aka SEO, has become one of the most important digital marketing assets. Since most of the website visitors still come from organic search, high ranking can really help to bring a lot of potential visitors to your page.
Also, compared to some other channels, such as social media or paid ads, organic traffic usually brings higher ROI (return of investment).
The SEO process is quite extensive and covers phases all the way from keyword research to technical issues. To achieve the best results, you should proceed with regular optimization and concern in all areas.
The first 5 SEO steps
We created these 5 practical steps, to make the SEO process as clear as possible for you. Also, do not forget to check our pro tips in this article!
1. Evaluation: Where does your website stand in terms of SEO?
2. Relevant keywords
3. Content is king
4. Technical SEO
5. Link profile and developing the domain authority
1. Evaluation: Where does your website stand in terms of SEO?
The first step is to define the baseline. Where does your website stand on organic ranking at present?
To identify the real ranking results, you need to proceed with the so-called crawlability phase which means checking how the website is found from the search engine. There are different SEO tools you need for understanding the accurate situation and site ranking.
What kind of SEO tools do you need?
Google offers its own SEO tool: Search Console. It is a free tool that allows you to maintain your website and check your site's presence. You can install and connect the Search Console to your website in the same way as Google Analytics.
There are also other tools, such as MOZ and Screaming Frog, which will help you with this crawlability phase and it's recommended to rely on multiple tools.
You're probably wondering: is this first step something that anyone can do? The answer is yes, but it requires some understanding of how the tools work since they hold a lot of data.
In this analysis phase, the main goal is to define whether the webpage's content and structure serve search engine visibility and visitors' needs.
Pro tip: People are often mistaken that they can check their own website's ranking result by using private Incognito state in a browser and searching their own site from Google. Unfortunately, Google can define the IP address and which device you are using, which may affect search results. Therefore, you should use tools, such as Google Search Console or MOZ to get the correct ranking.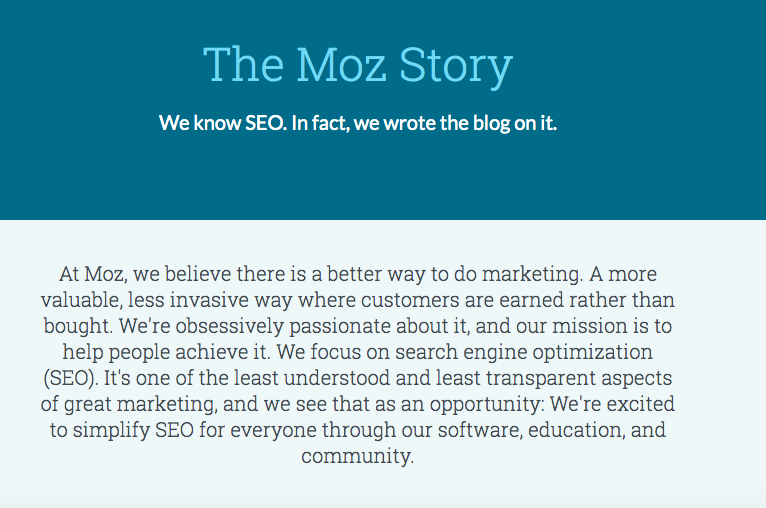 2. Relevant keywords
After the first phase, it's time to start thinking of your keywords. You should research relevant keywords and then use those results to plan and create your high-quality content.
How to find these keywords? First, you should do keyword research. To implement the research you should:
Define relevant topics which are related to your business
By checking search volumes of keywords and analyze competitors
Rely on your findings and start planning your content
Which relevant keywords to choose
It is relevant to know how people are searching for information and what are they really looking for. Keyword research helps you with this phase and gives you the real results, so you don't have to do this all based on your gut feeling.
Also, you should think of keywords from a strategic point of view. Consider different seasons, geographical differences, and the common situation between competitors.
How to put this all into action?
You should choose the most important keyword and some supporting keywords which relate to the search. This is essential since Google recognizes the contexts between keywords quite well.
Tools that you can use to find the relevant keywords are for example:
Google search results
Google Ads Keyword planner (you need a Google Ads account)
Ahrefs
Ubersuggest
Google search console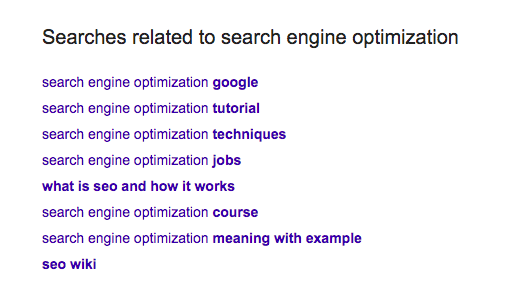 Most of these tools are free and especially the Google search results (picture) give you a quick pass if you need to find keywords in a fast and easy way.
Although this keyword research seems quite technical, you should aim for a natural tone in your content. Don't repeat the keywords in an abnormal way. This is the trick: serving SEO and still having a balanced and informational text.
Overall keywords support the themes and structure of the webpage's content.
3. Content is king
It's a cliché, but it's still true. Although succeeding at SEO involves many factors, content is the key and has the biggest influence on organic ranking.
Creating quality content is the most important thing you can do to optimize your website's appearance in organic search results.
Defining the relevant keywords is the first step in creating a search engine optimized website content. By using the keywords and building your themes around them will create content that gives answers to Google searches.
Also, your actions should derive from the question: How do I get a visitor to spend time on my web page and browse pages Dwell time (amount of time that a Google searcher spends on a page from the search results before returning back to the Google search page) lifts your authority in the eyes of a search engine.
How does content help to increase the dwell time?
Write long content: informative content, such as blogs, articles, and guides work.
Create valuable content: people will spend more time on the page.
Build content hubs: Create content that is related to one another and is designed based on user behavior. Use CTAs (call-to-action) to lead the visitor between different parts of the website.
Want to learn more about SEO friendly content and blogs? Read our article – Blog SEO: 17 tips to make your blog rank higher on Google (with real examples).
Tips to write SEO friendly articles
Headlines are important in the eyes of Google and you should use relevant keywords in them (H1, H2, H3, etc.). Use keywords also at the beginning of your texts: especially page's first 100 words should include important keywords.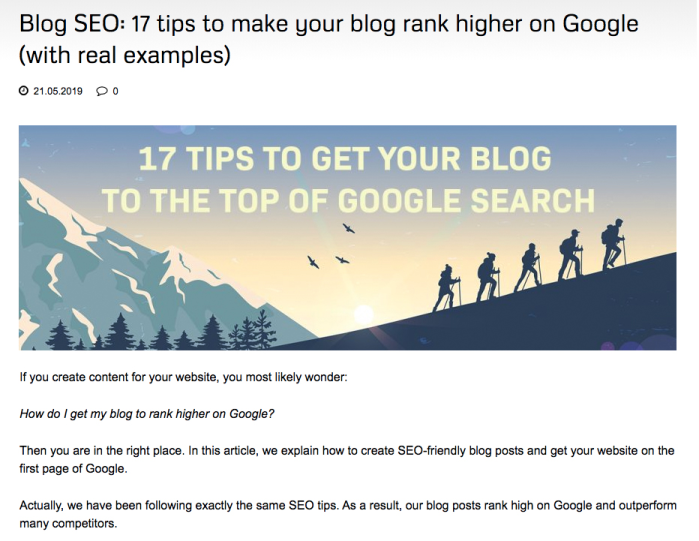 Moreover, videos, pictures, and infographics enrich the content and nowadays picture searches have become more popular.
For building content that is based on reliable data, you should use Google Analytics. From Analytics you can find out which contents are most popular in your site. Regenerate them, recycle your best content and write even more about the topic.
Pro tip: Remember to not only optimize the pictures but also the videos by using the keywords. This is a big trend at the moment and is connected to creating highly multi-channel content.
4. Technical SEO
Technical functions have a big influence on webpages' search visibility.
It is good to check that technical factors and website performance is in order. Most important areas are:
Responsiveness
Mobile-friendliness and mobile-first design
Webpage loading speed in all devices
Mobile-friendliness is crucial since Google favors mobile-friendly pages compared to desktop versions. Google Search Console has a feature that helps you to test the mobile-friendliness of your site.
How to improve page loading speed?
53% of mobile website visitors will leave if a webpage doesn't load within three seconds. Therefore, page loading speed is an important factor that you should keep track of and respond to any issues to appear.
You can test your page speed for example with Google's PageSpeed Insight which is a free tool.
To improve your page loading speed, you should consider the picture formats used on the page. Big pictures and visual elements slow the loading time down. Therefore, reducing the file size by compressing the pictures is recommended.
Also, taking into account all the resources which could be minified such as JavaScript, external files and analytic tracking tools is important to consider when improving page loading speed.
Clean the code and consider safety
HTML headlines, site headlines, meta descriptions, and URL structures should be optimized in an SEO friendly manner. Simple URLs where the keywords are used have an advantage.
Clean the code – all unnecessary marks should be removed. By using Hypertext Transfer Protocol Secure (HTTPS), it's ensured that the page is technically safe and reliable.
If there is identical content on different pages you should use canonical link elements. This lets Google know which page is the primary page.
5. Link profile and developing the domain authority
Links matter! Take advantage of the links that may race you higher in Google searches. The most valuable links are so-called inbound links (or backlinks), which means that some other website that has high authority uses your webpage links in their content and website.
How do links affect search engine visibility?
High authority sites are reliable, popular, and they rank high in search engines. When these kinds of sites use your page links, it will also increase your authority and ranking in Google.
In other words, Inbound links are like "votes" which have a real impact on your domain authority. This is definitely a rising trend.
It is also recommended to link to different parts within one website since this can increase the dwell time and improve the user experience by offering relevant related content and engaging CTAs.
How to achieve inbound links and build a link profile?
The best way to achieve high-quality inbound links and improve your link profile is to produce content, which brings naturally earned attention. This kind of valued content is unique, fresh, and competent. Simply, it's worth to use as a reference!
Pro tip: When you use other company's content as a reference, they are more likely to share your content.
Sharing your content on social media will help improve your website authority. Relevant social media links make your content multi-channel which gives a better appearance to your site according to Google.
Time to wrap up
SEO is long-term work which gives the best results when looked after on a regular basis. Though it requires work, it usually pays off, since most of the website traffic comes from organic search.
If handling the whole SEO package seems too much at one time, start from defining the keywords. Also, investing in quality content takes you a long way.
Do you need help with optimizing your websites? Get in touch with our team of experts.