Planning your marketing strategy for the upcoming year?
You may be wondering:
Where do I focus my marketing spend next year?
The diversity of digital marketing trends is huge: content marketing, social media marketing, marketing automation and artificial intelligence – just to name a few.
Check out this list of the top digital marketing trends for 2018 to decide what to incorporate into your marketing strategy next year.
Bonus:
In the end, you will find an infographic summarizing all digital marketing trends.
1. Personalized content
The top content marketing trend for 2018 is delivering highly personalized messages. Remember that personalized content is not limited to "Hello $First Name$" messages. With an advanced marketing automation platform, you can create timely and relevant content based on a customer's history and behavior.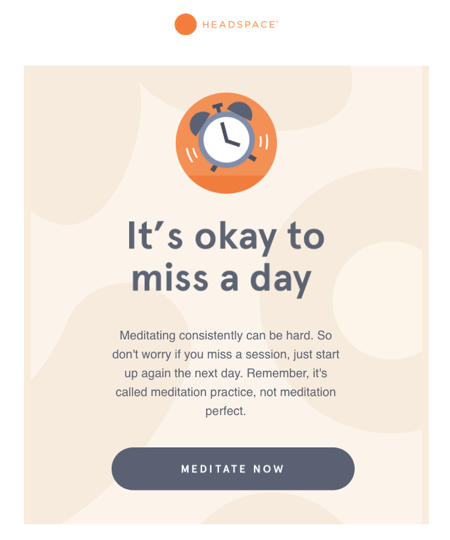 Headspace identifies customers who have not used the service in a while and sends a personalized email to wake them up.
2. Privacy protection
Indeed, a personalized approach as mentioned above can yield good results for many businesses. The other side of the coin is that it raises privacy concerns.
The EU General Data Protection Regulation (GDPR) coming into force in 2018 proves that.
Customers demand more transparency in terms of how their personal data is being handled. Companies who are ready to respond to this trend have an enormous competitive advantage.
What's the key takeaway?
Privacy protection will soon become one of the key selling points.
3. The rise of video content
In 2018, start embracing video content as never before.
Facebook has been prioritizing video content in its feed for a long time and LinkedIn has recently adopted the same approach. The number of people watching Instagram Stories has exceeded Snapchat.
Also, users are willing to consume content in different formats. This is where video marketing comes in.
See for yourself:
79 % of consumers would rather watch a video to learn about a product, than read text on a page.
84 % of consumers have been convinced to make a purchase after watching a brand's video.
(Source)
Pay special attention to the mobile video. Cisco predicts that mobile live video will grow 39-fold by 2021.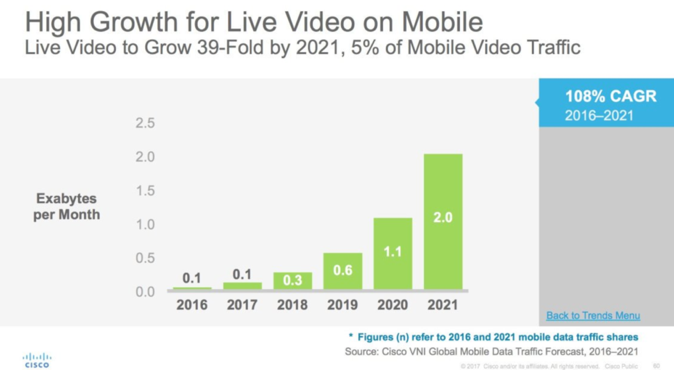 4. Does influencer marketing still work?
The popularity of influencer marketing shows no sign of declining. You can easily see it with a quick Google Trends search.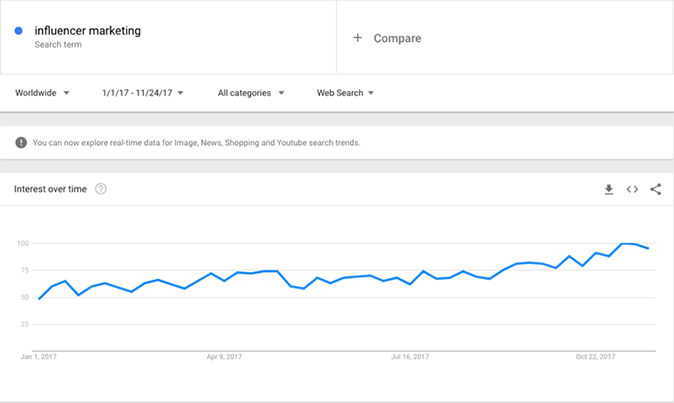 However, to make the most out of this marketing trend, marketers need to keep in mind several things when finding opinion leaders and collaborating with them:
Measuring the ROI of influencer marketing is vital
The use of video content in opinion-driven marketing becomes more effective than text-based content
Comply with legislation: in 2018, we can expect more lawsuits against undisclosed paid endorsements
5. Artificial Intelligence
Many companies have been leveraging AI in their marketing for quite some time already. For instance, Pinterest has unveiled visual search to its Chrome browser extension.
Pinterest believes that image recognition will facilitate the connection between online content and store visits. (Image source)
We at Liana Technologies believe that AI will play a big role in digital marketing in 2018. AI will shape the way marketing technologies will look like and will set the direction for the new features in marketing tools. That's why we have recently established an R&D unit for AI. This will help us exploit the AI technology in marketing segmentation. With the development of the R&D unit, our solutions will soon intuitively segment and personalize marketing actions in terms of content, quantity and timing.
But that's not all.
To advance the use of AI in content marketing, we have joined the frontline AI research project of Aalto University. The research project develops AI algorithms that will be used to determine the personalized advertising content with which B2B end users are more willing to interact.
6. Gathering and analyzing Big Data
What happens online every 60 seconds?
Note! To see the video below, give cookie consent to the Marketing section. Open cookie manager.
Source: Borkowski
Astonishing, isn't? The amount of data will only grow in the foreseeable future. This represents a big challenge for marketers to gather and analyze customer data.
In 2018, one of the key competitive advantages for brands will be providing personalized customer experiences based on the omnichannel data.
7. IoT and marketing
Struggling to systematically collect Big Data?
We have good news for you.
With the development of IoT, gathering customer data will be much easier. Consumers will have more opportunities to leave their digital footprints as more and more devices will be synced.
The integration of many devices is taking place as we speak.
For example, Uber has teamed up with a music streaming service Pandora to allow travellers to pick the song they want to hear before even getting in the car.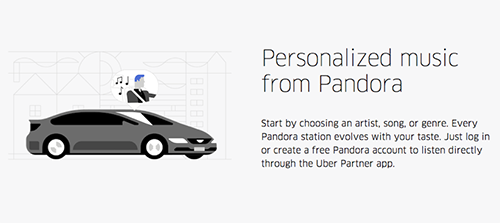 Image source: Uber
8. Measuring return on investment (ROI)
As the amount of Big Data increases at a fast pace, marketers need to allocate budgets effectively. The temptation to utilize various marketing tools can result in unexpected financial losses.
Measuring the ROI of marketing efforts helps to manage marketing budgets as it proves the value of your investments. ROI shows which marketing channels should be later exploited as well as define less effective tools.
Did you know that, according to VentureBeat, email marketing outperforms all other marketing channels in terms of ROI?
9. The 5G revolution
The first mobile phones supporting 5G can be expected to be sold no earlier than 2020.
However, marketers should start acting on it now.
Text-based websites can be replaced with more interactive and engaging webpages. As Internet speed will skyrocket, multimedia-intensive websites will be in huge demand.
For example, take a look at the Black Negative website with incredible interactive elements.
10. New SEO factors
According to the latest SEO ranking study by SEMrush, the following SEO factors are prominent today and will be trending in the near future.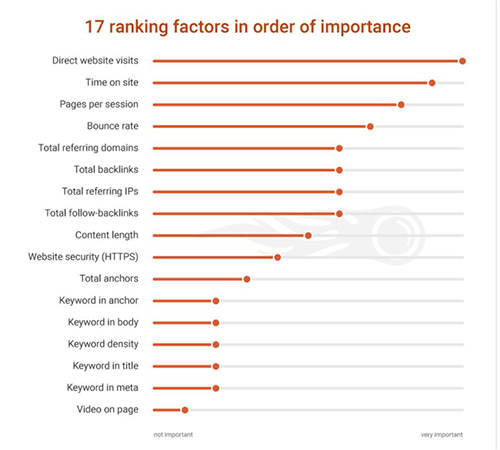 However, the SEO world is evolving quickly and constantly brings unexpected new solutions.
For instance, the rise of digital assistants has presented a growing market of voice search. As Google CEO puts it, 1 out of 5 searches already come from voice queries.
Therefore, marketers should also keep their eyes open and constantly monitor the latest SEO trends.
11. Live Chat
How to provide real-time answers whenever your clients have a question?
Introduce Live Chat.
The number of companies investing in Live Chat will grow in the future as it gradually becomes an important channel of communication.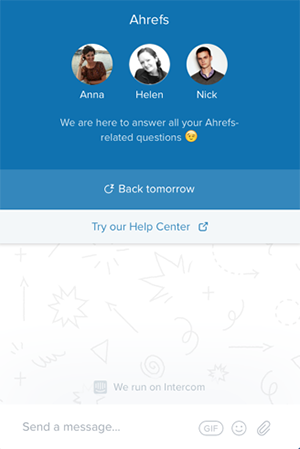 When you land on the Ahrefs website, you are welcomed by a friendly support chat.
In 2018, consider investing in Live Chat to improve customer experience on your website.
12. Chatbots
Want to book a flight, order food, or get music recommendations?
There's a chatbot for that.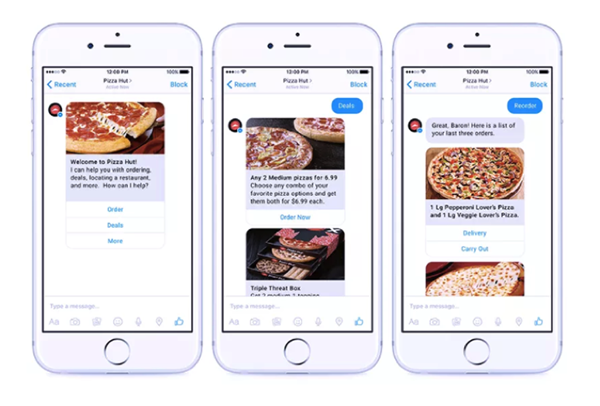 Tech-savvy ordering with Pizza Hut chatbot (Source)
Custom chatbots in messaging apps will play a crucial role in customer experience. Chatbots allow brands to streamline the process of placing an order which in turn drives more sales.
13. Micro-moments
Have you ever made last-minute purchases on your mobile or googled something in an attempt to find a quick answer?
Then you fall under the micro-moments category.
The main goal for marketers is to identify the micro-moments and be able to react in time. To cater to this customer category, marketers need to take into account several things:
14. User-generated content
Do you still remember the Ice Bucket Challenge that involved even Bill Gates?
That is an excellent example of user-generated content that increased the awareness of the ALS Association in a matter of days.
User-generated content means using your audience as a means to create content relating to your organization and promote it among their connections. This trend will gain more popularity in 2018, as people trust personal recommendations as much as online reviews.
Social media monitoring is a must-have tool for marketers that helps to monitor user-generated content and get involved in the conversations.
15. Monetizing short-lived content
The concept of short-lived content, also known as ephemeral content, is not a newbie in the marketing arena. However, this buzzword will come up even more often in 2018 and onwards.
How can marketers use short-lived content to their advantage?
Aside from increasing brand engagement, you can now drive users directly to your website or landing page by including the link to Instagram Stories.
That's exactly what Tasty does.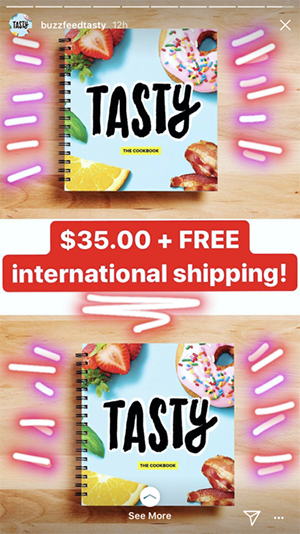 By clicking the "See More" button, you will end up on the delicious Tasty's website.
16. The growth of Augmented Reality and Virtual Reality
Marketers face a lot of challenges when it comes to raising consumer engagement and awareness.
AR and VR help to overcome these challenges as the technology is relatively novel and allows companies to stand out from the crowd.
Some brands have already taken advantage of the technology in their marketing. For instance, John Lewis pioneered Facebook 360 Collections ads enabling shoppers to check out their products from every angle.
See for yourself.
17. Social Commerce
The concept of social commerce will reshape the way we consume content and shop online. The development of mobile apps facilitates a smooth link between social and transactional activities.
The story of Chinese WeChat is the best-known success story in this matter.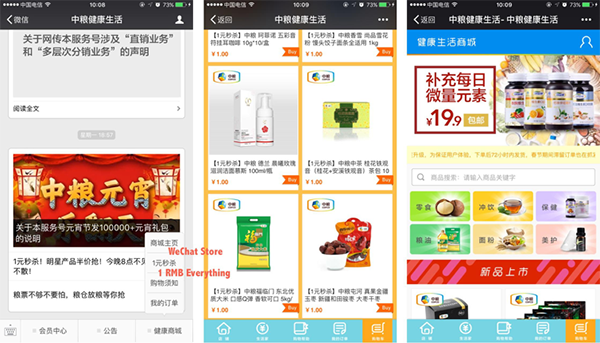 Originally invented as a platform solely for social communication, WeChat has now been enriched with the eCommerce solution.
18. Focus on Generation Z
Gen-Zers are expected to constitute about 40 per cent of all consumers by 2020.
That is a powerful customer category.
Marketers should keep in mind that purchasing behaviour of Gen Z varies a lot from their predecessors, the millennials.
As such, Gen-Zers tend to have a mobile-first mindset. Research conducted by GlobalWebIndex revealed that they spend longer on their phones each day than on all other devices combined.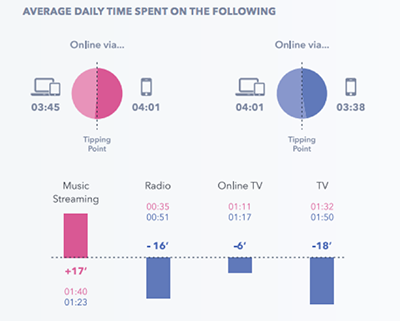 Red color shows the data for Gen Z, while blue color represents findings about Millennials. Figures represent the percentage difference between the two generations.
The bottom line: it's about time to invest in mobile app development.
19. Cross-device marketing
Gone are the days of using the same device for catching up on the news, chatting with your friends, and making online purchases. In fact, a study by Criteo discovered that 41 percent of post-click desktop transactions, in total, come from another device.
Therefore, in the new era of cross-device customer behavior, marketers need to ensure a consistent online experience across all devices and screen sizes.
Think about it:
Are your newsletters displayed correctly on all screens? Does your website look equally nice on an iPhone and a smart TV?
20. Conversion rate optimization (CRO) and landing pages
According to WordStream, only 22 per cent of businesses are satisfied with their conversion rates.
In 2018, companies are likely to invest more in split testing software and optimizing landing pages for achieving higher conversions.
We at Liana Technologies are ahead of the curve when it comes to CRO. We discovered that our guide and whitepaper landing pages with a short and concise format have higher conversions.
Take a look at the landing page style that we're currently using for our whitepapers.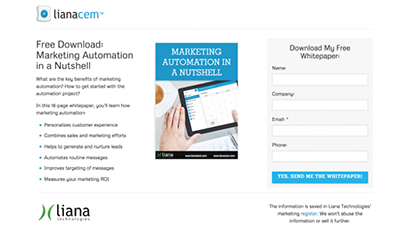 Have you tested your landing pages?
21. The popularity of mobile payments
The explosive growth of mobile devices unlocks the potential of mobile payments.
More and more businesses introduce mobile payment options in their stores with ApplePay and Alipay being the two key providers.
Do you need to provide mobile payment in your country? You definitely do.
Here's why.
According to GlobalWebIndex, mobile payment penetration is shaking up the whole world.

A - Q4 2015; B - Q2 2017
It's time to wrap it up.
Below you can see an infographic listing all of the key digital marketing trends to expect in 2018.

Now it's time for you to take action and diligently apply the top digital marketing trends to your business.
Share the article with your colleagues to make sure the entire team keeps up with the latest trends.
If you want to discuss the key trends further, request a call back and we will contact you!