Back in the beginning of 2019, we created an article with some marketing predictions for the far year 2022. Well, it appears that we are here now. Are you curious like us to know if what was predicted in 2019 will happen in 2022 (or has already happened)?
Today, we're going through some of the predictions we talked about in 2019, while incorporating some predictions for the marketing world after 2022:
Let's go! 🚀
1. Hyper-targeted advertising
Banner blindness is a term that has been used for many years now. Back in 2019, a research by Digital Connections was saying that in the future, 49% of people will disregard a brand if it bombards them with ads or if they perceive the advertising to be irrelevant.
This numbness to ads all over us is still strong: the average person comes across over 1,700 banner ads per month, but only sees half of them.
Key takeaway
: Effective targeting is a hard exercise, but it really pays off. If you use it together with personalization and effective segmentation, your efforts won't be vain. You can definitely use
marketing automation
to help you send the right messages, at the right time, and to the right audience!
2. Personalization
Personalization is not a new concept, and it is evident that with the large number of ads that solicit people every day, personalization will most definitely help you reach them. Especially since we were just telling you that there is a growing digital ad numbness.
In its study, Segment has put forward interesting stats:
45% of consumers say that they're likely to do business somewhere else if a brand fails to offer a personalized experience
and while 85% of the studied businesses believe they are offering personalization experiences, only 60% of consumers seem to think it's the case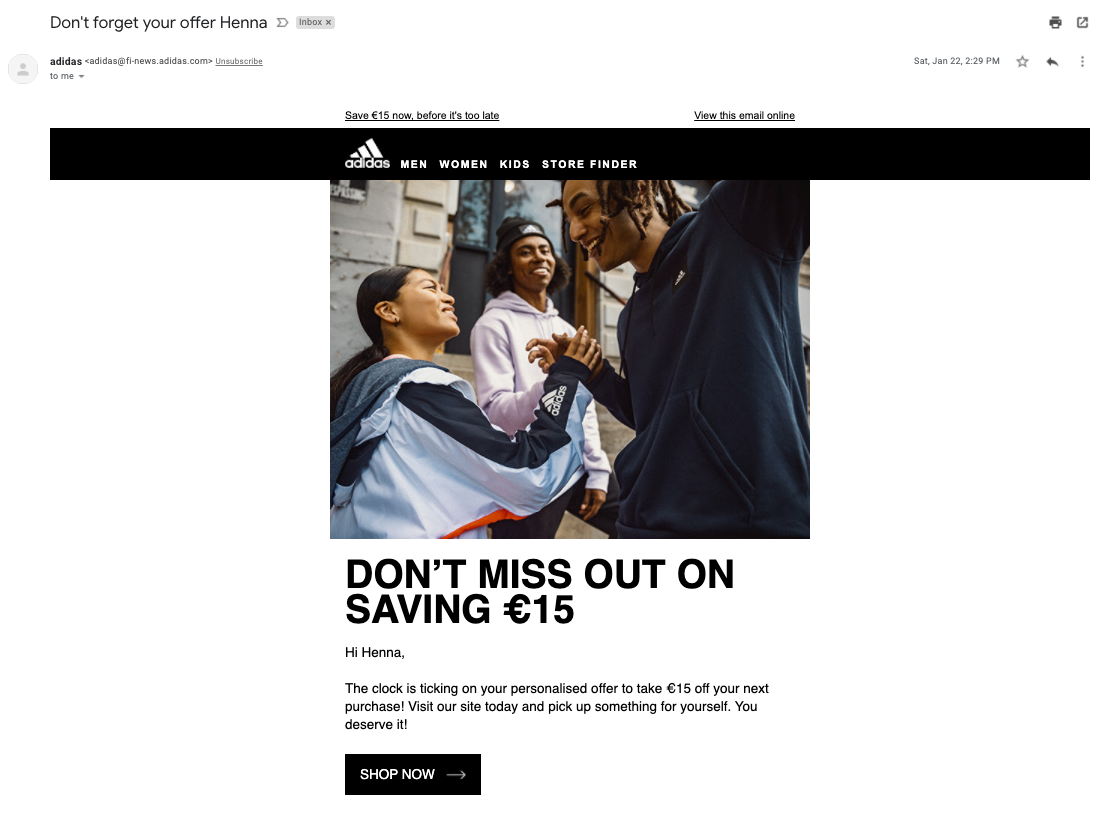 Adidas uses personalization by using its customers' names in the object line, but also in their emails when reminding them of abandoned shopping carts, or if some offers are soon to expire.
Key takeaway: Make sure that the personalization you're offering to your customers is enough. Try out different ways to personalize your content and open the dialogue with your customers to know if they are satisfied with what you are providing them - and adjust your strategy accordingly.
3. Investment in digital marketing will grow
In 2019, we were reading from The Drum that the global digital marketing software (DMS) market would grow from $37.48 billion in 2017 to $74.96 billion by 2022.
After re-evaluating this information, we found out that the global digital marketing software market size was valued at $49.43 billion in 2020 and is expected to reach $159.34 billion by 2028.
This growth can be attributed to the growing use of smartphones: since people are now consuming a lot of digital media, marketers are encouraged to create more online content and ads (on social media and other digital platforms) so they can get more exposure and visibility.
Key takeaway: Take seriously your investment in digital marketing. For big organizations as well as for small start-ups, digital marketing is a must. It doesn't have to be extremely expensive campaigns, but if you must choose one way of doing your marketing, bring it online.
4. New customer behavior
In 2019, we were advising you to work more closely with influencers and to focus on video content. Without any surprise, these elements should still be part of your strategy!
Videos are great content support, and more specifically short videos as they are gaining in popularity, following the trend of TikTok videos, but also Instagram's reels. With reels, you can gain visibility, but also grow the engagement towards your content, and your brand for example.
We could point out that videos on social media generate 1200% more shares than texts and images (Techjury). Bottom of the line: you might want to start working on your script.
Another important thing to highlight: influencers are your best brand advocates nowadays, and 2022 is not going to be an exception. Since 2016, the influencer marketing industry size has grown quite steadily, and it won't stop here!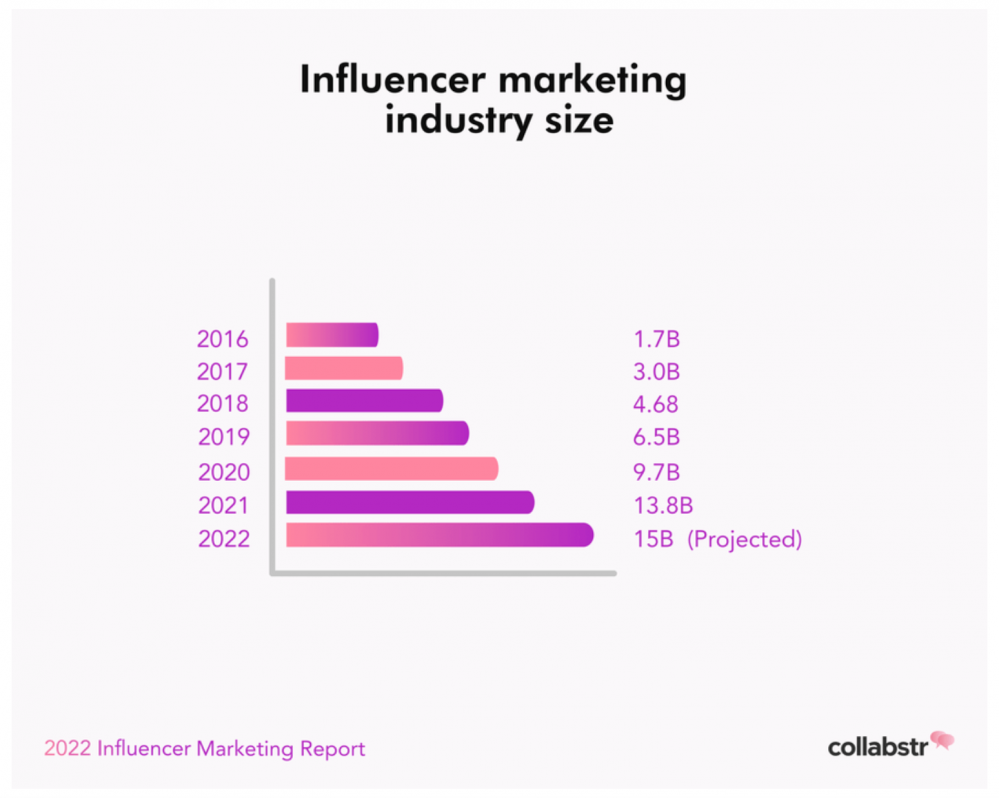 Source: collabstr
5. Transparency
Transparency is a topic that has been important for many years now. We had already talked about it in 2019: how has the situation evolved since?
In its study, Segment has found out that to the question "When deciding whether to shop with a particular brand, what's most important?", "The brand is trustworthy and transparent" is the answer for 55% of the respondents. So this is the first step in our answer: transparency is still a concern and an important factor for consumers.
This raises the question of the possibility to provide a hyper-targeted and personalized experience to customers while respecting their data privacy.
The GDPR that came into enforcement in 2018 was a first step towards the respect of data privacy and transparency for customers, and the next one will be the end of cookies.
Cookies were first introduced to enhance people's experience with brands, but it requires storing personal information that is not always easily accessible. Hence the transparency problem.
Key takeaway: The end of cookies is approaching, after the disappearance of the third-party cookies in 2020, and this will be the next challenge for marketers: how to adapt their marketing activities and strategies to provide a personalized but transparent experience to customers and visitors?
6. "There's a mobile app for that"
According to AdAge, mobile ad spending was expected to grow to $65 billion by 2020 in the US alone.
… and the record was broken: that year, US marketers spent a record $120 billion on mobile promotion. And among these $120 billion, still in 2020, Instagram advertising revenues hit over $17 billion in the US alone, which shows one more time that social media are becoming a pivotal marketing channel.
In a more global view, in 2021, mobile advertising spending reached $288 billion worldwide, and spending is thought to go up to nearly 413 billion by 2024.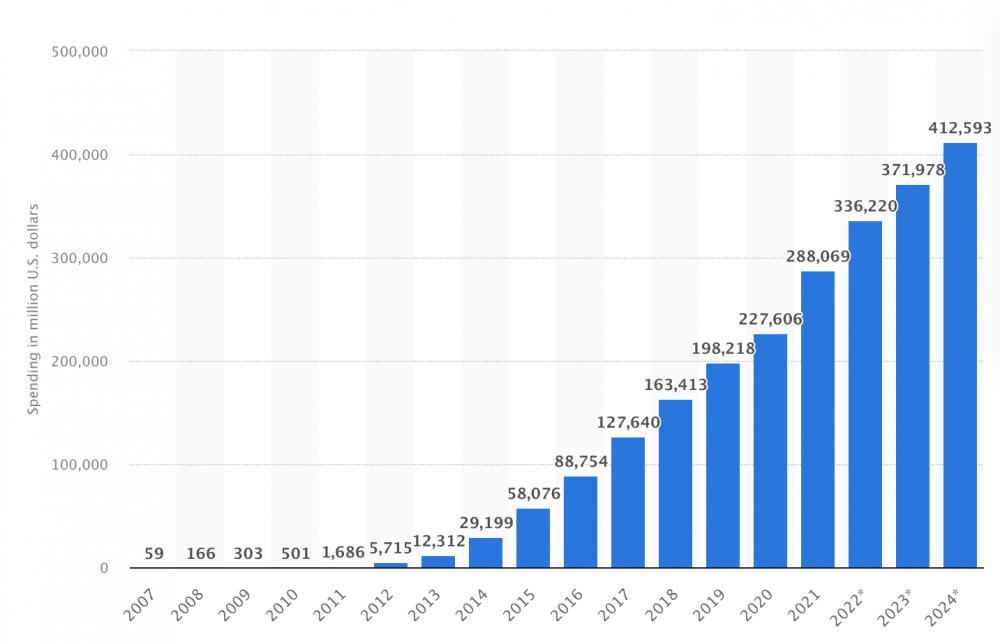 Mobile advertising spending worldwide from 2007 to 2024 (in million US dollars), Statista
Key takeaway: Mobile advertising is getting stronger and stronger, so if you want to step up your game, you might want to start considering investing in here too.

Tip: Ad spending on mobile gaming is also making giant leaps worldwide, so you could consider being present there too!
7. New social media behavior
In a 2019 study, GlobalWebIndex was showing that 32% of all users in the UK and the US had deactivated or closed a social media account in the past 12 months.
Little did we know at that time that a pandemic was on its way. Studies have put forward different behaviors regarding social media, but the global movement was the rise in usage of already-popular social media platforms like Instagram and TikTok, but also for live-streaming platforms like Twitch.
Overall, Hootsuite shows that the popularity of social media platforms is far from going down. This means for marketers that a presence and advertisement on social media becomes a must, to build brand awareness, but also to reach a big part of their potential customers. This also means that some companies will have to start using other marketing channels to adapt to those new behaviors (like live-streaming platforms).
Do you need some numbers to believe that live-streaming is the new place-to-be?
According to Globe News Wire, the live streaming market will be worth almost $250 billion by 2027 at a CAGR of 28.1%
79% say a brand's video has convinced them to buy a piece of software or an app (Techjury)
Key takeaway: If you have the feeling that you can benefit from live-streaming, take that leap of faith, there's a good chance that it will be worth it.
8. Just-in-time marketing
In our precedent article, we were telling you that Accenture Interactive had found out that 38% of the companies had grown their annual revenues by more than 25% by doing just-in-time marketing.
It is with no surprise that marketing automation, which makes in-time marketing very easy to set up, is still a hot trend. Reaching its customers right on time is on the mind of every marketer, and marketing automation is a technology tailored for this need.
To give you an idea, 75% of companies currently use marketing automation, and as the marketing automation software market was estimated at $3.60 billion in 2020, it is expected to reach $11.46 billion in 2027 (markinblog).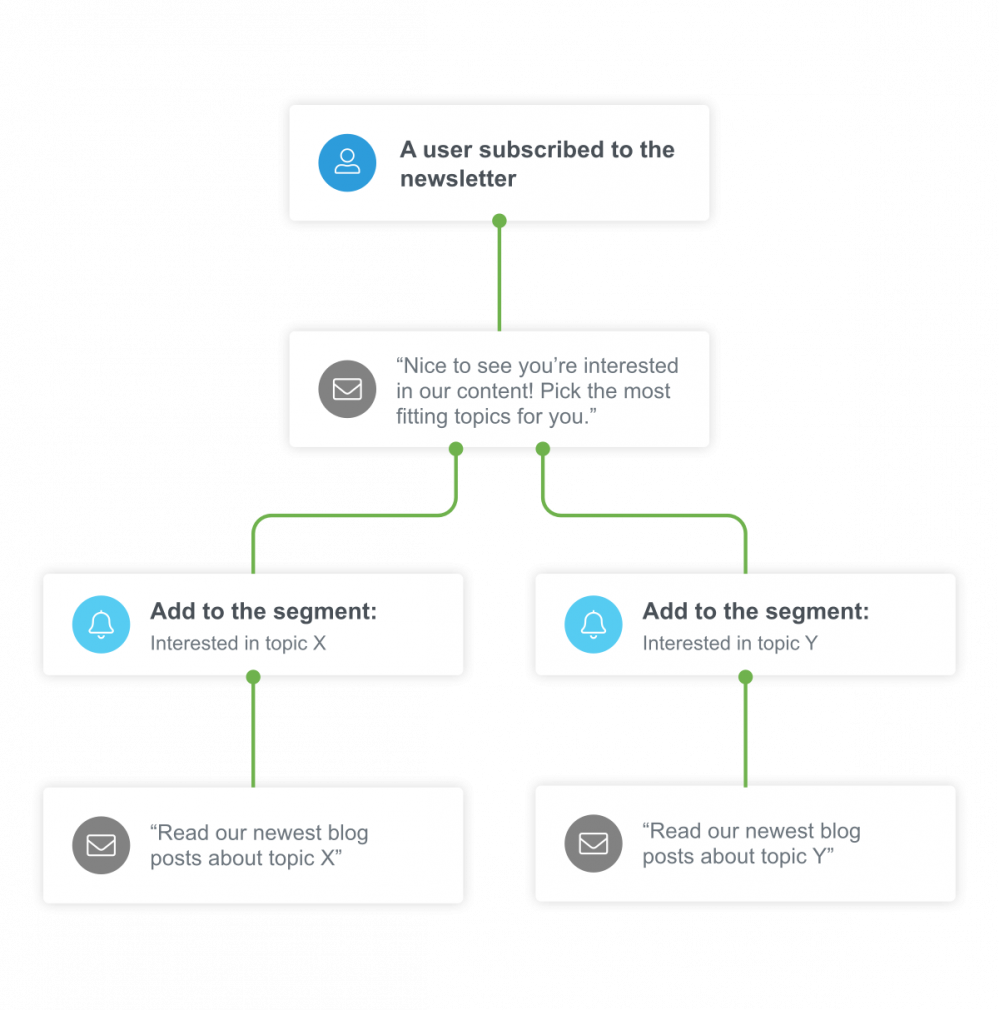 With LianaAutomation, you're able to create automation chains for B2B or B2C communication easily.
Key takeaway: Marketing automation is not becoming obsolete, and is a technology that can benefit all. Automation chains are very versatile, you can create workflows for newsletter subscribers, abandoned shopping carts, new customers, but also for internal use. Try it!
9. The rise of AI
"Artificial intelligence" can sometimes sound like a very impressive word, but it is present in our daily lives more than we actually think. In a study, Gartner said that AI was going to be part of almost every new software product by 2020.
Gartner still believes in the ever-growing use of AI, as in a 2022 survey, they have demonstrated that companies continue to show a strong interest in AI, with 48% of CIOs responding that they have already deployed or plan to deploy AI and machine learning technologies within the next 12 months. Are you one of them?
Key takeaway: You will, if it's not already the case, have to work together with AI in a near future. Did you know that some advertisers plan on taking advantage of AI for doing privacy-safe targeting, but also identifying audiences that are ready to convert? Are you the next one?
A lot of these individual points actually go hand in hand together and are interconnected. This means that marketing means having a real and precise strategy in place, and that, more than ever, the individual should be the target of every step of your actions.
Our Liana®Cloud offers tools to help you with sending personalized messages and just-in-time marketing campaigns, so don't hesitate to contact us to know more about it, we'll be happy to help you find the right tool for you.