A year ago Harvard Business Review listed seven marketing technologies that every company should use. We reviewed the situation a year later – and added one of our own. At the same time we mapped out how Liana Technologies' product family meets these needs.
1. Analytics
Measuring your results is getting more and more important in digital marketing. In addition to separate analytics tools (Google Analytics, Yandex, Baidu) every marketing tool itself should have good and user-friendly analytics features.
Most people probably are familiar with the analytics of websites and email marketing (though might not use them to their full potential). However, many companies aren't properly utilizing the analytics possibilities of social media tools and press release distribution.
Analytics are not only vital in measuring effectiveness but also in learning and developing your operations. Instead of fiddling with reports one should aim for true understanding: what works and what doesn't? What are the trends and the direction? Easy and visually appealing reporting tools help when answering those questions.
Analytics with Liana Technologies' products
You can send newsletters professionally with LianaMailer and monitor their effects with:

Visual reporting, heat maps & sharing reports feature
Integrates with Google Analytics and other systems – track the movements of newsletter subscribers all the way to the website
Agile learning and developing: Top 10 lists of the year's most interesting messages
With LianaCMS you can develop content based on analytics.
Our Google Analytics integration brings the most essential website analytics to the dashboard – see at a glance what works and what doesn't and further develop the site content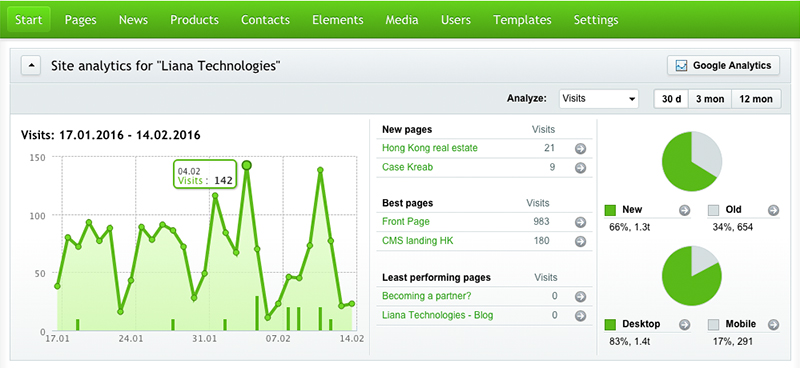 This picture has actual data from LianaMailer.com website. Our Hong Kong CMS landing page has been popular but "Becoming a partner?"-page could stand out more. Our content creation team can take advantage of this and other analytics when updating the site.
LianaPress and LianaMonitor produce accurate analytics and reports on how your press releases are received and whats happening in online discussions. By monitoring your visibility you produce important information for communications and marketing.
Marketing automation tool LianaCEM gathers data about the behaviour of different target groups in the company's communication channels. Combine customer data into marketing actions with marketing automation.
2. Conversion optimization
Conversion optimization means making the visitors of a website end their visit in a desired action. According to Harward Business Review approxiamtely 3 % that have been directed to a site end up doing nothing – with conversion optimization this percentage is usually doubled. This is a big number for many companies money-wise, therefore it is definitely worthwhile.
The conversion optimization of a website or a webstore is an ongoing process that has demands for the CMS system. You need to be able to integrate and edit it easily so that continuous testing and reacting is possible. In addition to continuously developing websites the most important tools of conversion optimization are landing pages created for a specific purpose. Landing pages can be built with CMS or with select email marketing systems. However, building is just the first step: it is where optimization starts. Optimization can be done with for example Landing Page Grader or Optimizely.
Conversion optimization in Liana products
A/B test your newsletter headlines with LianaMailer – the system automatically selects the best variation from the test group and sends it to the rest of your recipients.
You can integrate LianaCMS and LianaCommerce to a third party optimization tools. A user-friendly publication system and webstore enable agile editing and development of the site according to results.
With LianaCMS you can also easily create search engine friendly and responsive landing pages for different uses.

3. Email
No, email will not die in 2016 either. Email and websites are still the strongest marketing tools around. Email is still "the official business channel" where people are genuinely out to buy. It is the prefered channel for receiving important information. With it you can reach B2B decision makers, sell to consumers and inform the media.
Bought lists and sporadic spamming are history. Nowadays email marketing is done for customers that personally have expressed their interest for receiving it, it is as targeted as possible, offering quality over quantity.
A continuously growing number of email marketing is automated into efficient, carefully segmented campaingns that help the once interested customer to grow towards customership.
Liana Technologies and email marketing
Liana Technologies is an email marketing professional with over 10 years of experience in the field. We strongly believe in fair operations and high-quality email marketing and the results speak for themselves. We also continuously develop the tool according to the needs of marketing and communications. Right now videos are on the rise in email marketing, and no wonder: when there is video footage in the message, and especially if this is already in the headline, open and click rates go through the roof. Another trend is automated message chains, drip campaigns for example.
Key features of LianaMailer:
Responsive newsletter templates are representable and customer-friendly on all mobile devices
User-friendly drag & drop editing makes composing letters easy and fast – and even fun
Video features bring diversity and boost click and open rates
Our newsletter tool can be integrated with CRM systems, websites, analytics systems, webstores, event management systems etc.
Dynamic lists gather the subscribers that meet certain criteria into their own lists and enable careful segmenting
The possibility to create automated campaigns, like drip campaigns, by combining automated functions to newsletters
A/B test headlines, or create personalized content aimed at different users inside the same letter
High-quality proxy servers make sure the messages go through
4. Search engine marketing
Search engine marketing is made up of search engine optimization and search engine advertizing. In order to work successfully, search engine optimization requires a long-term commitment. You also need high-quality technological and visual execution and professional content creation that takes the demands of search engines into consideration. Basically search engine optimization starts from choosing the CMS: if the technology's not search engine friendly, the other features have no use either.
The most important factor in search engine optimization, however, is high-quality content that is updated continuously – and that search engine optimization is handled by content creators and not (entirely) by external agencies. That is why it's important that the CMS has good and simple SEO features.
Search engine advertizing means paid adverts, like Google Adwords (also try Wordstreamia for example). With these you can test and optimize your own keywords (also try Keywordtool.io), text, forms etc. By combining these to Google Adwords and CRM it is possible to monitor how much concrete profit the ads have made.
The customers that have already been in contact with your company are a more potential target group than completely "cold" ones and company's internal tools help to prioritize different segments. Marketing automation gathers the data from different sources and helps to identify important segments that otherwise would be difficult or impossible to notice. The provided insights can then easily be transferred to Google tools.
Liana Technologies' tools and search engine marketing
LianaCMS and LianaCommerce take search engine optimization into consideration from the initial steps of a website or a webstore
With LianaCMS' easy SEO tools you can manage search engine optimization by yourself
With LianaPress you send and publish your press releases not only by email but in portals or your own website. You can also share it in social media. This is important for your search engine visibility.
5. Remarketing
Remarketing is what happens when you visit a company's website and afterwards this company's ads start to follow you on websites and social media. This marketing that is called retargeting can be annoying, but usuallly very effective – because the target group is people who have already shown interest. Usually retargeting's pricing is based on clicks so it guarantees a lot of free visibility. The most popular tools are Google Adwords remarketing but you can also try AdRoll or Perfect Audience. However, remarketing includes a lot more. In practice remarketing includes all the marketing messages that are triggered by a specific action from a customer.
Liana Technologies' tools helping remarketing and retargeting
The effects of remarketing can be improved by targeting it to specific, narrow segments through a marketing automation system. Which do you think will bring more sales profit: generic advertising to people that have visited a certain page or specifically advertising to just the person that, within three years, has made many purchases from a specific price category and has visited the site three times?
LianaCEM is the retargeter's best friend and enables wide retargeting features. CEM combines customer data from different marketing channels into segments that can be used as target groups for advertising. In addition to simply combining, you can choose small segments straight from the graphs of visual reports yourself and take the data to a system of your choice. These can be taken advantage of in search engine advertising, as well as in creating retargeting groups.
LianaCEM also enables diverse remarketing. Shopping cart reminders for example or drip campaigns are basic features in LianaCEM.
6. Mobile
It is extremely important for online customer experience as well as for sales that your site is truly mobile-friendly. If not, you have lost a lot of customers, newsletter openings and search engine visibility – since Google punishes for ignoring mobile. A responsive website and newsletter are the first steps, after that it's time to see what else the mobile world has to offer: the possibilities of mobile marketing and mobile applications are increasing all the time.
Liana Technologies and mobile
With Liana Technologies' tools your content is always presented in a mobile-friendly way. You can create responsive websites with LianaCMS, webstores with LianaCommerce, event pages with Eventilla, and email marketing with LianaMailer. All the content that is created works effortlessly and beautifully in mobile, as it should 2016.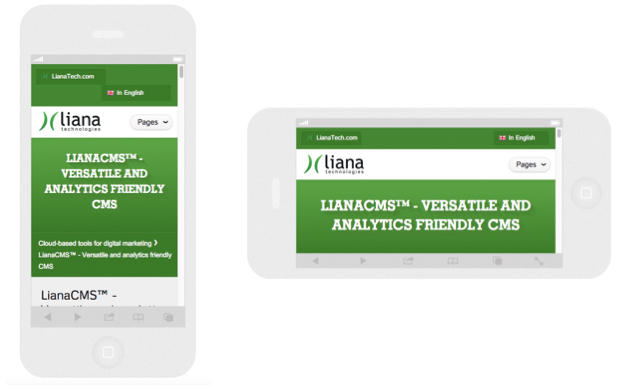 With LianaCMS mobile preview you can make sure that the content you update to your site looks good in mobile as well.
7. Marketing automation
Marketing automation ties everything together. In 2016 marketing automation is not a scary buzzword anymore but a practical reality. Choose the right pieces of a great puzzle that meet exactly your company's needs and practices and see results one automated message at a time using the appropriate data. Maybe it's upselling with automated email chains by combining the data from a website, webstore and social media? Maybe bringing together the data from event management system and CRM can create results through social media. Maybe by combining the data from a website, email marketing and CRM the sales team can get good quality leads?
Liana Technologies and marketing automation
Liana Technologies' approach to marketing automation differs from many other providers: we don't want long introduction processes, huge start costs and complicated systems that go unused. The key is an agile start with a few automated processes, expanding them and learning over time. Our fastest introduction projects happen in weeks.
Bring data exactly where you need it from – LianaCEM integrates with many different marketing, booking, sales and customer systems
Compose messages easily and quickly with drag & drop templates
Simple and user-friendly UI
Fast and efficient start with the most important processes/operations/segments that can be learned from initially and expanded on later instead of going through projects with huge amounts of data
Trigger a message by visiting a specific site, filling out a form, an event in an external system or by downloading a twitter card for example
You can send automated messages via email, SMS, display ads or mobile push notifications
Visual reports enable quick actions based on the data – choose a specific part of a graph and create a new segment by dragging
+1: 8. Monitoring communications
Monitoring your visibility is an essential part of communications. Your presence in both social and traditional media cause reactions, both positive and negative. Continuously listening to different media outlets helps you learn from it and react accordingly. With press release distribution, efficient monitoring tools and analytics you can have more control ob the discussion. You can also follow what people are saying about your industry and your competitors. Recognize who are talking and target your messages to them.
Liana Technologies and monitoring communications
Online media monitoring: follow online discussions easily, subscribe notifications straight to your email and see the effects of your press releases
Social media monitoring
Print media digital edition monitoring
LianaMonitor follows communications in online and social media, and can be fully integrated to press release distribution service LianaPress that enables monitoring and reporting of how press releases get picked up in the media.
Do you feel that your marketing technologies need an update in 2016?? Contact us and let's move forward together!