Using marketing automation can notably increase a webstore's conversion and improve the customer experience. Automated messages work especially well in upselling and cross-selling but offer a lot of other possibilities as well.
In practice, automated messages work with triggers. A trigger launches an automated message or message chain when a predetermined event or function takes place. We listed 10 practical examples of how to take advantage of marketing automation in a webstore.
1. Welcome messages
Trigger: email subscribes
Gather webstore newsletter subscribers actively, and thank them for joining the email list with an automated message. Growing your email list is essential to market your webstore effectively, so it should be invested in (even before the launch of your webstore). The list can be built with small incentives and inner circle benefits: "get a discount code for joining our list". Read more tips on growing your email list here.
Welcome a new registered webstore customer with an appealing graphic newsletter. Maybe you also want to offer a discount code for future purchases or present your new fall products?
2. Cycle-based automation
Trigger: sales cycle/passed time
Webstore customer has joined the email list but hasn't purchased anything within a certain time. Interest for the products is clearly there but purchases haven't been made some reason. You can define your trigger as certain time frame that has passed between subscribing to your webstore and not making a purchase. Approach the customer with an automated message. You can, for example, give a discount code or a special offer to overcome purchase barriers.

The customer has made an order 6 months before but hasn't bought anything since. In this situation you can create an automated "We miss you" reminder. For instance, someone who has bought children's products, will probably have more needs in the same product categories.

You can apply the same thought process to seasonal products: if the customer has bought something during Christmas time, it is likely he or she will order Christmas presents online in the future as well.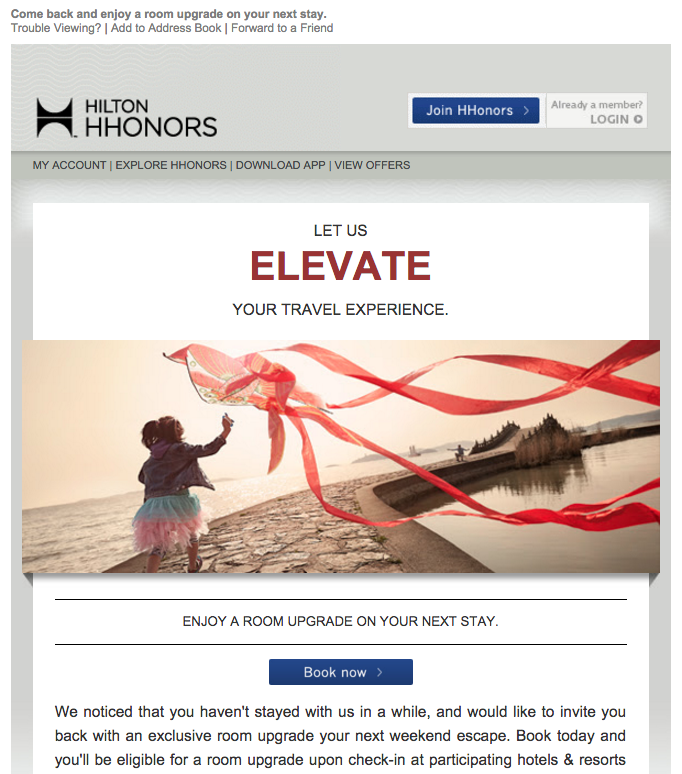 Picture: Wake up passive buyers with automated "We miss you" -messages.
3. Shopping cart reminder
Trigger: abandoned shopping cart
The idea behind a shopping cart reminder is to send an email reminder and possibly an incentive for those webstore customers that abandon their shopping cart. The first letter has to be sent as soon as possible after the abandonment when the memory trace is still fresh. Marketing automation offers a resource-saving way to set real time reminders.

Reminders can also be set as a series of automated messages – if the first reminder doesn't convert, the second message including a discount code will be activated after a certain time.
Tip: Include a clear list of the shopping cart's contents in your reminder. Also tell about the possibility to change the content of the cart and offer assistance if the customer faces any problems while shopping.
4. Content-based automation
Trigger: clicks, browsing history and site behavior
When the customer has been identified and more is known about his or her manouvers it's time to set up content-based automation.

For example: the customer has opened the newsletter and looked at the specifications of a certain product or a certain product category. You can speed up the sales process with targeted content.
The trigger can be determined according to desired criteria, so you won't bother your customers in vain. The trigger can send an automated message when the customer has already opened the first page of the shopping cart, for example, or clicked on the newsletter more than once, etc.

Browsing information about the customers can be saved even before their actual identities are clear. If the customer first browses product pages and then subscribes the newsletter, you already know what he or she is interested in.
Product reminder: every once in a while some variation or product is out of stock in a webstore and can't be ordered. Offer the customer a possibility to subscribe an automatic reminder when the desired product is back in stock. This information can and should be taken use of in marketing automation – if the arrival of the product takes a substantial amount of time, you can recommend similar products to replace the desired item or bring up the most popular products in the same product category.
5. Content-based automation, upselling and cross-selling
Trigger: purchase history
Content-oriented automated messages that are based on purchase history include user tips, instructions and recommendations for additional services, for example. You can recommend additional services and give tips for people that buy certain products and upsell and cross-sell substantially. For example:

The customer buys shoes. Use automation to recommend compatible products, like a shoe brush or thermal insoles. A typical change interval for shoes is 6-12 months – after this time you can recommend new shoes to replace the old ones.
The customer buys a product that demands maintenance or certain type of storage. Send an automated message with instructions on how to use the product and have the opportunity to upsell. In children's clothing you can market the clothes for the next growth phase or season for the people that buy from certain product categories.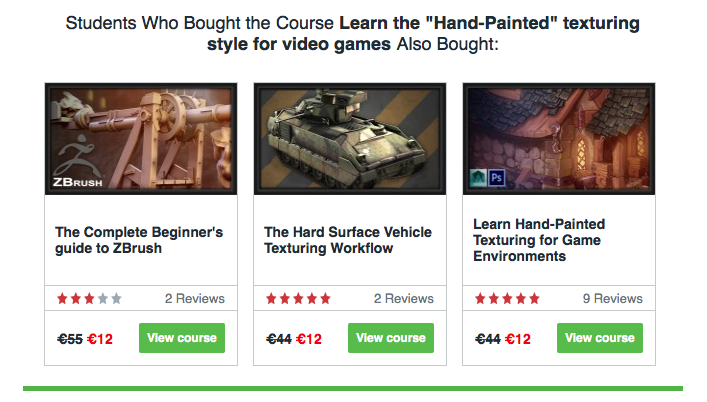 Picture: Recommend additional products based on purchase history.
Tip: If the customer has bought sale items specifically, it is likely he or she will be interested in sale items in the future as well. Remind these customers about sales.
6. Thank you messages
Trigger: purchases
Thank you for your purchase! Send an email to thank your webstore customers a couple weeks after they've purchased something. Automation is especially valuable when combined with product reviews. If product reviews are not used in your webstore, but the store saves the traffic source, you can direct the customer to review the product at a separate site (for example a price comparison site that the customer has arrived from). If product reviews are not used, you can also direct the feedback straight to the merchant in your thank you email.

A product review can be boosted by promising a discount with the next order, if the customer writes a review. According to past experiences, this kind of incentive adds the amount of reviews notably.

Picture: Combine thank you letters with satisfaction surveys and reviews.
7. Surveys
Trigger: contacting customer service
When a customer contacts your webstore's customer service, automation can be added to the background. You don't wanna lapse into spamming but always have a permission before moving the customer into the marketing funnel. "Give feedback about our customer service and win a 50 euro giftcard!" – at the same time the customer orders the newsletter and the merchant gets valuable feedback about how the customer service works (feedback that possibly otherwise would only be given on discussion forums).
Improve the effectiveness by adding a dropdown to the contact form where the customer can choose what the feedback concerns, subsequently this helps targeting the message. For example, those that leave a product inquiry are more likely to be interested in subscribing the newsletter than others. Feedback survey can be sent to those that used the contact form, as well as live chat users.
Tip: If you measure customer satisfaction frequently, make use of the NPS to target and automate content.
8. Personalized and targeted automation
Trigger: properties of a webstore customer
Webstore saves the customers' places of residency – remind them about your store locations and ask them to stop by.
Gather information about the customers' or their children's birthdays, so you can target and personalize marketing messages. You can congratulate a customer on their birthday by offering a gift or a benefit.
9. Loyalty-based automation
Trigger: purchase history
Reward your most loyal and best customers: grant special benefits for a certain amount of purchases.
Wake up passive customers: as an example, those customers that have bought once but have been passive after this. It is important to test and monitor closely which type of campaigns work and which actions "win back" customers.
Bonus reminders / loyal customers: if bonus is accrued from webstore purchases, it is good to remind the customer of the remaining bonuses or loyal customer points.

It pays off to remind the customer about the existence of bonuses / loyal customer points on the account. Especially if the loyal customer system has some sort of a time frame when the bonuses are valid, you demonstrate good customer service by reminding by which date they expire.
Picture: Reward your most loyal and best customers by granting special benefits for a certain amount of purchases.
Tip: If you use frequent buyer bonuses, occasionally remind the customer of what it takes to move on to the next level.
10. Reminders
Trigger: order stage
Marketing automation is an excellent way to sort out orders that are stuck in a certain order stage of your webstore. For example:
The store uses traditional wire transfer as payment method. Orders that are still waiting for payment are shown in the store's management with a certain status and automated messages can be used to remind customers about a missing payment.
The store uses bill as payment method and an integration to the financial management system. You can remind about the missing payment before sending the actual reminder.
The order is waiting for additional products. The customers can be reminded about the fact that the the order is on hold for extra products (and which products these are). Also fill the customer in on how to proceed if he or she wants some of the products earlier or wants to change some of the products. This way you keep the customer happy and aware of the order's course, as well as decreasing the customer service's workload.
The order has been returned but the customer hasn't given a bank account number or notified the return. An automated reminder can be sent to the customer.
Monitoring results and testing
Marketing automation can be launched with individual messages or message chains that are developed little by little as knowledge increases. Having an agile tool to work with makes it easy to create new messages and drip campaigns without IT-pain. Monitoring the results and testing are essential – every store has their own unique customer base with their own marketing practices.
Got interested?
Did you get interested in marketing automation for webstores? Contact us and ask for more information about LianaCEM marketing automation tool. Let's further discuss what type of automation would work for your webstore.