Recognizing marketers' needs is at the core of our business.
Social media, websites, email, events…we understand how challenging it is to utilize all the scattered data that marketers collect on a daily basis.
Thus, we are happy to announce our Google Ads Integration that helps marketers take the most out of the multichannel data.
What does it mean in practice?
1. Create Google Ads Campaigns
Create effective text and display ads right in Liana tools. You can launch your ads as a part of marketing automation chains to drive hyper-targeted and measurable advertising. Using our user-friendly interface minimizes your distractions and helps you focus on the essentials — creating an effective ad copy.
The Search Network
With just a few clicks, you can create text ads using our toolkit. Your ads will appear on the Search Network above and below Google search results.
The Display Network
You can also create responsive display ads that will be shown across the Google's Display Network.
Search & Display Network
What is more, you can increase your ad potential by creating ad campaigns using both the search and the display network.
Google Remarketing Ads
Bring them back to your site by creating Google remarketing ads. From upselling to abandoned cart reminders – create remarketing ads that work best for your industry and align with your business goals.
2. Find New Advertising Audiences
Finding relevant advertising audiences will help allocate your ad spend effectively and result in higher conversions. Thanks to our integration with Google Ads, you can now find the most promising audiences you want to target.
Build a new audience from scratch
Aside from using custom audiences, you can build a completely new audience using, for example:
Whitepaper downloaders
Mailing lists
Landing page visitors
Newsletter clickers
Find similar audiences
Utilize your best-performing audiences to their full potential. Using the similar audience feature, you can target new users with similar characteristics and behavior to your existing audiences.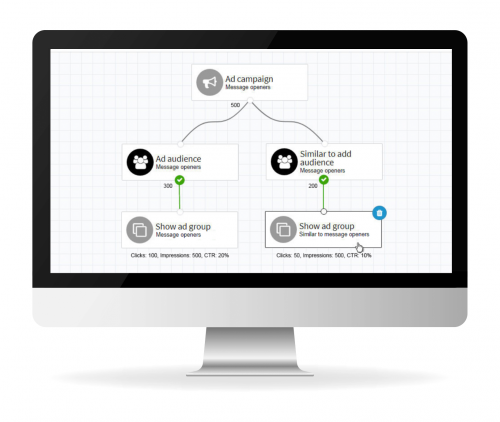 3. Make the Most out of Your Multichannel Data
With so many tools at hand, some of your marketing data can easily slip through the cracks. Thanks to our Google Ads integration, you can effectively utilize your multichannel marketing data and use it for effective retargeting campaigns.
Consider the following examples:
Newsletter click – retarget with a video ad relating to the email's content
Landing page visit – retarget with a 50% discount offer for that product
Blog post visit – retarget with a whitepaper ad concerning the topic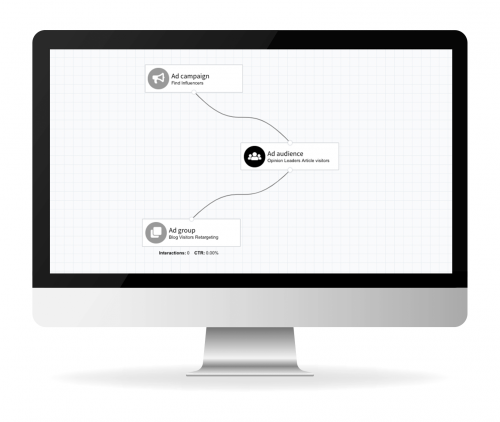 4. Measure Advertising ROI
Measuring the effectiveness of your ad expenditure is crucial. With our Google Ads integration, you are one step ahead when it comes to measuring ROI:
Track Google Ads conversions
Thanks to our comprehensive analytics, you get an overview of your Google Ads reports right in Liana toolkit. Compare the performance of different ads against each other or analyze an entire campaign.
Measure multichannel ROI
In today's data-driven marketing it is important to see how multiple marketing channels work in synergy. With our tools, you can compare the ROI of different channels, such as email, social media, and PPC.
Track down conversions all the way up to sales
Our tools can be easily integrated to your CRM system. Thus, you can measure the impact of your advertising on the sales pipeline.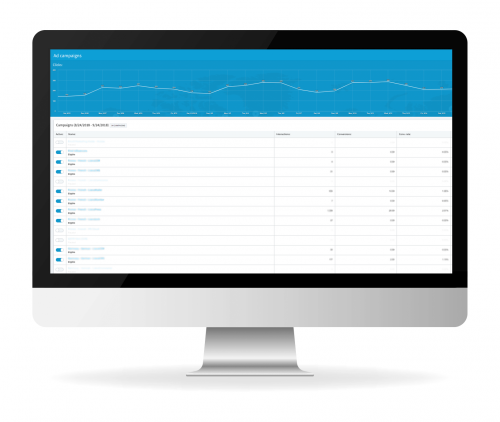 With Liana Technologies you have all the marketing tools you need – under one roof.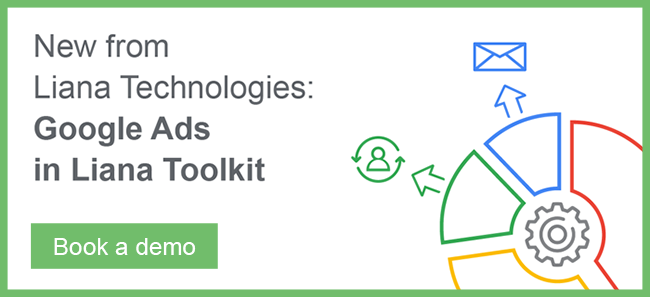 Book a consultation with our specialists to see our Google Ads integration in practice.