Social media channels, like Facebook, Twitter and Instagram are no longer platforms for posting only #tbt pictures and browsing the photos from last Friday's party.
Businesses have been using these channels to communicate with their customers and promote their brands already for a long time. However, the branding purposes are not everything the SoMe channels are capable of.
In this post, we'll show 18 ways to leverage social media platforms to grow your business. At the end, we'll present useful tips for making your social media marketing more efficient.
Facebook
Facebook ads allow targeting specific groups of highly engaged people based on their location, demographics, interests, and behavior. You can create different ads based on your business goals:
Driving online sales
Generating leads
Increasing in-store sales
Mobile app promotion
Raising brand awareness
Facebook Custom Audiences: if you have a customer list or data from your site (for example, email addresses), target ads to the customers on Facebook using this info. Securely upload a contact list to the platform and go ahead!
Facebook Lookalike Audiences helps to expand your target audience based on the traits of your current customers, website visitors or Page fans.
Buy Button: people can now purchase directly from your Facebook page without visiting your website.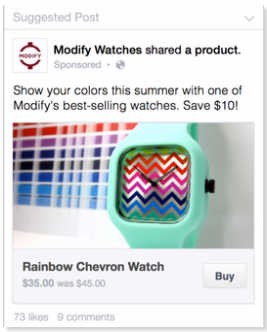 Purchase products via Facebook buy button easily.
Facebook social plugins enable your clients to share the webpage content with their Facebook friends.
Facebook Insights provides comprehensive analytics for business pages. The basic stats, such as the number of likes and page views are just the beginning of the story. For example, did you know that with Pages to Watch insights, you can keep an eye on competitors' Facebook activity, growth and engagement compared to your own?
Facebook Live: broadcast an event or a random day at your office through the life video feature in Facebook.
Facebook 360: introduce your company's achievements and experiences to the fans even in the form of a 360-degrees photo or video.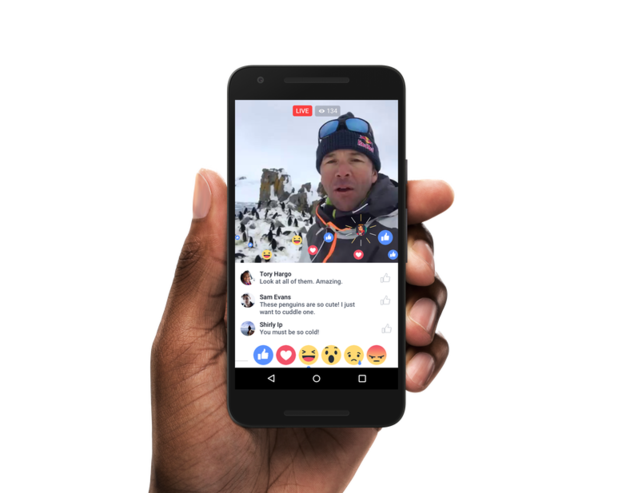 Broadcast your events with this feature of Facebook
Twitter
Twitter Ads. The platform provides the effective solutions to promote your company depending on your business goals:
Increase website visitors, conversions and sales
Accelerate the growth of your follower count
Boost engagement
Increase App downloads
Buy button: drive sales by enabling the customers purchasing your products on Twitter. With the 'buy' call-to-action, people discover and purchase your products or services in just a few clicks.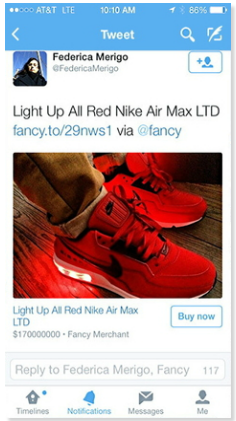 Buy products straight from Twitter
​​​​​​​'Live' Button: engage the audience by streaming your company's everyday life. Start broadcasting by clicking the Twitter's Periscope button available to all Android and iOS App's users.
Twitter plugins include a set of widgets bringing Twitter content into your webpage and buttons to encourage your followers to share your content as well as to attract new followers. There are several options to choose from:
Single tweet
Embedded timelines
Tweet button
Follow button
Instagram
Instagram ads: Advertise your brand with Instagram's 'sponsored' feature. Raise brand awareness, drive traffic to your website or increase mobile app downloads. Choose among alternative formats: photo, video or carousel ads.
Shopping directly from your Instagram feed is currently in testing mode for several US brands and is planned to be available worldwide soon. This feature will provide the opportunity to make a purchase without leaving the app and will take away the "link in bio" caption.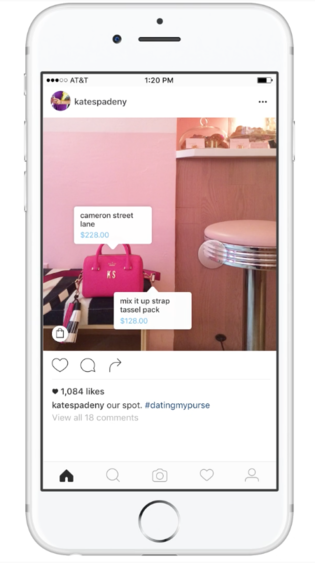 You can now buy products on Instagram without the need to go to a website
Business accounts on Instagram. Switch to the Business profile to access a number of useful features:
Add your contact information so that customers can reach you directly with a button on your profile
Learn more about your followers' behavior and see how your posts perform
Create promotions on Instagram that help you to grow your business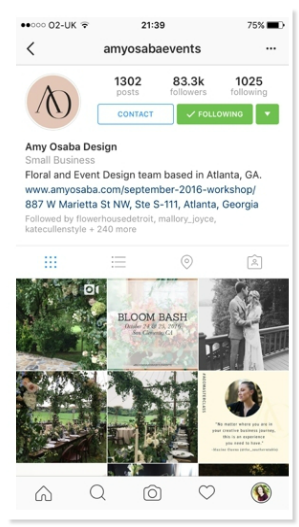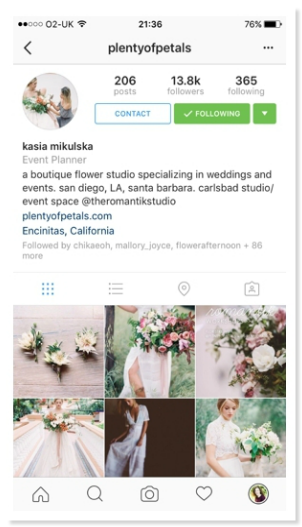 Upgrade your Instagram profile to the business account
Insights: After you upgrade to the business account and make your first publication, you'll start getting details on the impressions and reach from all of your following posts. Also, you'll see the number of website clicks from your business profile and find out how your followers act on Instagram.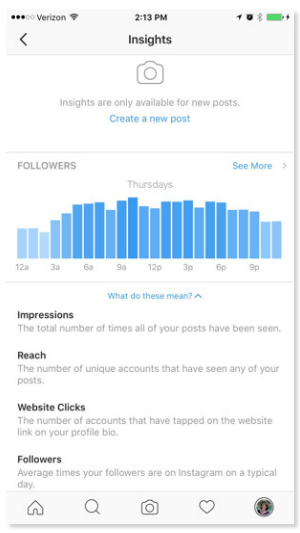 Instagram plugin: Embed your Instagram posts to your website to make your content more impressive and widely available.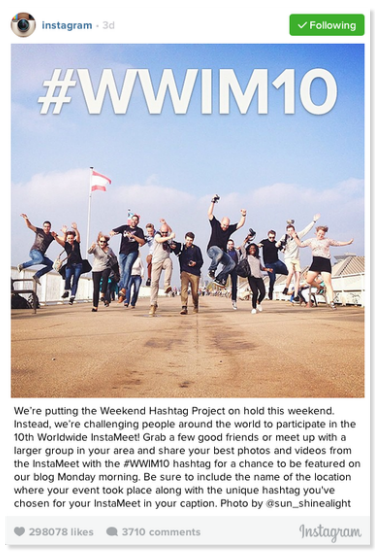 To keep up with Facebook and Twitter in their online streaming opportunities, Instagram unveiled Stories. Go live with Instagram Stories by sharing your special offers or important milestone of your company.
Food for thought:
How to make your SoMe promotion more effective?
Social media ads campaigns should work in tandem with marketing automation. With this tool, you can combine the CRM, website, event management and social media and get very targeted segments of clients. Create social media campaigns straight from the tool to reach targeted segments in a personalized way.
Let's see how the marketing automation works in combination with social media in practice:
Case 1 – A buyer in your dress webstore.
Has not bought anything from the webstore within 3 months
Has attended your fashion show 1 time
Is not yet a Facebook fan
Your actions:
Create a targeted ad in Facebook with your new collection of dresses.
Case 2 – A prospect in your Fitness Club.
Has downloaded your new fitness guide from Twitter
Has been your Twitter follower already for a long time
Almost bought your seasonal ticket online but did not complete a purchase
Your actions:
Create a triggered ad in Twitter with the seasonal joining fee discount.
How to find the relevant target audience?
Social media monitoring is important: by using a monitoring tool, you can identify the profile of key opinion leaders and trending topics people talk about related to your industry.
Let's find out what value a media monitoring tool can bring to social media promotions:
Case 1 – Potential visitors of your restaurant
Mostly raise discussion in Instagram
Aged 18-25
Watch and share a lot of food videos
Your actions:
Broadcast your new meals via Instagram Stories
Case 2 – A typical buyer of your healthcare center
Comments on healthy lifestyle posts in Instagram
Females aged 18-20
Shares a lot of videos about healthy habits
Your actions:
Create a video ad in Instagram targeted to young females showcasing your effective treatment methods and success stories.
Need help with your social media marketing efforts?
With LianaCEM, you can integrate your social media with other digital channels, for example by collecting newsletter subscribers straight from a Facebook post (who will then receive an automated welcome chain and the following drip campaigns you set).
LianaMonitor effectively tracks the journalistic web media, blogs, forums and social media channels to find the discussions relevant to your company in the web. With the help of the tool, you can monitor your online visibility and measure the effectiveness of your social media communications.
Contact us and we will build a solution suitable to your needs!