At the beginning of the new year, it's important for a digital marketer to analyze their marketing actions during the past year and check if they utilize the most important tools. This is also the time to plan marketing tactics for the upcoming year.
Read our list of marketing trends you should look into in 2017.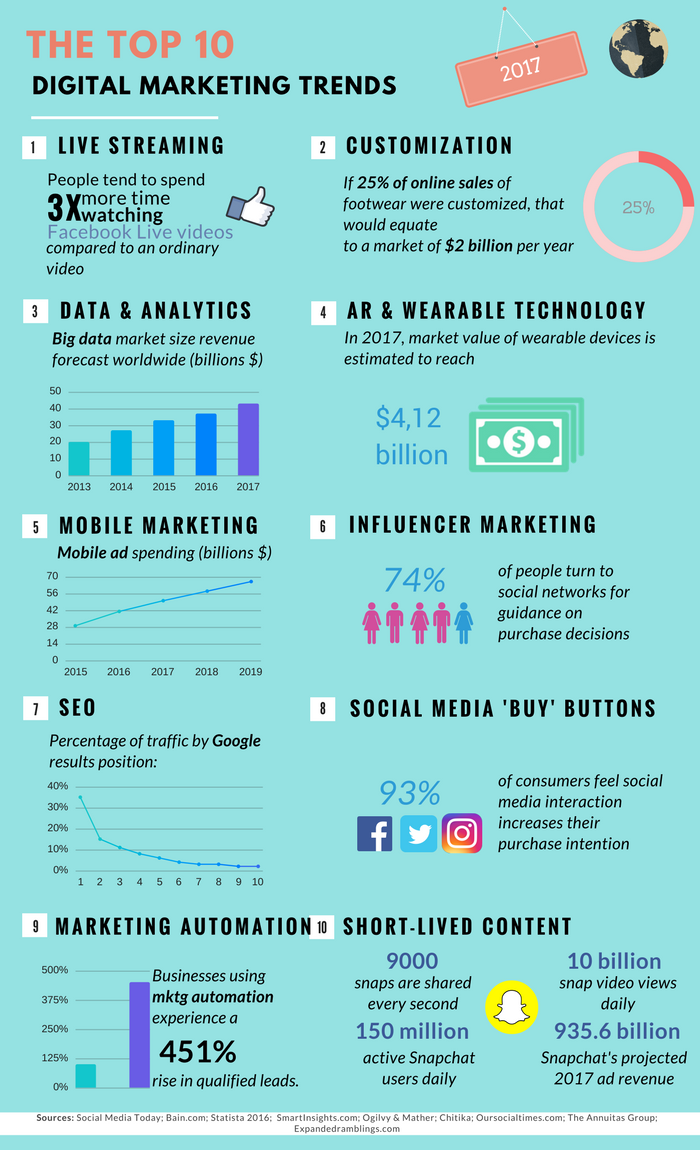 Some companies have been keeping up with these trends for some time already and they've harvested rich rewards.
1. Live streaming
2016 was a year of live videos and the trend will definitely push the boundaries in 2017. That's why social media platforms are heavily investing in live video features. Instagram has recently launched Live feature while Twitter has introduced live broadcasting directly from the platform by integrating the Periscope into the app.
Doing it right: Semrush constantly streamlines their events in Facebook and draws in large audiences.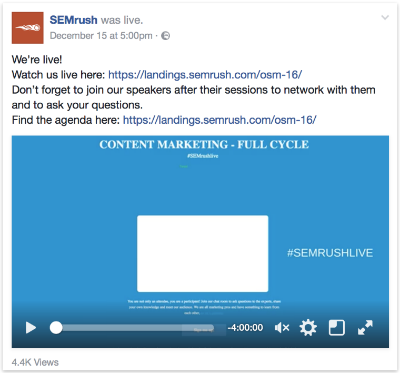 2. From personalization to customization
Today a personalized home page on Amazon with the book offers based on the previous purchase is not enough. Customers want to create the book lists themselves by experimenting with genres and authors.
When it comes to email marketing, let a client indicate the types of news they want to receive instead of sending campaigns solely based on their purchasing behavior and previous interaction with your webpage.
Doing it right: Nike allows their customers to design shoes virtually via its digitized customization service NIKEiD.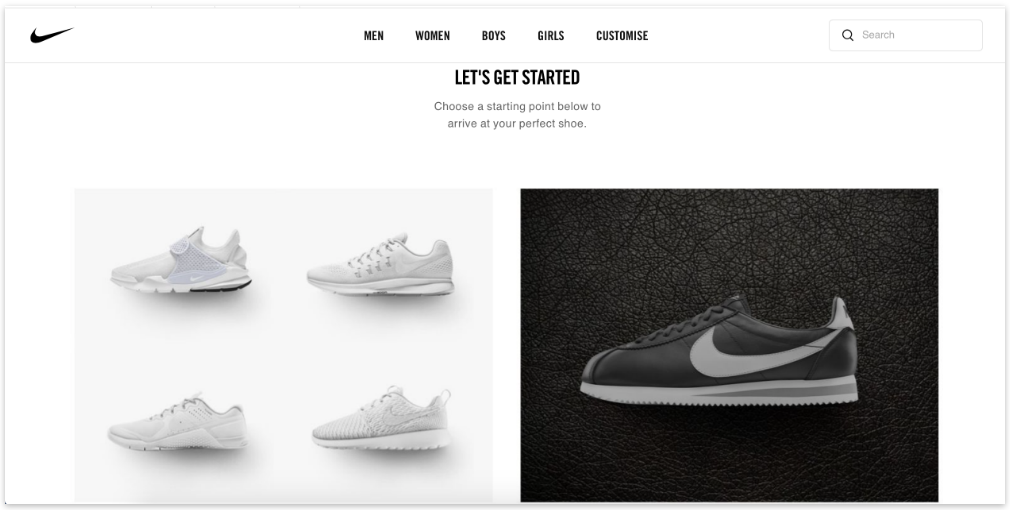 3. Data and analytics
If you are still not taking advantage of data and analytics, you're doing it at your peril. The future will be driven by data and the ability to apply it properly depending on your business goals. While one could get tons of useful insights in Facebook Analytics, others might find weather forecasts important.
Doing it right: Starwood Hotels and Resorts optimize room pricing by analyzing data on local and worldwide economic factors, events and weather reports. For example, decreasing temperatures in North America most likely increase the desire of its residents to spent some time under a Caribbean sunshine. Having the weather data on hand, the hotel chain knows the right time to reduce prices and to push marketing promotions for the North America region.
4. Augmented reality and wearable technology
While the recent hype around Pokémon Go has died down, it has provided marketers with some interesting food for thought. AR is becoming a viable resource for generating real business results. Bringing online into the daily routine of your clients will be a crucial factor for success in the future. Just think of an opportunity to choose your products and making a purchase wearing the Google Glass!
Doing it right: In L'Oréal 's MakeUp Genius App, users can scan their face and choose from a range of products to try on virtually within the app. The app has 10 million downloads and has resulted in 65 million more L'Oréal products' trials worldwide.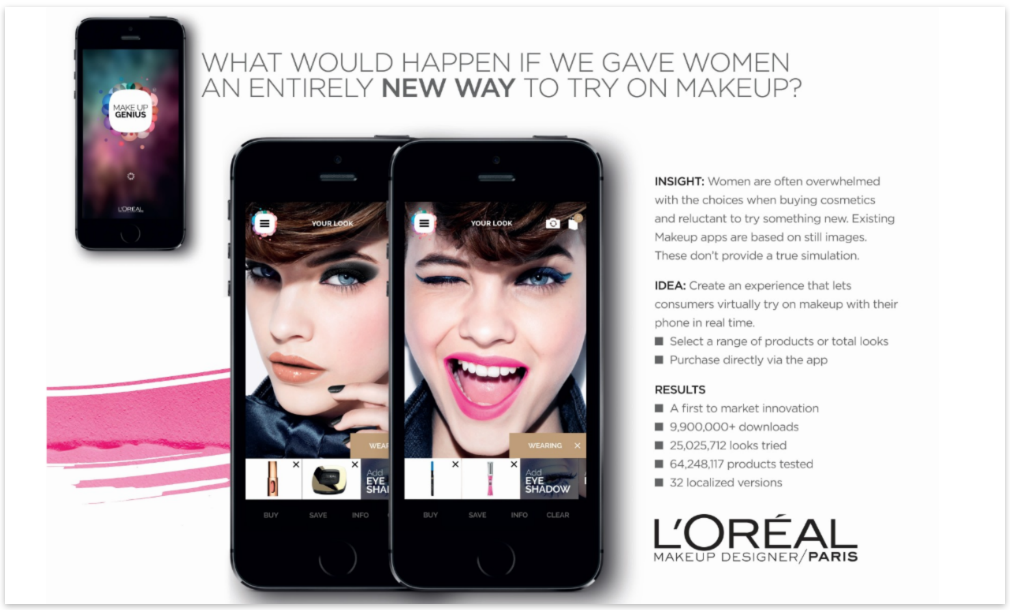 5. Mobile marketing
There are more mobile phones than people nowadays. If you don't optimize your content and webpage for mobile you're missing a big deal. Today, going responsive is not only about designing mobile-friendly webpages. It also has to do with catering to the on-the-go lifestyle of modern people.
Doing it right: The North Face has launched GEO-Fencing program. To sign up for the program, customers provide their mobile phone number and activate their mobile GPS feature. When they walk around within a certain distance of a store, they receive an SMS from the company inviting to stop by As a result, 79% of clients admit increasing their visits to the store and 65% report making a purchase due to the reminders.
6. Opinion leader driven marketing
Making an endorsement deal with popular bloggers or celebrities has become an extremely common practice for companies. The future for this trend looks promising as people nowadays rely heavily on social media stars' buying preferences. A social media monitoring tool is a good way to spot influencers and reach out to them.
Doing it right: The most successful Youtube celebrity PewDiePie, famous for his clips of himself commenting as he plays video games, promotes PlayStation on his Instagram.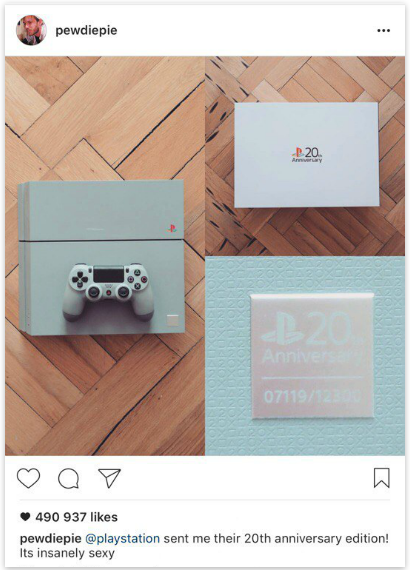 7. Search engine optimization
Today, instead of striving to get the best location for a store in a city center, companies start competing in terms of a higher rank in search engines. Rivalry in the online world will be more intense next year as more companies become SEO-sophisticated. Having the right tools and guidelines at hand will help in succeeding in this tough link-building battle.
Doing it right: Robbie Richards provides great and easy-to-digest case studies on SEO strategies. His achievements include "9,356 social shares from one blog post", "11,065% more organic traffic in 6 months" and many others.
8. Social media 'buy' buttons
Since social media channels take most of our daily time, they just might be the future of e-commerce. It's no surprise that the leading social networks have unveiled buy buttons. This allows making a purchase directly on a social network without the need to go on external sites. Take the most out of this e-commerce revolution next year to drive more sales.
Doing it right: an American footwear brand Tieks uses Instagram as one of its sales channels.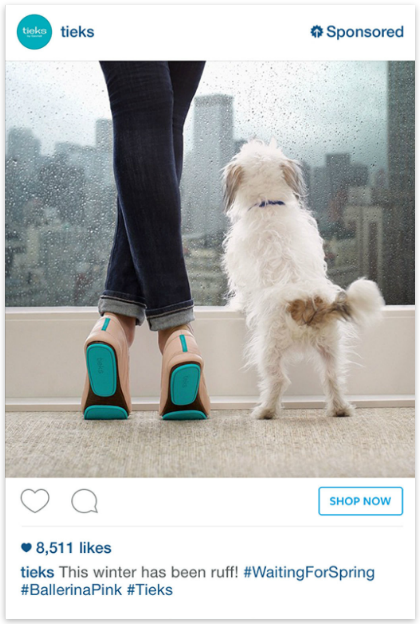 9. Marketing automation
Automation is not a new concept, but its popularity and adoption will have a tremendous growth as we head into the new year. Numbers speak louder than words:
Businesses that use marketing automation to nurture prospects experience as much as a 451% increase in qualified leads. (The Annuitas Group)
Doing it right: Thomson Reuters has implemented a marketing automation platform and the results were presented in whopping numbers:
The number of leads sent to sales increased by 23%
Lead conversion time dropped by 72%
The amount of revenue attributed to marketing leads increased by 175%
(Source: Econsultancy)
10. Short-lived content
Snapchat's success has proved that today people like to share disappearing bite-sized chunks of content. The trend is going to boom in the upcoming years. That's the reason why Instagram has recently introduced its ''Stories'' and Facebook now has an option to add a temporary profile picture.
Doing it right: ASOS posts backstage photos of the brand's photoshoots, product launches, and unique discount codes on Snapchat. The company admits that the platform is beneficial for the brand awareness as the high levels of engagement from Snapchat users are visible.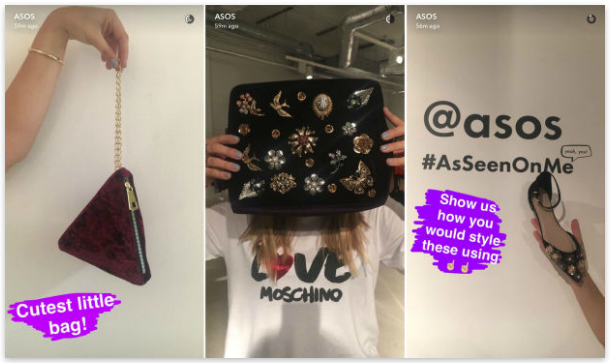 We at Liana Technologies do our best to evolve our tools according to the latest standards.
With LianaMailer, you can send personalized email campaigns as well as give your clients an opportunity to choose the content they want to receive in their email boxes.
At LianaMobile, we build cross-platform mobile apps to serve a specific purpose on your customers' journey.
Websites maintained with LianaCMS are 100% responsive and have built-in SEO modules.
LianaCEM is an easy-to-use marketing automation platform which helps businesses achieve measurable results from their marketing efforts.
LianaMonitor is a perfect tool to spot social media influencers.
Contact us and ask more!