9 steps: how to successfully handle a website revamp project
19.09.2016 0

A website is right at the center of operations for most companies. Almost all the different areas of the company, in order to function effortlessly, depend on the website on some level. A good website goes through a complete makeover every couple of years and is developed continuously. The site's layout is updated regularly and campaign pages and landing pages as well as other marketing and communications tools are added to complement the site.
What should be taken into consideration when renovating or redesigning a website and what does a successful website revamp project look like?
1. Objectives
It all starts with objectives. It's time for a website renovation – why? What is the objective? This should stem straight from the company strategy. Is your goal to, for example, to:
increase sales
improve search engine visibility
create a stronger online brand
make customers more involved
reach out to new target groups, such as international markets or new customer groups
improve customer service online
automate website functionalities
recognize and utilize website visitors more effectively
or is it simply time to freshen up the design of the site?
You can have many objectives but it's good to define right at the beginning what is the most important and which objectives are secondary.
2. Participants
Unfortunately, a website redesign project often remains the marketing or IT department's own project, even though the website should service everyone in the company. Especially in a more extensive website overhaul, the overall strategy of the company but also the strategies of different departments should be taken into consideration. At least the strategies and potential problem areas of these departments must be sorted out:
marketing
communications
IT
sales
customer service
HR
webstore, stock management and logistics
However, it is essential that someone clearly runs the project and says the last word after considering the opinions of others. The most successful website projects are usually led by marketing, but in smaller companies also by the owner, because they move most flexibly between the different areas in the company and are close to the customer interface. They also have the best overall picture of the company's operations. The technical side is in the background in modern website projects, and user experience, understanding the customer, business processes and customer service, for instance, are priorities. This is why website projects are rarely led by the IT department.
3. A little tweak or a full makeover
It is a completely different thing to do a full makeover as opposed to a small facelift. They both have their time and place and in the ideal situation you alternate these two. A little tweak and a full makeover have quite a difference in resources they require and you should really think long and hard, which one is desired – and which one you realistically have the resources for.
The size of the renovation also impacts which service provider you're going to choose. If you feel that it's time to change the whole look of the company starting from the colors and the logo, it's advisable to look for a good design agency in addition to the technical provider and create a collective strategy for the following years. You should also do this if you want to change everything from business cards to printed company material.
However, if the visual appearance and strategies are clear, your ideal service provider is specialized in website redesign and offers a wide range of services especially for them. Professional creative agencies and technical providers are also used to cooperation, so combining an existing agency partner and the CMS provider should always be possible.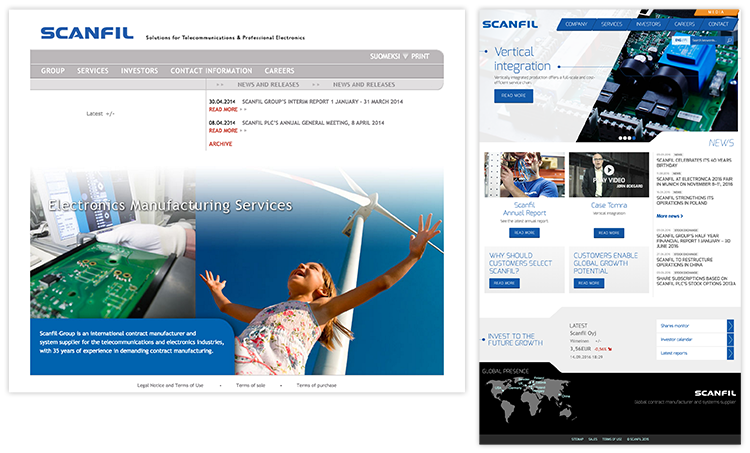 Image: The objectives for Scanfil's website renovation were mobile-friendliness and a modern layout. The website that was created with Liana Technologies' LianaCMS was designed by the Finnish creative agency Pohjolan Mylly.
4. Current or new service provider
Because a website is such an essential part of a company's operations, it is really important to choose the right service provider. Some sort of comparison should always be done – and price is usually the worst criterion for the comparison. Reliability, continuous development and high-quality customer service pay for themselves many times over in the long run.
Because many of those that are doing a website renovation already have a service provider of a sort, the big question is, should you keep the old one or compare new companies as well. It doesn't make sense to break a good working relationship, but you also shouldn't settle for the old one if it doesn't quite meet your current or future needs.
In assessing the current service provider, you should consider at least these following things:
Has the website functioned reliably?
Has the customer service been good and personal?
Has the customer service and development of the service and tools been active?
How have problematic situations been solved?
Do you feel that you are important to the company?
Have there been any problems regarding security or servers, for instance?
What does the future of the service provider look like – is there a merger into a large international corporation in the horizon, and what is the financial record like?
How much do you get from your service provider: is the service range comprehensive, and are you at least directed to competent partners, or are you constantly using your own time searching for new service providers to meet your changing needs?
5. Choosing the CMS
A key factor in choosing a service provider is choosing the tool, in most cases the CMS i.e. content management system. These things should at least be considered when choosing one:
User-friendliness – a tool that is difficult to use uses up a lot of work hours yearly.
Offered support – who helps and answers when problems arise?
Is user training available?
Continuous development – how often has the CMS been updated/will be updated during your customership and will it update in the future?
Future prospects: is the CMS development being put effort into and is the company growing, or are there concerns that the system development will come to a halt in the near future?
Reliability and location of the servers.
Updates: how often are there system updates, who takes care of them, and are they included in the price? And are the possible changes related to layout, plugins, etc. that updates inevitably bring included?
How are security issues taken care and who takes care of them?
Scalability – does the CMS meet your needs in the future as well or will you have to switch to a sturdier one when your business grows or you take on new systems?
Compatibility: how does the CMS work together with your other digital tools – now and in the future?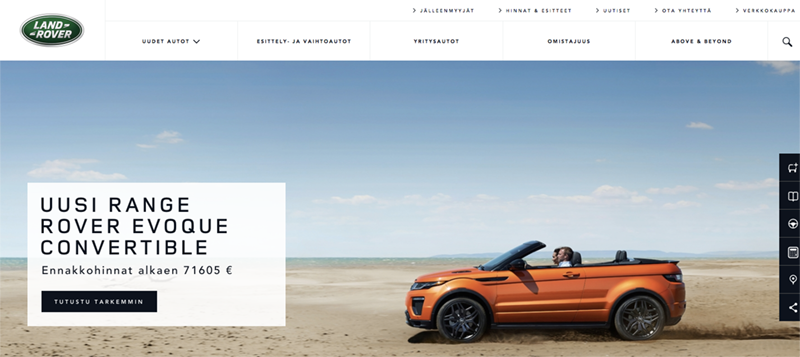 Image: Land Rover assessed different CMS systems for a long time and eventually chose LianaCMS.
6. Dividing roles
Nowadays a growing number of website-related services come from one single provider. At the same time, content creation and search engine optimization increasingly become the company's internal actions – which comes naturally.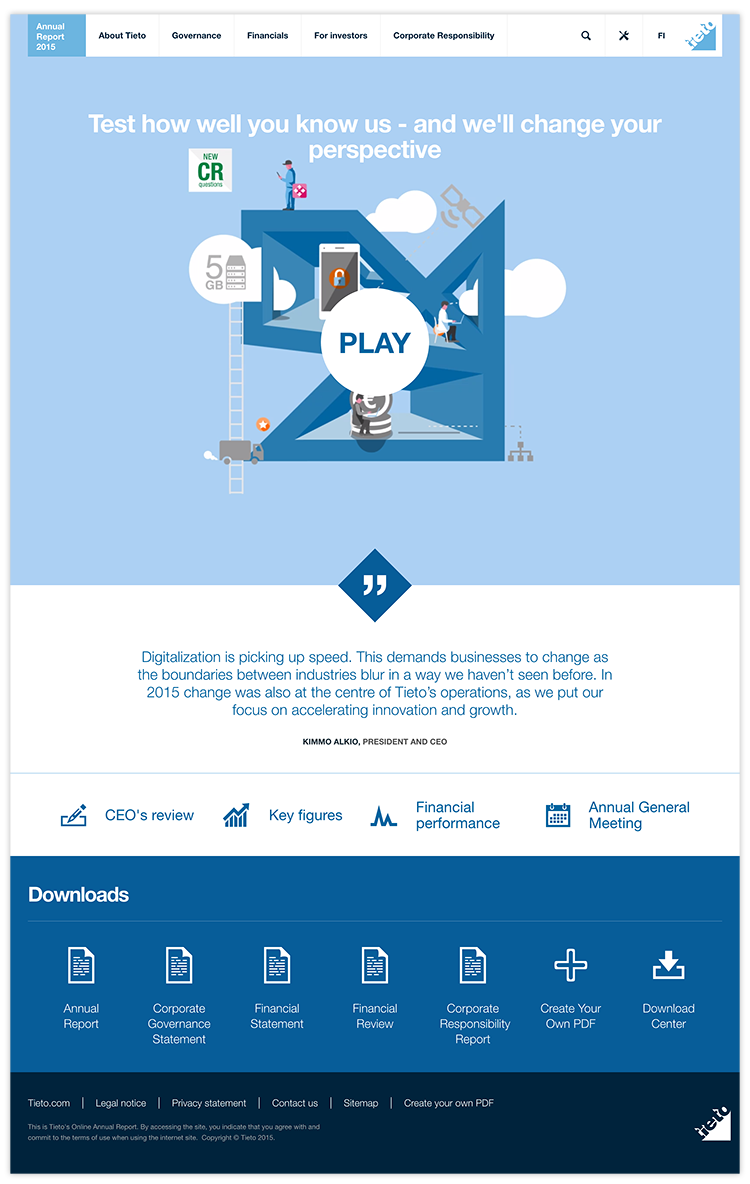 Image: Tieto's annual report was done as a co-production of Liana Technologies and marketing agency Miltton.
When planning a redesign project, you should at least define who handles the following areas:
During the project:
website layout designing
website user experience (UX) designing
website building and technical testing
search engine optimization and redirecting
going through the content of the existing website
moving content from the old site to the new one
content production: texts, images and videos
possible user testing
media monitors and moving them.
After the project:
CMS user training
user support
website technical maintenance and development
CMS updates and the changes required to layouts and plugins
information security
server maintenance and backups
technical support
continuous search engine optimization
continuous content production and updating
possible continuous testing (A/B testing, conversion optimization).
7. Making work more efficient
Since websites are revamped every couple of years, this obviously means that the technology develops during this time and you shouldn't settle for what you got many years ago. A good rule of thumb is that the website should make work faster and more efficient in at least a few processes – inside the company or for the customer, preferably both.
A site revamp is a good opportunity to view what on the site could be automated, done more easily and thus decreasing the amount of manual labor. Different filters, listings and automation help in this. A professional service provider can help you with other things than just visual changes, and the renovation project might pay itself back quickly in growing sales or work hours spent in manual labor, for example.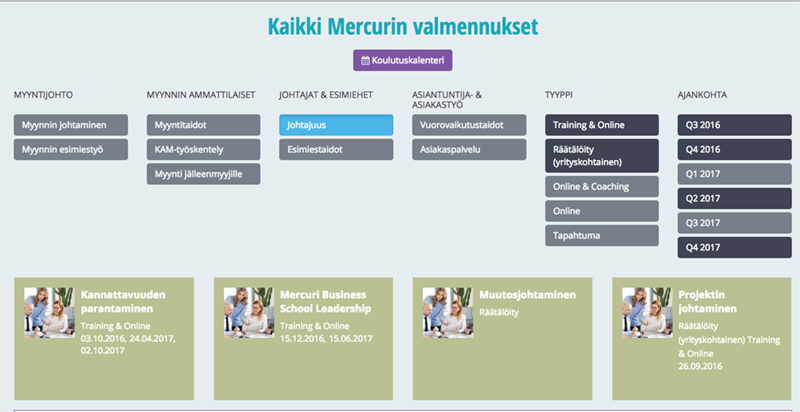 Image: After Mercuri International's website renovation, it's now easy and fast to filter trainings.
8. Measurability
A new website is an investment that should make profit. Because the operations of marketing and communications have become more and more measurable, every website redesign has to also produce clearly numerical data that is derived from the objectives: more visitors, longer visits and a better conversion percentage, for example.
A professional service provider can advise how monitoring, measurability and reporting can be improved with the site renovation and what tools are available for this. In addition to the traditional Google Analytics and its versatile functions, there are many different kinds of analytics programs available but an increasing amount of analytics is now also produced with marketing automation tools.
9. Other tools
A website is the center and heart of marketing and communications operations and digital tools. It's hard to get by without it, but on the other hand, without other tools a lot of possibilities are left unused. While doing a website renovation, you should make sure that other areas are up to par. By acquiring all the tools from one provider and integrating them to your website, you can gain great financial benefit and see that work is done more efficiently. For example, go through:

Image: A growing number of those that redesign their website, also add other marketing tools on the site simultaneously. Liana Technologies' Marketing Cloud tools all work from one single user interface and it's easy to navigate between them with a menu bar.
Do you have a website revamp project ahead?
Ask our experts for a visit and get acquainted with our continually evolving and user-friendly LianaCMS. Liana Technologies has done website redesign projects for over a decade already and above all aspires to offer everything under the same roof with a professional and humane approach. We also continuously and with pleasure work together with design and creative agencies in website projects.