5 Killer Black Friday Marketing Tips (Video)
02.10.2019 0
Black Friday has become a worldwide phenomenon and the interest towards the holiday shows no signs on declining. Look at the statistics from Google Trends: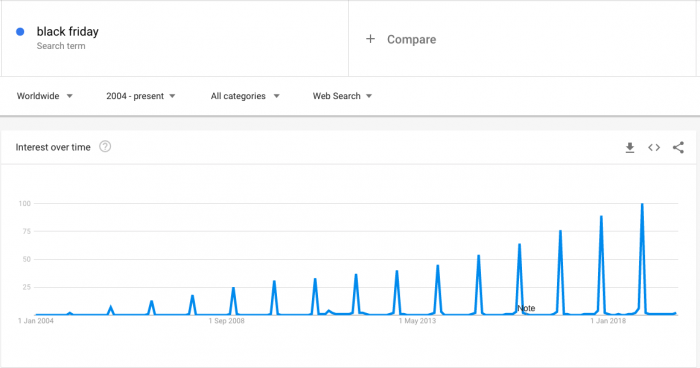 What Black Friday marketing and advertising strategies can you implement to drive more holiday sales? Are there any other holidays except Black Friday you can benefit from? Let's find out.
Download the eCommerce Holiday Calendar 2019 here.
1. Get smart about advertising audiences
The amount of advertising we are exposed to during Black Friday is just astonishing. To stand out among your competition, consider these tips:
Create remarketing display or video ads for your website visitors or previous clients
Customize your search ads campaigns for your past website visitors, and tailor your bids and ad copy to these visitors when they're searching on Google for Black Friday deals
We at Liana Technologies can be your reliable partner for Google Ads creation.
2. Make sure you have your basic automated flows set-up
Check that some of the basic automations work smoothly to avoid a hassle in the busy Black Friday sales period. Check at least the following:
abandoned cart email
browse abandonment
welcome email flow
a thank-you email to new and repeat customers
On top of that, you can create a special series of emails just for past customers to promote your Black Friday deals. These kinds of automated emails can account for 10-20% of sales alone.
Looking for other marketing automation examples? Download our whitepaper and get inspired: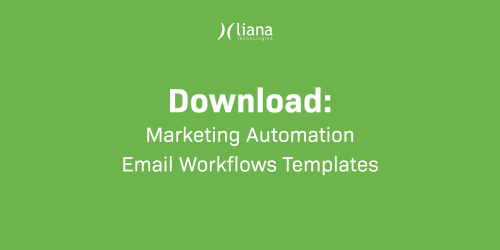 3. Invest in video advertising
Here are some mind-blowing statistics from eConsultancy:
94% of consumers watched a video online last week
76% of smartphone owners watch videos at least once per week from their phones
40% of 18-24 year-olds watch videos more than 10 times per week
There's no doubt that creating video ads can give a lot of additional brand exposure and bring extra sales.
4. Cater to different shoppers
Google identifies four different types of shoppers:
Evergreen
Early bird
Deal seeker
Last minute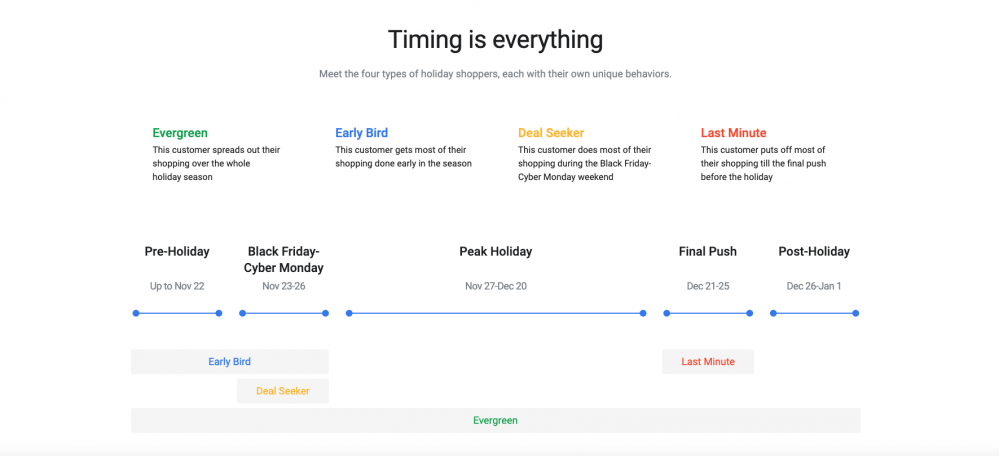 Try to take advantage of each of these shopper categories and tailor your ad creatives accordingly. For example, last-minute seekers might expect more colorful ad visuals and more emotional ad copy.
5. Don't neglect other holidays
Cyber Monday sales look even more promising than Black Friday campaigns. On top of that, you can create marketing campaigns for other holidays, such as Thanksgiving, and even not-so-popular Small Business Saturday and Super Sunday.
Are you struggling to keep track of all end of the year holidays? No worries, we've got you covered! We summed up all important sales days for the rest of the year in a calendar that you can download here.